Chocolate Chip Almond Cake combines wonderful almond flavor with a big dose of chocolate. A crowd-pleasing favorite!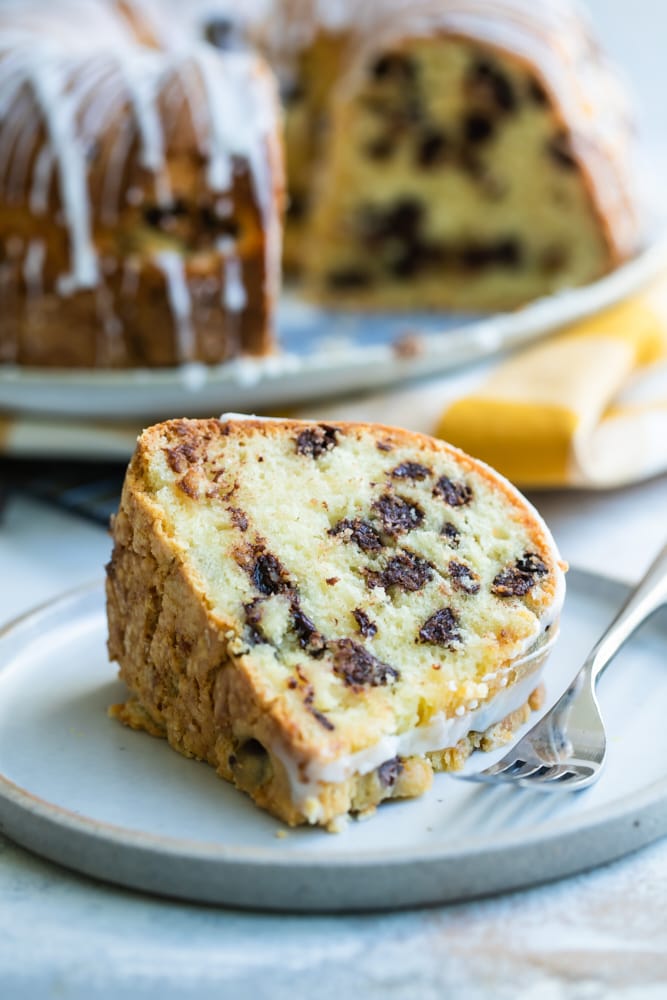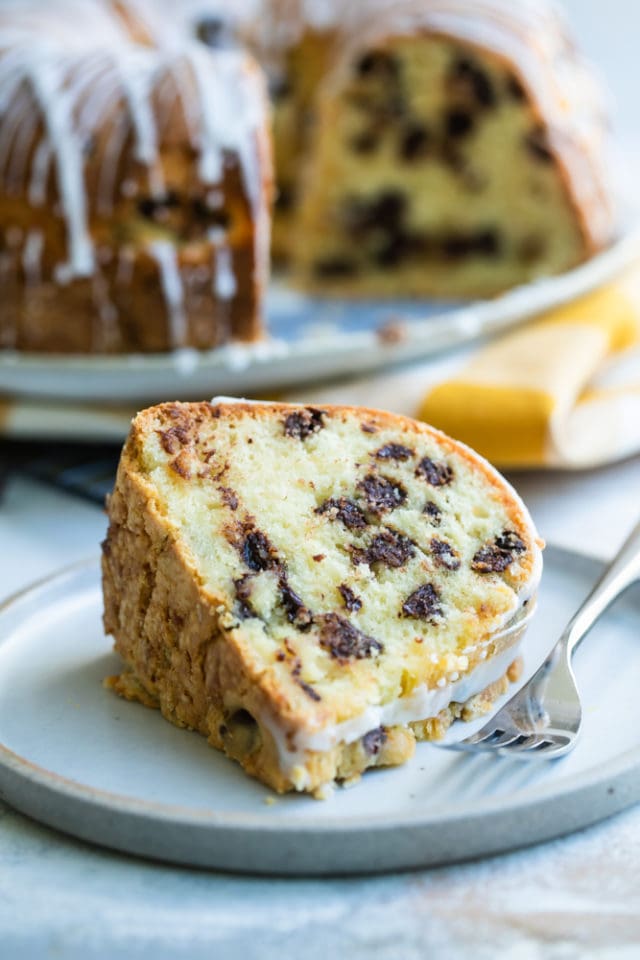 Chocolate Chip Almond Cake
I have such a soft spot for Bundt cakes. I love their simplicity and variety. And they always give that homey, comfort food feeling.
This Chocolate Chip Almond Bundt Cake has all of that in spades. The flavor here is heavily focused on almonds with plenty of chocolate chips to make it even better.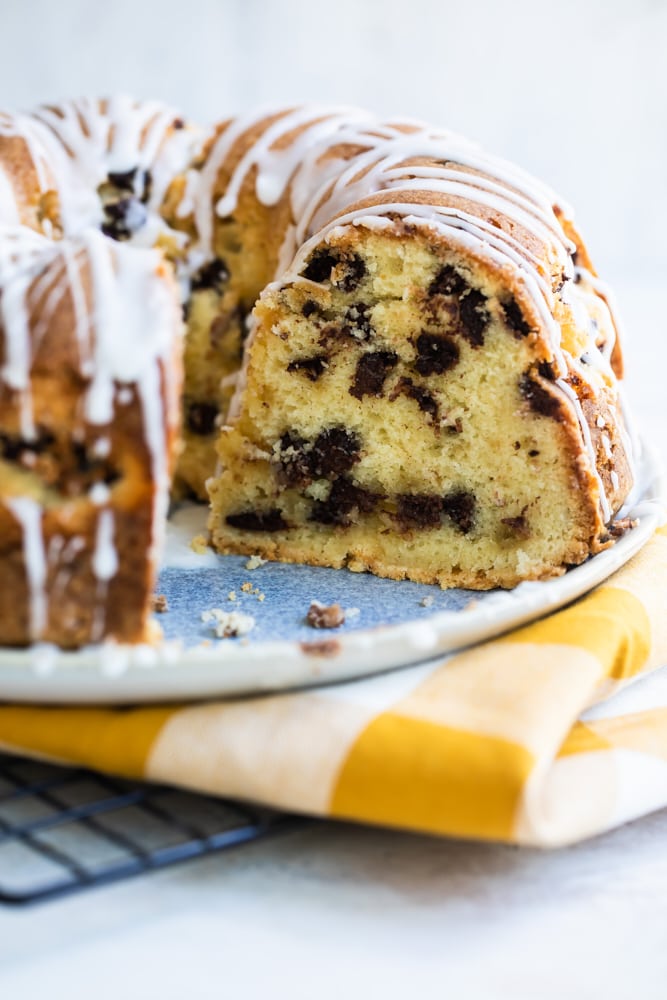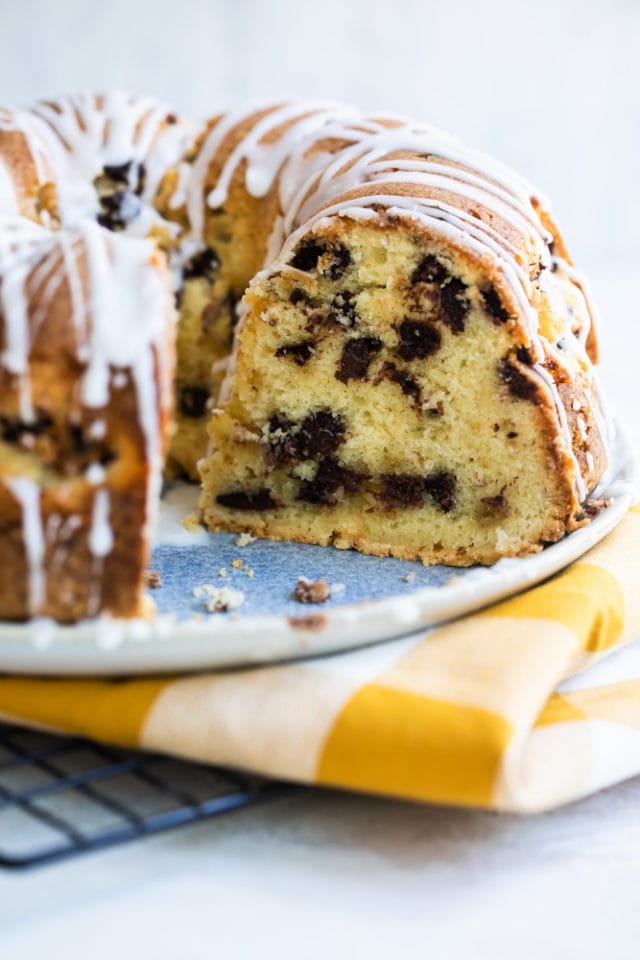 All of the wonderful almond flavor in this cakes comes from almond extract and almond paste. Add to that some almond liqueur in the glaze, and you've got a sure-fire hit for almond lovers.
And what better to add to all that almond deliciousness than a whole lot of chocolate chips? The dark chocolate addition is just the perfect way to make this cake shoot up your list of favorite cakes.
Tips for Success
Measure accurately. Use a kitchen scale to measure by weight if possible. Otherwise, use the spoon and sweep method to measure the dry ingredients and sugar. Take care to measure all the ingredients well. Read more here: How to Measure Flour.
Check your pan size. This recipe makes a lot of batter, so be sure that your pan is the correct size so you don't have a mess.
Use a light-colored metal pan. Dark pans tend to over-bake the outside edges while leaving the middle under-baked. Non-metal pans conduct heat differently and can give you quite varied results.
Thoroughly grease the pan. Bundt pans have lots of nooks and crannies that tend to invite cakes to stick. I have the most success with a cooking spray with flour, like Baker's Joy or Pam Baking.
Don't over-mix. This recipe uses the usual creaming method for standard cakes. Too much mixing can result in tough crumb in a cake that doesn't rise well.
Don't want to use Amaretto? Try substituting about 1 tablespoon of milk and add 1/8 to 1/4 teaspoon almond extract.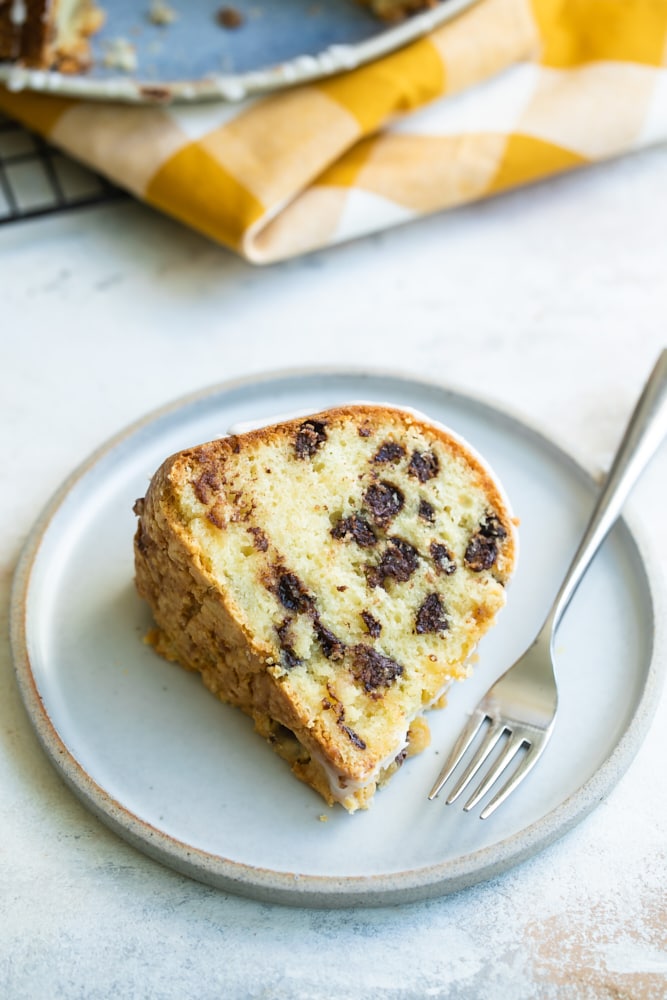 This Chocolate Chip Almond Cake is the kind of cake you're likely to find yourself coming back to time and time again. It's simple to make and has such lovely flavor. Such a great cake to have in your baking repertoire!
Find more Bundt cake recipes in the Recipe Index.
More Almond Cake Recipes