This Chocolate Chip Almond Cake combines wonderful almond flavor with a big dose of chocolate, all in the form of a simple Bundt cake. A crowd-pleasing favorite!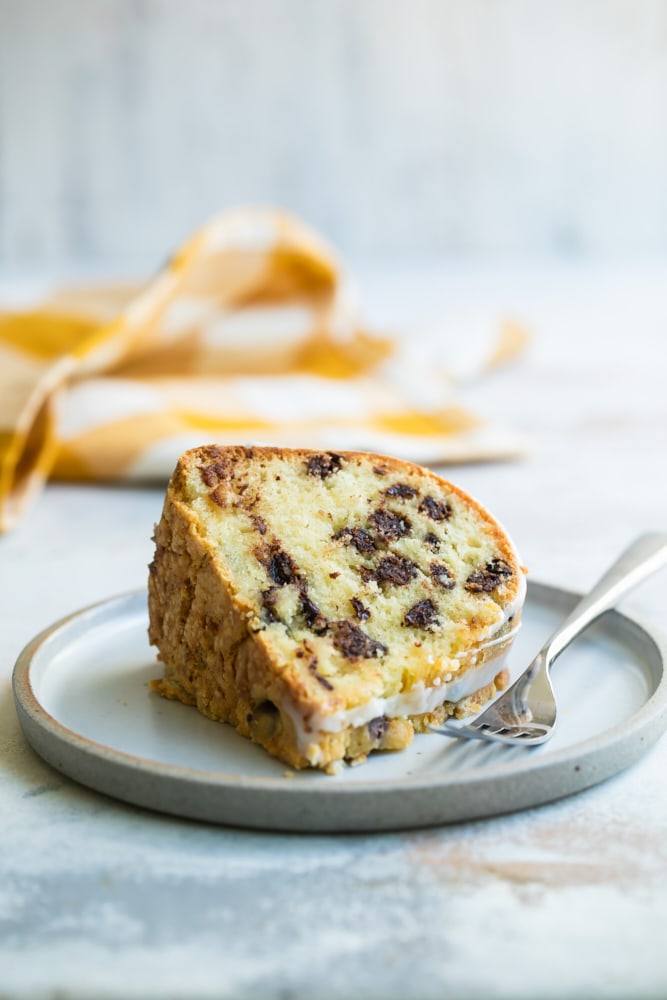 Almond Bundt Cake With Chocolate Chips
I have such a soft spot for Bundt cakes. I love their simplicity and variety. And they always give that homey, comfort food feeling.
This Chocolate Chip Almond Bundt Cake has all of that in spades. The flavor here is almond-heavy thanks to almond extract and almond paste. Add to that some almond liqueur in the glaze, and you've got a sure-fire hit for almond lovers—it has that signature fruity almond fragrance and sweet flavor.
And what better to add to all that almond deliciousness than a whole lot of chocolate chips? The addition of dark chocolate is the perfect way to make this cake shoot up your list of favorites.
This Chocolate Chip Almond Cake is the kind of cake you're likely to find yourself coming back to time and time again!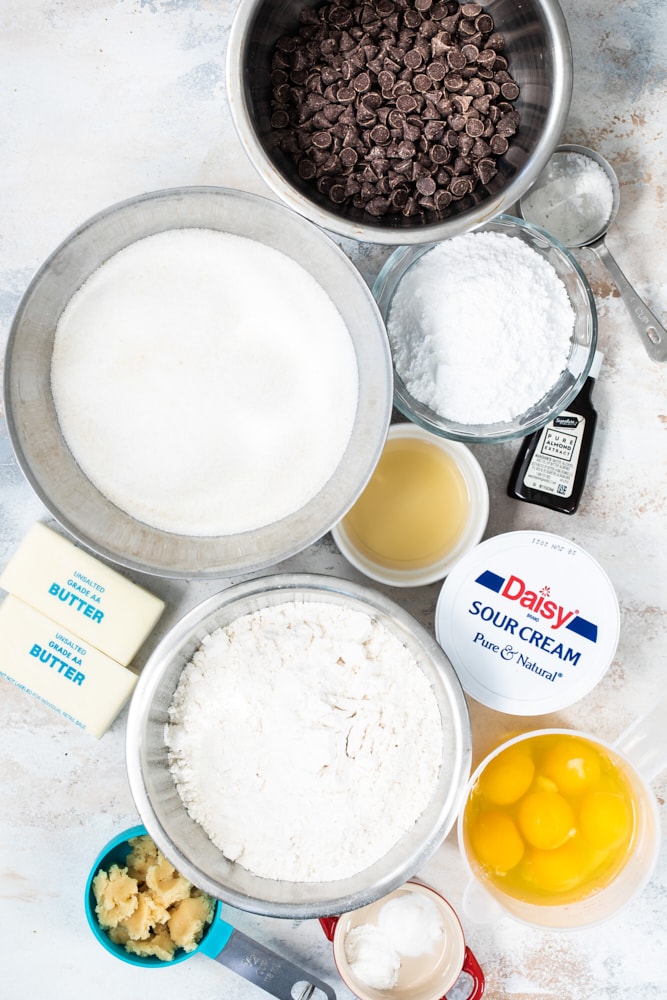 What You'll Need
Other than the almond extract, paste, and amaretto, the ingredients here are fairly standard for a chocolate chip Bundt cake!
For the cake:
All-purpose flour – Here's how to measure flour.
Baking powder
Baking soda
Salt
Unsalted butter – Let this soften before mixing.
Granulated sugar
Almond paste
Almond extract
Eggs – Room temperature eggs hold more air when beaten, so take them out of the fridge with the butter.
Sour cream
Semisweet chocolate chips
For the glaze:
Confectioners' sugar – Be sure to sift this so you don't end up with lumps of sugar in your glaze!
Amaretto – You can substitute 1 tablespoon of milk and 1/8 to 1/4 teaspoon of almond extract.
Why Does Almond Extract Taste Like Cherries?
Almond extract tastes and smells absolutely amazing, but you may wonder why its flavor is more cherry than nut.
The difference in flavor between almond nuts and almond extract comes from the fact that almond extract is derived from a different type of almond—the wild bitter almond, which is potentially dangerous for eating out of hand like the almonds we snack on.
So why does the wild bitter almond taste like cherries? It's because it contains the same molecule that gives apricots, cherries, plums, and peaches their aroma and flavor. The domesticated almonds grown for eating don't have this molecule.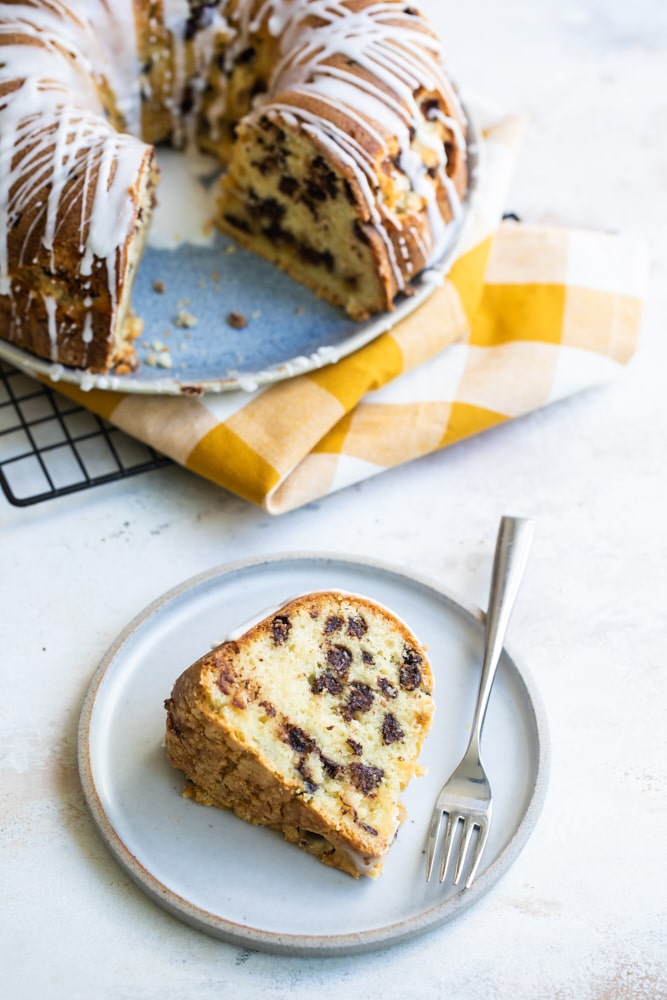 How to Make Chocolate Chip Almond Cake
Get your Bundt pan ready! Here's how to make this irresistible Chocolate Chip Almond Cake.
Prepare. Preheat your oven to 325°F and grease a 12-cup Bundt pan with a cooking spray with flour.
Mix the dry ingredients. Whisk the flour, baking powder, baking soda, and salt in a medium bowl.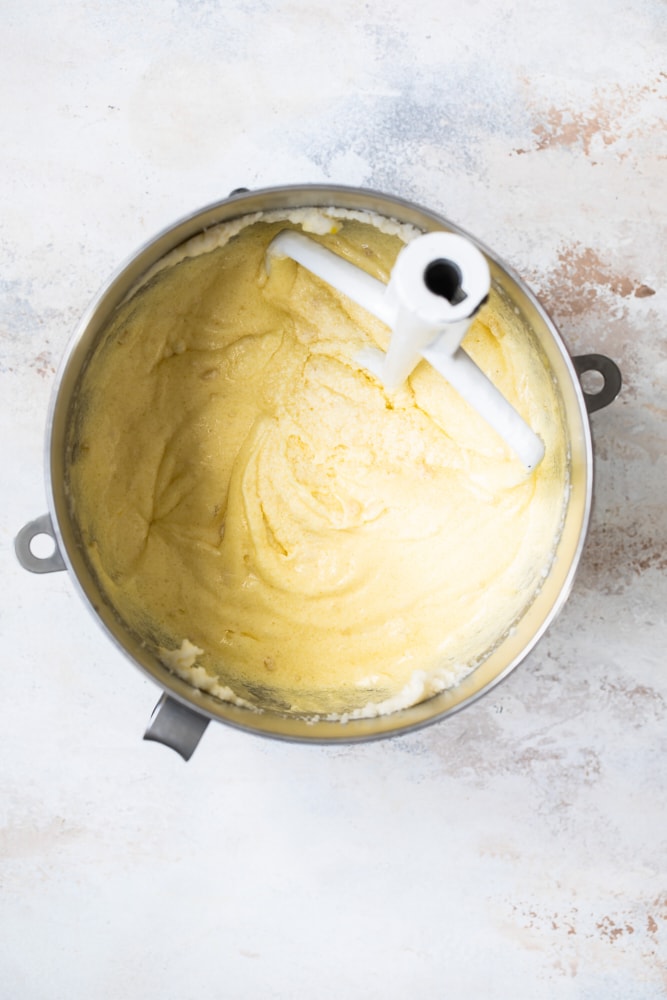 Mix the wet ingredients. Use an electric mixer on medium speed to beat the butter until it's creamy. Beat in the sugar, almond paste, and almond extract until light and fluffy, then beat in the eggs one at a time.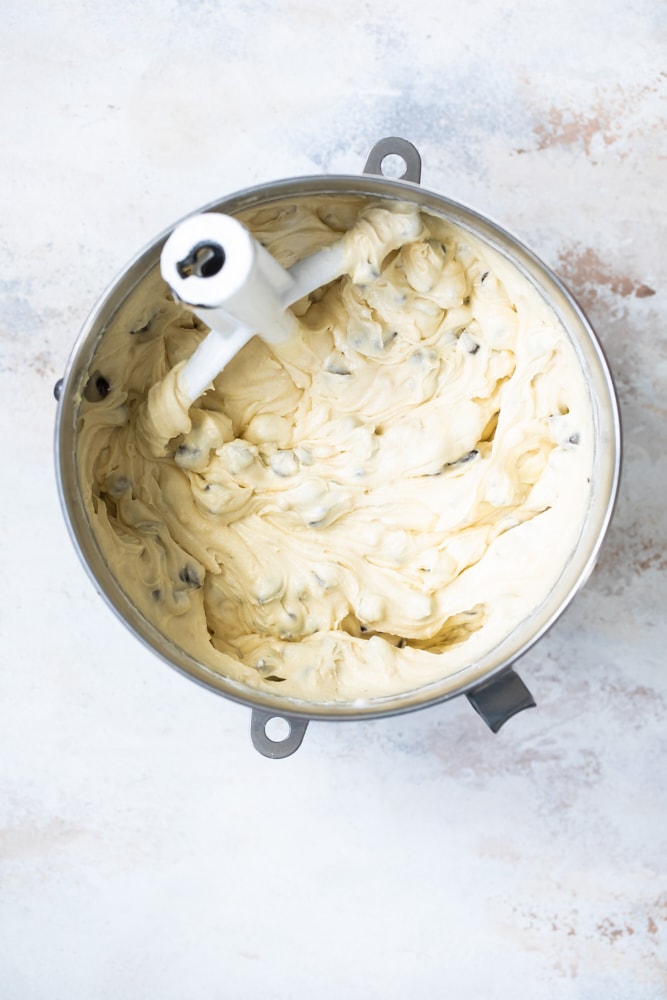 Finish the batter. Reduce the mixer speed to low. Add the flour mixture in three portions, alternating with two portions of sour cream. Fold in the chocolate chips.
Bake. Pour the batter into the prepared Bundt pan and bake for about 1 hour and 15 minutes, or until a toothpick inserted into the center of the cake comes out clean.
Cool. Let the cake cool in the pan on a wire rack for 15 minutes, then carefully remove the cake from the pan and place it directly onto the wire rack to finish cooling.
Glaze. Combine the confectioners' sugar and amaretto in a small bowl, stirring until smooth. Add more amaretto if needed until the mixture is pourable, but still fairly thick. Drizzle the glaze over the Bundt cake.
Should I Let My Bundt Cake Cool Before Flipping?
Yes! A Bundt cake should be left to cool in the pan for 10 to 15 minutes before flipping. It's important to note that letting it cool longer than this does not mean your Bundt cake is less likely to fall apart—in fact, a completely cooled Bundt cake is more prone to sticking.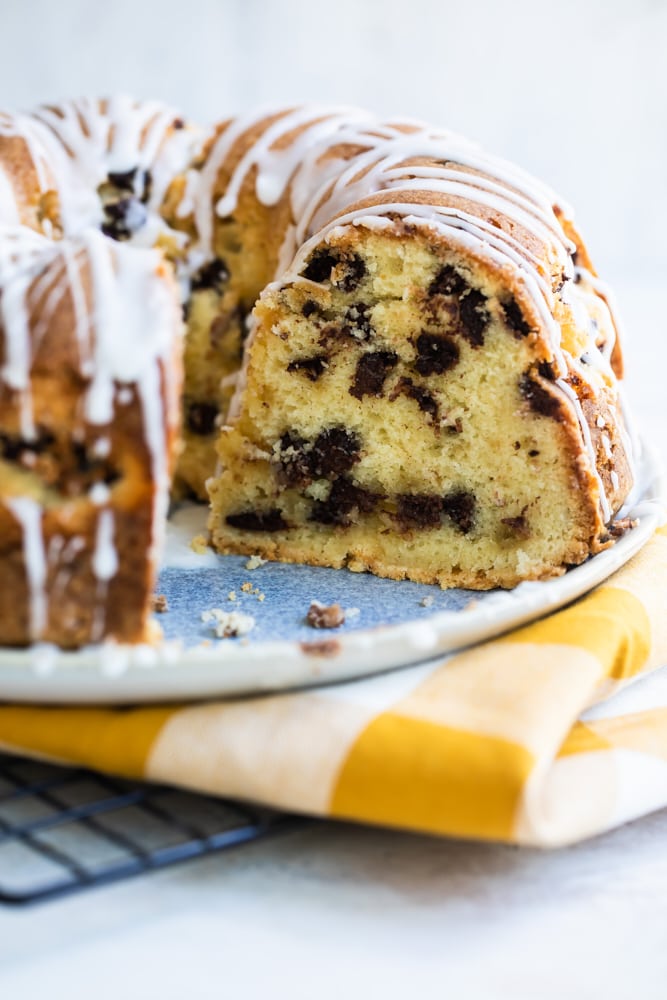 Tips for Success
Here are some of my best tips for a perfect Chocolate Chip Almond Cake. (Want more Bundt cake pointers? Read my Bundt Cake Baking Tips post.)
Check your pan size. Bundt cake pans come in many different sizes and shapes! This recipe makes a lot of batter, so be sure your pan is made for at least 12 cups.
Use a light-colored metal pan. Dark pans tend to over-bake the outer edges while leaving the middle under-baked.
Thoroughly grease the pan. Bundt pans have lots of nooks and crannies that tend to invite cakes to stick. I have the most success with a cooking spray with flour, like Baker's Joy or Pam Baking.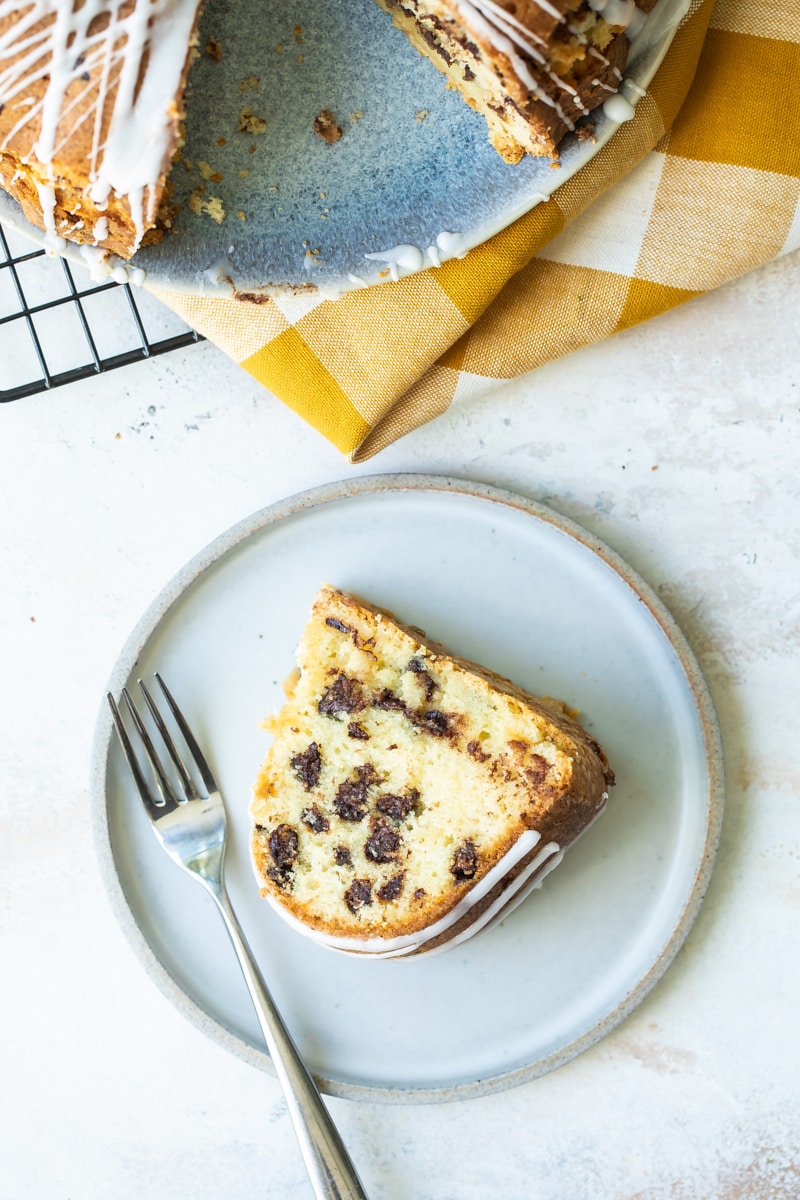 How to Store
Store this cake wrapped well or in an airtight container at room temperature for 3 to 4 days.
Can This Cake Be Frozen?
Yes, you can freeze this cake for up to 3 months. Wrap it well and let it thaw at room temperature before serving.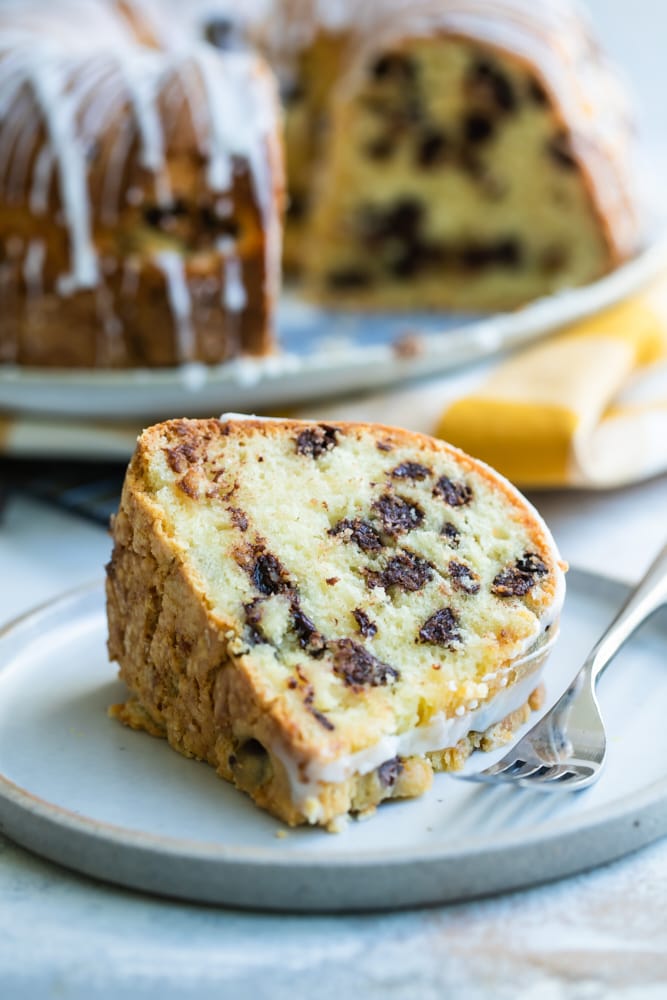 Find more Bundt cake recipes in the Recipe Index.
More Almond Cake Recipes