This easy Berry Muffin Cake is a perfect breakfast treat when you're craving something other than your usual morning meal. It's great for brunch or a sweet snack, too!
Are you a morning person? I am most definitely not. It takes me a while to get going every day. Because of that, our breakfasts generally consist of yogurt for me and cereal for Quinn. Not very exciting, I know, but they serve their purpose just fine.
As you can imagine, I don't get much baking done until a little later in the day. But sometimes, especially on a lazy weekend day, I want so much to be that person that gets up and bakes a nice treat for breakfast. This quick and easy muffin cake is the perfect solution!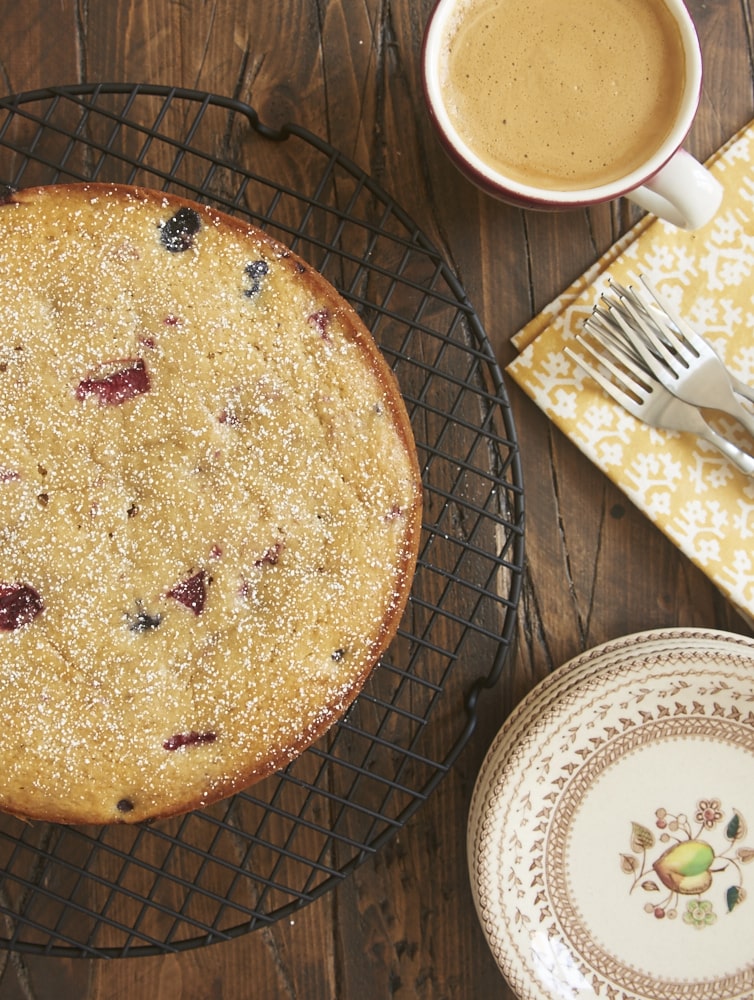 While this is called a cake, it's really just one giant muffin. But you get to skip the step of scooping batter into a muffin pan. It's such a lovely, no-fuss treat for a weekend breakfast or brunch. Or grab a slice and enjoy with your afternoon coffee or tea. Honestly, I'll take it most any time of day!
This big ol' muffin is wonderfully soft and moist and really just lovely. It's so nice and tall, too. And such a wonderful texture! It's especially nice when it's still a bit warm, but it's every bit as good at room temperature. I like to sprinkle a little bit of confectioners' sugar on top, but you can even skip that if you want to make this muffin cake as simple as can be.
If you're a berry hoarder (like I am) during berry season, then this is a great recipe for using up that random mix of berries in your kitchen. I had some blueberries, strawberries, and a few raspberries left over from other recent baking adventures. Of course, any combination of your favorites will be great. Or just stick to one berry if you prefer. Just be warned that you may find yourself making this again and again.
Find more muffin recipes in the Recipe Index.
More Berry Muffin Recipes
We are a participant in the Amazon Services LLC Associates Program, an affiliate advertising program designed to provide a means for us to earn fees by linking to Amazon.com and affiliated sites.