Whether you're looking to add a touch of elegance to your desserts, jazz up your holiday table, or simply snack on something deliciously different, these sugared cranberries are your ticket to a winter wonderland of flavor!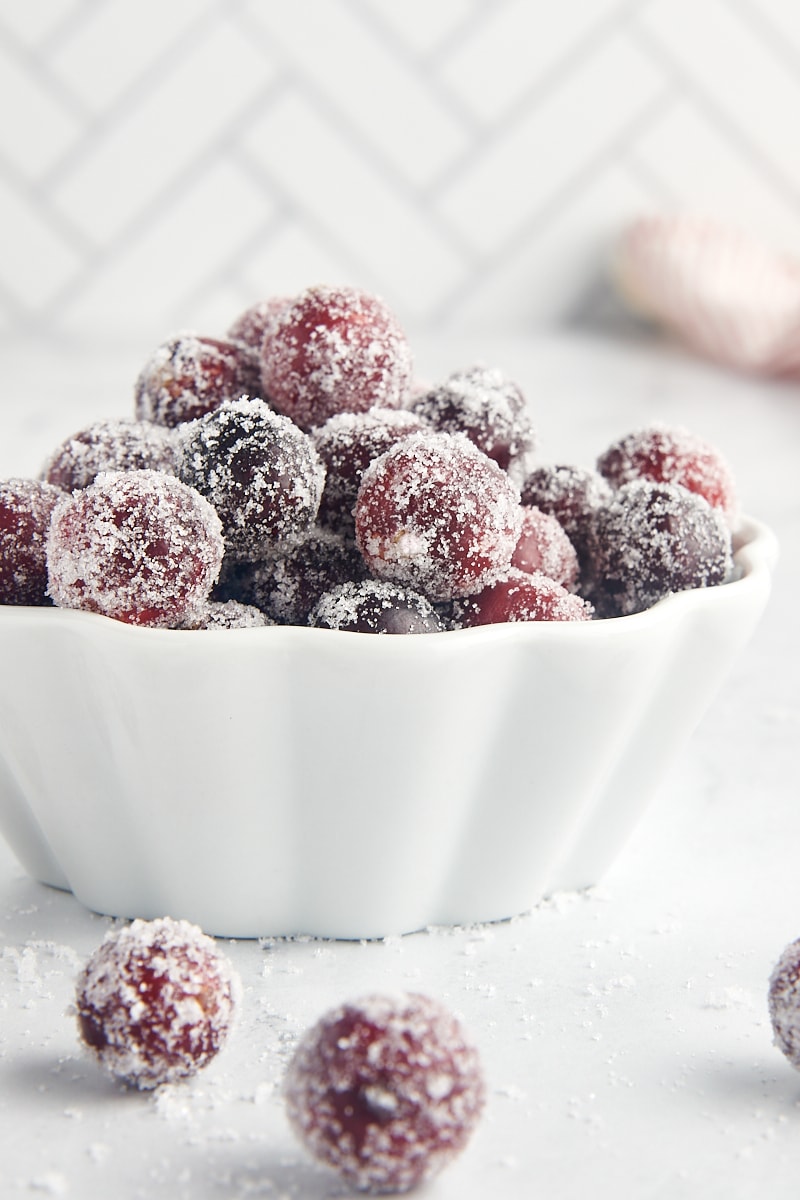 Why You'll Love This Sugared Cranberries Recipe
If you're looking for a stunning yet simple addition to your holiday baking, you've hit the jackpot! These sugared cranberries (or candied cranberries) are not just a treat for the palate but also a feast for the eyes. Here's why they're about to become a new favorite:
Wonderfully easy. With just a few simple steps, anyone can make these!
Festive, colorful, and sparkly. These sugared cranberries are perfect for dressing up your holiday table with a bit of elegance.
Sweet and tart. This flavor combo is sure to please!
Versatile. They're great for snacking as well as garnishing.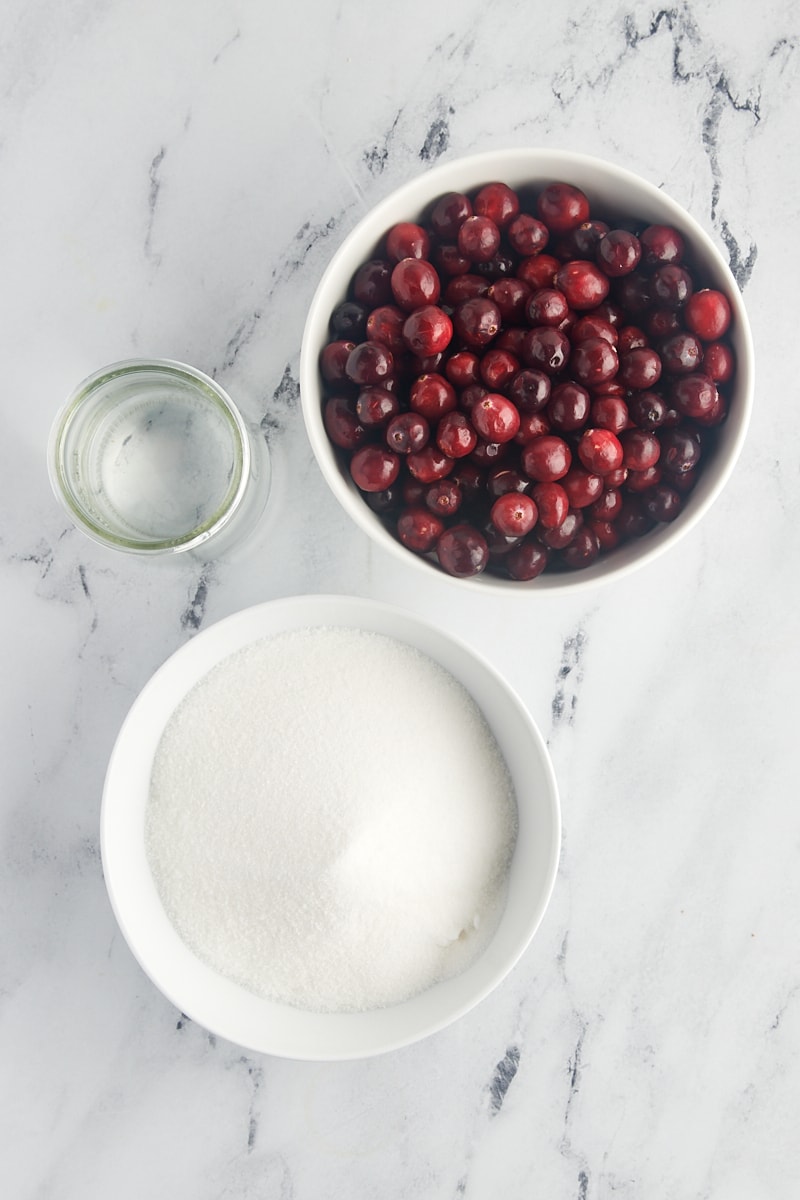 What You'll Need
This is a wonderfully short list! See the recipe card below for ingredient quantities and full instructions. Here are some notes about the ingredients you'll need to make your sugared cranberries.
Granulated sugar – Just regular sugar does the trick here! You'll need to measure the amount for the syrup, but the rest can be estimated.
Water – You'll combine this with the sugar to make a syrup to coat the cranberries.
Cranberries – Fresh cranberries will give you the best results. Rinse, drain, and dry them well before using.
How to Make Sugared Cranberries
Your hands-on time for making sugared cranberries is minimal. Just be sure to factor in the time to let them dry. Here's what you'll need to do: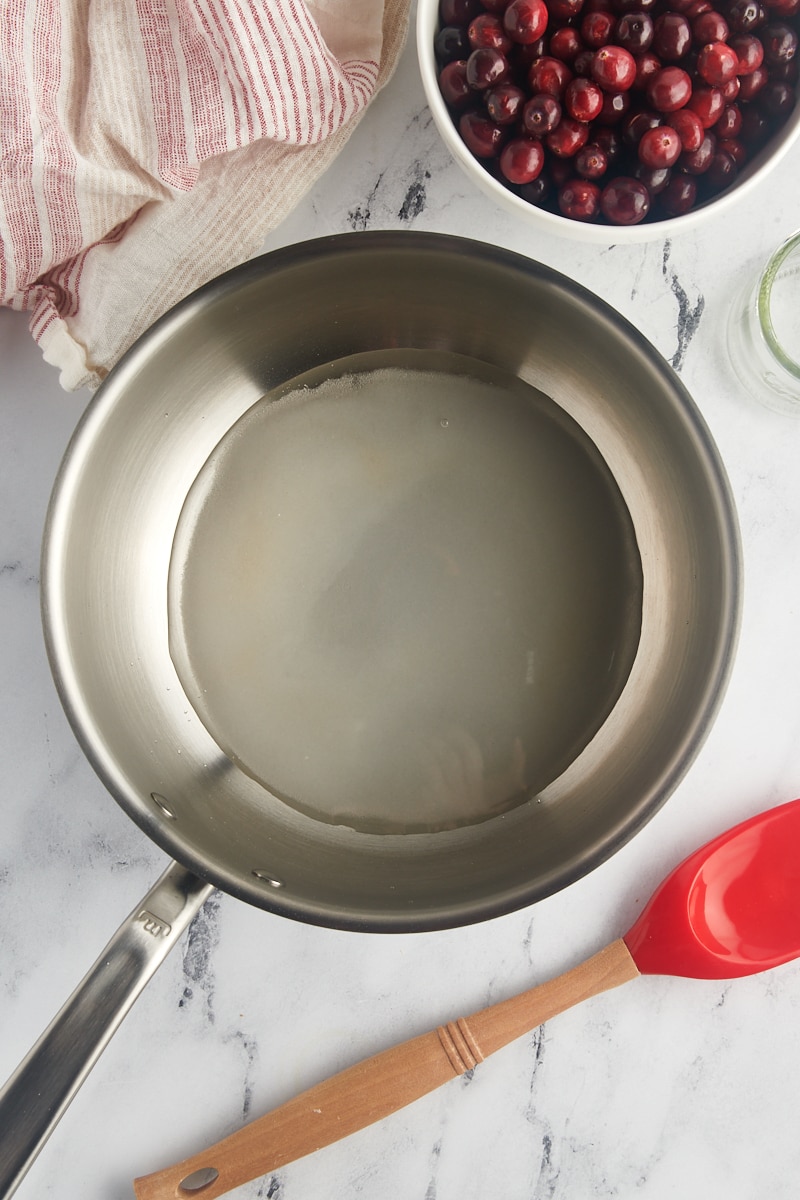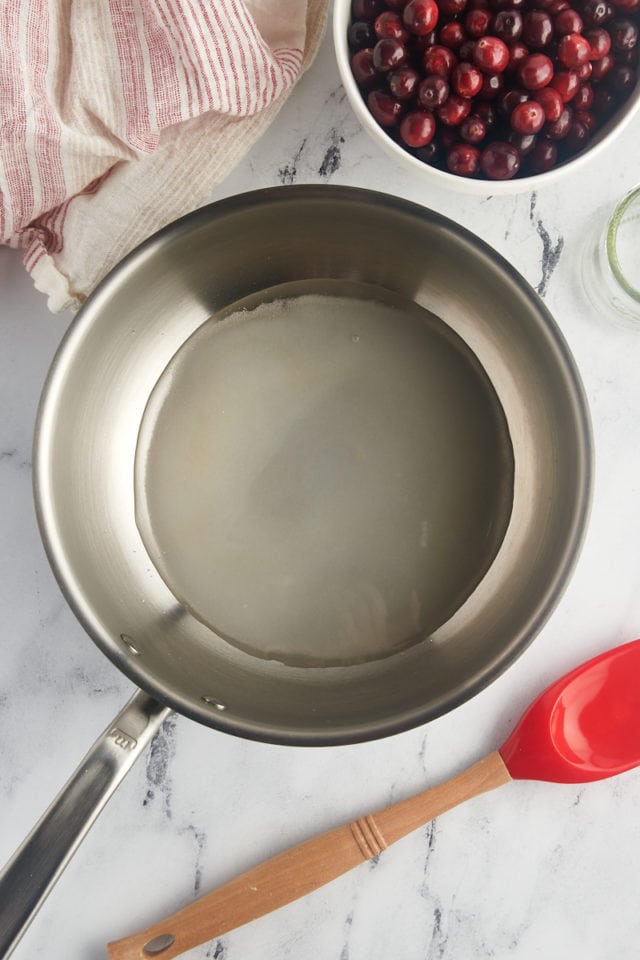 Make the simple syrup. Combine 1/2 cup of sugar and the water in a medium saucepan. Heat just to a simmer, and cook until the sugar has dissolved.
Add the cranberries. Remove the pan from the heat, and stir in the cranberries. Make sure to coat them well. If you like, you can let them sit in the syrup for several minutes before removing them to let them soak up more of the liquid.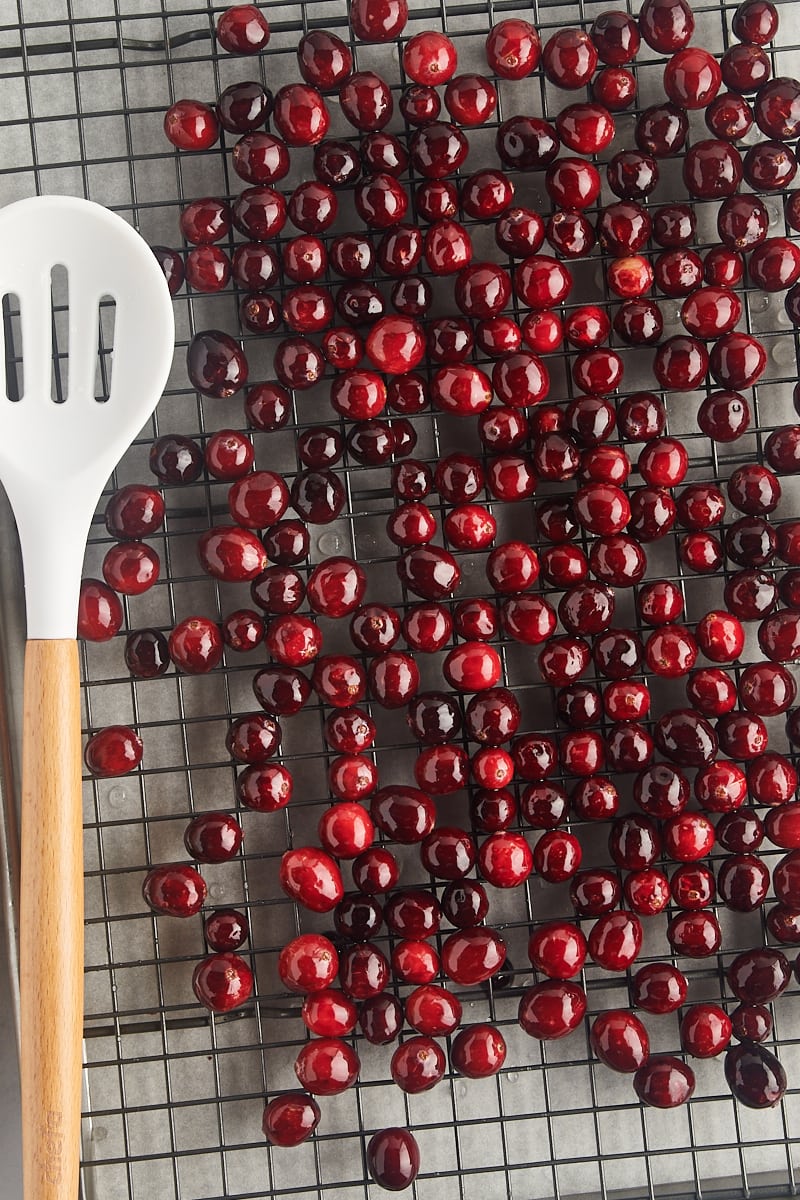 Dry the cranberries. Use a slotted spoon to transfer the cranberries from the liquid to a wire cooling rack set over a lined baking sheet. Spread them in a single layer and let them dry for an hour. They'll be really sticky, so spacing them out will help prevent clumping.
Add the sugar. After the cranberries have dried, roll them in the remaining sugar until they're thoroughly coated. If you want a thicker coating of sugar, toss them in sugar a second time after they've dried.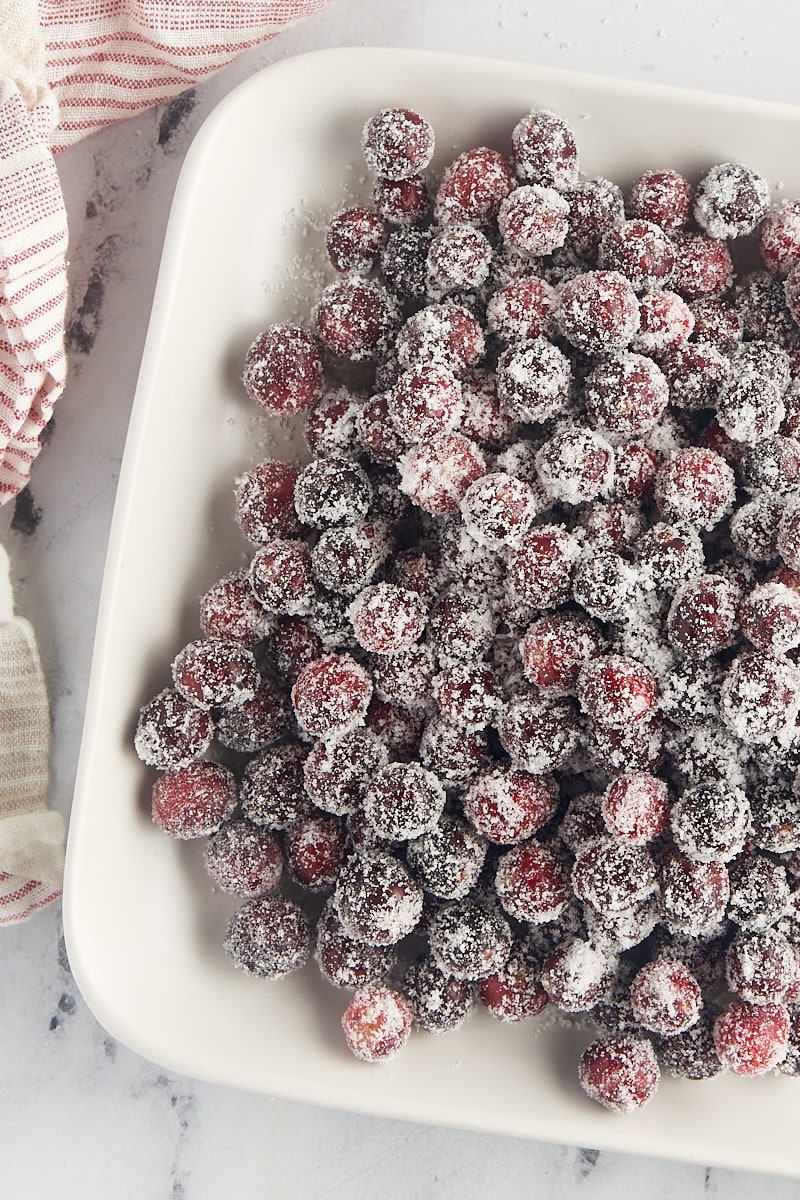 Tips for Success
You'll love how easy it is to make these beautiful sugared cranberries! Here are a few tips to help make sure yours turn out perfectly:
Gather your tools. Before you get started, set up the drying area with a wire rack set over a lined baking sheet. You can also just place the rack on parchment paper, but the pan helps to avoid a lot of mess.
Use fresh cranberries. They hold up better through the sugaring process than frozen ones. Rinse and dry them thoroughly so the syrup will stick well. Take a few minutes to examine them and remove any that look soft or bruised.
Watch the temperature. When heating the water and sugar, it's important to bring it just to a simmer. If you bring it to a boil, it may be too hot for the cranberries and they'll burst when you add them.
Save the sugar syrup. You can use it for cocktails (or mocktails!), a simple dessert glaze, or a topping for yogurt, waffles, and more.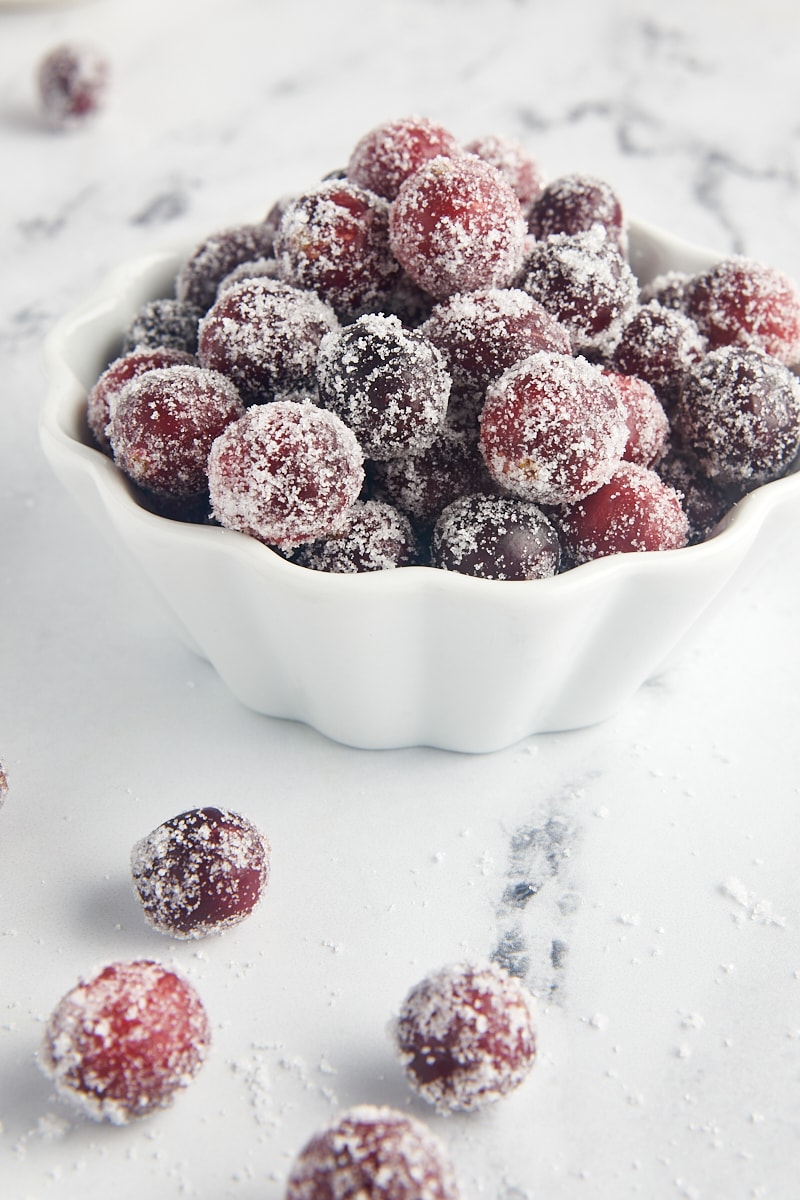 Variations
There are several ways to make small tweaks to this sugared cranberries recipe for something a bit different. When making the syrup, here are some flavor additions to consider:
Cinnamon – Just a pinch to add a warm note to your cranberries.
Citrus zest – Orange zest is a great choice, but lemon and lime work well, too.
Vanilla – Scrape the seeds from a vanilla bean into the sugar syrup, or use a couple of drops of vanilla extract.
Other spices – Ginger, cloves, and star anise are all tasty options. Like the cinnamon, just a pinch will suffice.
Peppermint extract – A drop or two of peppermint extract can give the cranberries a festive, wintery flavor.
Serving Suggestions
These sugar-coated cranberries are quite versatile! Here are just a handful of ways to use them:
Dessert decoration. They add a little color and sparkle to desserts like vanilla pudding cake, cheesecake, chocolate cake, apple pie, and more.
Cocktail garnish. Use them for a festive touch for holiday drinks.
Cheese trays and charcuterie boards. Pair them with your favorite cheeses, crackers, and more.
Yogurt and ice cream. You'll love the flavor and crunch they add.
Snacking. They're delicious all on their own for a sweet, tart treat.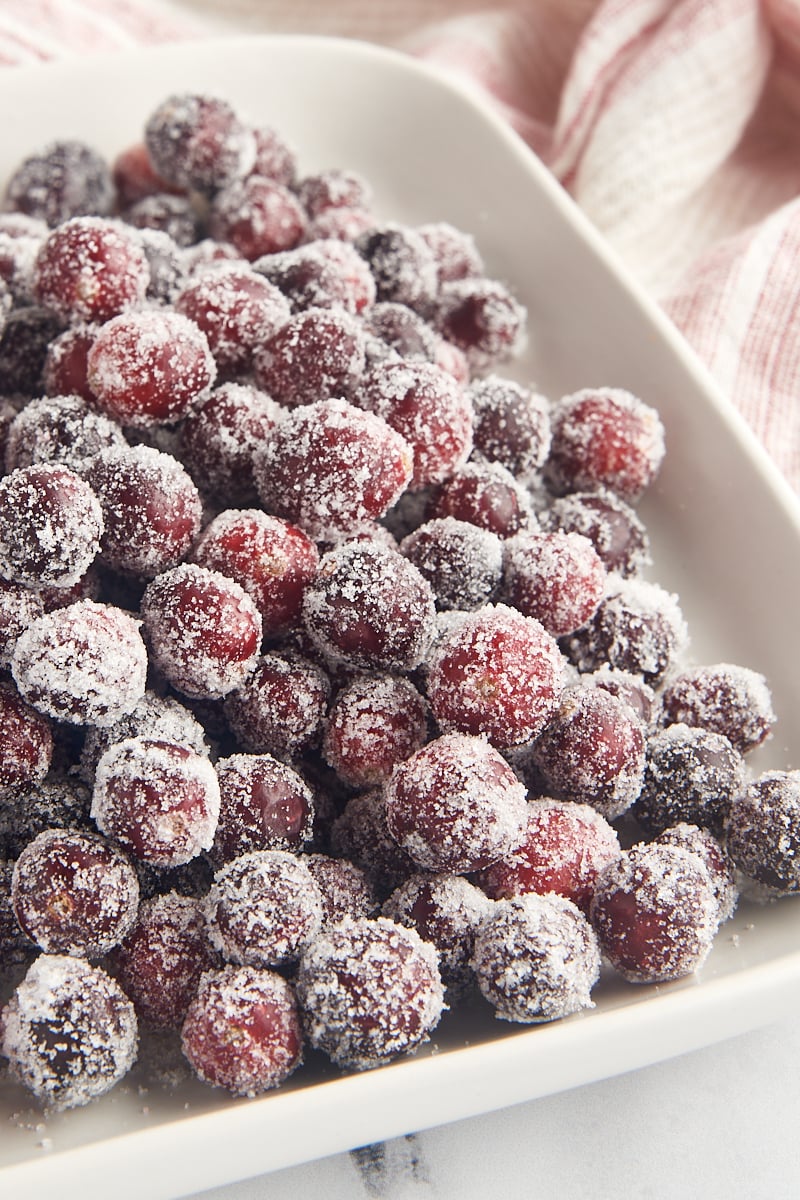 How to Store
After the sugared cranberries are completely cool and dry, place them in an airtight container. Spread them in single layers separated by parchment paper. Store at room temperature for 2 to 3 days. The sugar coating may dissolve or become sticky if refrigerated. If your sugared cranberries start looking a little less sparkly after a day or so, simply toss them with a bit more sugar.
Can Sugared Cranberries Be Frozen?
Freezing sugared cranberries isn't recommended, as the sugar coating can dissolve and become sticky when they're thawed. The freezing process can also affect the texture of the cranberries, making them less pleasant to eat.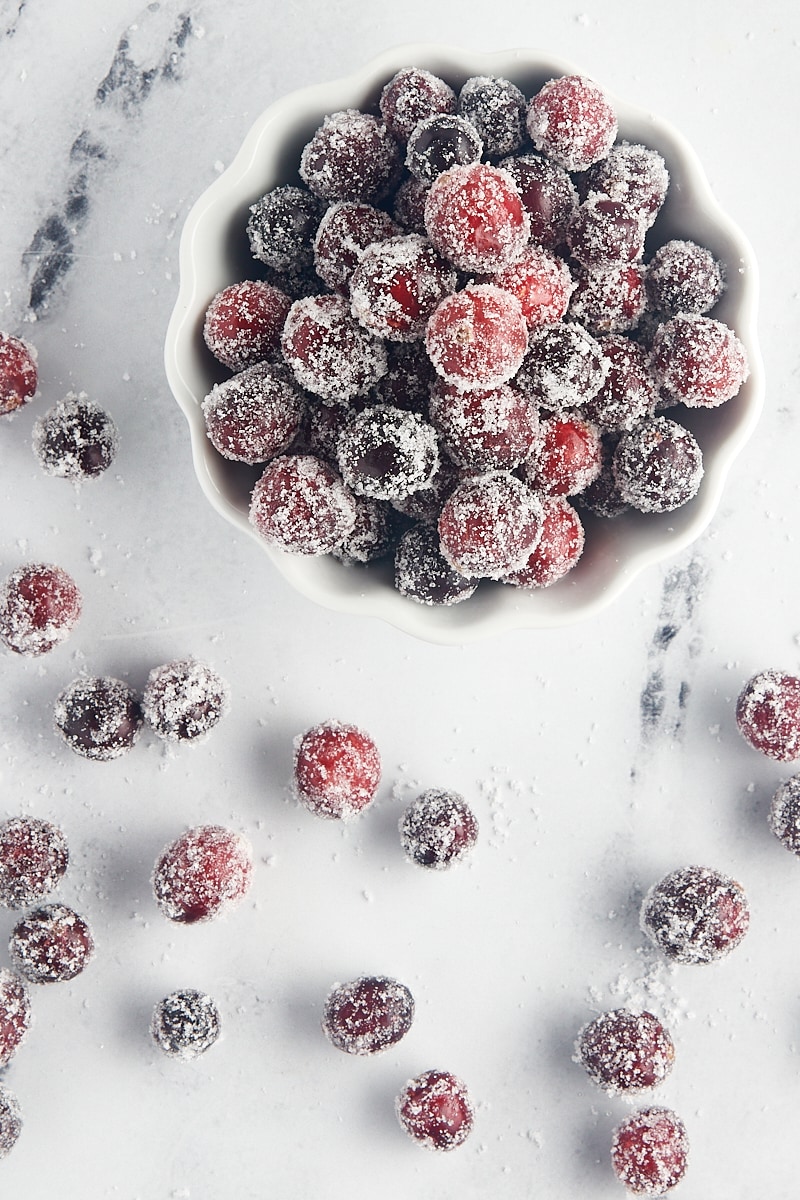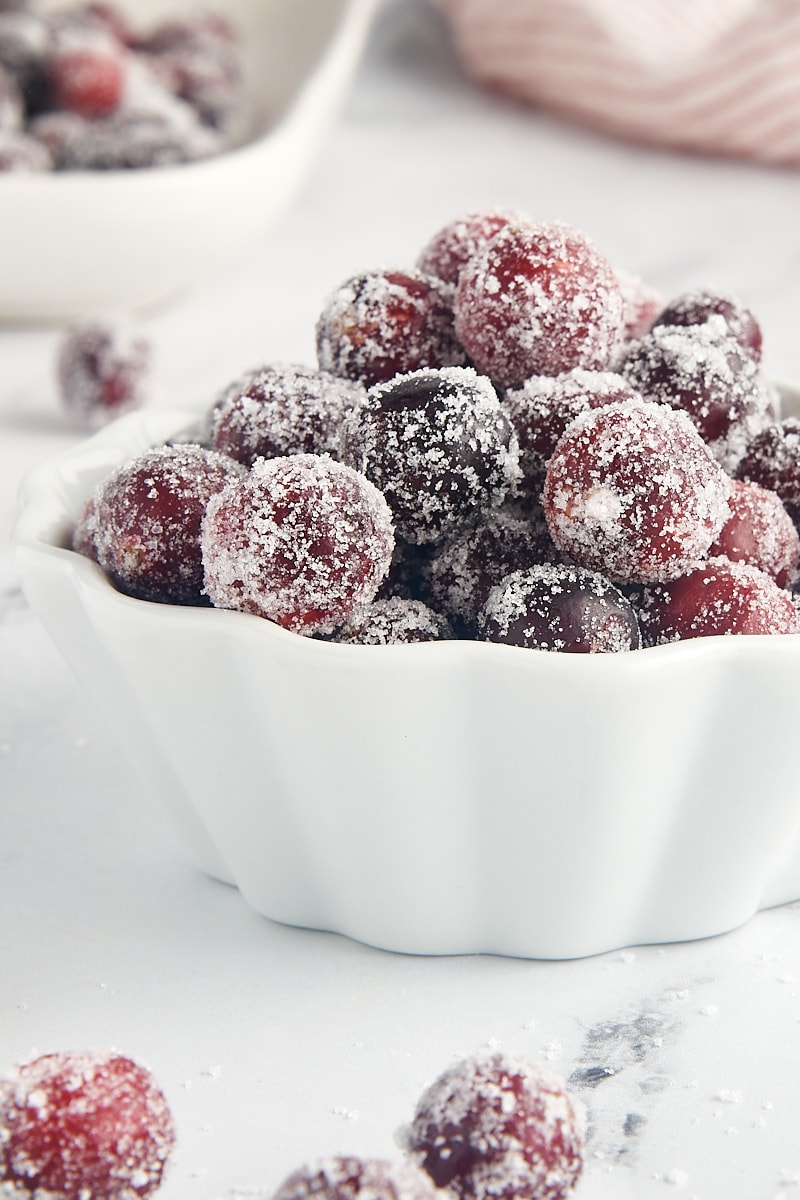 Frequently Asked Questions
Can I use a sugar substitute?
Using a sugar substitute for sugared cranberries can be a bit tricky. The key challenge is achieving the same crunchy coating and visual appeal that you get with regular granulated sugar. A crystal-like sugar substitute would likely work best, although they won't stick quite as well.
How do I prevent the cranberries from popping?
Temperature control is the key. Slowly warm the sugar and water mixture to a simmer, not to a boil. Using room temperature cranberries can help, too, as there's a less drastic temperature change when adding them to the syrup.
Can I use frozen cranberries?
While fresh cranberries are preferred for their firmness and texture, you can use frozen cranberries if fresh aren't available. Thaw them completely and pat them dry before using. Keep in mind that frozen cranberries may not hold their shape as well as fresh ones during the sugaring process.
How do I prevent clumping?
Make sure the cranberries are fully dried on the rack before rolling them in sugar. Space them out evenly and avoid piling them up. If they start to stick together, gently separate them with a fork or your fingers.