This Marble Bundt Cake is both beautiful and delicious! It's one of those anytime cakes that will hit the spot whenever you're craving a little something sweet.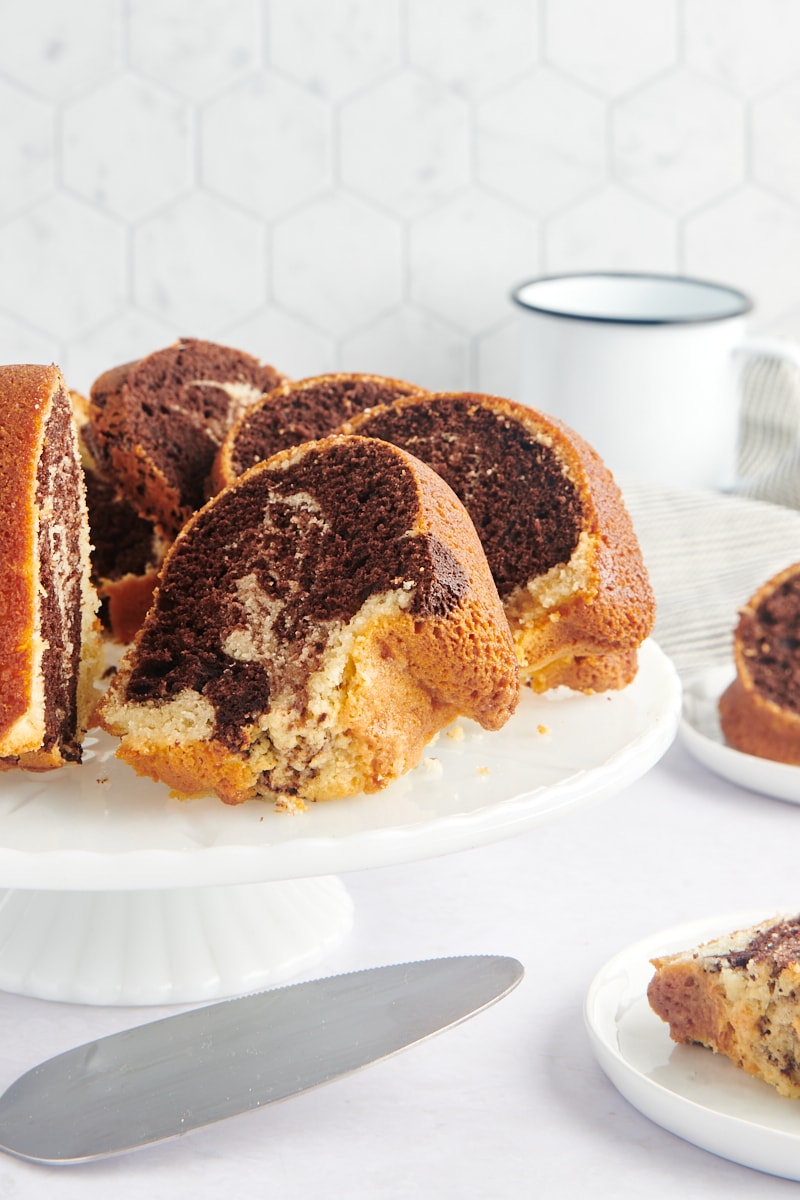 Easy Marble Cake Recipe
Chocolate and vanilla have long been dessert besties, and that enduring relationship shines in this Marble Bundt Cake. Vanilla and chocolate cake batters are swirled together to make an eye-catching dessert that's sure to get plenty of oohs and aahs.
Marble cakes always look so impressive, don't they? I'm very happy to tell you that they don't have to be difficult or fussy to make. In fact, this lovely Marble Bundt Cake will only take a couple more minutes to make than a regular cake. How great is that?
To achieve that simplicity, you'll simply make one cake batter to start and then add cocoa powder to half of it. You'll just need an extra bowl and a little extra mixing. Then just layer the batters, swirl, and bake!
The end result is a lovely cake that celebrates two wonderful flavors without either overpowering the other. I love this not-too-sweet cake just as it is with no adornment, whether I'm enjoying a slice for an afternoon treat or indulging for dessert. It has that "anytime" vibe like a coffee cake but looks more like an impressive dessert. And if you do want to dress it up with a topping, I've got suggestions for that below, too!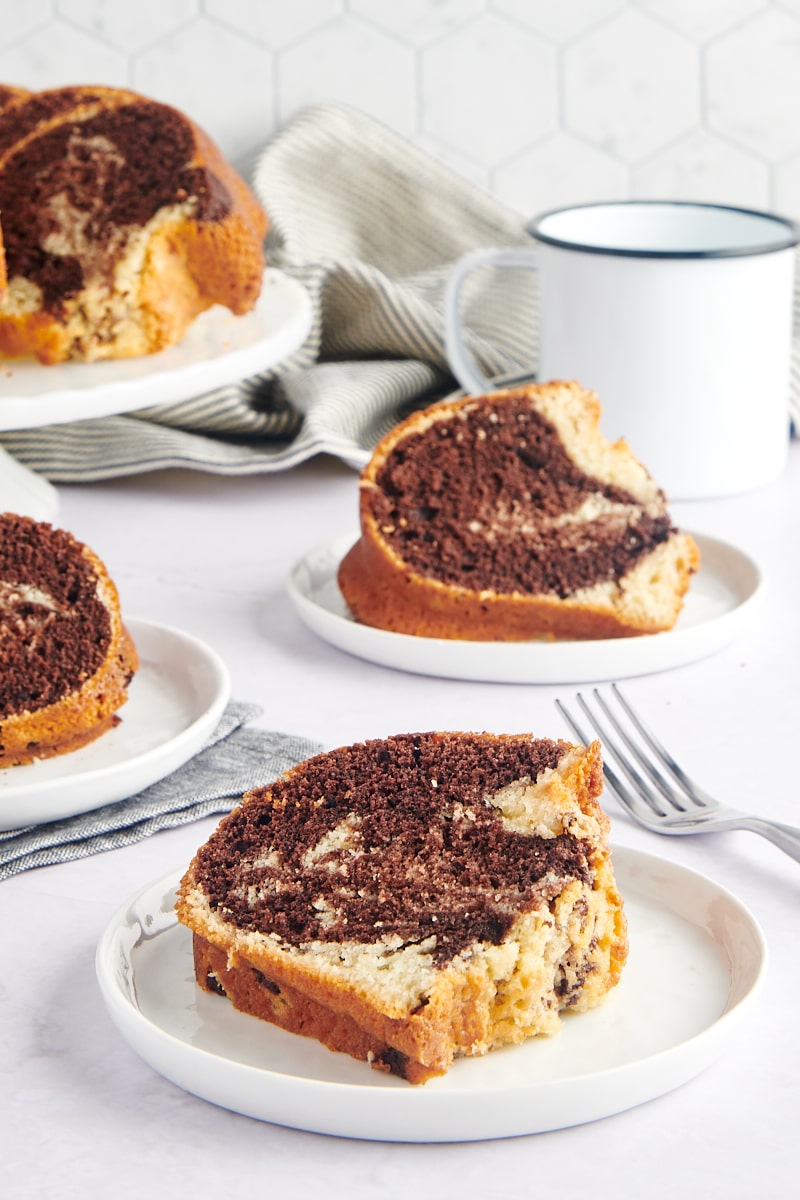 What is a Marble Cake?
A marble cake is named for its appearance. It's usually made of a light batter and a dark batter lightly mixed to create a swirled, marbled appearance. You can use equal or unequal amounts of each batter. Most commonly, you'll see it made with vanilla and chocolate, like this recipe.
For more marble cake recipes, see Marbled Cookie Butter Cake and Chocolate Hazelnut Marble Cake.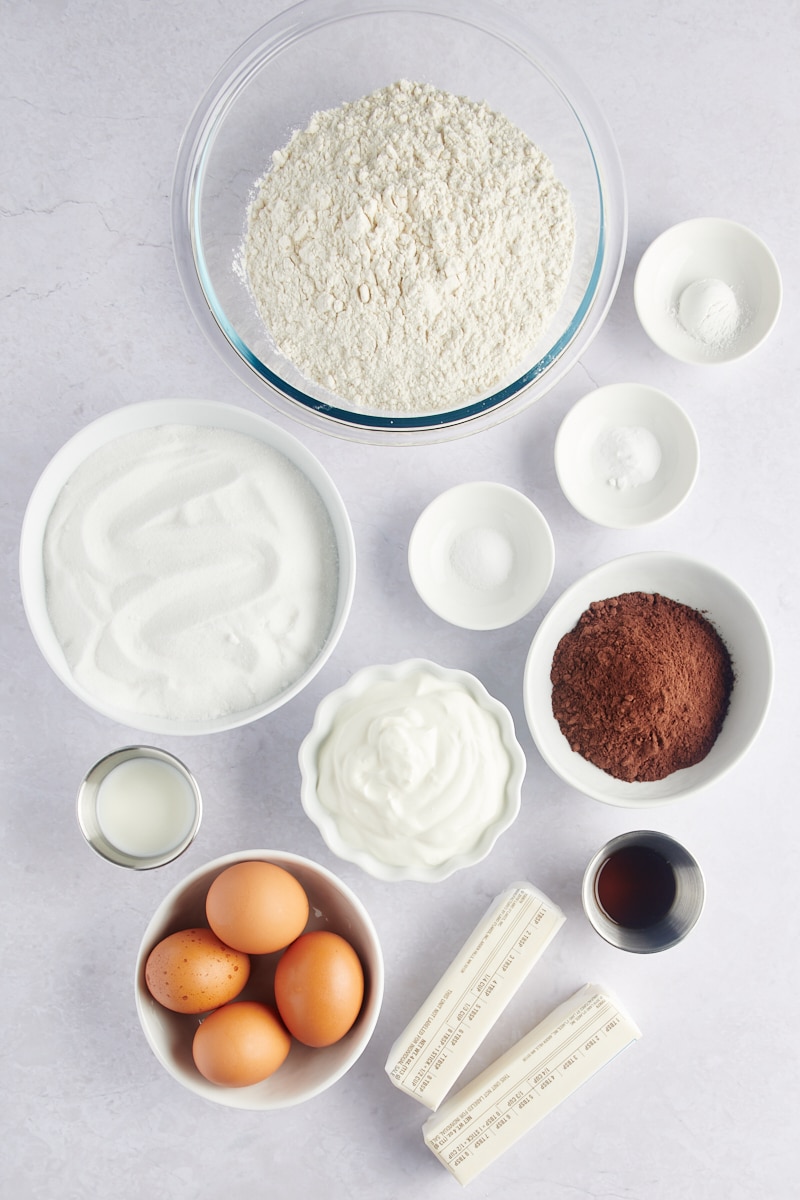 What You'll Need
See the recipe card at the bottom of this post for ingredient quantities and full instructions. Here are some notes about the ingredients you'll need to make this marble cake.
All-purpose flour – Be sure to measure accurately, preferably by weight. If you don't have a digital kitchen scale, you can simulate that accuracy with the spoon and sweep method. Learn more: How to Measure Flour
Salt
Baking powder
Baking soda
Unsalted butter – Set out the butter before baking to allow it to soften. It should still be cool and hold a thumbprint when pressed. Learn more: How to Soften Butter
Granulated sugar
Eggs – Set out the eggs along with the butter so they can come to room temperature. I recommend baking with large eggs.
Sour cream – Full-fat sour cream works best.
Milk – I recommend baking with whole milk or 2% milk.
Vanilla extract
Cocoa powder – I prefer unsweetened natural cocoa powder in this cake.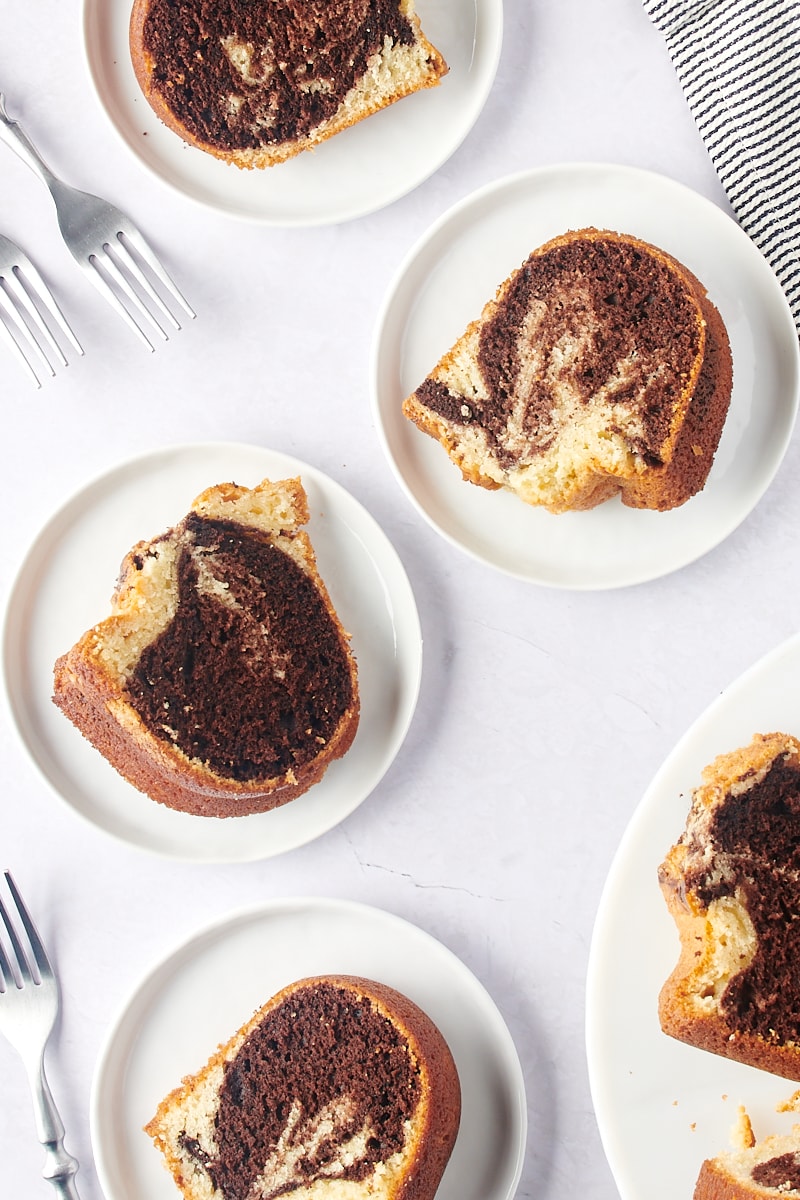 How to Make Marble Bundt Cake
Don't worry that making two different cake batters will be too much effort. You'll make just one batter to start and then add chocolate to half of it. It really couldn't be easier!
Prepare for baking. Heat the oven to 350°F. Generously grease and flour a 10- or 12-cup Bundt pan. You can do that with butter and flour, or use a cooking spray with flour like Baker's Joy or Pam for Baking.
Combine the dry ingredients. Whisk together the flour, salt, baking powder, and baking soda.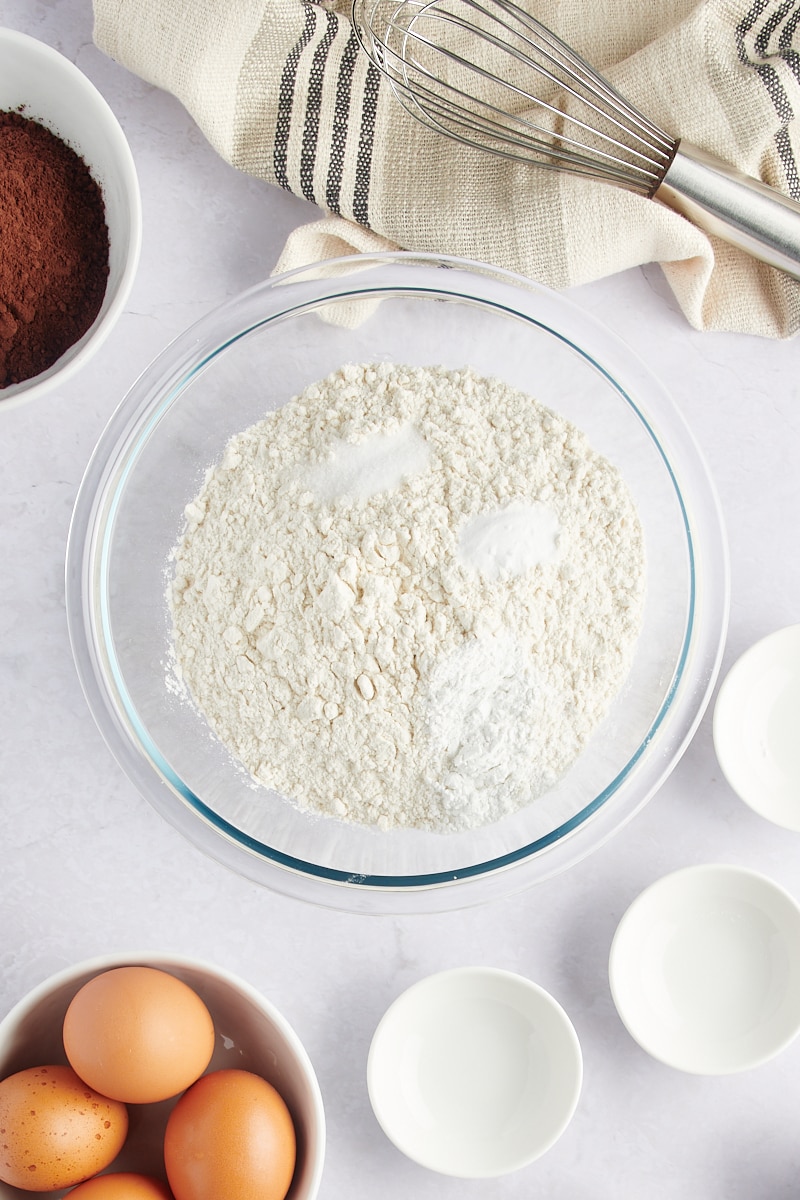 Begin mixing. In a large mixing bowl, beat the butter and sugar with an electric mixer on medium speed. (You can use a hand mixer or a stand mixer.) Mix until fluffy and lightened in color. One at a time, add the eggs and mix well after adding each one. Mix in the vanilla.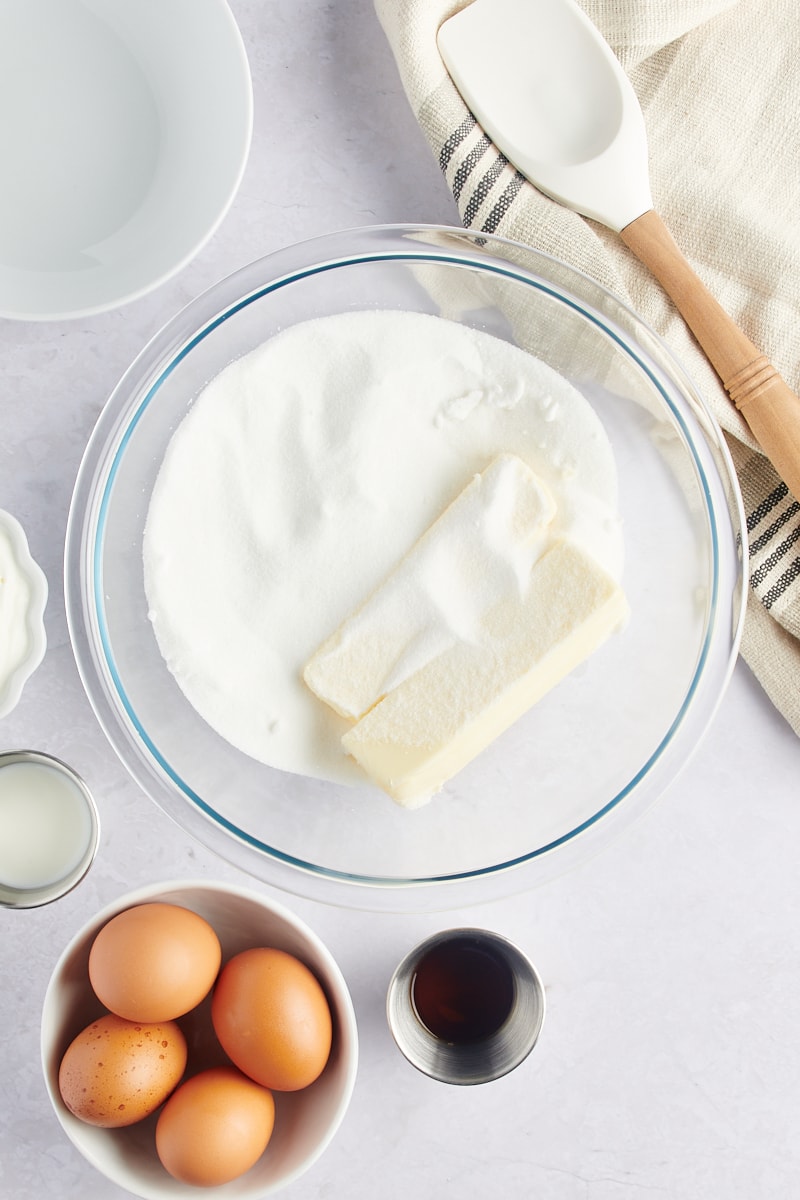 Add the dry ingredients, sour cream, and milk. With the mixer speed on low, add about a third of the flour mixture, followed by half of the sour cream, then half of the remaining flour mixture. Next, mix in the remaining sour cream and milk and finally the remaining flour mixture. Scrape the sides of the bowl as needed. Don't over-mix; mix just until combined.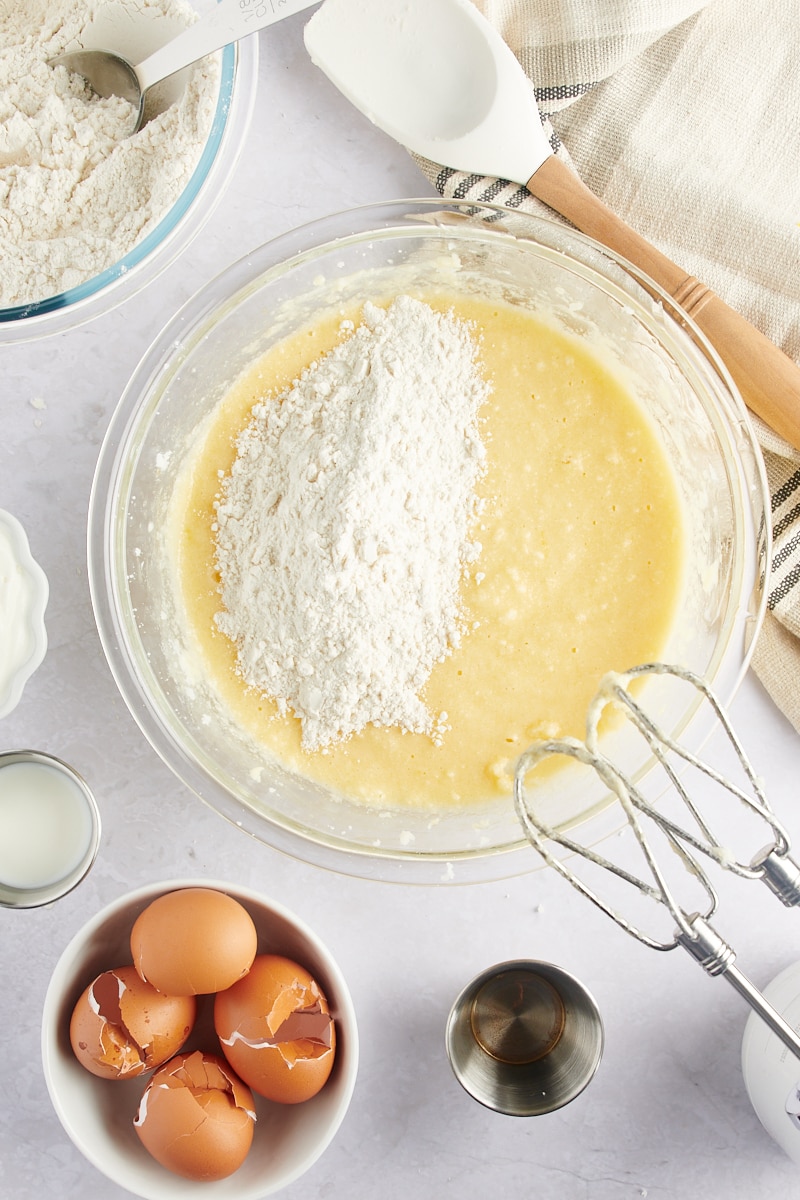 Make the chocolate batter. Divide the cake batter roughly in half, with one portion slightly smaller. Add the cocoa powder to the smaller portion, and mix just until combined.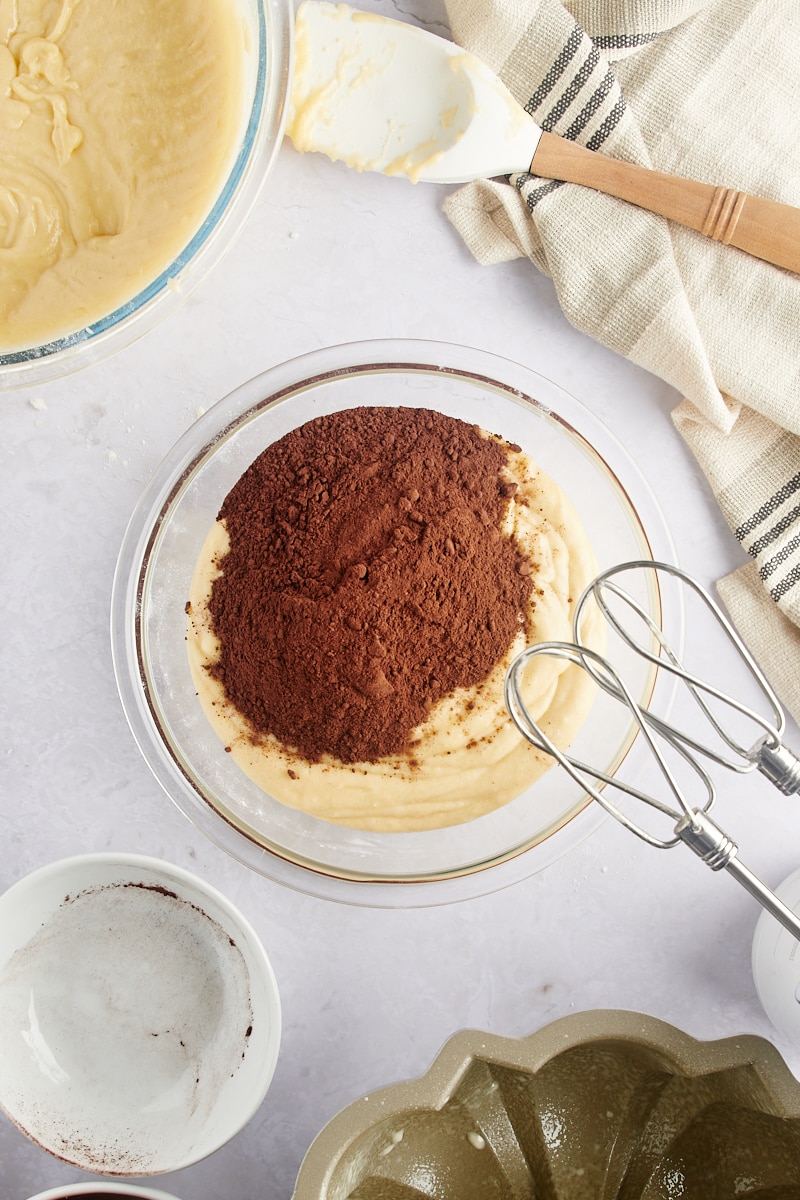 Transfer to the pan. Spread half of the vanilla cake batter in the prepared pan. Next, top it with the chocolate batter. Finally, add the remaining vanilla batter on top. Gently tap the pan on the counter a few times to get rid of any air pockets.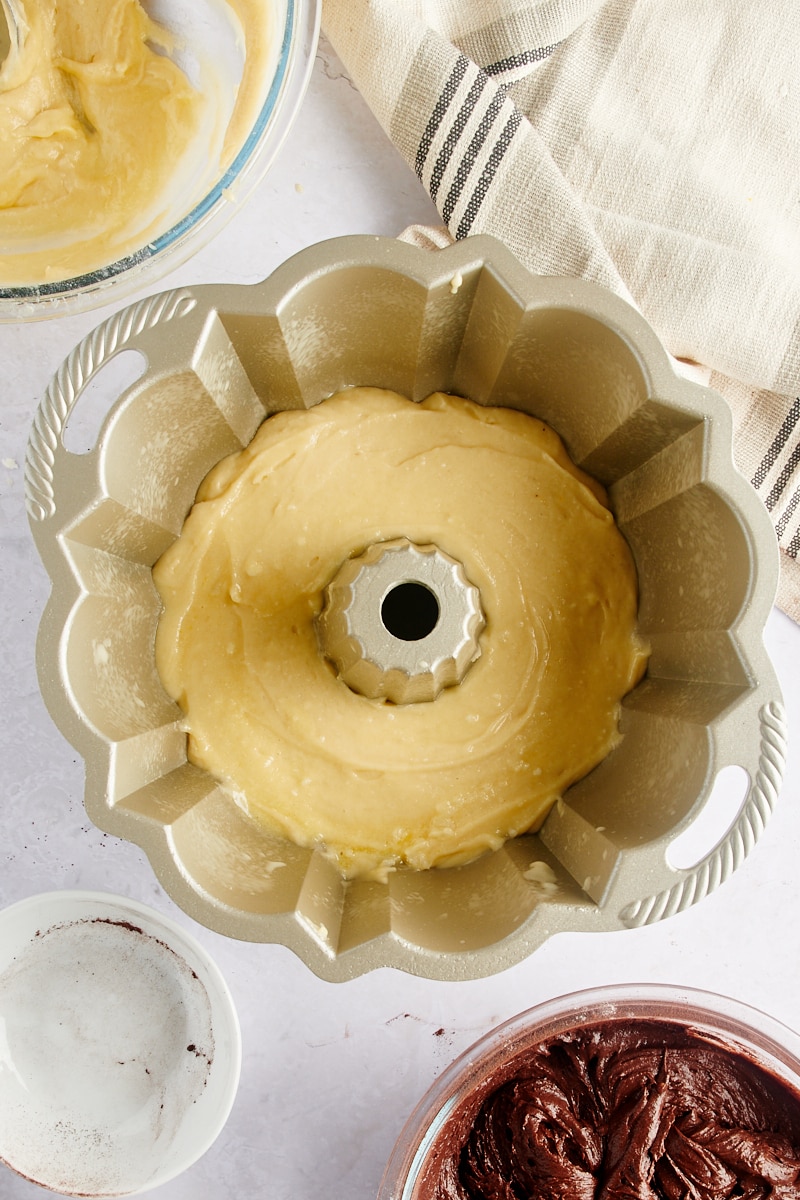 Swirl. Use a thin knife or offset spatula to swirl the batters gently. Don't overdo it, or the batters will become mixed instead of swirled.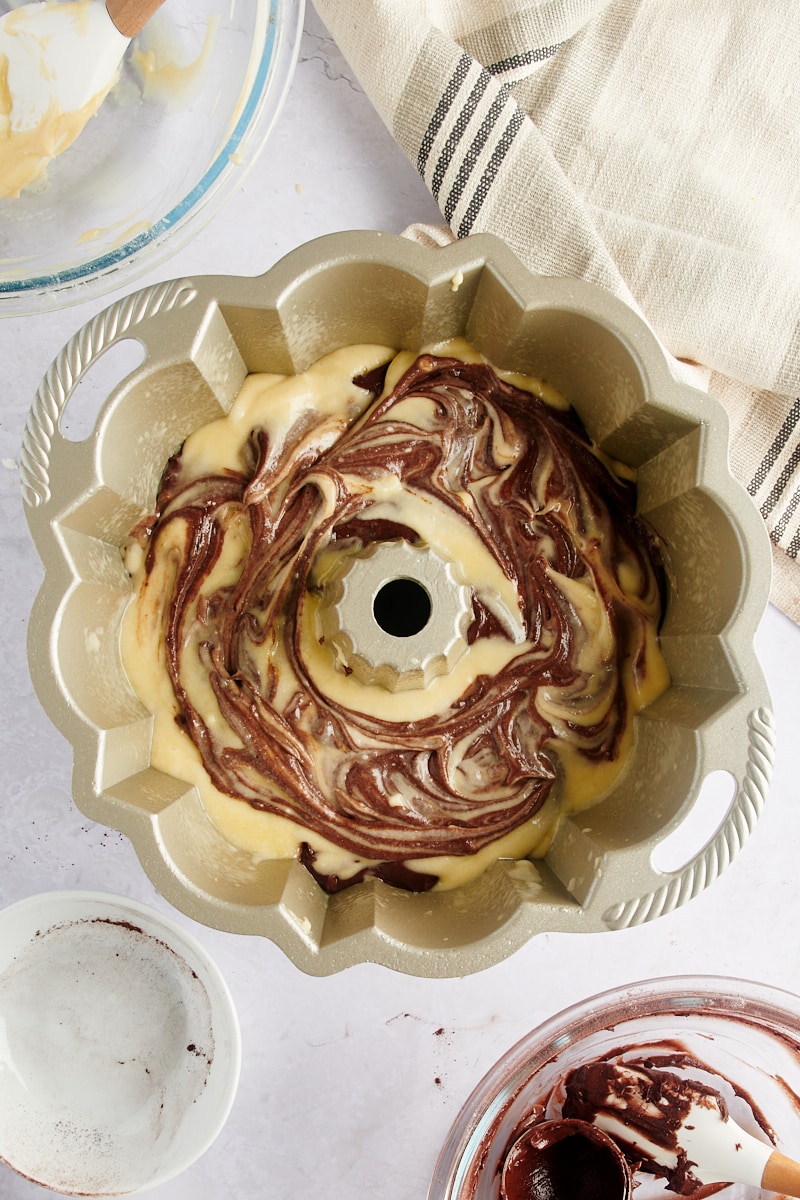 Bake. Place the pan in the heated oven, and bake 50 to 60 minutes, or until a cake tester or toothpick inserted into the center comes out clean.
Cool. Place the pan on a wire rack, and allow to cool for 15 minutes. Then transfer the cake from the pan directly onto a wire rack to cool completely.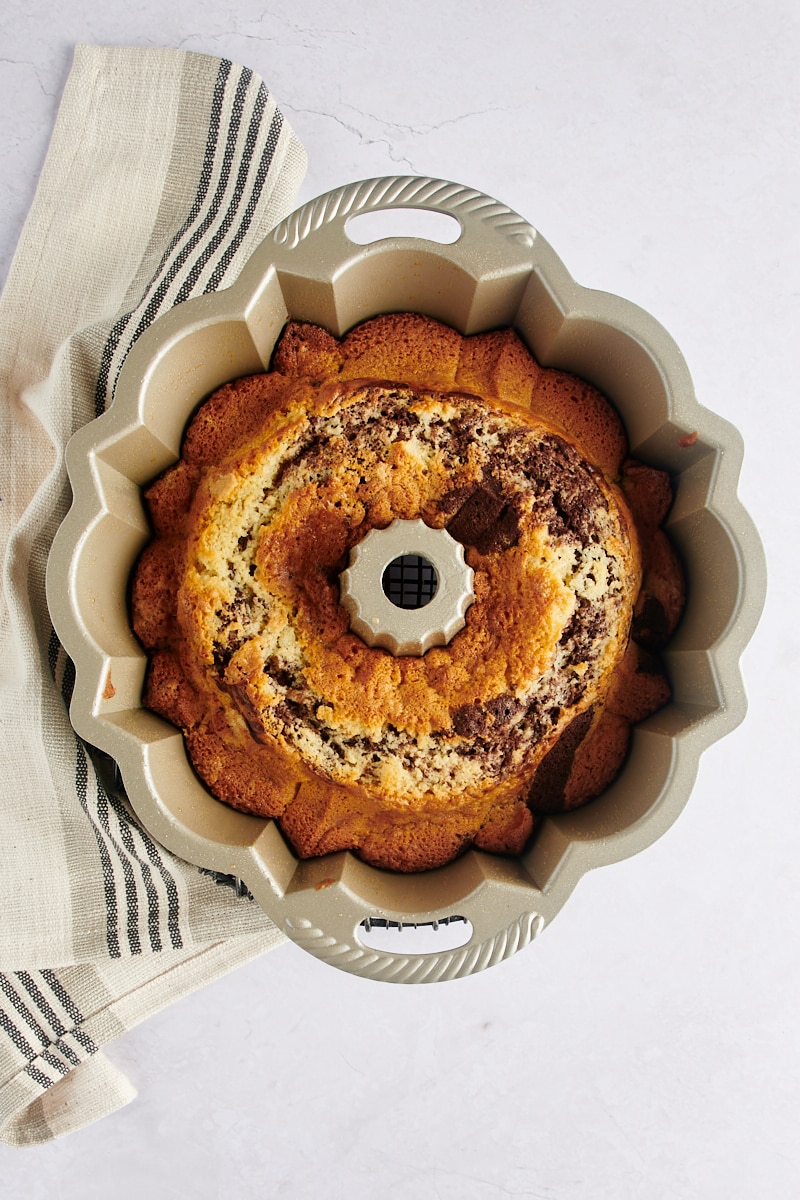 Serving Suggestions
This cake can be dressed up or kept simple. That versatility is one thing that makes it so good! Honestly, I often enjoy it just as it is with nothing extra. If you want to add a little something, try one of these ideas for serving.
Confectioners' sugar – Simply dust confectioners' sugar over the cake or on individual slices before serving.
Chocolate ganache – Play up the chocolate aspect by adding a simple ganache like the one on my Yellow Bundt Cake.
Vanilla glaze – The reliable confectioners' sugar glaze is a great topping for so many cakes. Try the simple one from Chai Spice Bundt Cake or add a sour cream twist with the glaze from Hazelnut Pear Bundt Cake.
Ice cream – Cake and ice cream are always a good idea! Add a big scoop of vanilla ice cream or go with another favorite flavor. For a little more flavor and fun, sprinkle chopped chocolate or chocolate chips on top.
Whipped cream – A dollop of sweetened whipped cream is a simple and lovely complement to this cake.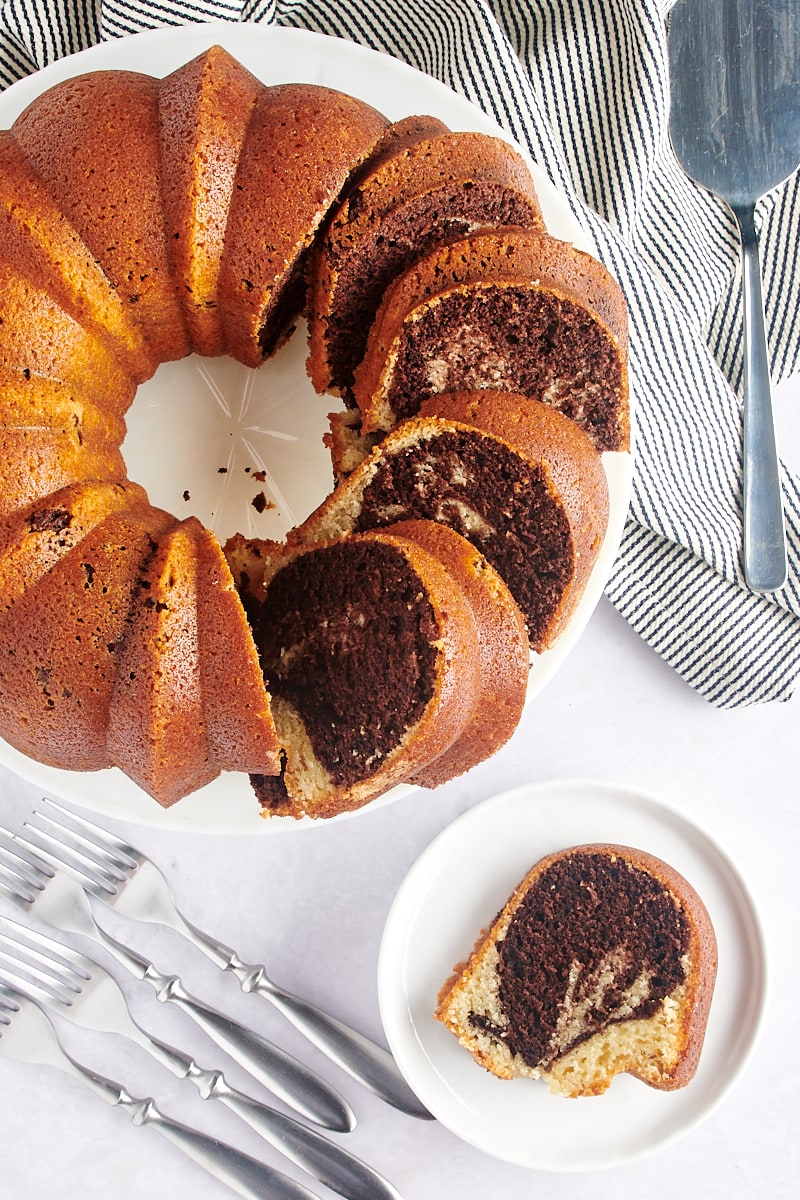 Tips for Success
Don't over-mix. If the batter is mixed too much, the cake will be tough.
Generously grease the pan. The more intricate the pan's design, the tougher it is to make sure every little corner is covered. I almost always use a cooking spray with flour and very, very rarely have any issues with sticking.
Keep the swirling to a minimum. Layering the batters in the pan means that you don't need to be aggressive in swirling. Simply use an up and down motion with a thin knife or thin spatula (like an icing spatula) to swirl the batters.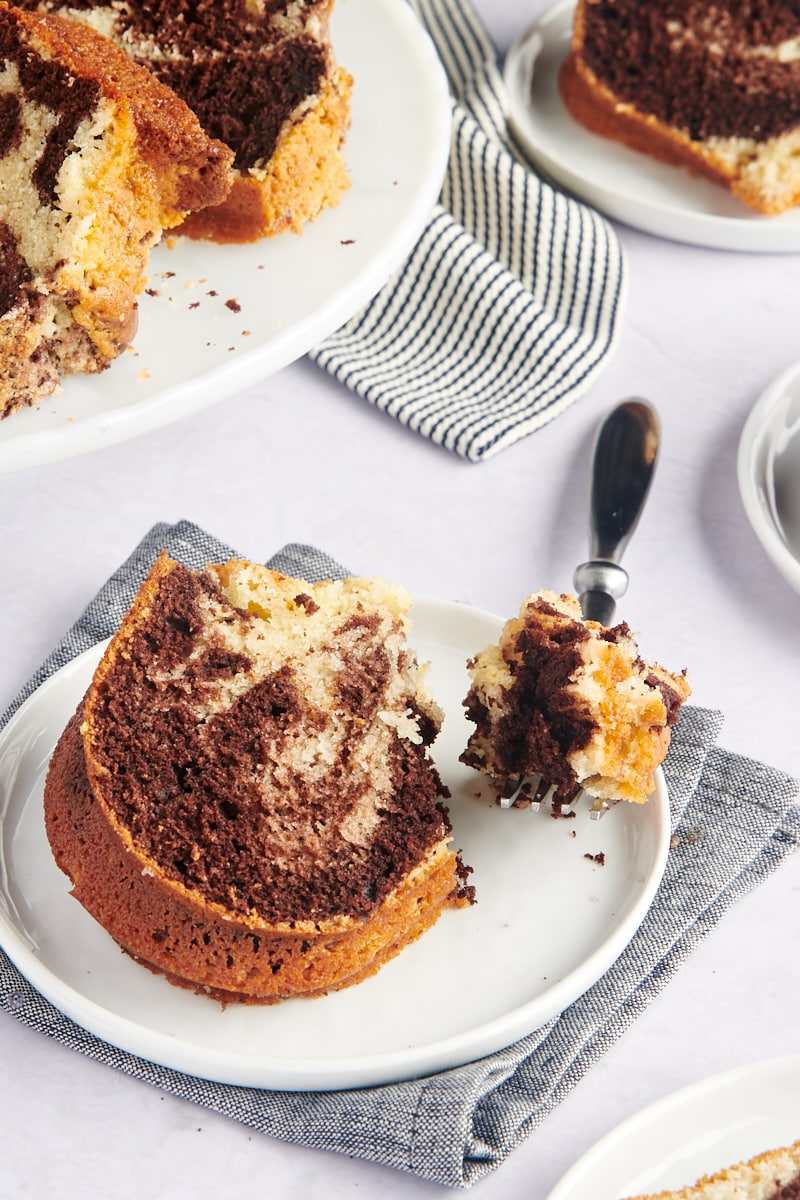 How to Store Leftovers
After the cake has cooled completely, you can store the cake or individual slices in an airtight container. While it will be best when it's fresh, it should keep at room temperature up to 3 days.
How to Freeze
Wrap any leftovers in two layers of plastic wrap, and then wrap again in aluminum foil or place in an airtight, freezer-safe container or zip-top bag. Properly stored, the cake should keep in the freezer up to 3 months. Thaw for an hour or two at room temperature.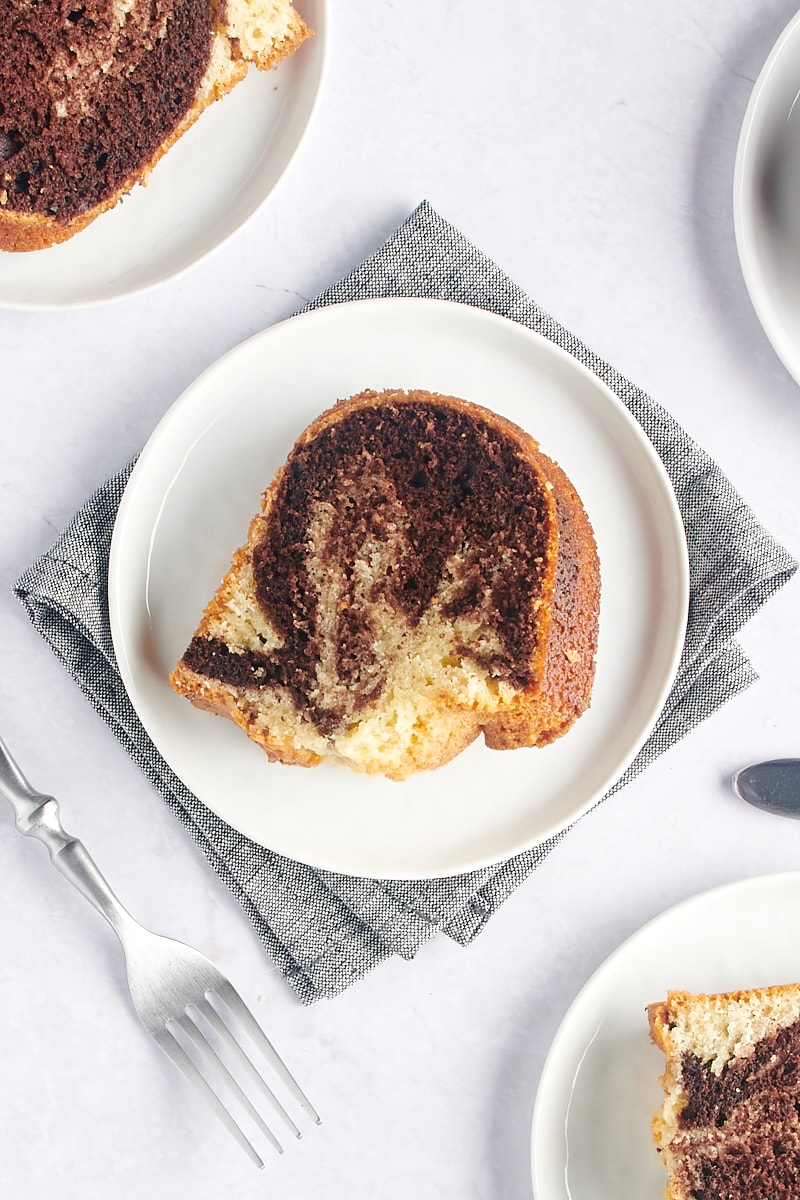 Video Tutorial: Marble Bundt Cake