February 16, 2017
Hazelnut Mocha Brownies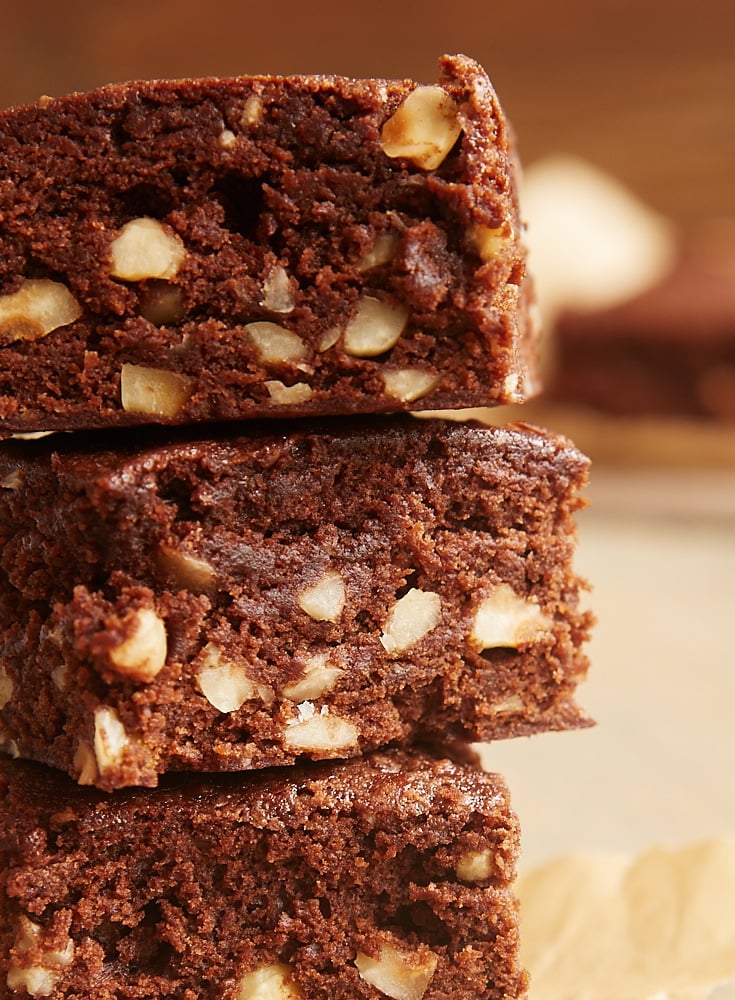 If you're a big chocolate fan like I am, then you probably also have a pretty big soft spot for brownies. I'll take them most any way I can get them, from no frills to over the top. But I really love changing them up with different additions and little flavor twists.
There are so many flavors that work wonderfully with chocolate, but one of the best is coffee. I'm not much of a coffee drinker, but I still appreciate the fantastic way it complements chocolate. It somehow enhances it and makes it richer and bolder.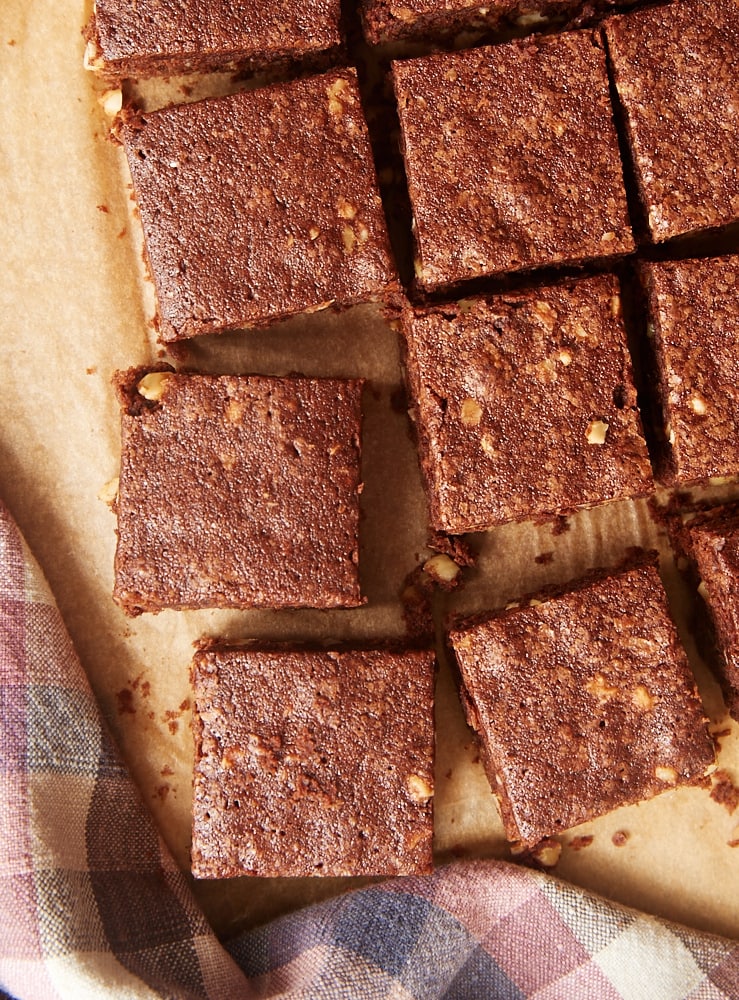 That's certainly the case with these brownies. There's a shot of espresso mixed right into the batter for a nice bit of coffee flavor. We have one of those single-serve coffee makers, and the espresso setting yields a nice 3-tablespoon shot of espresso or strong coffee. If you want to vary the amount of coffee in these brownies, you can adjust up or down by about a tablespoon.
And to make these brownies even better, I mixed in some toasted hazelnuts. They're such a great complement to both the chocolate and the coffee. They add a lovely flavor and a nice crunch. Of course, another nut will substitute nicely. Or, omit them if you're not a fan of nuts.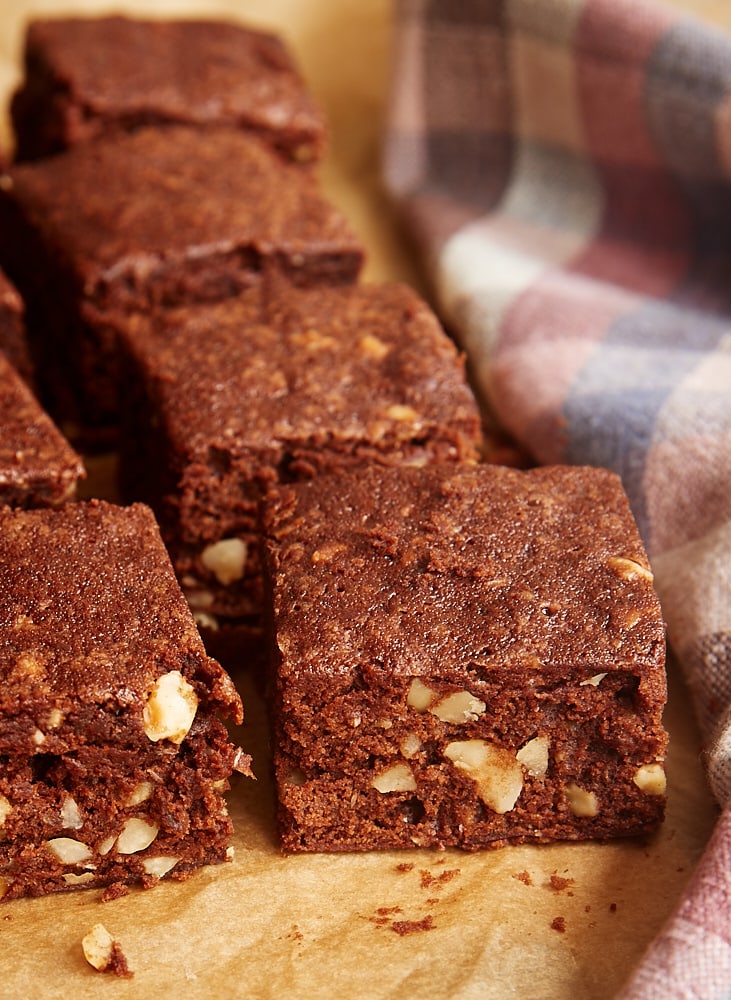 Quinn is our resident coffee drinker, so I deferred to him for the final verdict on these brownies. He finds the coffee flavor subtle and just right. I, on the other hand, think the coffee flavor is more prominent, but that's most likely because I'm not a coffee drinker. Whether you can't exist without your coffee or just enjoy an occasional cup, that will hopefully give you an idea of what kind of coffee flavor to expect from these brownies.
For all the coffee drinkers and chocolate lovers out there, I think you'll love these Hazelnut Mocha Brownies. If you're a little less of the former but still a big chocolate fan, I still think these will be a hit!
Find more brownie recipes in the Recipe Index.
Hazelnut Mocha Brownies
Yield: 16 2-inch brownies
Prep Time: 20 minutes
Cook Time: 35 minutes
Coffee and hazelnuts are perfect companions for all the chocolate in these Hazelnut Mocha Brownies. They're irresistible!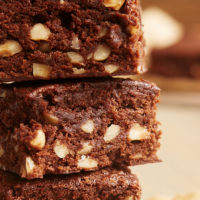 Ingredients:
3/4 cup unsalted butter
2 ounces unsweetened chocolate, roughly chopped
1 & 1/2 cups granulated sugar
1/4 cup + 2 tablespoons unsweetened natural cocoa powder
3 large eggs
3 tablespoons brewed espresso or strong coffee
1 teaspoon vanilla extract
1/2 teaspoon salt
1 cup all-purpose flour
1 cup chopped hazelnuts, toasted
Directions:
Preheat oven to 350°F. Grease a 9-inch square baking pan.
Place the chocolate and butter in a microwave-safe bowl. Heat in the microwave at half power in 30-second increments until the butter has melted and the chocolate melts when stirred. Stir until smooth. Set aside to cool slightly.
Using an electric mixer on medium speed, beat the sugar, cocoa powder, eggs, espresso, vanilla, and salt until thoroughly combined. Add the cooled chocolate mixture, and mix until combined.
Reduce mixer speed to low. Add the flour, and mix just until combined.
Stir in the hazelnuts.
Transfer the batter to the prepared pan, and spread evenly. Bake 35 to 40 minutes, or until a pick inserted into the center comes out with a few moist crumbs.
Cool in the pan before cutting into bars.