Cheddar and Chive Cornmeal Biscuits are wonderfully flavorful. Add these to your dinner menu or enjoy them for a savory snack!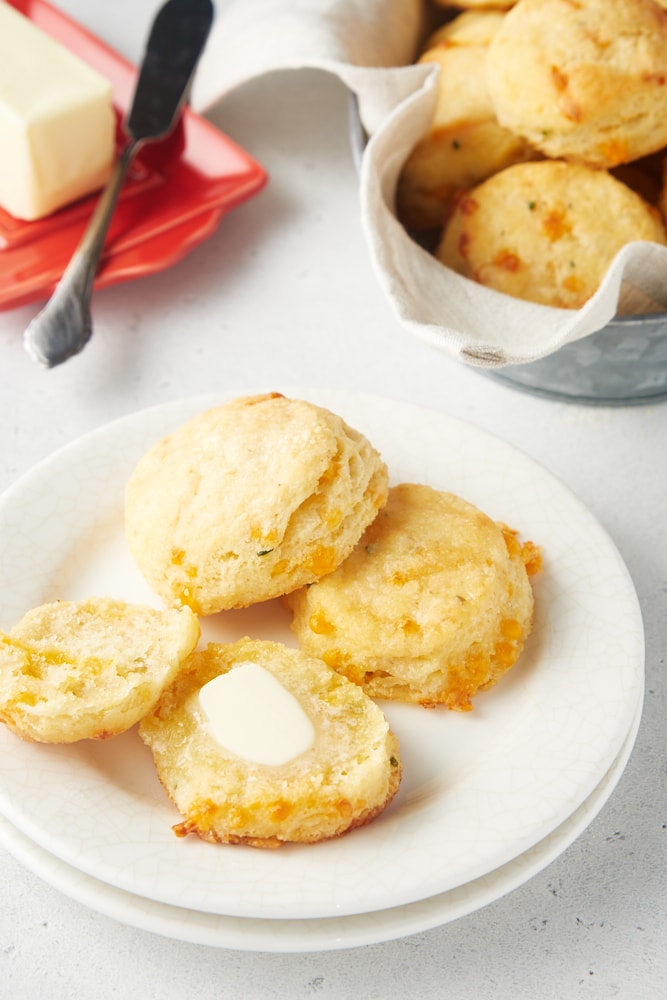 Cornmeal Biscuits with Cheddar and Chives
If you love both biscuits and corn bread, you're in for a treat with these Cheddar and Chive Cornmeal Biscuits. They're a little bit of both along with a good dose of cheese and chives for fantastic flavor.
The addition of cornmeal really amps up the idea of a basic biscuit. It lends a bit of yellow color to the biscuits, and also creates a little different texture and flavor. They feel heartier than a traditional biscuit while not being too heavy.
These cheesy, flavorful biscuits are perfect dinner companions or excellent snack fodder. If you're into breakfast sandwiches, then these would make a great foundation for layering with so many good things to make a breakfast of champions.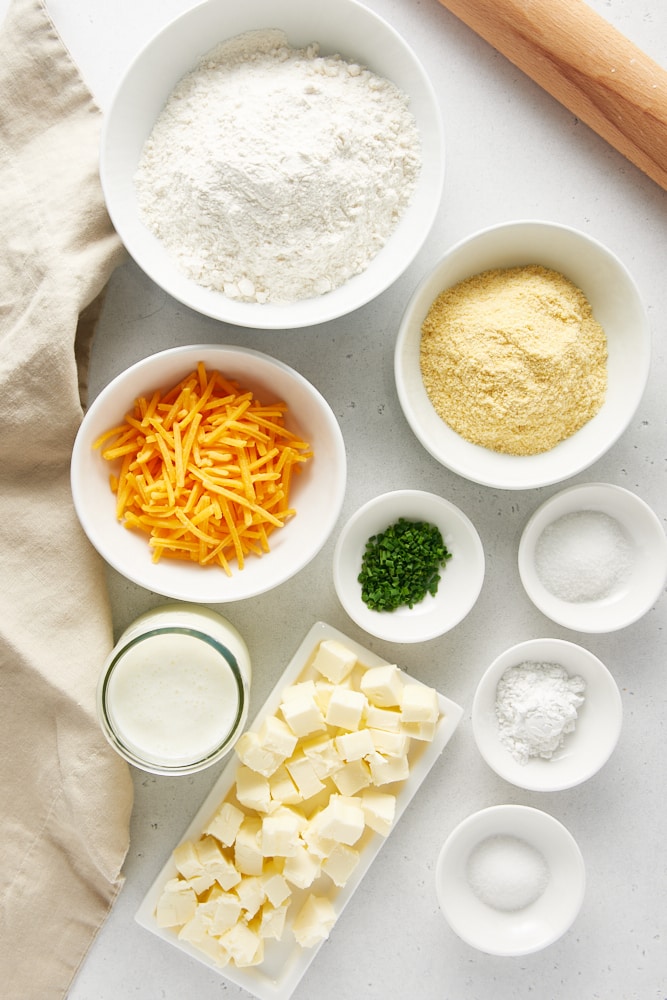 What You'll Need
Besides basic baking ingredients, you'll need cornmeal, buttermilk, chives, and cheese to make these biscuits.
All-purpose flour – Spoon and sweep if you're not measuring by weight.
Cornmeal – You'll need regular cornmeal not cornmeal mix, which also contains baking powder and salt.
Sugar
Chives – I like to use fresh chives for these biscuits. If you use dried chives, you'll want to use about a third of the amount in the recipe.
Baking powder
Salt
Unsalted butter – The butter needs to be cold, so be sure it's well-chilled. After you've cut it into cubes, return it to the refrigerator while you gather the other ingredients.
Buttermilk – Out of buttermilk? Try one of these substitutes.
Cheddar cheese – I like sharp Cheddar here, but mild or white Cheddar works, too.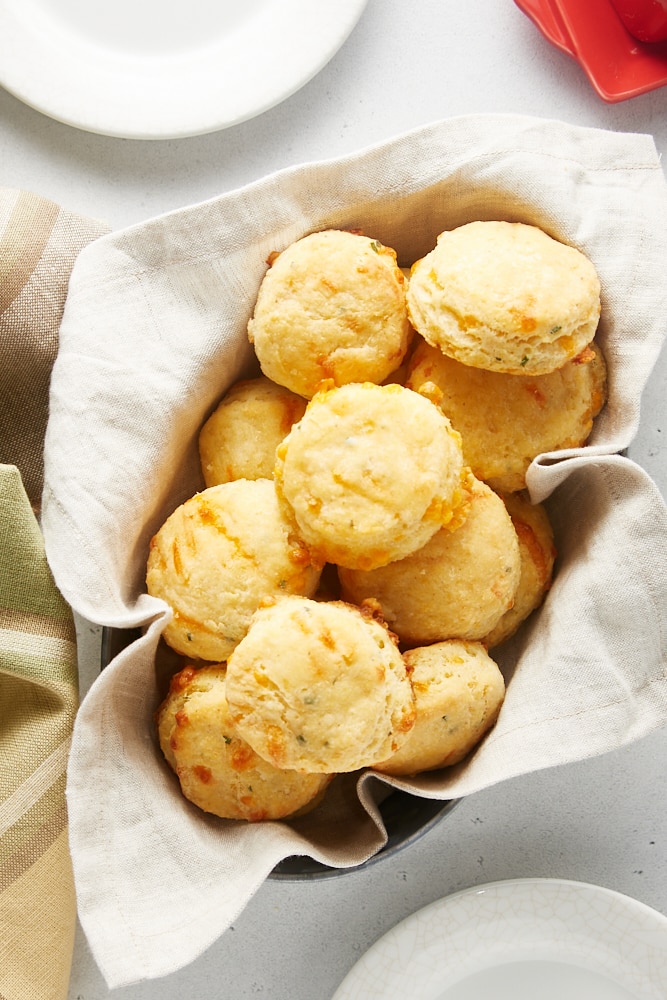 How to Make Cheddar and Chive Cornmeal Biscuits
These biscuits are a breeze to make! While there is some kneading and rolling, this dough handles very well. You'll need a mixing bowl, a pastry blender (or a fork), a rolling pin, and a biscuit cutter.
Prepare for baking. Heat the oven to 425°F. Line a baking sheet with parchment paper or a silicone liner.
Combine the dry ingredients and sugar. Whisk together the flour, cornmeal, sugar, chives, baking powder, and salt.
Add the butter. Use a pastry blender or a fork to mix the butter into the flour mixture. Once mixed, it should look like coarse crumbs.
Mix in the buttermilk and cheese. Stir just until moistened.
Roll, shape, and cut the dough. Transfer the dough to a lightly floured surface. Knead it 4 or 5 times just until it comes together. Next, roll the dough to a 3/4-inch thickness. Finally, use a 2-inch biscuit cutter dipped in flour to cut into biscuits. Place the biscuits on the prepared pan, leaving about 2 inches between them.
Bake. The biscuits will need to bake 12 to 15 minutes, or until they're golden brown. Once baked, place the pan on a wire rack.
Brush the tops with melted butter. I find that 1 tablespoon of butter is plenty, but feel free to bump that up a bit if you like. Serve warm or at room temperature.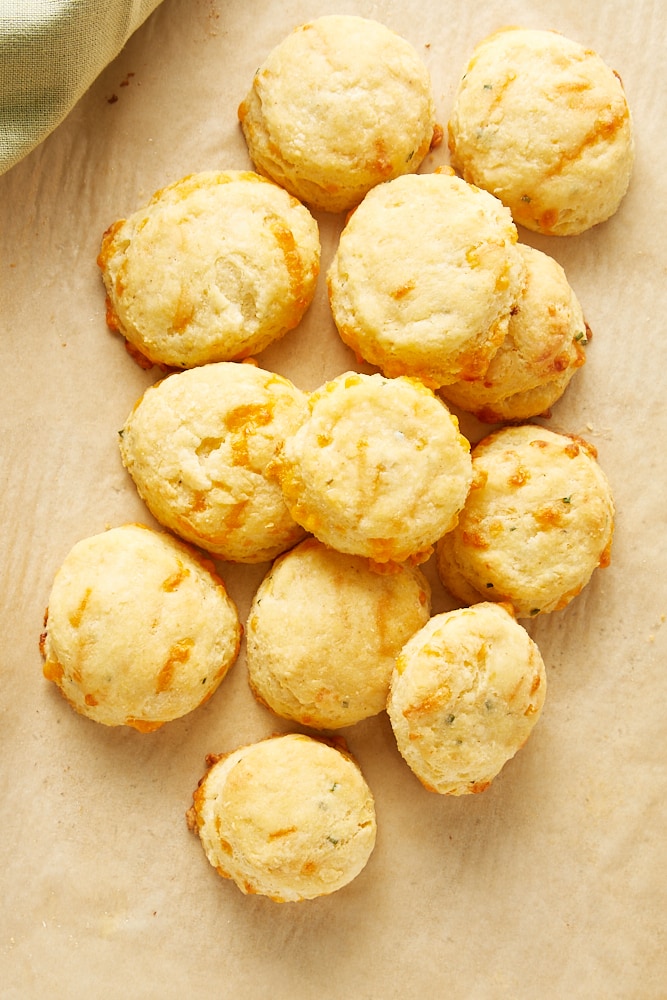 Tips for Success
Don't over-work the dough. Too much mixing and kneading can mean tough biscuits.
Use a biscuit cutter. These thin cutters are so handy for making biscuits. If you use a cookie cutter or some other cutter, make sure the sides are thin and sharp enough to make easy cuts. Dip the cutter in flour between cuts to minimize sticking.
No twisting! When cutting the biscuits, don't twist the cutter. That seals the sides and prevents them from rising as they should.
Gather and re-roll just once. Each time you re-work the dough, you'll get a less optimal result in texture and shape.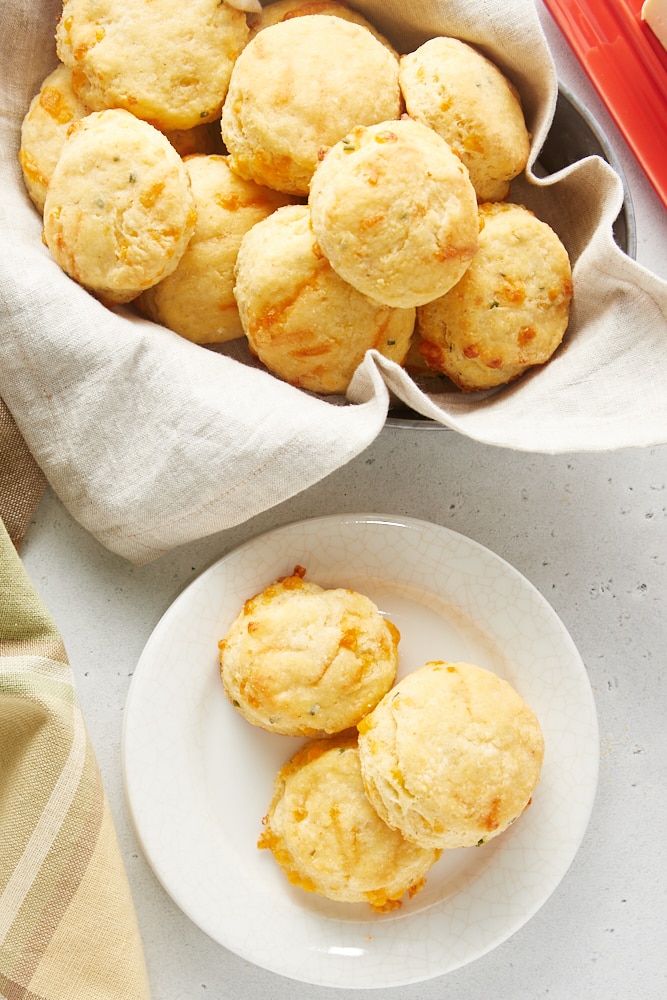 How to Store Leftovers
Place any leftover biscuits in an airtight container. They should keep this way at room temperature for up to 2 days. For longer storage, place the container in the refrigerator and store up to 5 days.
To reheat the biscuits, place them on a pan and bake at 350°F for 5 minutes or until heated. You can also wrap each biscuit in a damp paper towel, place them on a plate, and microwave at half-power for 30 to 60 seconds. If they're not warm enough, continue heating in 10 to 15 second increments until they're ready.
Can Cornmeal Biscuits Be Frozen?
Yes! Wrap the cooled biscuits in plastic wrap; then place them in a freezer-safe bag or container. Stored properly, they should keep for up to 3 months. Thaw overnight in the refrigerator or at room temperature for a couple of hours.
You can also take them directly from the freezer and place them on a baking sheet. Bake at 350°F for 12 to 15 minutes or until heated.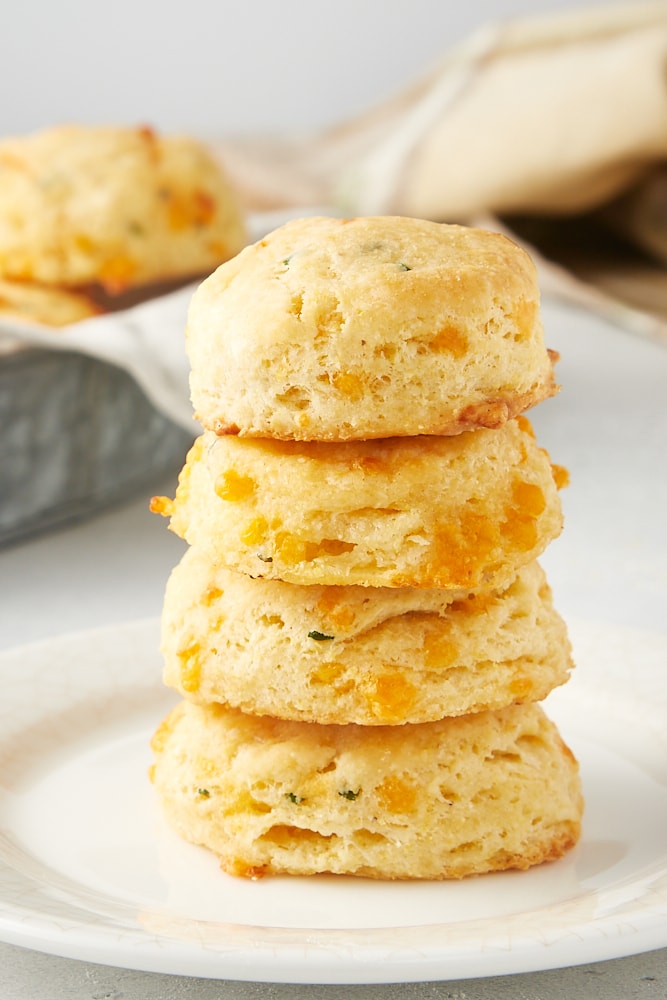 More Biscuit Recipes