February 11, 2014
Chocolate Cream Cake
I don't generally need much of an excuse to make chocolate desserts. But, this is Valentine's week, so chocolate is not only welcomed but expected.
When I first found this recipe, I was instantly enamored with all those chocolate-y layers. Just look at them! Really, what's better to layer with chocolate than more chocolate?
We start with a simple, thin cake flavored with espresso. That's topped with chocolate whipped cream and another thin layer of cake. Then, let's just pour on even more chocolate with a rich topping.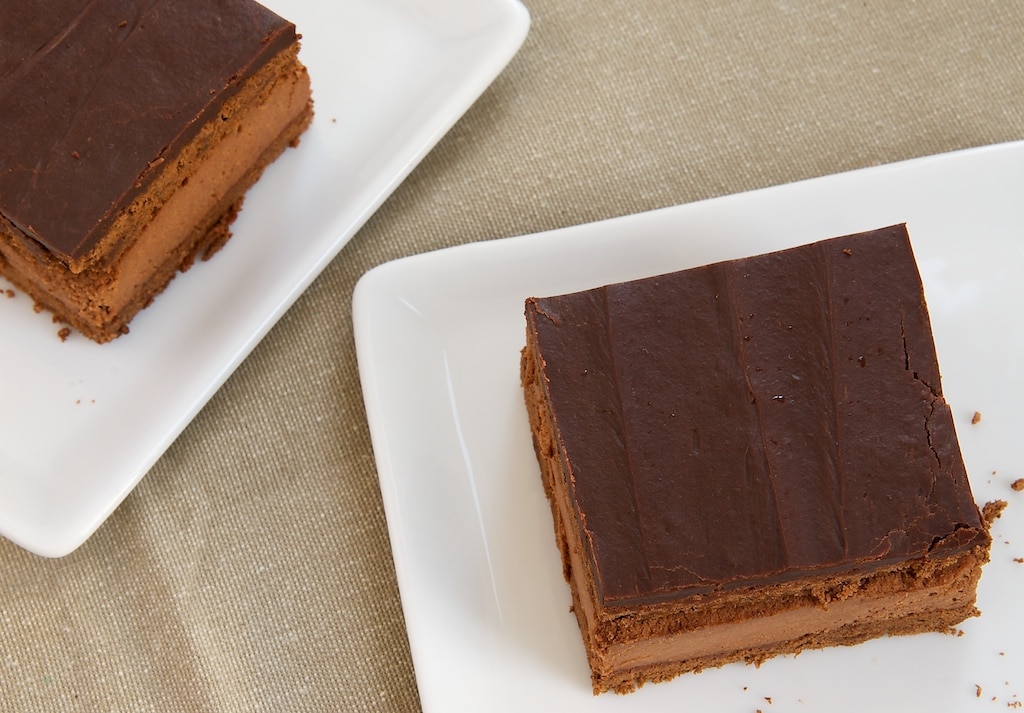 The end result was as good as I had hoped. So. Much. Chocolate. As someone who is not a coffee fan, I'm happy to say that the flavor doesn't come through in a big way. Instead, it's a wonderful enhancer of all that chocolate.
Perhaps my favorite part of this cake is it's texture. It's so soft and smooth. I normally resist such clichés, but it melts in your mouth. It is truly a pleasure to eat.
If I can offer a word of warning, cutting this cake can be a bit of a messy proposition. The topping is much tougher to cut through than the rest of the cake, and it may tend to fall apart a bit. Just use a sharp knife and take your time.
Chocolate Cream Cake
Prep Time:45 minutes
Cook Time:12 minutes
Total Time:18 servings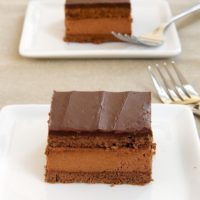 Ingredients:
For the cake:
8 ounces bittersweet chocolate, cut into 1/2-inch pieces
1/3 cup brewed espresso
6 large eggs, separated
2/3 cup granulated sugar, divided
2 teaspoons vanilla extract
1/4 teaspoon cream of tartar
pinch of salt
1/4 cup all-purpose flour
unsweetened cocoa powder, for dusting
For the topping:
1 tablespoon unsalted butter
1/4 cup granulated sugar
1/3 cup water
4 ounces bittersweet chocolate, cut into 1/2-inch pieces
1 ounce unsweetened chocolate, finely chopped
1 teaspoon vanilla extract
For the filling:
6 ounces bittersweet chocolate, cut into 1/2-inch pieces
2 tablespoons unsalted butter
2 tablespoons water
1 & 1/2 cups heavy cream
3 tablespoons confectioners' sugar
1 teaspoon vanilla extract
Directions:
To make the cake:
Preheat oven to 375°. Grease an 18″x 12″ half-sheet pan. Line with parchment paper. Grease paper and dust with flour, tapping out excess.
Place chocolate in a microwave-safe bowl. Heat at half-power in microwave in 30-second increments until chocolate melts when stirred.
Add espresso to melted chocolate, and stir until smooth. Set aside to cool slightly.
Using an electric mixer on high speed, beat egg yolks until pale (2 to 3 minutes). Reduce mixer speed to medium and gradually add 1/3 cup sugar.
Increase mixer speed to high and continue beating until thick and pale (about 5 minutes). Reduce mixer speed to low, and add vanilla and chocolate mixture. Beat until blended.
In a separate bowl, beat egg whites, cream of tartar, and salt at high speed until soft peaks form. Gradually add 1/3 cup sugar, and continue beating until stiff and glossy.
Stir flour into chocolate mixture. Carefully fold the egg white mixture into the chocolate mixture.
Spread the batter evenly in prepared pan.
Bake 12 minutes, or until cake has risen and is slightly springy. Place pan on a wire rack to allow cake to cool completely.
If necessary, run the top of a knife around the cake to loosen the edges. Sift cocoa powder over the surface of the cake.
Cover the cake with wax paper, top with a large cutting board, and invert the cake. Remove the pan and parchment paper. Cut cake in half crosswise to form two rectangles.
Chill cake 30 minutes, or until firm.
To make the topping:
Place butter, sugar, and water in a small saucepan. Bring to a boil over medium-high heat.
Remove from heat and add bittersweet and unsweetened chocolates. Allow to stand for 2 minutes. Then, add vanilla and stir until mixture is smooth.
Allow to cool for 30 minutes, or until slightly thickened.
To make the filling:
Place chocolate, butter, and water in a small saucepan. Cook over low heat, stirring constantly, until smooth and thoroughly combined. Transfer mixture to a small bowl and allow to cool.
Using an electric mixer with a whisk attachment, beat cream until it begins to thicken. Sprinkle confectioners' sugar and vanilla over cream. Continue beating until soft peaks form.
Gently fold whipped cream into cooled chocolate mixture.
To assemble:
Spread the filling over one half of the cake.* Place the other half of the cake, cocoa side up, on top of the filling. Press down lightly. Use an off-set spatula to smooth the edges.
Pour the topping over the top of the cake. Gently spread the topping evenly over the top of the cake.
Place cake in freezer for 4 hours or overnight.**
Allow cake to sit at room temperature until soft enough to cut. Cut into squares and serve.
Notes:
*It might not have the same presentation, but the cake can be assembled in a 9″x 13″ pan that's freezer-safe. I found this to be the best approach for storing and transporting the cake.
**The cake can be frozen for up to 1 week.