July 28, 2014
Dulce de Leche Cheesecake with Brownie Crust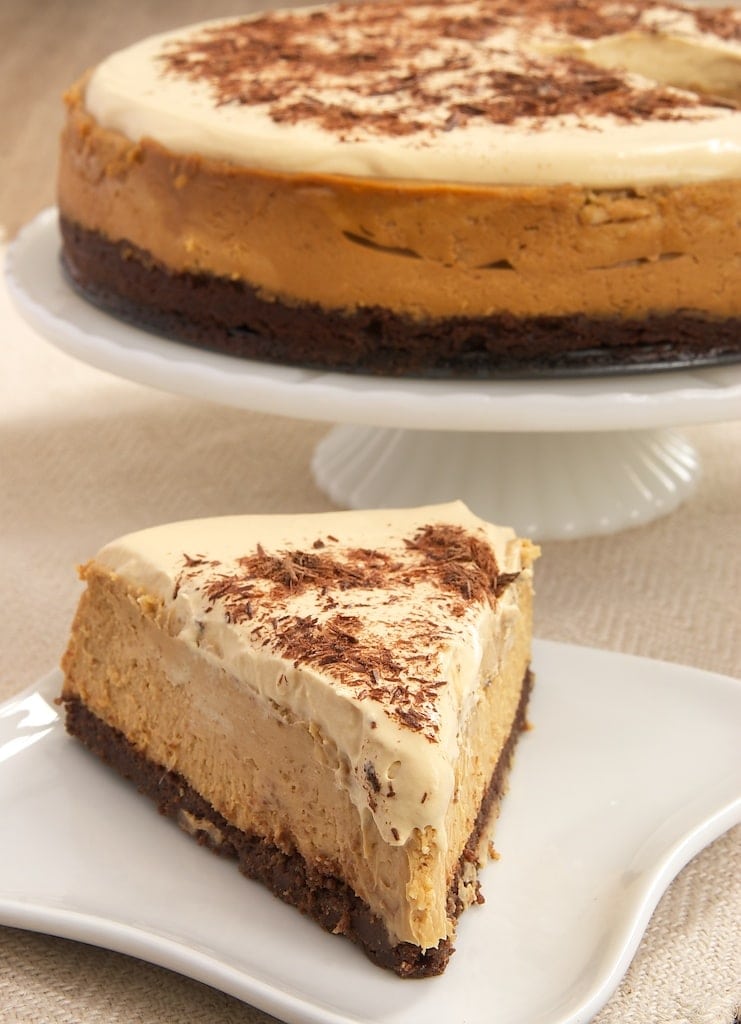 I often feel like cheesecakes are some great secret in the baking world. They always look and taste so impressive, yet are so simple to make. So, I guess that secret's now out of the bag.
With National Cheesecake Day on the horizon this week (July 30th!), I knew that there would need to be a cheesecake celebration here on BoB. I thought it only fitting to celebrate one of my favorite desserts with a couple of my favorite flavors – chocolate and dulce de leche!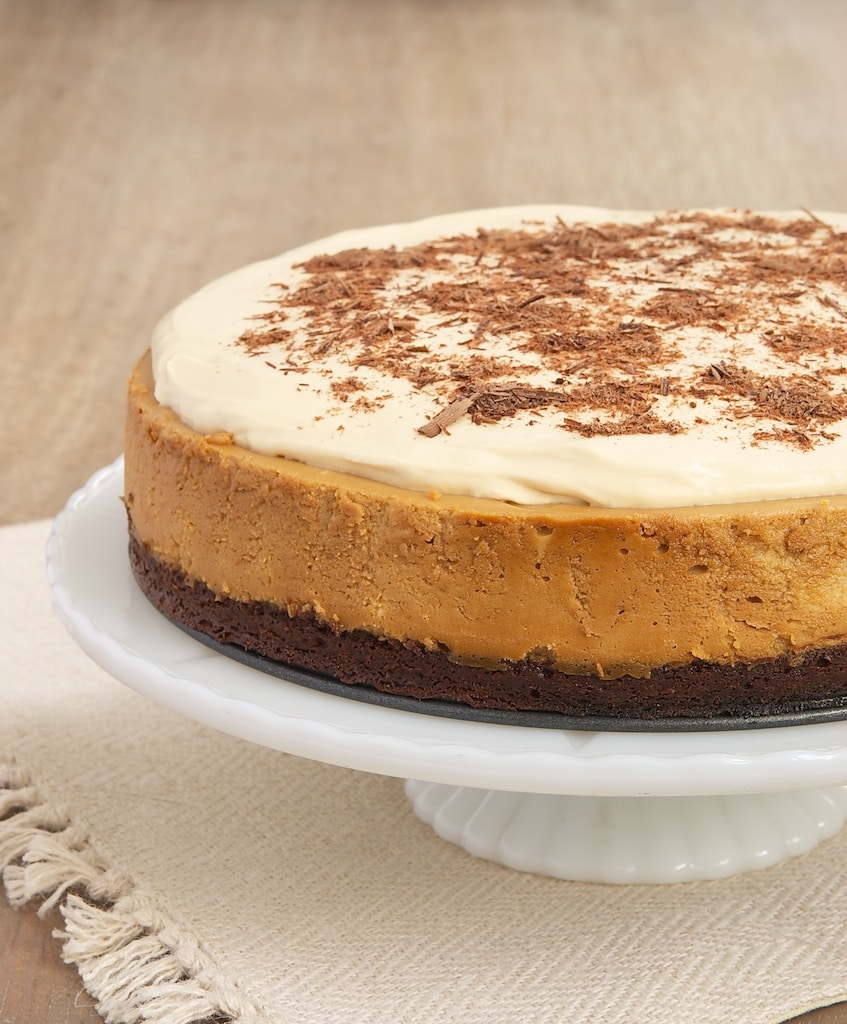 The crust is simply a variation of my basic brownie recipe baked right in a springform pan. Then, the cheesecake filling is a fancied up with some dulce de leche. After many other considerations, I decided that the perfect thing to top off this beauty is even more dulce de leche. So, I made a simple whipped cream flavored with a bit more of it.
I've been very fortunate in my baking adventures in that I've had very few cracked cheesecakes. However, if your cheesecake does crack, the dulce de leche whipped cream is the perfect way to hide any imperfections.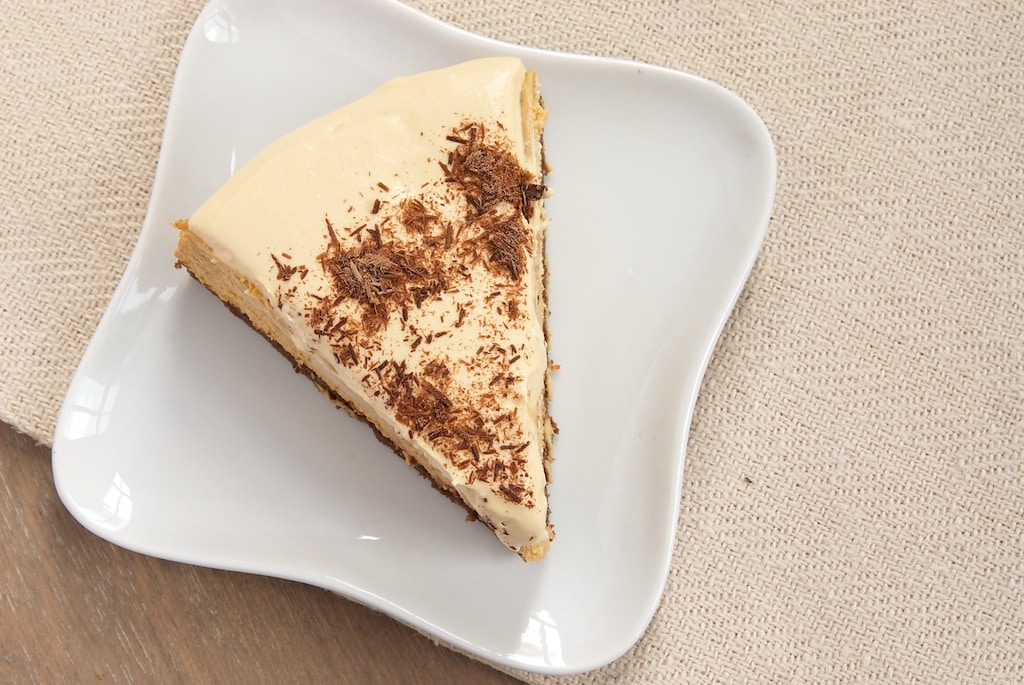 As always, I used PHILADELPHIA Cream Cheese for my cheesecake baking. It's been the only cream cheese I've used for many years. It's made with fresh local milk and real cream. All that freshness goes from the farm to fridge in just six days. (And, don't forget that original PHILADELPHIA Cream Cheese has no preservatives.)
My taste testers and I agree that this is one of our favorite cheesecakes ever. It's so rich and creamy and really just amazingly delicious. I feel confident that I'll be making this one again and again!
For more cheesecake recipes, browse the Recipe Index.
Dulce de Leche Cheesecake with Brownie Crust
Yield: 12 to 16 servings
Prep Time:45 minutes
Cook Time:2 hours 35 minutes
Dulce de Leche Cheesecake with Brownie Crust is an amazingly delicious combination of wonderful flavors. Irresistible!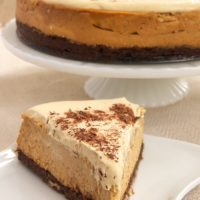 Ingredients:
For the crust:
3 ounces bittersweet chocolate
1/4 cup unsalted butter
1/2 cup granulated sugar
1 large egg
1 teaspoon vanilla extract
1/2 cup all-purpose flour
1/4 teaspoon salt
For the filling:
24 ounces cream cheese, at room temperature
1/2 cup packed light brown sugar
3 large eggs
1 & 1/2 teaspoons vanilla extract
1 cup dulce de leche
For the whipped cream:
3/4 cup heavy cream
1 tablespoon granulated sugar
3 tablespoons dulce de leche
chocolate shavings, for garnish
Directions:
To make the crust:
Preheat oven to 350°F. Grease a 9-inch springform pan.
Place the chocolate and butter in a microwave-safe bowl. Heat at half power in microwave in 30-second increments until butter has melted and chocolate melts when stirred. Stir until smooth. Set aside to cool slightly.
Combine the sugar, egg, and vanilla. Add the chocolate mixture, mixing until combined. Add the flour and salt, mixing just until combined.
Transfer the batter to the prepared pan and spread evenly. Bake 15 to 20 minutes, or until a pick inserted into the center comes out with moist crumbs. Set the pan on a wire rack and allow to cool completely.
To make the filling:
Preheat oven to 350°F.
Using an electric mixer on medium speed, beat the cream cheese and brown sugar until fluffy. Add the eggs, one at a time, mixing well after each addition. Mix in the vanilla. Add the dulce de leche and mix until combined.
Pour batter onto the cooled crust in pan. Spread evenly.
Bake for 15 minutes.
Reduce oven temperature to 200°F. Continue baking for 2 hours.
Turn off the oven. Remove the cheesecake from oven and gently run a knife around the edges of the pan. Return the cheesecake to oven. Leave the cheesecake in the oven for 2 hours.
Then, cover loosely and refrigerate overnight.
To make the whipped cream:
Place the cream in a large, cold mixing bowl. Using an electric mixer with a whisk attachment, beat at medium-high speed until the cream begins to thicken.
Sprinkle the sugar over the cream. Whisk until combined. Add the dulce de leche.
Continue beating until you can lift the whisk out of the whipped cream and a peak that curves downward forms in the cream. This should take 4 to 5 minutes.
Spread the whipped cream over cheesecake. Garnish with chocolate shavings.
Disclosure: I have been chosen by Kraft Foods to be a spokesperson for PHILADELPHIA Cream Cheese. I have been provided with compensation for my time. All opinions written are my own. For more cheesecake inspiration, be sure to visit www.creamcheese.com.