April 17, 2019
Potato Rolls
Homemade Potato Rolls are an easy choice for a favorite dinner roll recipe. They're simple to make, and the taste and texture are fantastic!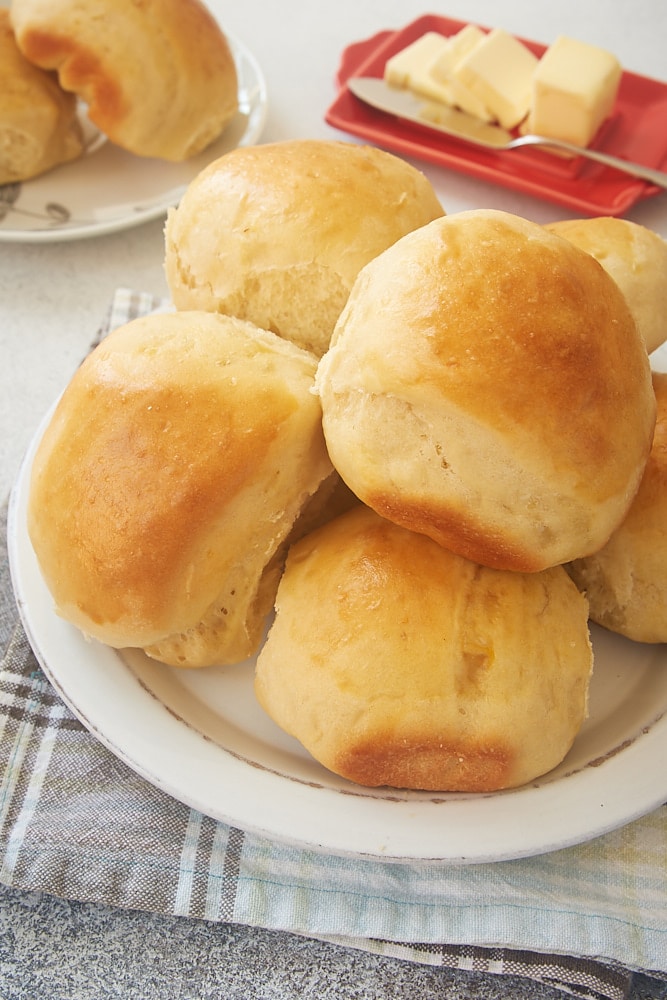 I love to make (and eat!) homemade dinner rolls, but I like to keep things simple with recipes that are quick and easy to make. These Potato Rolls certainly check those boxes, with easy mixing and a short rise time.

As the name implies, these rolls are made with potatoes. More specifically, they're made with mashed potatoes. That's a fairly common side dish for us, so it's an easy choice for me to use cooked potatoes versus instant potato flakes. When I'm making mashed potatoes, I just take out enough for these rolls before I add anything else to the potatoes. Then, I've got a great excuse to make a batch of Potato Rolls!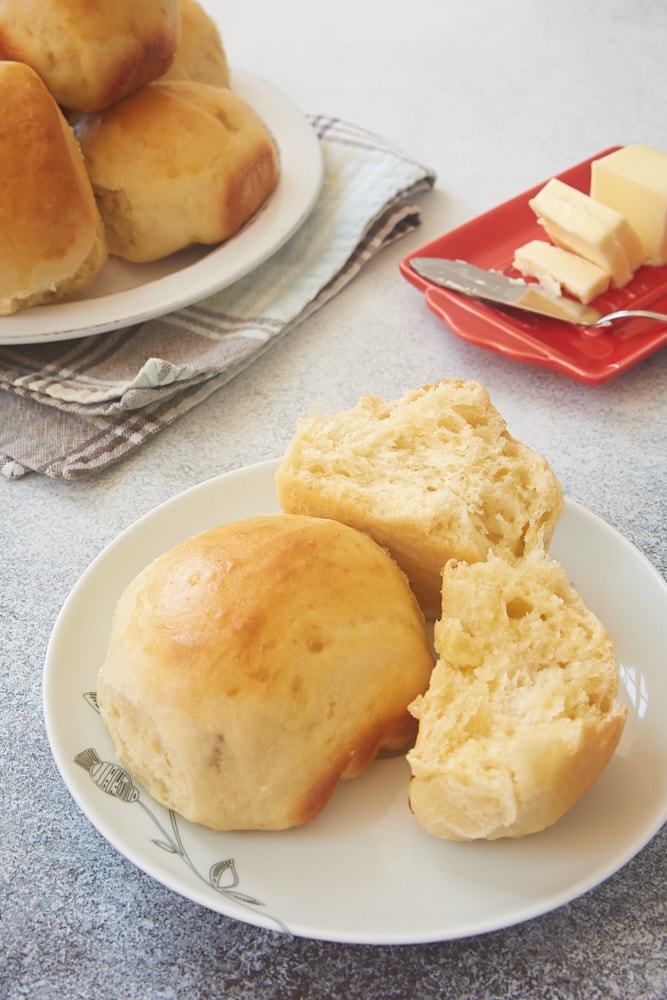 If you prefer, you can use instant potato flakes instead of mashed potatoes. You'll just need to adjust the amount of water and allow the potatoes to soak for a bit. I've included directions for doing this in the recipe below.
You may be wondering why we're putting potatoes in rolls in the first place. Well, they're kind of magical. They're what makes these rolls so, so soft. Plus, they help them stay fresh longer than standard yeast rolls, so you can easily make these in advance of your special meal.
Besides their flavor and softness, I mustn't neglect talking about the easy prep involved. Everything mixes easily, and you'll only need a few minutes of kneading to make the dough come together. And thanks to instant yeast, the rise time is short, too. Be sure to keep this recipe in mind when you want homemade dinner rolls in short order and without a lot of fuss.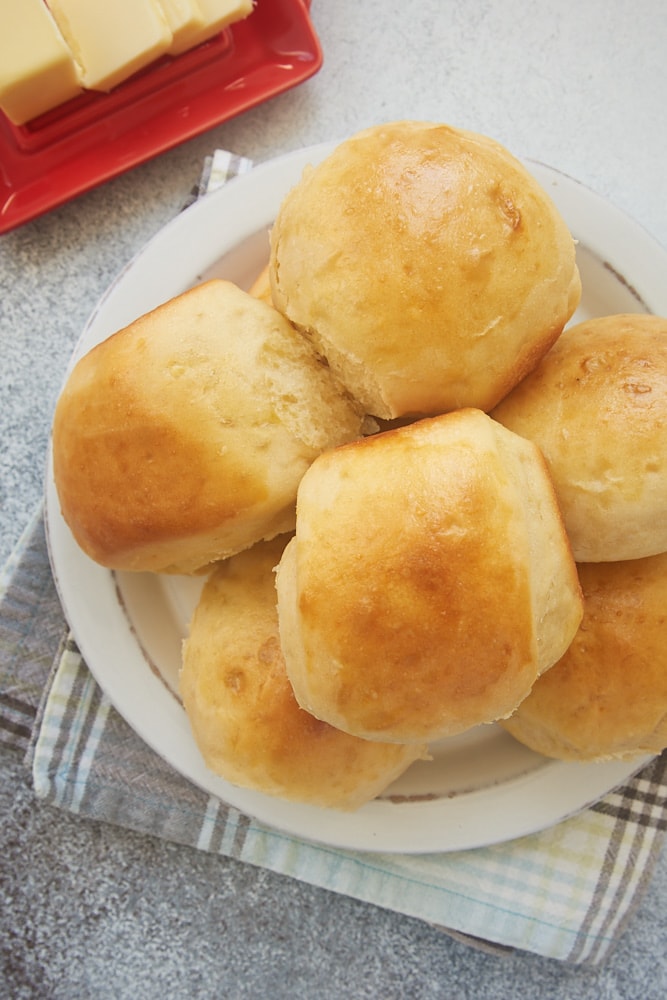 I usually opt not to add anything extra to these rolls. Instead, I let their simplicity shine. They're so, so soft and have a lovely flavor all on their own. That being said, I often get the urge to sprinkle a little coarse salt on top of them before they bake. A little cracked pepper would be great, too. If you're looking for even more flavor, try a sprinkling of chopped fresh herbs on top.
I think these rolls are best served warm with a little bit of butter, although they are excellent even without anything added. They're such a great dinner roll to serve alongside so many meals. And with how easy they are to make, you're likely to find them on your table again and again.
Find more yeast bread recipes in the Recipe Index.
More Easy Dinner Roll Recipes
Bake or Break is a participant in the Amazon Services LLC Associates Program, an affiliate advertising program designed to provide a means for us to earn fees by linking to Amazon.com and affiliated sites.
Potato Rolls
Yield: 12 rolls
Prep Time: 15 minutes
Cook Time: 27 minutes
Simple, delicious, and oh-so soft Potato Rolls are a bigtime dinner rolls winner!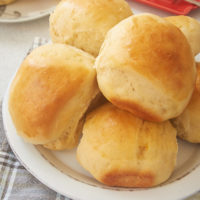 Ingredients:
3 & 1/2 to 4 cups (420 to 480g) all-purpose flour, divided
1 tablespoon sugar
2-1/4 teaspoons instant yeast (same as a 0.25 ounce package)
3/4 teaspoon salt
3/4 cup water
1/2 cup milk
1/4 cup (57g) unsalted butter
1/3 cup cooked, mashed potatoes, at room temperature*
2 large eggs, divided
Directions:
Combine 1 cup flour, sugar, yeast, and salt.
Heat water, milk, and butter until very warm (120° to 130°F). Stir into flour mixture.
Stir in the potatoes, 1 egg, and enough of the remaining flour to make a soft dough.
Transfer the dough to a lightly floured surface. Knead until smooth and elastic (4-6 minutes). Cover and let rest for 10 minutes.
Divide the dough into 12 equal pieces.** Roll each piece into a ball. Place the rolls in a greased 9″x 13″ baking pan.
Fill a large, shallow pan halfway with boiling water. Place a wire rack on top of the pan. Place the pan of rolls on top of the rack. Cover and let rise until doubled in size (about 15 minutes).
Preheat oven to 375°F.
Lightly beat 1 egg, and brush over the tops of the rolls. (You won't use all of the egg.)
Bake 25 to 27 minutes, or until golden brown. Cool the rolls in the pan on a wire rack.
Notes:
*If you would prefer to use instant potato flakes instead of cooked potatoes, you'll need 1/4 cup of potato flakes and an extra 1/4 cup of water. Stir the potato flakes into the very warm milk mixture and let them soak for 1 minute. Follow the rest of the directions as normal.
**I highly recommend dividing the dough by weight. Weigh the dough in grams, divide the weight by 12, and then portion each dough by weight.