November 12, 2018
No-Knead Rosemary Focaccia Rolls
No-Knead Rosemary Focaccia Rolls are so quick and easy to make that you can whip up a batch whenever the craving strikes.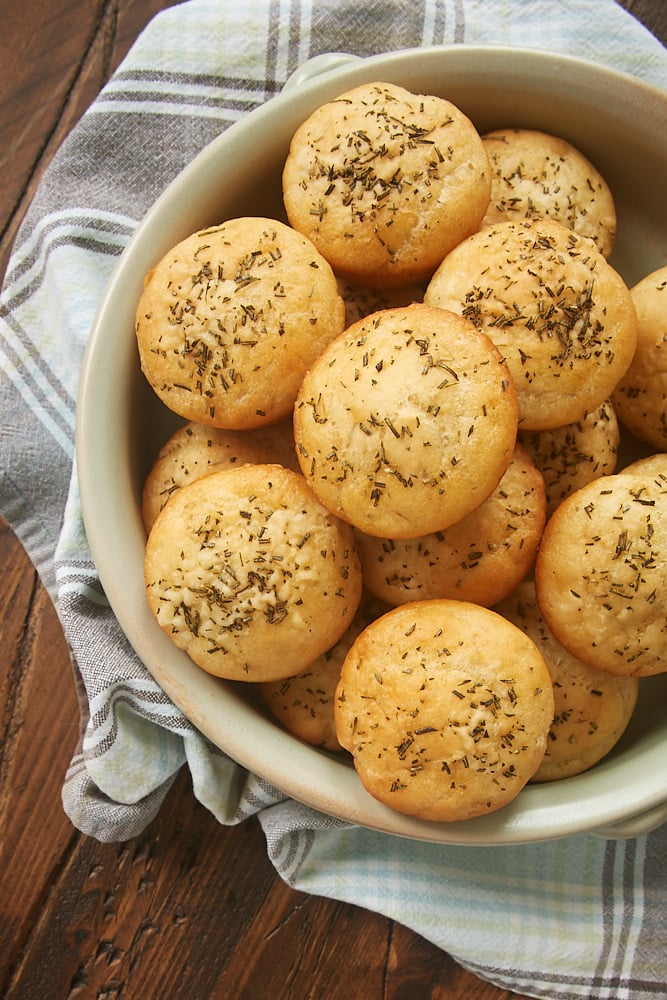 Nothing much beats homemade yeast bread. Who's with me? I spent many years being intimidated by baking yeast bread, but not I really love making it. I love simple yeast bread recipes the best. We're talking minimal effort but amazing results. Now who's with me?

Wanting that simplicity with yeast breads is how no knead breads come into the picture. They mix quickly with a little time to rise, and then you're ready to bake. That makes homemade bread a very real possibility most any day! Honestly, it will take you longer to gather the ingredients you need than to mix the dough.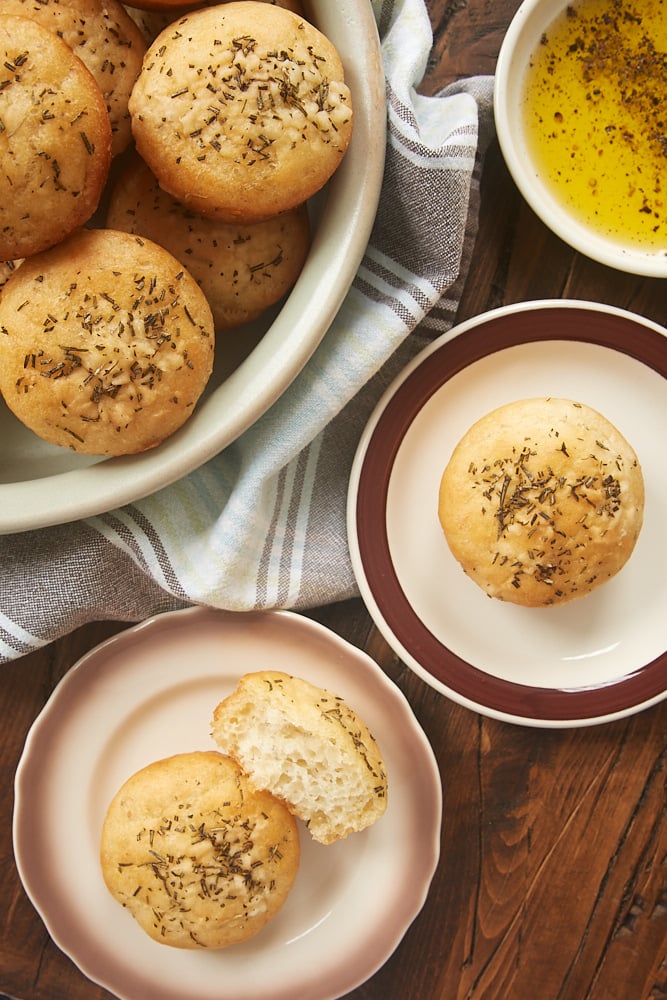 These No-Knead Rosemary Focaccia Rolls are one of my favorite easy yeast breads. I absolutely adore focaccia with its slightly crusty outside and chewy inside. Making focaccia in a muffin pan means pre-portioned rolls with a higher crusty outside to chewy inside ratio than usual. And really, that outside is the best part of focaccia, right?
The rolls you see here were made with fresh rosemary. With the rosemary being such a big part of the flavor, I think fresh is the better choice, but remember to use about a third as much if you choose to use dried herbs. You'll get a similar flavor, but keep in mind that you'll get a little different look with significantly less volume of rosemary.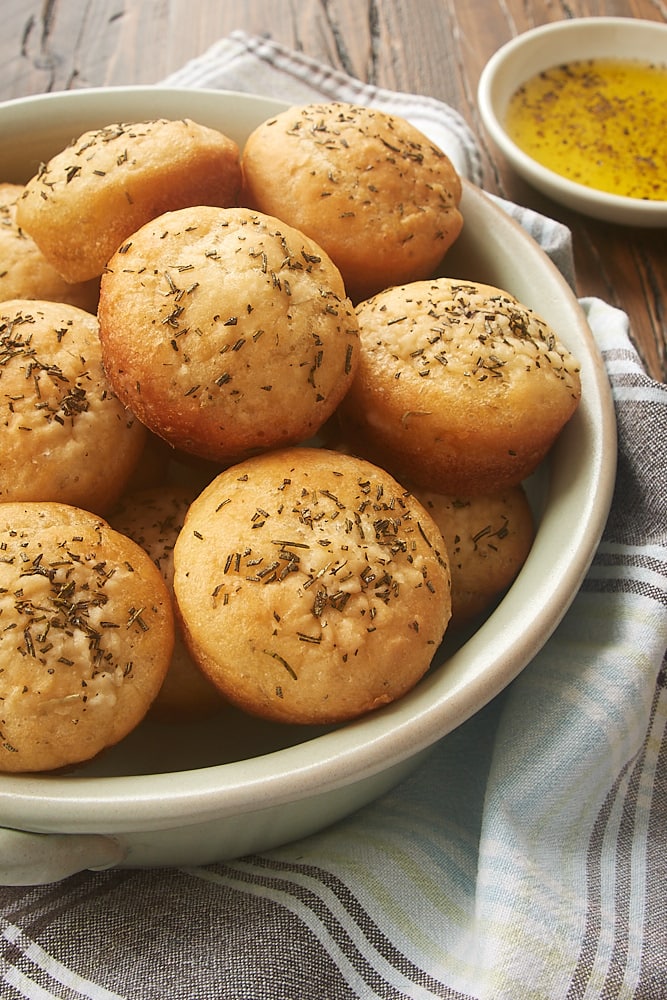 Of course, you can also easily change the rosemary to another herb or combination of herbs to complement your meal. Or just go with a simple coarse salt and cracked pepper topping for a bread that will go with most any meal.
If you're looking for a simple yeast roll, it doesn't get much simpler than this No-Knead Rosemary Focaccia Rolls recipe. Whether you're a pro at making yeast bread or still a bit hesitant, these rolls are a great addition to your baking arsenal!
Find more yeast bread recipes in the Recipe Index.
More Easy Dinner Roll Recipes
Bake or Break is a participant in the Amazon Services LLC Associates Program, an affiliate advertising program designed to provide a means for us to earn fees by linking to Amazon.com and affiliated sites.
No-Knead Rosemary Focaccia Rolls
Yield: 18 rolls
Prep Time: 15 minutes
Cook Time: 25 minutes
Quick and easy No-Knead Rosemary Focaccia Rolls make homemade yeast bread a simple task. These are so great alongside so many meals!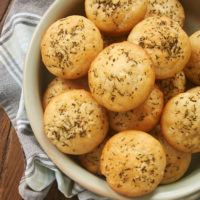 Ingredients:
For the focaccia:
3 cups (360g) all-purpose flour
2 & 1/4 teaspoons instant yeast (same as a 0.25 ounce package)
1 tablespoon minced fresh rosemary
1 tablespoon granulated sugar
1 teaspoon kosher salt, divided
1 & 1/2 cups (360ml) warm water (120°F to 130°F)
2 tablespoons extra virgin olive oil
For the topping:
1/4 cup (60ml) extra virgin olive oil
1 tablespoon minced fresh rosemary
1/2 teaspoon kosher salt
Directions:
To make the focaccia:
Grease 18 standard muffin cups.
Combine the flour, yeast, rosemary, sugar, and salt. Add the water and olive oil. Using an electric mixer on medium speed, beat for 1 minute. (Dough will be sticky.)
Divide the dough among the prepared muffin cups, using about 2 teaspoons per cup. Let rise in a warm, dry place until doubled (about 30 minutes).
To make the topping and bake the rolls:
Preheat oven to 375°F.
Stir together the olive oil, rosemary, and salt in a small saucepan. Cook over medium-low heat until the oil is hot and the rosemary is fragrant (about 90 seconds). Set aside to cool.
Brush or spoon the cooled olive oil mixture over each roll in the muffin pans.
Bake 20 to 25 minutes, or until the rolls are golden brown.