October 13, 2016
Bourbon Caramel Swirl Cheesecake
Bourbon Caramel Swirl Cheesecake is wonderfully rich, sweet, and bold. Caramel and bourbon are a perfect pair for a really amazing dessert!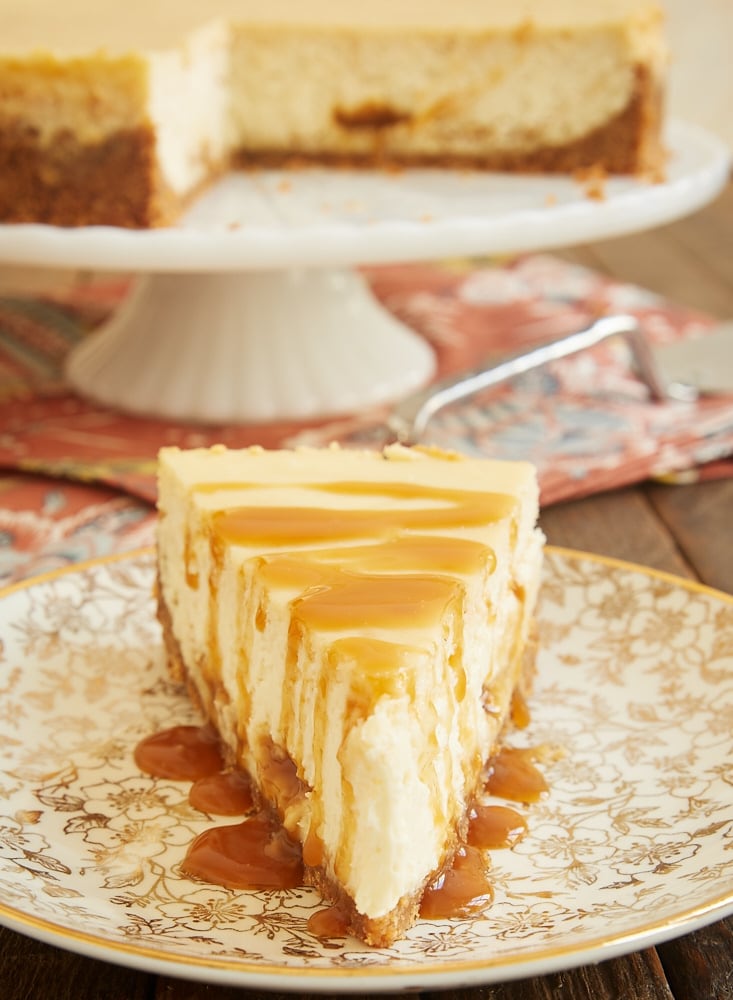 I tend to think of cheesecakes as seasonal. Sure, I make plenty of no-bake cheesecakes during the summer, but I feel like the amount of oven time required for baked cheesecakes makes them a better candidate for cooler weather. Add in some caramel and a little bourbon, and this cheesecake is definitely made for fall and winter.
The recipe for this cheesecake evolved a bit as I was testing it. I had originally envisioned a topping for it, but one taste was enough to assure me that it didn't need another thing. I added just an extra drizzle of caramel when serving, and that was plenty of embellishment.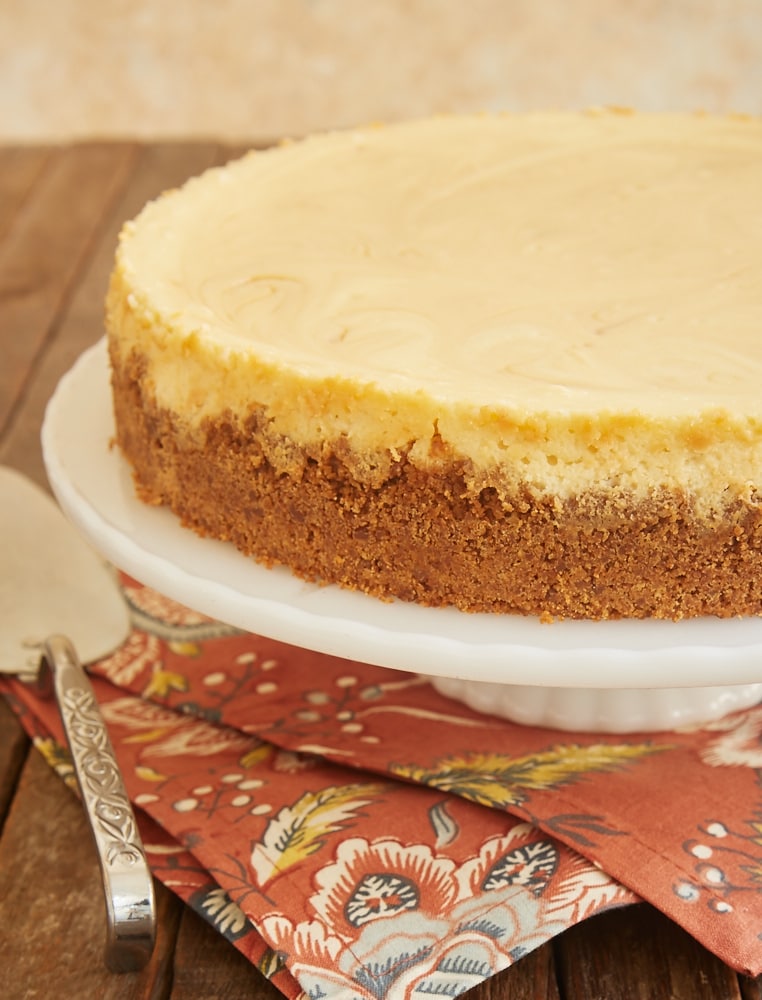 I used a store-bought caramel sauce for the caramel swirl. If you have a homemade caramel you prefer, then feel free to use that instead. Whether you use regular or salted caramel is up to you. The salty flavor won't be very bold once it's mixed with the cheesecake, so think about which you'd prefer for drizzling over slices when you serve it.
The bourbon adds a wonderful flavor and richness. Bourbons have different flavor profiles, so the one you choose will affect the cheesecake's flavor. I chose one with a buttery, spicy flavor, but there are some with notes of vanilla, caramel, citrus, and all sorts of great flavors. Personally, I am not a bourbon drinker. My experience with it is that I enjoy the aftertaste of it far more than the actual taste. The flavor in the cheesecake reminds me of that wonderful aftertaste. It's warm and spicy and really just fantastic.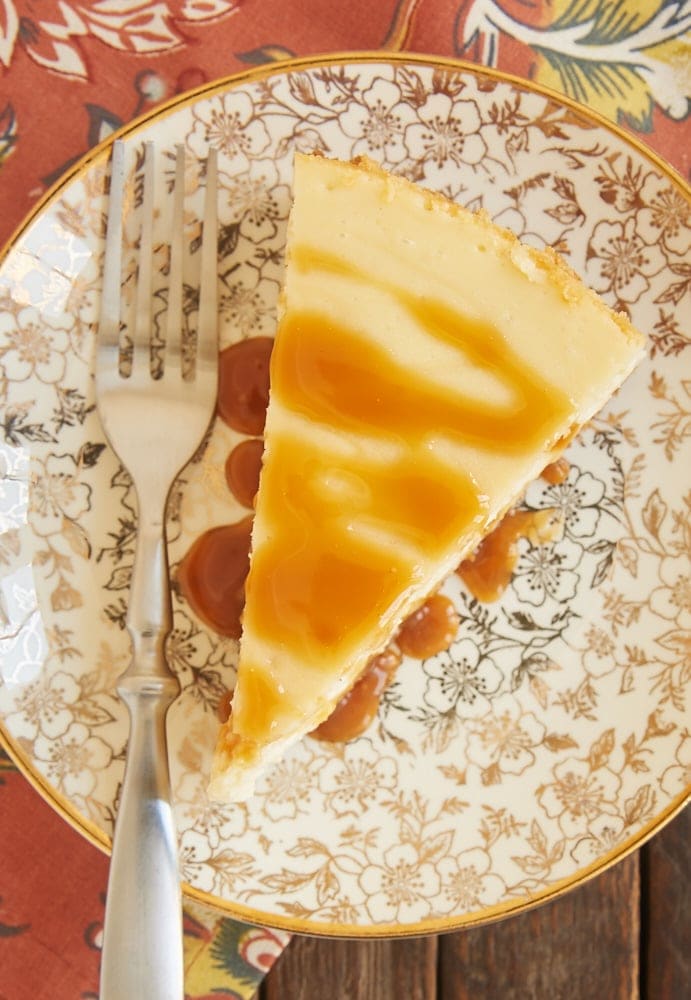 This baking method is pretty much the only way I bake cheesecakes. No terrifying water baths! It does require a lot of time, but it's hands-off time while the cheesecake is in the oven. Just keep the total time in mind when you start baking. Be sure not to skip that last bit of oven time. At first glance, it may seem unnecessary but this method is the best way I've found to prevent cracking.
As with most cheesecakes, this one comes together quickly and easily. But, of course, the best part is the spectacular flavor. The rave reviews it gets are pretty great, too.
Find more cheesecake recipes in the Recipe Index.
More Bourbon Desserts
We are a participant in the Amazon Services LLC Associates Program, an affiliate advertising program designed to provide a means for us to earn fees by linking to Amazon.com and affiliated sites.
Bourbon Caramel Swirl Cheesecake
Yield: 16 servings
Prep Time:25 minutes
Cook Time:2 hours 25 minutes
You'll love the fantastic flavor of this Bourbon Caramel Swirl Cheesecake. The combination of rich caramel and buttery, spicy bourbon are a perfect pair!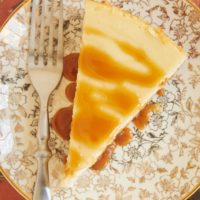 Ingredients:
For the crust:
2 cups (200g) graham cracker crumbs
5 tablespoons (70g) unsalted butter, melted
For the filling:
24 ounces (680g) cream cheese, at room temperature
1 cup (200g) granulated sugar
3 large eggs
1/4 cup (60ml) bourbon
1 teaspoon vanilla extract
1/2 cup (114g) sour cream
1/2 cup (160g) caramel sauce, plus more for garnish*
Directions:
To make the crust:
Preheat oven to 350°F. Grease a 9-inch springform pan.
Combine the graham cracker crumbs and butter until thoroughly mixed. Press evenly into the bottom and partially up the sides of the prepared pan.
Bake 10 minutes. Set aside.
To make the filling:
Using an electric mixer on medium speed, beat the cream cheese and sugar until thoroughly combined and smooth. Add the eggs, bourbon, and vanilla, and mix well. Mix in the sour cream.
Transfer about a third of the filling to the partially baked crust. Drizzle about 1/3 of the caramel over the top of the batter. Use a thin knife to swirl the caramel into the batter.
Repeat the layers twice.
Bake 15 minutes.
Decrease the oven temperature to 200°F. Bake for 2 hours.
Remove the cheesecake from the oven, and run a thin knife around the outside edge.
Turn off the oven. Return the cheesecake to the oven. Leave the cheesecake in the oven for 2 hours.
Cover the cheesecake loosely and refrigerate at least 8 hours.
Serve with more caramel sauce if desired.
Notes:
*The weight will vary depending on the specific caramel sauce. If in doubt, measure by volume.