Meyer Lemon Pudding Cakes feature a layer of lemon pudding underneath a soft, sweet lemon cake. And it's all made with just one batter!
Looking for more ways to make pudding cake? Check out this easy chocolate pudding cake!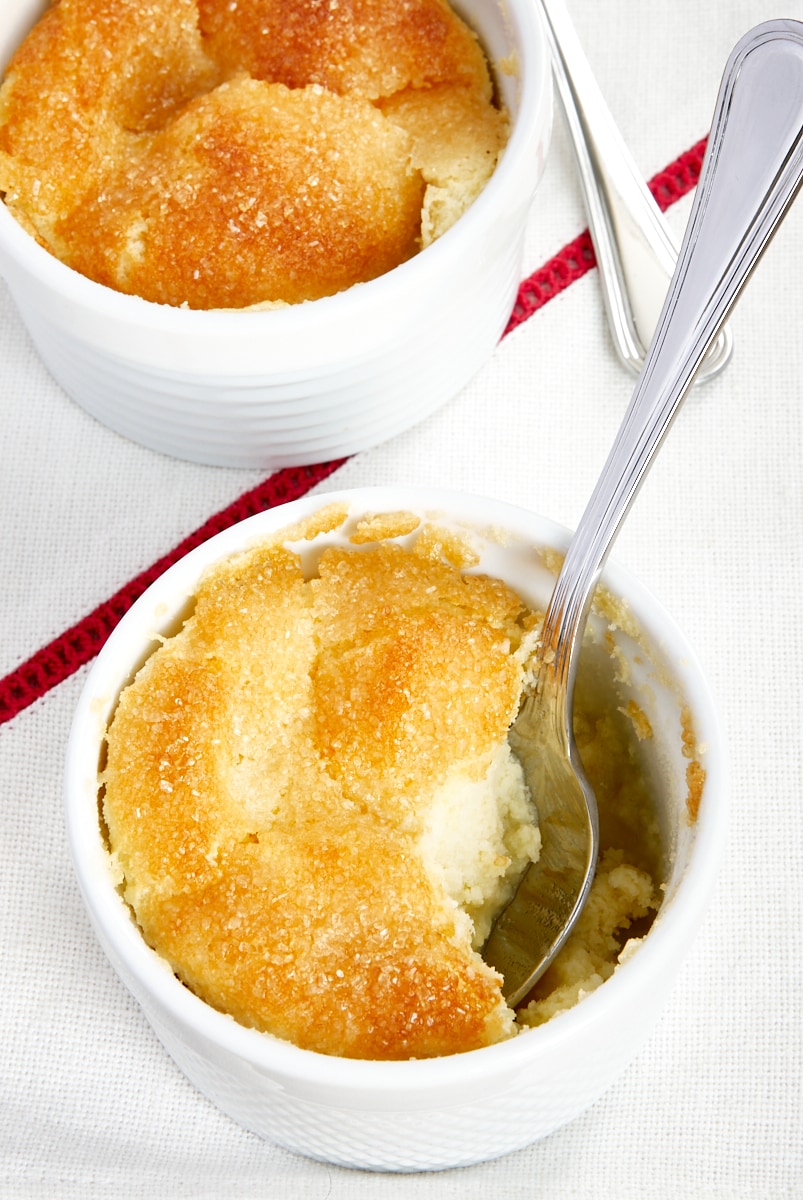 Meyer Lemon Pudding Cakes
Pudding cakes are a lovely combination of, you guessed it, pudding and cake. And, these Meyer Lemon Pudding Cakes do all of that with a nice lemon flavor. When you dig your spoon into them past that sugary, brûlée-like top, you first get a light layer of cake. But keep going and you'll find a lovely layer of pudding at the bottom.
As you can imagine, this is not the kind of cake you can easily cut into slices and serve. It's more of a spoonable dessert. I really like to make these in individual-size ramekins to make them simpler to serve. Plus, I'm a bit of a sucker for individual desserts.
If you're deeply mired in winter weather like we are, I'm sure you'll welcome the brightness of lemon in a simple dessert.
What You'll Need
If you've got lemons, then you very likely have everything else you need to make these delicious pudding cakes!
Granulated sugar
All-purpose flour
Eggs – You'll mix the yolks and whites at different times in the recipe, so separate them when you're gathering ingredients. Remember that they'll separate more easily when they're cold but mix better when closer to room temperature.
Unsalted butter
Milk
Meyer lemons – You'll need both zest and juice. (Learn more: How to Zest and Juice Lemons) You'll get 2 to 3 tablespoons of juice per lemon. For more about these lemons in comparison to regular lemons, see the section below.
Salt
Coarse sugar – This is an optional addition, but it creates a sweet crunchy topping that goes nicely with these little cakes.
Topping Ideas
Confectioners' sugar
Fresh berries
Candied lemon peel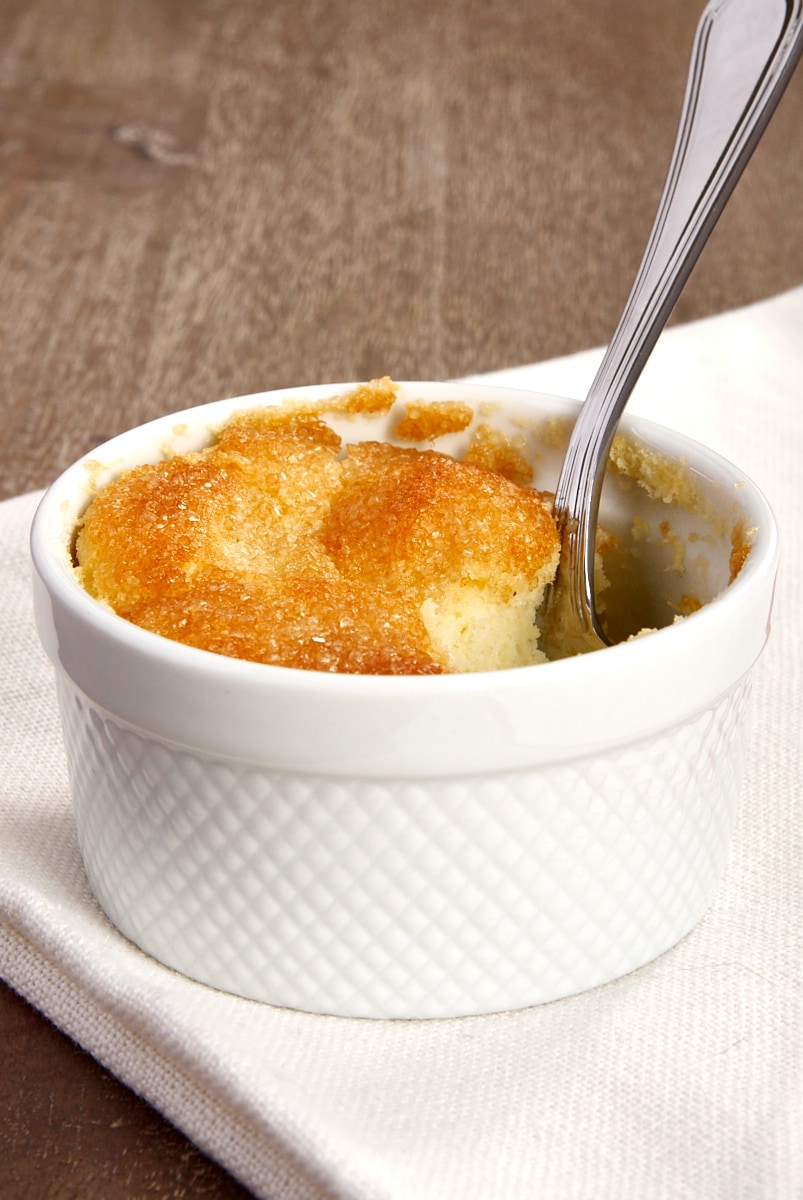 Meyer Lemons Versus Regular Lemons
Meyer lemons are believed to be a cross between regular lemons and mandarin oranges. They're smaller and rounder than regular lemons and have a smooth skin. They're more sweet than tart, giving them a more mellow flavor. You're most likely to find them in the early months of the year.
Regular lemons are usually Eureka or Lisbon lemons. They are larger and oblong with textured skins. Their flavor leans more toward tart than sweet. They're generally available year-round.
These cakes feature Meyer lemons, which are milder and sweeter than traditional lemons. They make for a lighter, subtler flavor. You can, of course, use whichever type of lemon you'd like.
How to Make Lemon Pudding Cakes
This recipe is fairly straightforward, although it has a few special steps that are necessary to achieve the layers in the cakes.
Prepare for baking. Heat the oven to 350°F. Place six 4-ounce ramekins inside a large baking pan. A 9″ x 13″ x 2″ pan or a roasting pan works well. Most any oven-safe pan that the ramekins fit inside comfortably will work as long as you can fill with water as described below.
Mix most of the ingredients. Whisk together the sugar and flour in a large mixing bowl. In a separate bowl, combine the egg yolks and butter until well-mixed. Whisk in the milk, lemon zest, and lemon juice. Add the lemon mixture to the sugar mixture, whisking until smooth.
Beat the egg whites. With an electric mixer on medium-high speed, beat the egg whites and salt until stiff peaks form. (When you lift the whisk or beater out of the mixture, there should be a peak that points straight upward.)
Add the egg whites to the lemon mixture. Use a rubber spatula to fold the egg whites gently into the lemon mixture. Once mixed, it should be smooth and foamy. Be sure not to over-mix.
Portion and bake. Divide the mixture evenly among the ramekins. Sprinkle the top of each cake with coarse sugar, if using. Pour hot water into the large baking pan so that it's about halfway up the sides of the ramekins. Bake 40 to 45 minutes, or until the tops of the cakes are golden brown.
Cool the cakes. Use tongs or a jar lifter to lift the cakes carefully out of the pan and onto a wire rack to cool for about 15 to 20 minutes before serving. (They'll sink a bit as they cool.)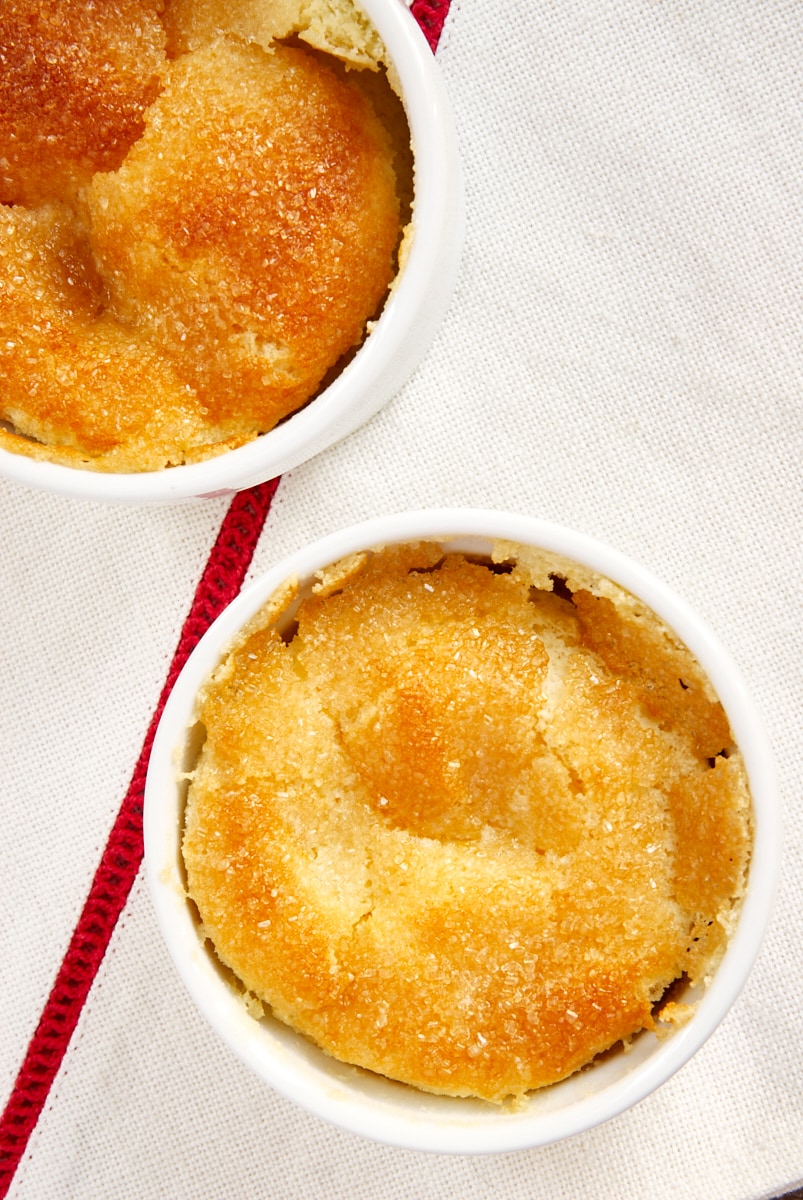 Tips for Success
Tips for whipping egg whites. Make sure your bowl is clean and completely dry. Eggs separate more easily when they're cold but mix and whip more easily when they're warmer. Stop whipping when the mixture forms a stiff peak (one that points straight up when you lift the whisk out).
Don't skip the water bath. It makes the baking environment just right to create the layers of cake and pudding. The water doesn't need to be extra hot; just hot tap water is fine. Take care placing the pan in and removing from the oven.
Want to make this recipe in a single pan? After mixing, transfer the batter to a 2-quart baking dish. Place it inside a larger baking pan and add hot water as described in the recipe. Reduce the baking time to 30 to 35 minutes.
How to Store Lemon Pudding Cakes
These Meyer Lemon Pudding Cakes will be best the day they're made, but you can cover them tightly and refrigerate overnight. Rewarm the puddings for 10 to 15 minutes in a 350°F oven.