April 28, 2016
Monster Skillet Cookie
This Monster Skillet Cookie recipe is a perfect go-to when you want a quick and easy dessert to share with your cookie-loving friends.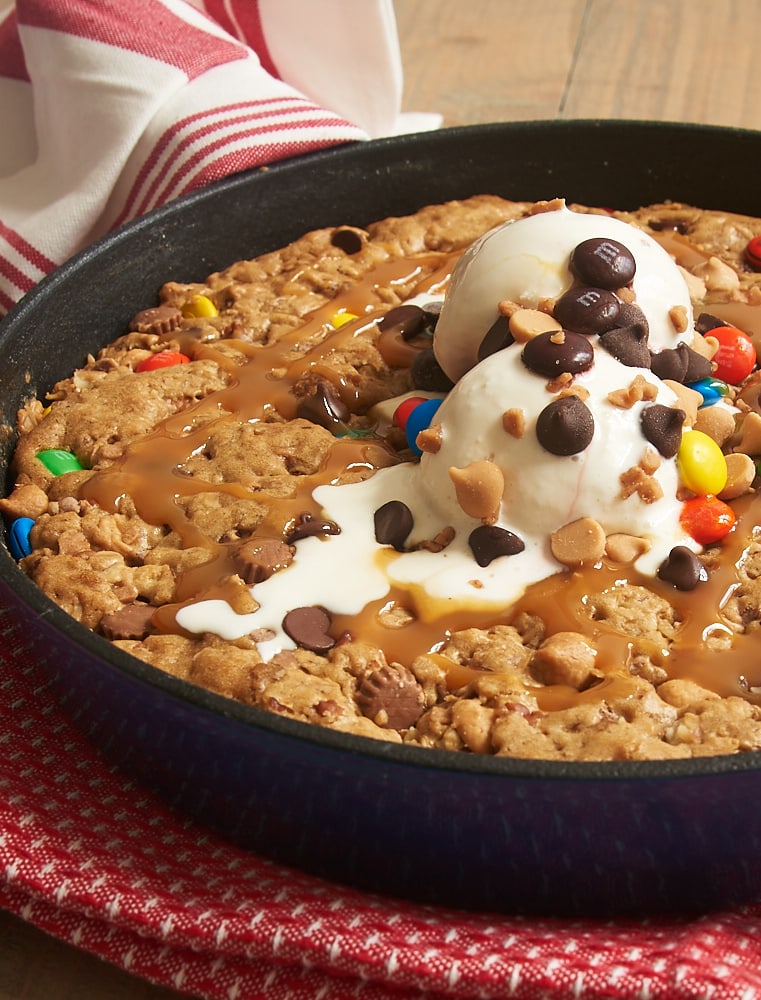 Last fall, I spoke to a group of students from my former high school about blogging, cookbook writing, and such. They were such a great group full of questions. I'm sure everyone's favorite part, though, was making skillet cookies. You can always win over a crowd with freshly baked cookies.
Several times since then, I've thought that I should make more skillet cookies. It's taken me a while, but I've got a doozy of a skillet cookie to share with you. This is one serious cookie packed with so many good and irresistible things!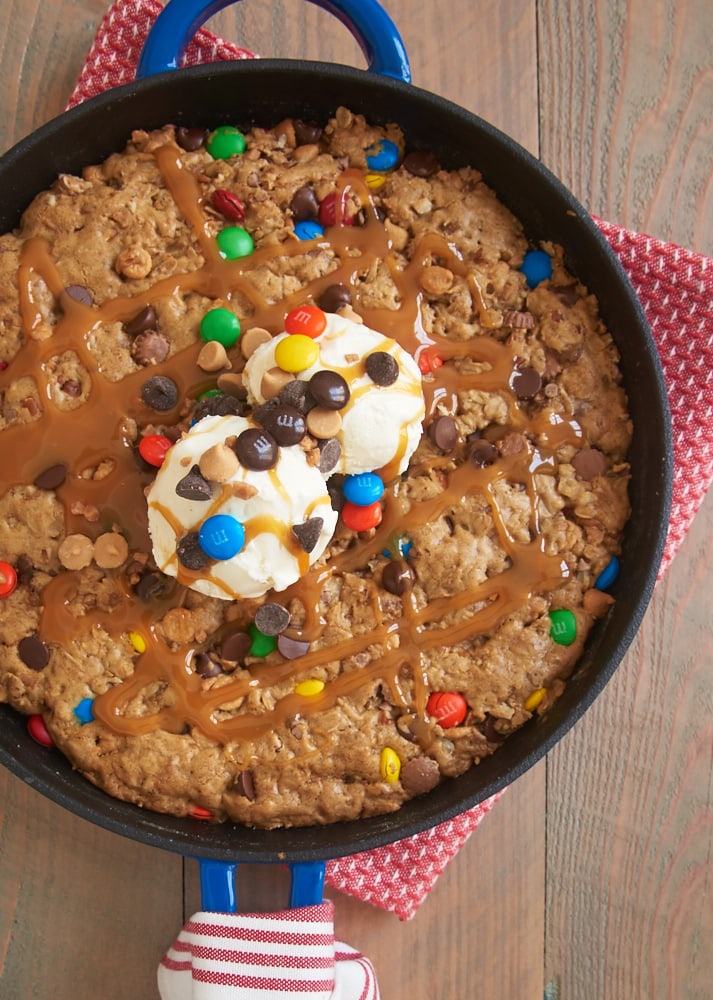 You can use whatever you like as add-ins for this cookie. For the one you see here, I used chocolate chips, peanut butter chips, nuts, toffee bits, mini peanut butter cups, and cinnamon chips. But there are all kinds of things you could use. Coconut, caramel bits, pretzels, crumbled cookies… You get the idea. Get creative with what you have in your pantry!
I like to mix this cookie right in the skillet. It cuts way down on the post-baking clean up, and it's just simpler to me. If you prefer to mix the dough in a separate bowl and then spread it in the skillet, that's perfectly fine, too.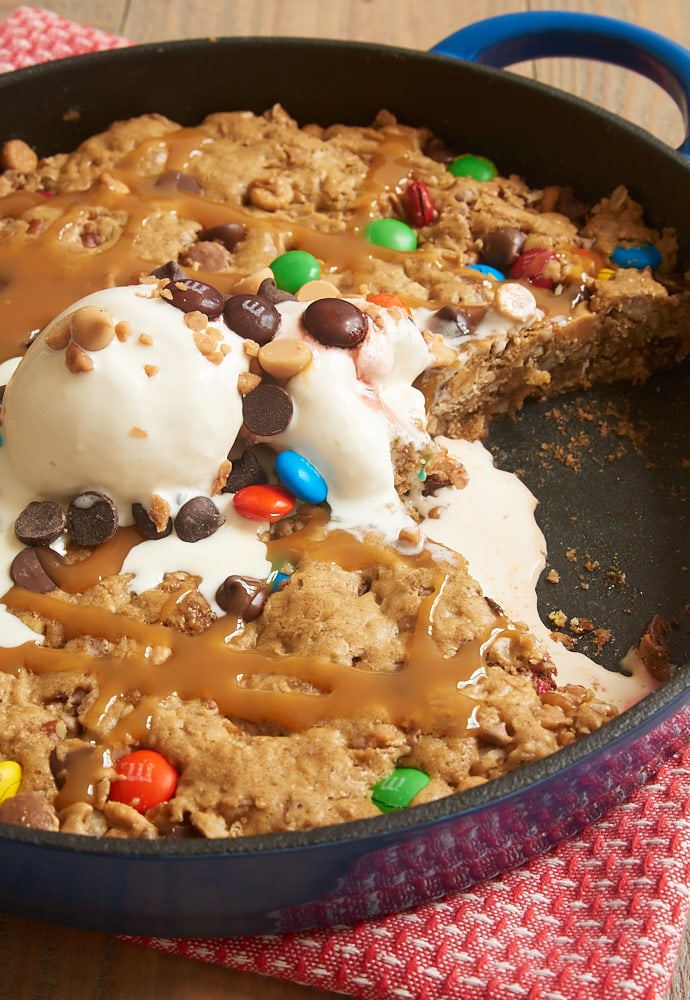 As you can see, I topped this cookie with a couple of scoops of ice cream, a little caramel sauce, and a handful of the add-ins I used in the cookie dough. With all the flavor in the cookie, that may be gilding the lily a bit, but I just couldn't resist going all out for this amazing cookie!
This is the kind of sweet treat that's meant to be shared with your cookie-loving crowd. It's perfect for a rainy night at home with family, a Netflix binging marathon, or a celebration with friends. And if you normally have basic baking ingredients in your kitchen, then it's just the thing for most any impromptu occasion that's deserving of a treat!
Find more cookie recipes in the Recipe Index!
More Cast Iron Skillet Cookie Recipes
We are a participant in the Amazon Services LLC Associates Program, an affiliate advertising program designed to provide a means for us to earn fees by linking to Amazon.com and affiliated sites.
Monster Skillet Cookie
Yield: 8 to 10 servings
Prep Time:15 minutes
Cook Time:20 minutes
Quick to make and sure to please, this Monster Skillet Cookie is packed with all kinds of tasty things!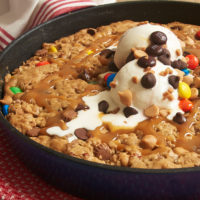 Ingredients:
1/2 cup unsalted butter
1 cup firmly packed light brown sugar
1 large egg
1 teaspoon vanilla extract
1 cup all-purpose flour
1/2 teaspoon baking powder
1/2 teaspoon salt
3/4 cups old-fashioned rolled oats
2 cups your favorite add-ins (chocolate chips, nuts, M&Ms, toffee bits, coconut, pretzels, etc.)
Directions:
Place the butter in a 10-inch cast iron skillet. Melt over medium heat. Add the brown sugar and stir until the sugar dissolves.
Remove the pan from the heat and allow the mixture to cool about 10 minutes.*
Preheat oven to 350°F.
Add the egg and vanilla to the cooled butter mixture. Stir until combined.
Add the flour, baking powder, and salt, and mix just until combined. Stir in the oats.
Stir in the add-ins. Spread the dough evenly in the skillet.
Bake 20 to 25 minutes, or until golden brown. Be sure not to overbake. Serve warm or at room temperature.
Notes:
*Don't skip the cooling step. The butter/sugar mixture needs to cool a bit before you add the egg so that you won't end up with bits of cooked egg in your cookie dough.