This Monster Skillet Cookie recipe is a perfect go-to when you want a quick and easy dessert. Customize the chewy cast iron cookie base with your favorite add-ins!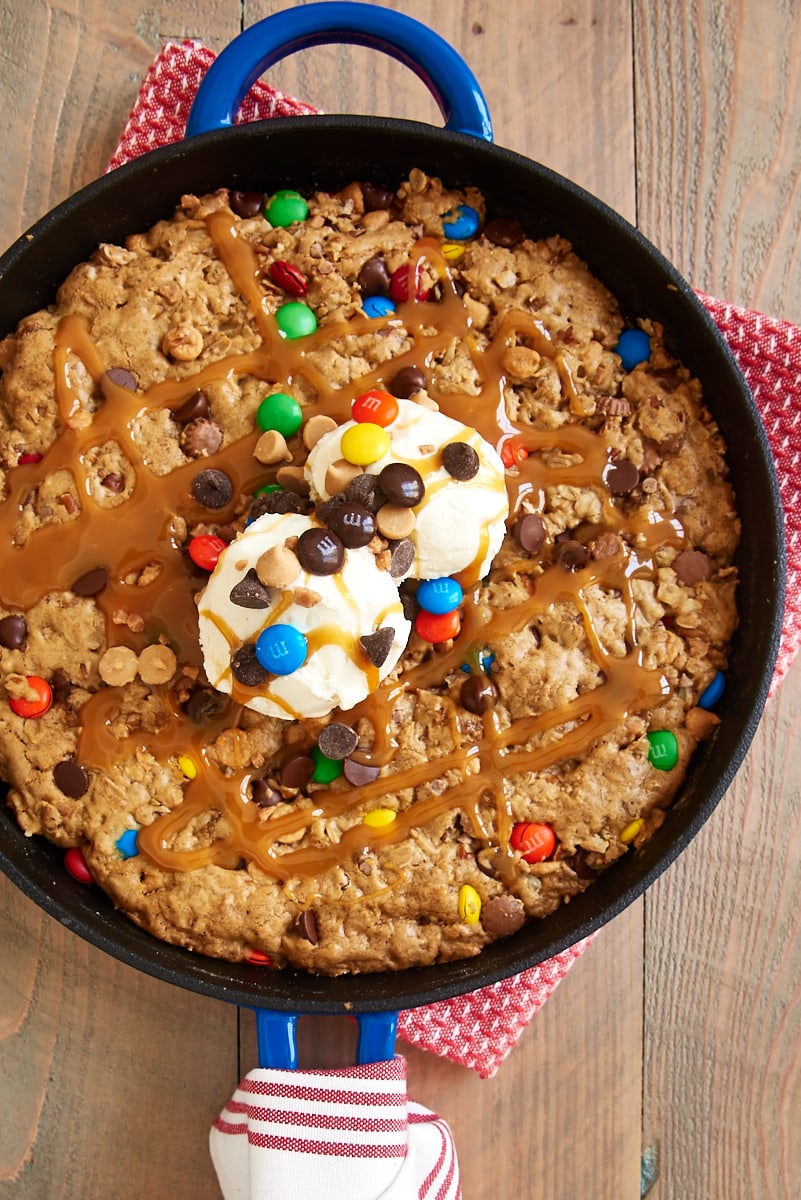 Easy Cast Iron Skillet Cookie
Last fall, I spoke to a group of students from my former high school about blogging and cookbook writing. They were such a great group full of questions, but I'm sure everyone's favorite part was making skillet cookies. You can always win over a crowd with freshly baked cookies.
Several times since then, I've thought that I should make more skillet cookies. It's taken me a while, but I've got a doozy of a skillet cookie to share with you. This is one serious cookie packed with so many delicious and irresistible things!
You can use whatever you like as add-ins for this cookie. For the one you see here, I used chocolate chips, peanut butter chips, nuts, toffee bits, mini peanut butter cups, and cinnamon chips. But there are all kinds of things you can use! Coconut, caramel bits, pretzels, sprinkles, crumbled cookies… you get the idea. This is your perfect opportunity to use up all those stray baking ingredients that have been lingering in your pantry!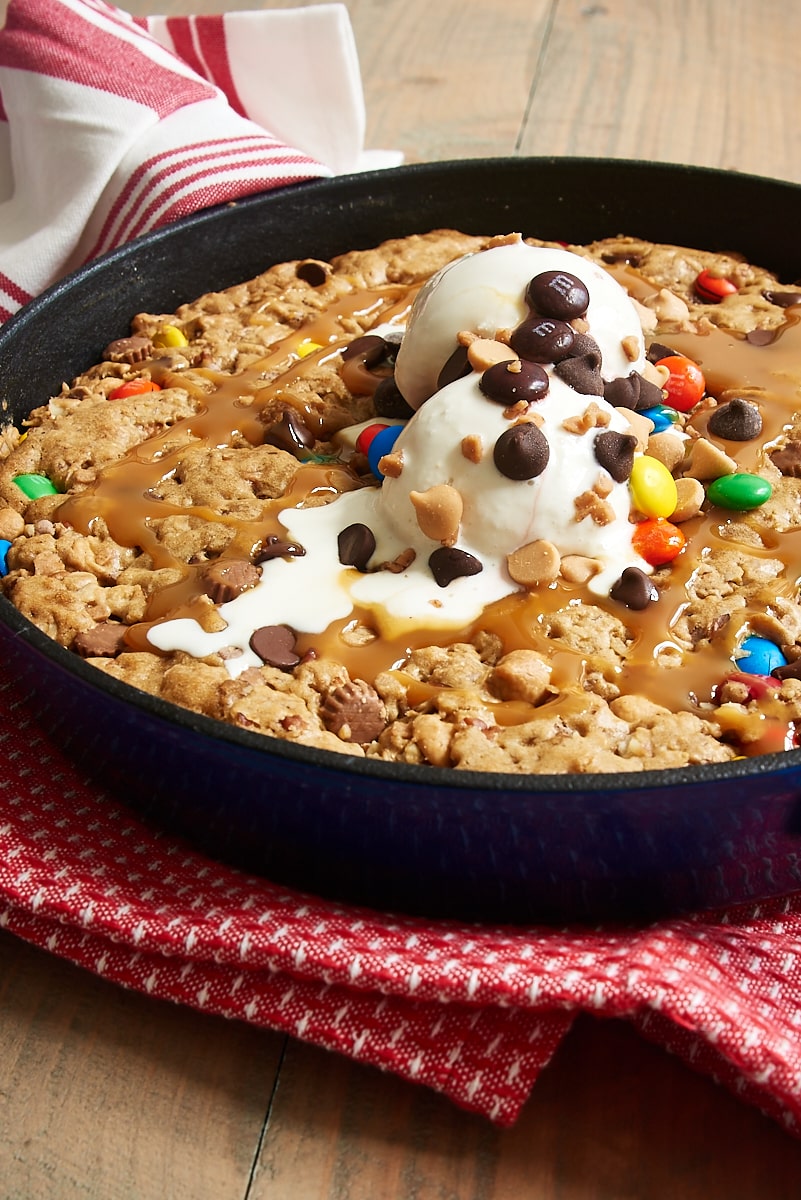 What You'll Need
Because you can use anything you have on hand for the add-ins and the rest of the skillet cookie is made with kitchen staples, this is truly a recipe you can bake on a whim!
Unsalted butter
Light brown sugar
Egg
Vanilla extract
All-purpose flour – Learn more: How to Measure Flour
Baking powder
Salt
Old-fashioned rolled oats
Your favorite add-ins – Chocolate chips, nuts, M&Ms, toffee bits, coconut, pretzels, etc.
How to Make a Monster Skillet Cookie
Not only is this Monster Skillet Cookie the biggest cookie you might ever make, it's also the easiest. You don't even need to use a mixing bowl!
Melt together the butter and sugar. Place the butter in a 10-inch cast-iron skillet set over medium heat. Once melted, add the brown sugar and stir until it dissolves. Remove the pan from the heat and cool for 10 minutes.
Finish the cookie dough. Preheat your oven to 350°F. Stir the egg and vanilla into the cooled butter mixture, then add the flour, baking powder, and salt; stir to combine. Next, stir in the oats, followed by the add-ins. Spread the dough evenly in the skillet.
Bake. Bake the cookie in the skillet for 20 to 25 minutes, or until it's golden brown. Serve warm or at room temperature. (I highly recommend serving with a scoop of ice cream and a drizzle of caramel or chocolate sauce!)
Tips for Success
Here are some tips to help make a perfect skillet cookie!
Make sure you cool the butter. The butter-and-sugar mixture needs to cool before you add the egg. If it doesn't, you'll end up with cooked egg in your batter! (Scrambled eggs are delicious, but not so much when they're mixed into a cookie with chocolate chips and M&Ms.)
Mixing the dough. I like to mix this cookie right in the skillet to cut down on the post-baking clean up. Of course, you can make it in a bowl if you prefer.
Don't over-bake. A cast iron skillet gets hot, so your skillet cookie will continue to bake even after you remove it from the oven. It's okay if the center of the cookie looks a little under-done.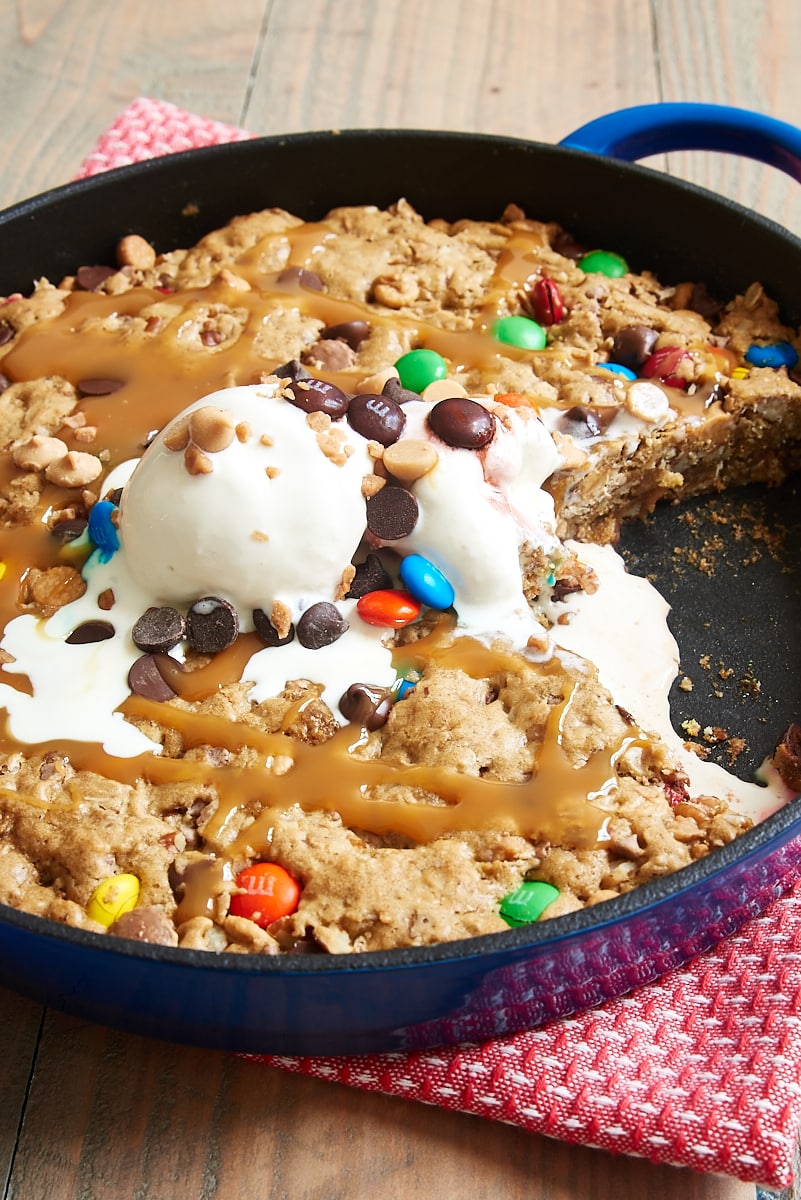 How to Store
Cover the skillet with foil or plastic wrap, or transfer the cookie pieces to an airtight container. Store at room temperature for 3 to 4 days.
Can I Freeze Extras?
Yes, you can freeze leftover skillet cookie slices for later! Wrap the pieces individually or transfer them to an airtight container with parchment paper between the layers (if needed). Freeze for up to 3 months; thaw at room temperature, or warm the cookie pieces in the microwave or a 300ºF oven.
Find more cookie recipes in the Recipe Index!
More Cast Iron Skillet Cookie Recipes
Video Tutorial: Monster Skillet Cookie