March 31, 2016
Hoka Cheesecake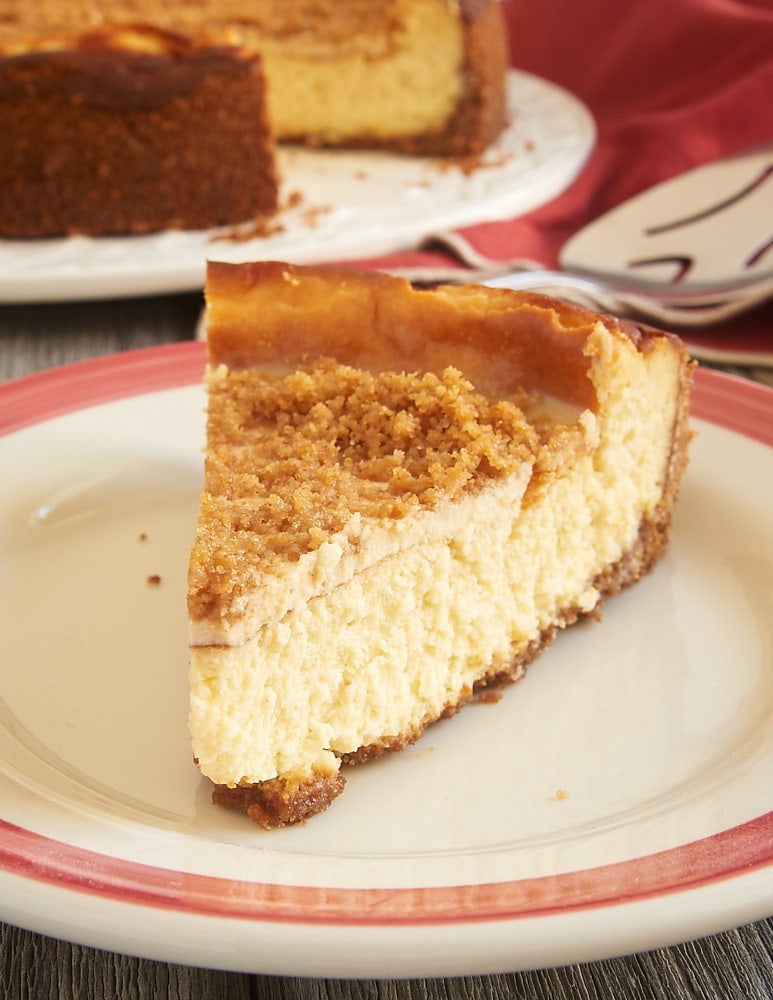 Many of you know that I lived my entire life in Mississippi until we moved to New York in 2010. My favorite town in Mississippi is Oxford. I lived there while I was in college and still visited often in the years following my graduation. It has the kind of character that's exactly what you want a small Southern town to be.
Years ago, there was a place there called The Hoka, named after a Chickasaw princess. It was a combination of movie theater, coffee shop, and cafe. I could tell you many things about The Hoka, but it's most important that you know that they made the very best cheesecake.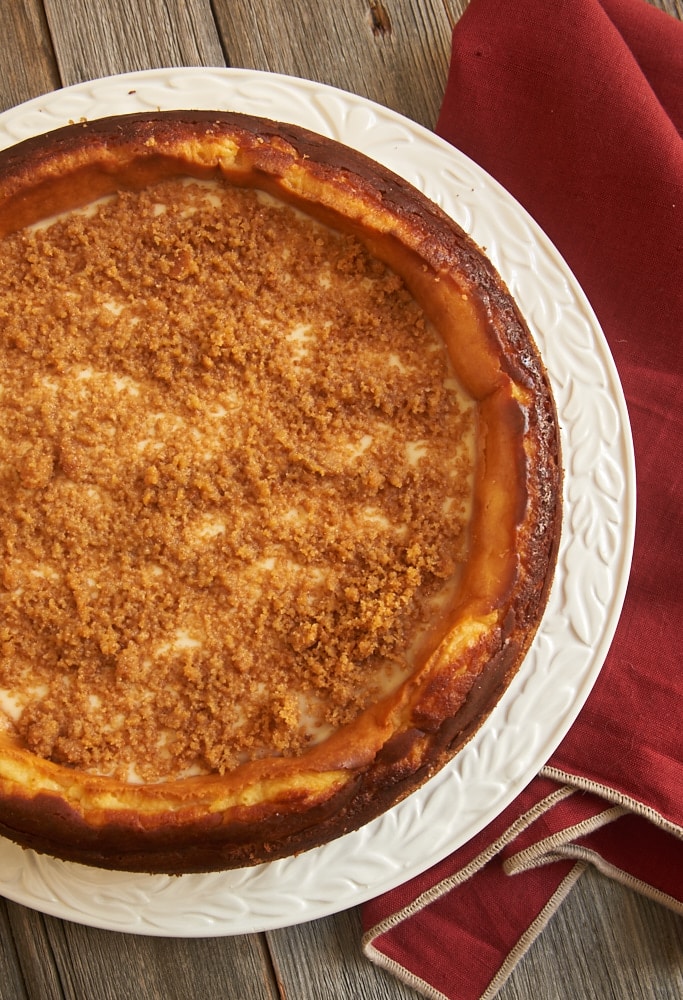 During my most recent attempt at cookbook purging, I rediscovered Square Table, a cookbook filled with recipes from Oxford restaurants along with stories from local writers. As I flipped through it, I found that I had heavily bookmarked the recipe for Hoka Cheesecake. I quickly assessed my cream cheese supply and got to baking.
The first bite of cheesecake, and I was instantly hit with so much nostalgia for that quirky little cafe. The cheesecake was just as soft and delicate and all-out fantastic as I remembered. It's rich but in the best possible way. And it has such amazing vanilla flavor. (Those vanilla amounts in the recipe aren't typos!)
In the spirit of full disclosure, I must tell you that I've made this cheesecake twice since then. The first time I made it, it was really good but I wanted to make a couple of changes. The first change was the pan. I initially baked it in a dark pan, and it baked a bit unevenly. So trust me when I tell you that a light pan (I have this one) will serve you far better.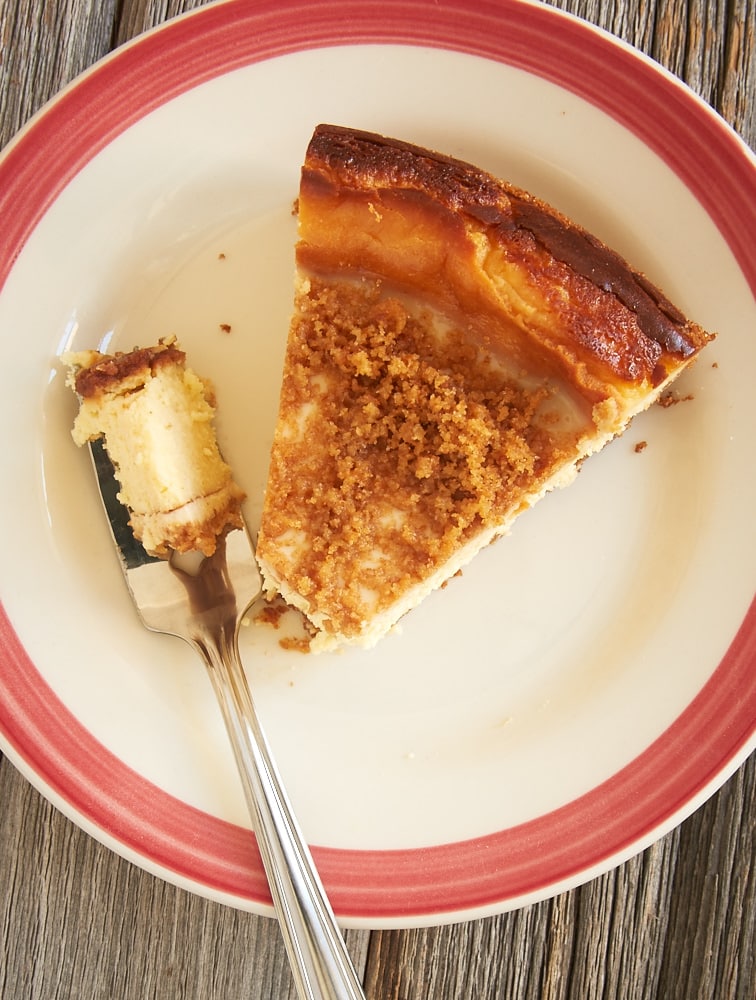 I also changed the crust to my usual graham cracker crust. The original had a lot of butter and sugar, but I have found that less butter makes the crust less messy and less sugar lets the flavor of the graham crackers come through a little better.
Calling this a "plain cheesecake" is just wrong. True, there aren't any other flavor additions. It's all about the cream cheese and vanilla. But the few ingredients in this recipe come together to make one of the best cheesecakes I've ever had the pleasure to eat. Try it, and I think you'll agree that it's anything but plain!
Visit the Recipe Index for more cheesecake recipes!
Hoka Cheesecake
Yield: 12 to 16 servings
Prep Time:30 minutes
Cook Time:1 hour 5 minutes
The famous Hoka Cheesecake is wonderfully soft, rich, and amazingly delicious!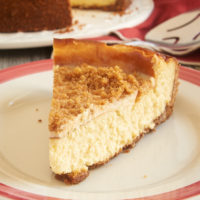 Ingredients:
For the crust:
7 ounces graham cracker crumbs (about 1 & 3/4 cups)
1/4 cup granulated sugar
1/4 teaspoon ground cinnamon
5 tablespoons unsalted butter, melted
For the filling:
24 ounces cream cheese, at room temperature
1 cup granulated sugar
1/2 cup plus 1 tablespoon unsalted butter, melted and cooled
3 large eggs
3 tablespoons vanilla extract*
For the topping:
1/2 cup sour cream
2 tablespoons granulated sugar
1 tablespoon vanilla extract
Directions:
To make the crust:
Preheat oven to 375°F.
Combine the graham cracker crumbs, sugar, and cinnamon in a small bowl. Add the butter and mix until thoroughly combined.
Reserve 1/4 cup of the crust mixture for the topping.
Press the remaining mixture into the bottom and about halfway up the sides of a 9-inch springform pan.
To make the filling:
Using an electric mixer on medium speed, beat the cream cheese and sugar until thoroughly combined. Add the butter, eggs, and vanilla, and mix well.
Pour the filling mixture onto the crust and spread evenly. Place the pan on a lined, rimmed baking sheet to catch any leaks.
Bake for 1 hour, or until the top is lightly browned and the cheesecake jiggles slightly.
Cool the cheesecake on a wire rack for 10 minutes. (The cheesecake will sink a bit in the middle as it cools.)
To make the topping:
Combine the sour cream, sugar, and vanilla until thoroughly combined. Spread over the partially cooled cheesecake.
Return the cheesecake to the oven and bake for 5 minutes.
Sprinkle the reserved crust mixture over the top of the cheesecake.
Cover loosely and refrigerate for at least 12 hours before serving.
Notes:
*There's a lot of vanilla in this cheesecake. I recommend using a good quality vanilla for the best results.
This post contains affiliate links.