There's big flavor in this simple Toffee Pecan Brown Butter Crumb Cake! Nutty brown butter, sweet toffee, crunchy pecans, and a hint of cinnamon combine for a tasty anytime cake.
My weakness for brown butter anything is very well documented here at BoB. That rich, nutty flavor is tough to beat. It's such a simple way to add a flavor boost to baked goods that I find myself integrating it into recipes more and more.
For this simple Toffee Pecan Brown Butter Crumb Cake, I took my love of brown butter and added in some more really great flavors. As is often the case with crumb cakes, there's cinnamon in both the cake and the crumb topping. Plus, that buttery crumb has plenty of pecans and toffee as well. All of that comes together for one of our favorite cakes!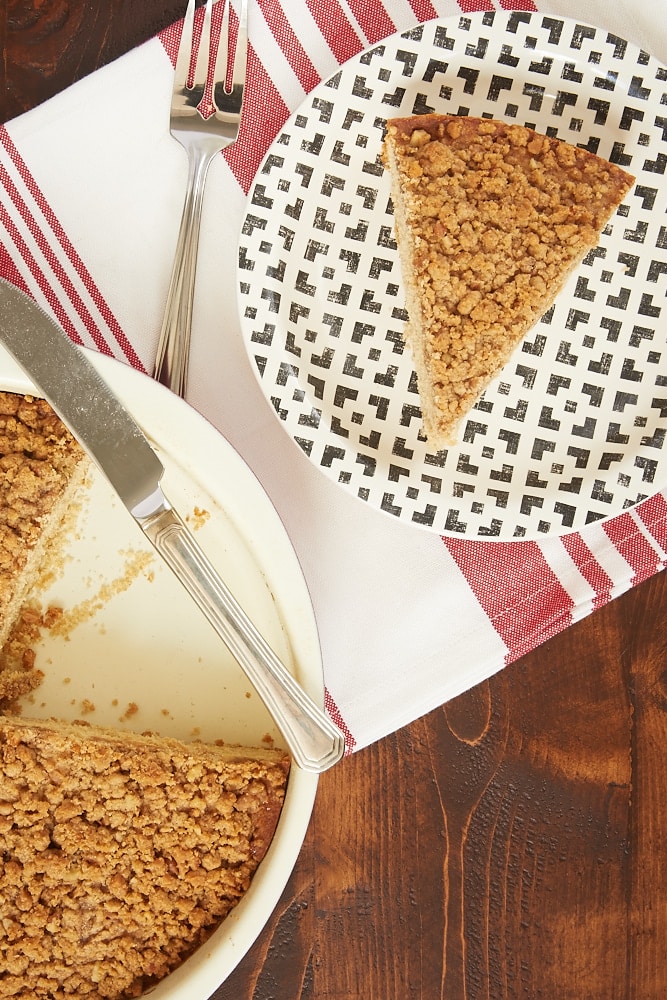 If you've never tried browning butter, don't fret that it's too difficult. It's a really simple process. All you'll need is a saucepan or a skillet and some butter. That's it. The rest more or less takes care of itself. The butter will melt, bubble a bit, and, after a few minutes, form browned bits in the bottom of the pan. And then you're done! Just don't wander off so you won't accidentally let it burn.
Your reward for taking the few minutes to brown the butter will be this absolutely lovely cake! I'm just so smitten with every flavorful bite of this cake. I love that it's such a great anytime cake that doesn't need a special occasion. Serve it for brunch, a sweet afternoon snack, or dessert. Just do yourself a favor and serve it often!
Find more cake recipes in the Recipe Index.
More Brown Butter Cake Recipes