December 6, 2018
Cherry Chocolate Chip Biscotti
Cherry Chocolate Chip Biscotti combine sweet, tart cherries with dark chocolate for a crispy cookie that pairs so well with your favorite coffee, tea, or hot chocolate!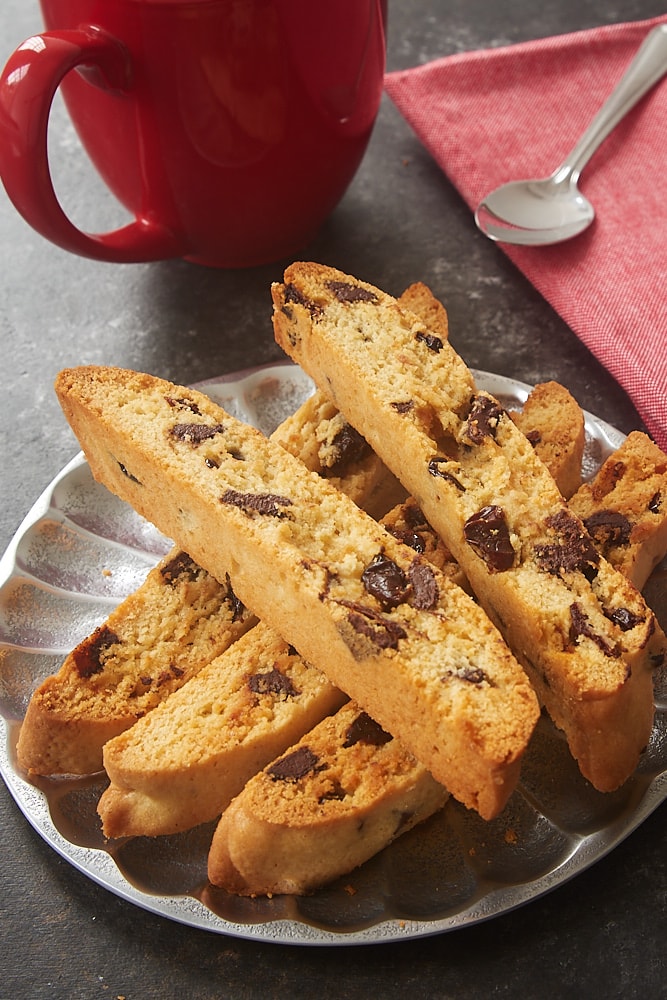 Biscotti isn't something I grew up eating and baking. I really only discovered it in my adulthood. I tend to make biscotti that's nicely crisp but not so much that you can't enjoy them without dunking them in coffee, tea, or other hot beverage. I'm usually a fan of softer cookies in general, but biscotti are one of my crispy cookie exceptions.
The simplicity of baking biscotti is pretty amazing. You simply make the dough, shape it into a rectangle, and bake it briefly. After that, slice it and bake some more. That's it!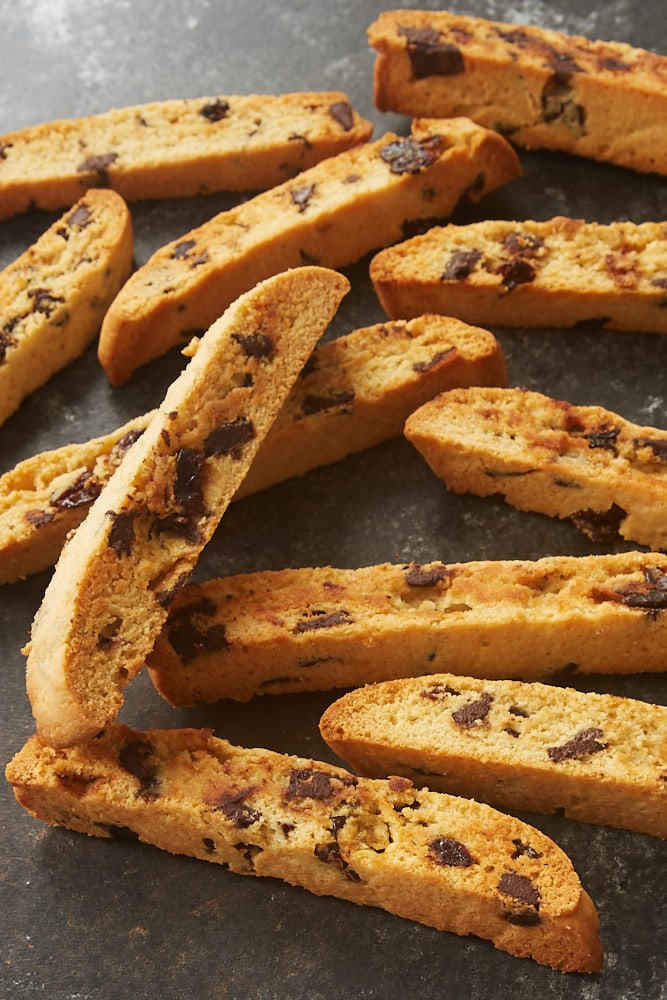 That is the case with this Cherry Chocolate Chip Biscotti recipe as well. It's really easy to make, but I will give you a couple of tips. When you're shaping the dough for its first round in the oven, try to make a rectangle with the dimensions in the recipe, but don't try to be perfect. Use those dimensions as a general guideline. And if you're not so good at estimating dimensions (like me), then a ruler will help you immensely. The dough is a bit sticky, too, so a little flour on you fingertips will help you shape it more easily.
When it's time to cut the biscotti for the second round of baking, you can cut it horizontally or at a slight angle. Either way is perfectly fine. Horizontal cuts will make for more uniform pieces. Diagonal cuts will be fairly uniform, but you will get a couple of shorter pieces from the ends. It's just one of those personal preference things.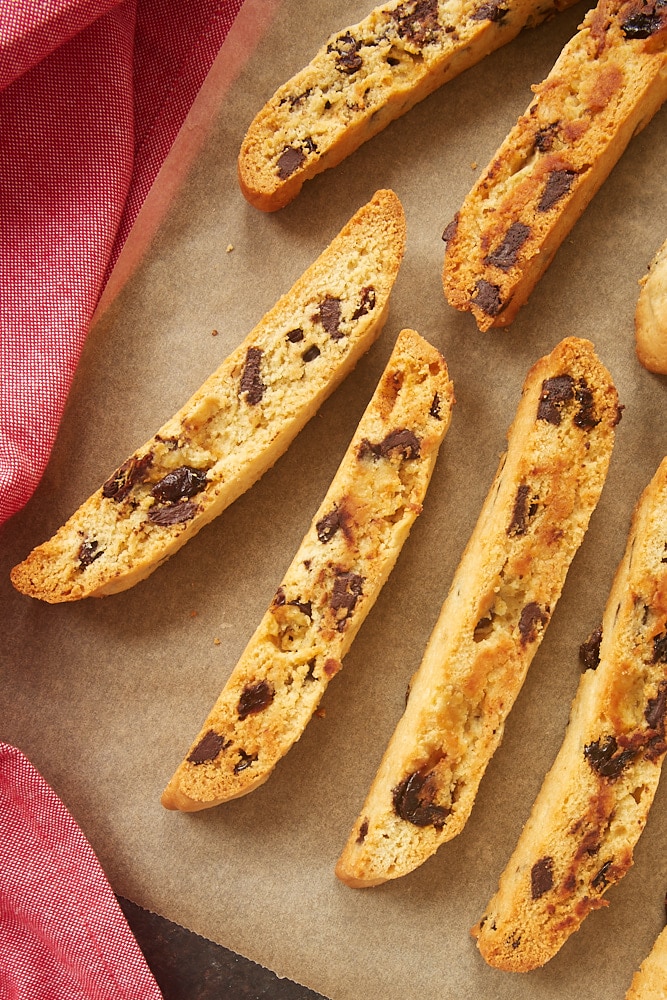 I can't tell you about these biscotti without mentioning the flavor. Chocolate and cherries are a classic combination, and they work brilliantly together here. For my tastes, I prefer dried cherries with chocolate versus their fresh counterparts. The tartness and chewiness is a wonderful complement to the dark chocolate.
I love to bake biscotti most any time, but there's something about the holiday season that makes me want to bake batch after batch. Perhaps it's the thought of dunking it into my favorite hot chocolate (no coffee for me!), or maybe it's that they make an excellent homemade gift.
Find more cookie recipes in the Recipe Index.
More Biscotti Recipes
Cherry Chocolate Chip Biscotti
Yield: 18 biscotti
Prep Time: 20 minutes
Cook Time: 47 minutes
These easy to make Cherry Chocolate Chip Biscotti are the perfect companion to your favorite coffee or hot chocolate!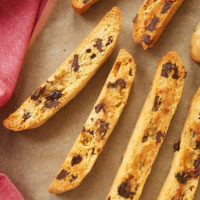 Ingredients:
2 cups (240g) all-purpose flour
1 teaspoon baking powder
1/2 teaspoon salt
1/2 cup (113g) unsalted butter, softened
1/2 cup (100g) granulated sugar
1/4 cup (50g) firmly packed light brown sugar
2 large eggs
1 teaspoon vanilla extract
3/4 cup (128g) semisweet chocolate chips or chocolate chunks
3/4 cup (35g) dried cherries
Directions:
Preheat oven to 350°F. Line a baking sheet with parchment paper.
Combine the flour, baking powder, and salt. Set aside.
Using an electric mixer on medium speed, beat the butter, sugar, and brown sugar until light and fluffy. Add the eggs, one at a time, mixing well after each addition. Mix in the vanilla.
Reduce the mixer speed to low. Gradually add the flour mixture, mixing just until combined. Stir in the chocolate and cherries.
Transfer the dough to the prepared pan. Shape the dough into a rectangle about 3 & 1/2" wide and 3/4" tall. The dough will be a bit sticky, so dust your fingertips with a bit of flour if necessary to help you shape it.
Bake for 25 minutes. Remove the pan from the oven and allow to cool for 10 minutes (or until it is cool enough to handle).
Use the parchment paper to transfer the biscotti to a cutting board. Cut the biscotti into 3/4" crosswise slices.
Line the baking sheet with a fresh sheet of parchment paper or a clean silicone liner. Place the biscotti, cut side down, onto the pan.
Bake 18 to 22 minutes, or until browned. Cool on the pan for 10 minutes. Then transfer the cookies to a wire rack to cool completely.