December 7, 2015
Bourbon Pecan Chocolate Chip Cookies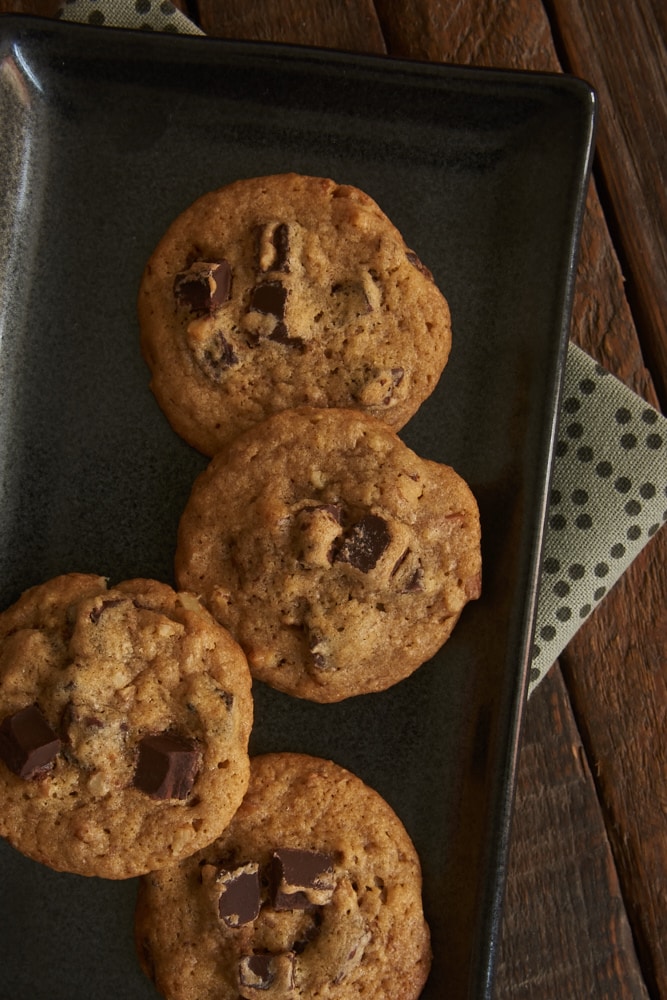 I've been in full-tilt cookie baking mode lately. During the holidays, I always have an unrealistic to-bake list. I just want to bake so many things! Inevitably, I have to prioritize and shift things around to fit a more reasonable schedule. As I started trying to pare down my list, I knew these cookies were not to be missed.
I love chocolate chip cookies in most any form, but I especially love them with nuts added. Add some bourbon to that, and now we're really talking.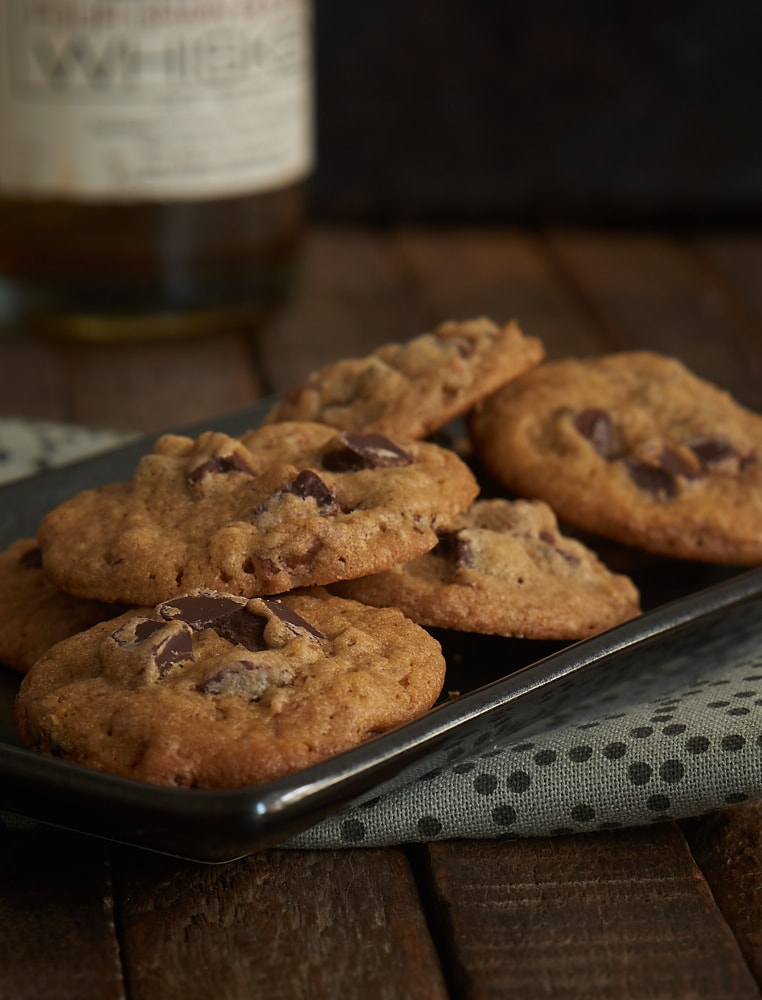 The bourbon flavor isn't bold, but instead it adds a wonderful depth to the overall flavor. It's just the thing to take otherwise standard chocolate chip cookies and transform them into something really fantastic.
I opted to use one of my favorite dark chocolate chunks instead of chocolate chips, but either is just fine. Also, feel free to substitute a different nut or omit them in favor of more chocolate.
These grown-up cookies make a big batch, so they're great for sharing. I love having an adults-only cookie to mix into all of my holiday baking. The kids can't have all the fun, right?
Add some cookies to your to-bake list! Visit my Recipe Index!
Bourbon Pecan Chocolate Chip Cookies
Yield: about 60 cookies
Prep Time:20 minutes
Cook Time:12 minutes per pan
Bourbon Pecan Chocolate Chip Cookies are grown-up cookies! Such great flavors in a soft, chewy cookie!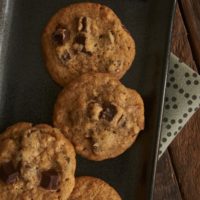 Ingredients:
2 & 1/4 cups all-purpose flour
1 teaspoon baking soda
1 teaspoon salt
1 cup unsalted butter, softened
1 cup firmly packed light brown sugar
1/2 cup granulated sugar
2 large eggs
1 & 1/2 tablespoons bourbon
1 teaspoon vanilla extract
1 & 1/2 cups semisweet chocolate chips or chocolate chunks
1 cup coarsely chopped pecans (toasted, if you like)
Directions:
Whisk together the flour, baking soda, and salt. Set aside.
Using an electric mixer on medium speed, beat the butter, brown sugar, and sugar until light and fluffy. Add the eggs, one at a time, mixing well after each addition. Mix in the bourbon and vanilla.
Reduce mixer speed to low. Gradually add the flour mixture, mixing just until combined. Stir in the chocolate chips and pecans.
Cover the dough and refrigerate for at least 2 hours. (Overnight is even better.)*
Preheat the oven to 350°F. Line baking sheets with parchment paper or silicone liners.
Drop the dough by tablespoonfuls onto the prepared pans. (I use a 1-tablespoon cookie scoop.) Bake, one pan at a time, 10 to 12 minutes or until the edges are browned. Refrigerate the remaining dough between batches.
Cool the cookies for 5 minutes on the pans. Then transfer the cookies to wire racks to continue cooling.
Notes:
*Chilling the dough isn't absolutely necessary, but it does help prevent the cookies from spreading as much.
This post contains affiliate links.