These sweet, simple vanilla biscotti are just begging to be dunked into your favorite hot beverage. This is the best easy biscotti recipe for beginners—nothing fussy or complicated!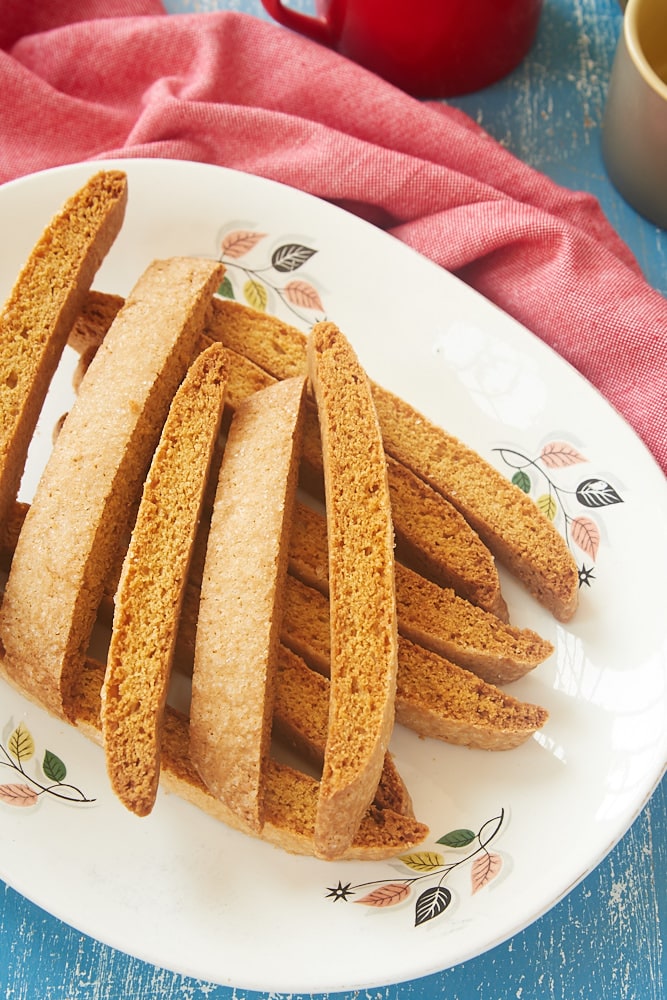 Easy Biscotti Recipe
When it comes to simple flavors, it doesn't get much better than vanilla. It's easy to dismiss vanilla as boring or uninteresting, but it's really a lovely flavor, provided you use a high quality extract. That simple flavor is the center of attention in these vanilla biscotti.
Keeping with the simple theme, it applies to making these cookies, too. This easy biscotti recipe is a breeze to make. You get to skip all the cookie scooping in favor of baking all the dough at once, slicing it, and baking it some more. The end result is a crispy, crunchy vanilla biscotti that's the perfect companion to a cup of your favorite coffee or tea.
What Are Biscotti?
Biscotti are Italian cookies that are twice-baked, first as a big slab of dough, and next as thin slices. They are crunchy and have a very dry texture—more like a breadstick than a chewy chocolate chip cookie. Biscotti can be enjoyed on their own or dipped in coffee, tea, or milk to soften them up a bit.
Once you've mastered this recipe, try my Chocolate Vanilla Marbled Biscotti, Double Chocolate Biscotti, or Cherry Chocolate Chip Biscotti.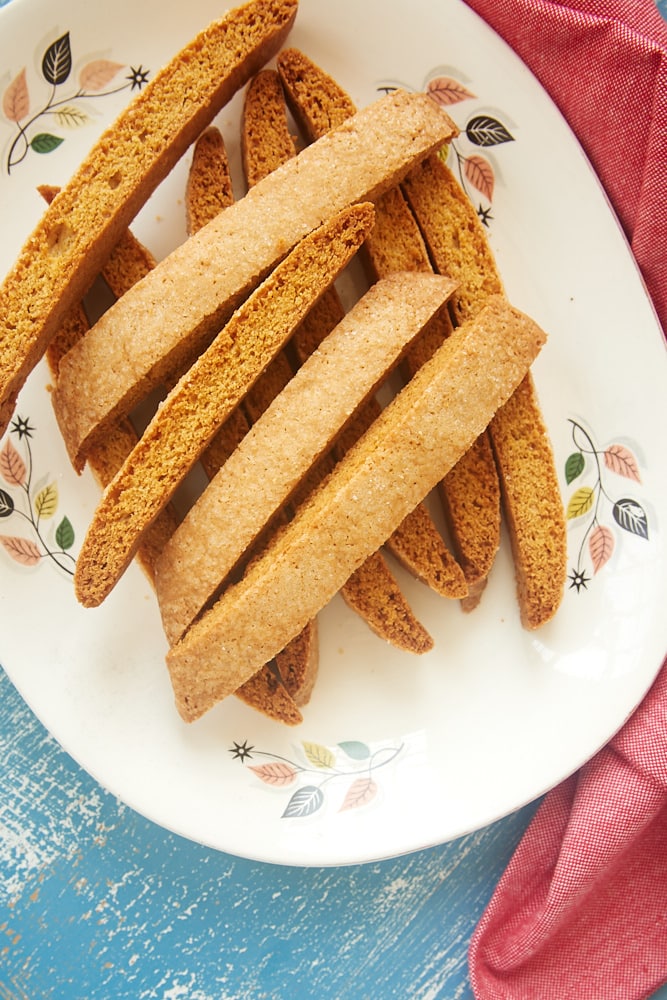 What You'll Need
Scroll down to the recipe card below this post for ingredient quantities and full instructions.
All-purpose flour – Learn more: How to Measure Flour
Baking soda
Salt
Unsalted butter – Learn more: Unsalted or Salted Butter: Which is Better for Baking?
Granulated sugar
Light brown sugar – Dark brown sugar has a more assertive flavor that can overshadow the delicate vanilla in this recipe, so I recommend sticking with light.
Eggs
Vanilla extract
Sanding sugar – Sanding sugar is optional, but it will give your cookies a nice bit of sweetness, crunch, and sparkle.
How to Make Vanilla Biscotti
You're going to love making this easy biscotti! Here's what you'll need to do.
Prepare. Preheat your oven to 350°F and line a baking sheet with parchment paper or a silicone liner.
Mix the dry ingredients. Combine the flour, baking soda, and salt in a mixing bowl.
Mix the wet ingredients. Use an electric mixer on medium speed to beat the butter, sugar, and brown sugar until they're light and fluffy. Beat in the eggs one at a time, followed by the vanilla.
Combine the wet and dry ingredients. Reduce the mixer speed to low and slowly add the dry ingredients, mixing just until combined.
Shape the dough. Turn the dough out onto the prepared pan. Shape it into a rectangle about 3 & 1/2" wide and 3/4" tall. If desired, sprinkle the top with sanding sugar.
Bake. Place the pan in the oven and bake for 25 minutes. Once it's done, allow the dough to cool for 10 minutes, or until you can comfortably handle it.
Cut the biscotti. Lift the parchment paper or liner and transfer the dough to a cutting board. Cut it into 3/4" crosswise slices.
Bake again. Line your baking sheet with a fresh sheet of parchment paper or clean silicone liner and place the biscotti onto the pan with the cut side down. Bake for 18 to 22 minutes, or until golden brown.
Cool. Let the biscotti cool on the pan for 10 minutes, then transfer them to a wire rack to cool completely.
Tips for Success
These tips will help make sure this easy biscotti turns out perfect every time!
Working with the dough. The dough for these biscotti is a bit sticky. Be sure to flour your hands when you're shaping it so that it's easier to handle. If it feels too sticky, sprinkle a little flour over the dough and gently work it into the dough. Too much flour and too much mixing will make your biscotti tough, so don't overdo it.
Shaping the biscotti. I tend to make long biscotti, but you can make these any size you want. When you're shaping the dough for baking, just make it a narrower width. It will spread some as it bakes, so keep that in mind. The only dimension that I recommend not changing is the height.
Don't skip the cooling. Not only does this ensure that you can work with the biscotti without burning your hands, but it also keeps the biscotti from falling apart when you slice it.
Variations
You can fold chopped pistachios or almonds into the biscotti dough, or try mini chocolate chips, dried cranberries, citrus zest, etc. Introducing add-ins will make the vanilla flavor less prominent, though, so keep that in mind!
I generally don't like to add a glaze or other topping to biscotti. They're meant for dunking, after all, so I like all the flavors to be contained within the cookie. That being said, feel free to add a glaze or dip them in chocolate if you like. These biscotti are nicely crunchy, but not so much that you have to dunk them to be able to eat them.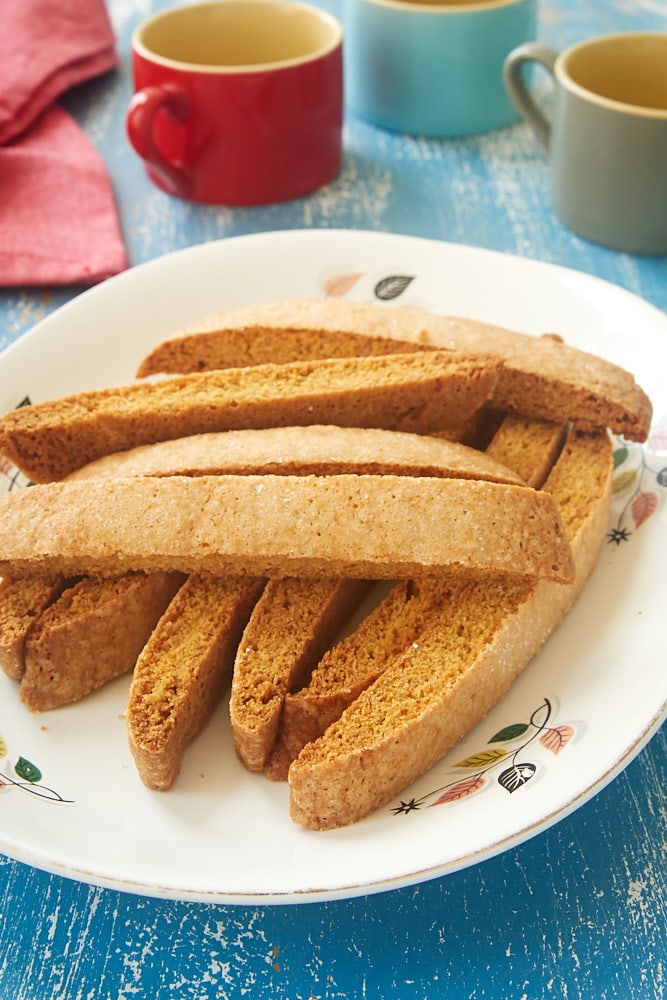 How to Store
Store in an airtight container on the countertop for a week or two. (Their long shelf-life makes them great for holiday gift giving!)
Can This Recipe Be Frozen?
You can freeze biscotti in an airtight container or freezer bag for up to 2 months. Let them thaw at room temperature before serving.
Find more cookie recipes in the Recipe Index.