October 5, 2015
Brown Butter Oatmeal Date Cookies with Maple Glaze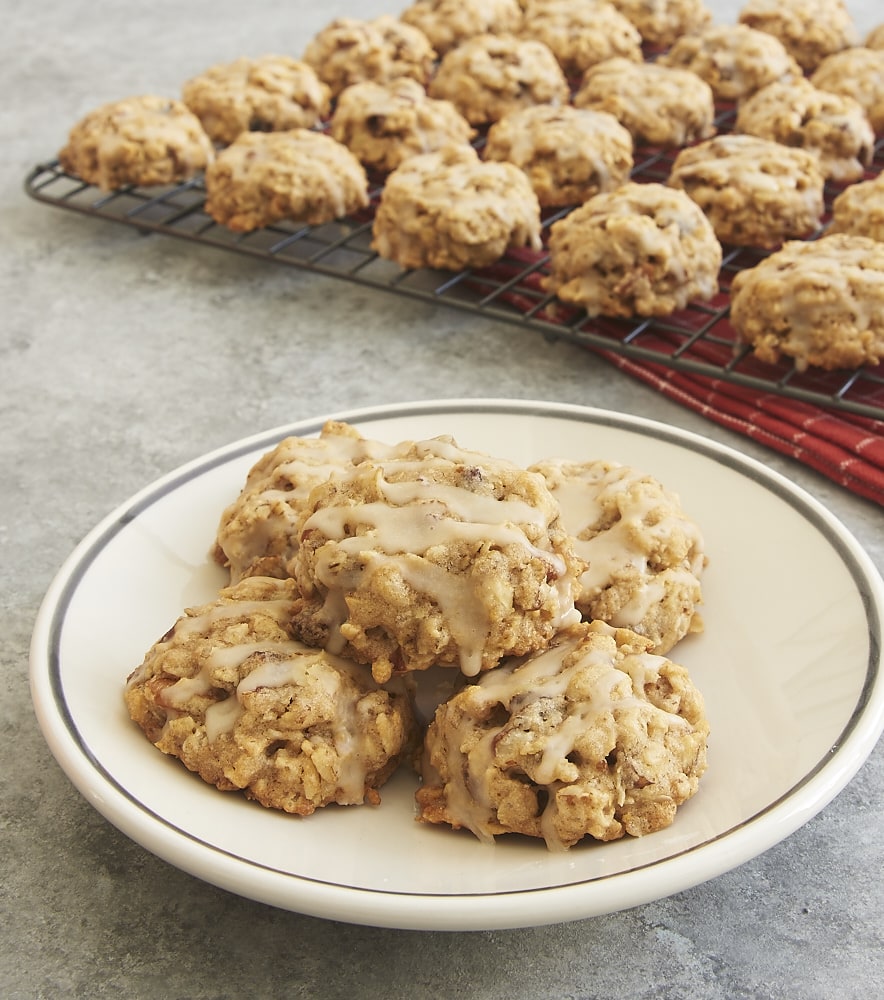 Brown Butter Oatmeal Date Cookies with Maple Glaze are filled with so much amazing flavor. These aren't your ordinary oatmeal cookies!
I'm probably the only food blogger in existence who doesn't like pumpkin. I know it has amazing popularity, but it's just not my thing. Other than one quick bread (that I like a surprising amount), you'll not find much of it around here.
But there are fall flavors a-plenty to be enjoyed! And I managed to put about 82% of them in these Brown Butter Oatmeal Date Cookies with Maple Glaze. Of course, I'll take these flavors any time of year, but there's something about fall that makes me want to break out all of my favorite comforting baking flavors and enjoy them to their fullest. And that's just what these cookies are all about.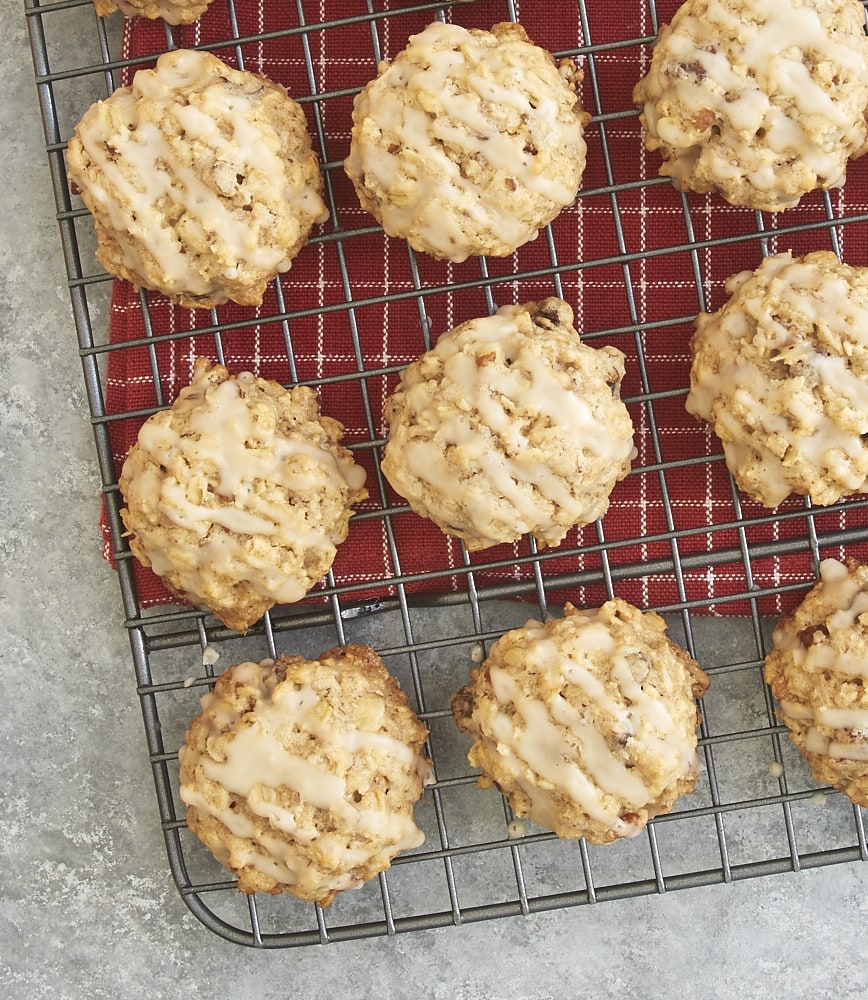 With that sweet maple glaze topping off these cookies, the sweetness of the cookies is dialed back a bit so that you're not overwhelmed with sweet flavor when you bite into them. If you're opting to make these without the glaze, just keep in mind that they're a little less sweet than normal. But, seriously. You're not going to want to skip that glaze!
There's a whole lot of flavor going on in these cookies. The nutty brown butter flavor, the chewy oats, the sweet dates. And then they're topped off with a simple, tasty maple glaze. With all of that flavor, I like to make these cookies on the small side – only a tablespoonful of dough for each. That makes for great little 2-bite cookies that have enough taste to seem like a bigger cookie.
Find more cookie recipes in the Recipe Index.
More Oatmeal Cookie Recipes
Brown Butter Oatmeal Date Cookies with Maple Glaze
Yield: about 48 cookies
Prep Time:30 minutes
Cook Time:16 minutes per pan
Brown Butter Oatmeal Date Cookies with Maple Glaze are full of sweet, chewy, nutty flavor!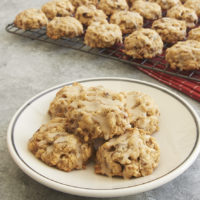 Ingredients:
For the cookies:
1 cup (226g) unsalted butter
1 & 1/4 (150g) cups all-purpose flour
1 teaspoon ground cinnamon
1/2 teaspoon baking powder
1/2 teaspoon salt
3 cups (270g) old-fashioned rolled oats
1/2 cup (100g) granulated sugar
1/2 cup (100g) firmly packed light or dark brown sugar
2 large eggs
1 teaspoon vanilla extract
1 cup (149g) chopped dates
3/4 cup (90g) chopped nuts, such as pecans, walnuts, or hazelnuts
For the glaze:
1 cup (110g) confectioners' sugar, sifted
3 tablespoons maple syrup
2 to 3 teaspoons milk
Directions:
To make the cookies:
Place the butter in a medium saucepan or skillet. Cook over medium heat until the butter melts and begins to foam.
Continue cooking, stirring occasionally, until brown specks begin to form at the bottom of the pan and the butter has a nutty aroma. Remove the pan from the heat and allow to cool to room temperature. If desired, strain the butter to remove some or all of the browned bits.
Whisk together the flour, cinnamon, baking powder, and salt. Stir in the oats. Set aside.
Using an electric mixer on medium speed, beat the cooled butter, sugar, brown sugar, eggs, and vanilla until thoroughly combined. Gradually add the flour mixture, mixing just until combined. Stir in the dates and nuts. Refrigerate the dough for 20 to 30 minutes, or until it is firm enough for scooping.
Preheat oven to 350°F. Line baking sheets with parchment paper or silicone liners.
Drop the dough by tablespoonfuls onto the prepared pans. Bake 12 to 16 minutes, or until the edges are browned and the centers appear set.
Cool the cookies on the pan for 5 minutes. Then transfer them to a wire rack to cool completely.
To make the glaze:
Combine the confectioners' sugar and maple syrup in a small bowl. Add 2 teaspoons of milk, and combine until smooth. Add additional milk if needed to attain the desired consistency.
Drizzle the glaze over the cooled cookies. Allow the glaze to set for about 20 minutes before serving.
This recipe was originally developed for Clabber Girl, where I am a paid contributor.