October 8, 2015
Turtle Tart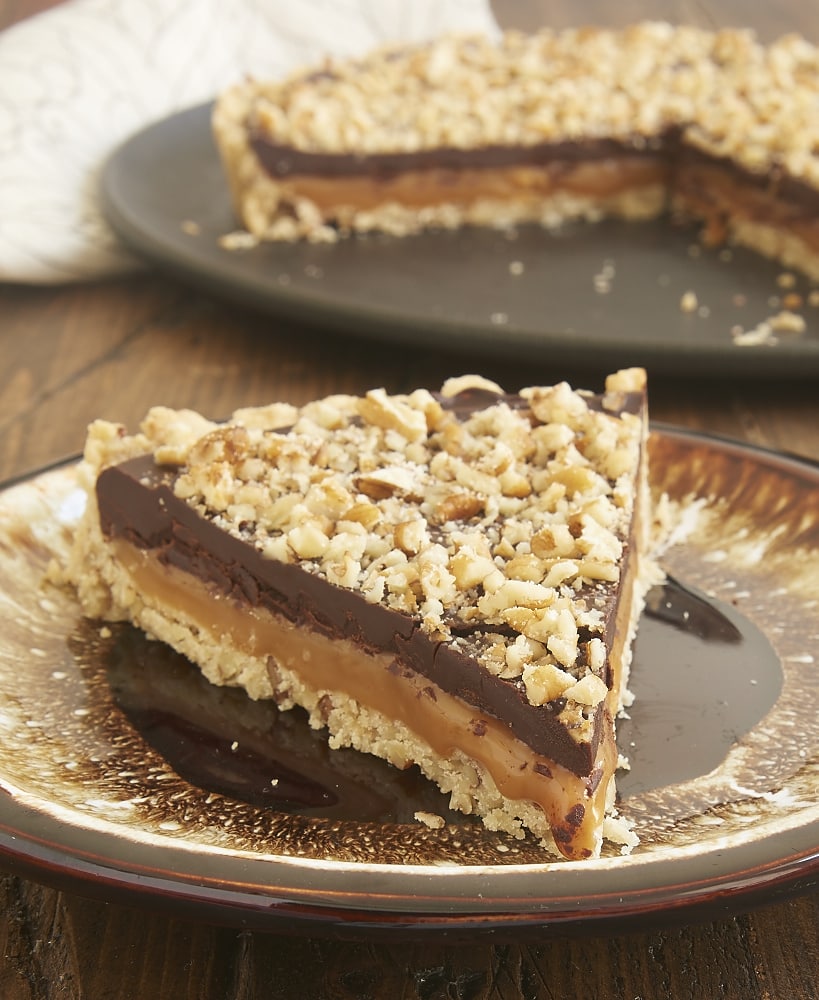 Caramel, chocolate, and pecans are three of my favorite things. So it's not surprising that turtle desserts are pretty much irresistible to me. A while back, I saw a layered turtle pie somewhere and immediately moved it to the top of my recipe ideas list.
This tart is made of three simple layers. It starts with a shortbread crust filled with pecans. Next comes a layer of gooey caramel. Then there's the chocolate ganache and a sprinkling of pecans to finish. Seriously, who could resist that?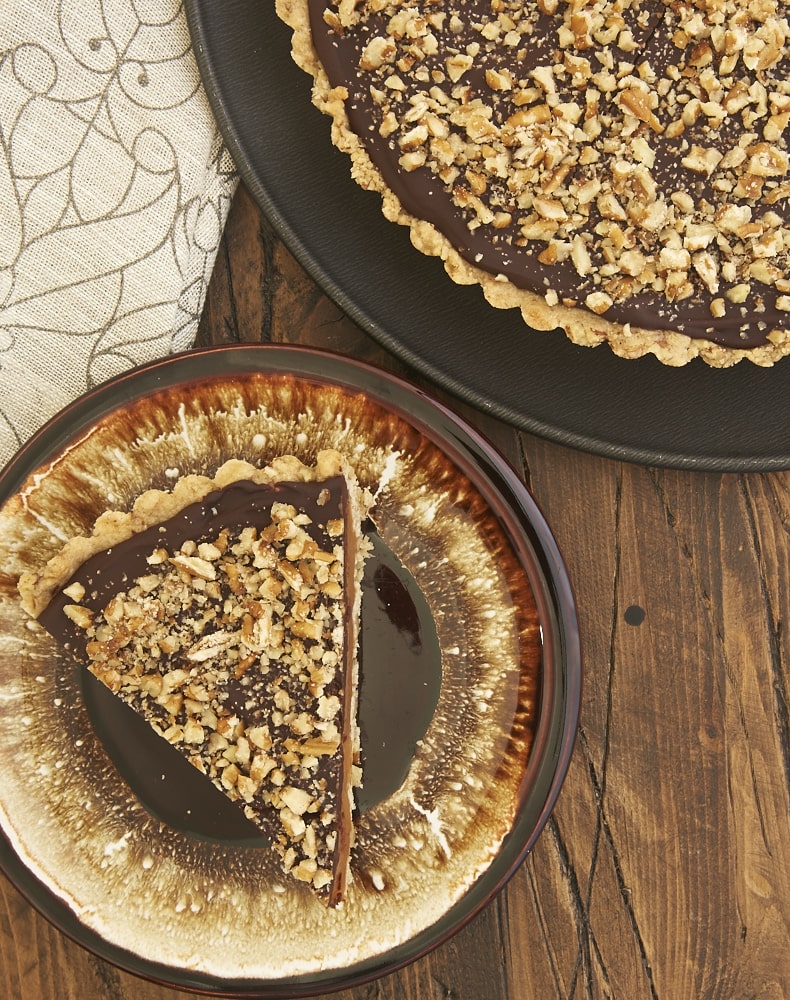 You'll be surprised how quick and easy this dessert is to make! There's a bit of downtime while you cool the crust and refrigerate the layers, but the active time is surprisingly low.
And the end result is really just gorgeous and every bit as delicious. I confess that Quinn and I kept this tart all to ourselves. And we ate every single bite. And then we were sad when it was gone. If you're making this tart to share with friends, you might want to make a second one to keep for yourself.
Turtle Tart
Yield: 8 to 10 servings
Prep Time:25 minutes
Cook Time:18 minutes
A pecan shortbread crust, a gooey layer of caramel, and a rich chocolate ganache make this Turtle Tart a can't-miss dessert!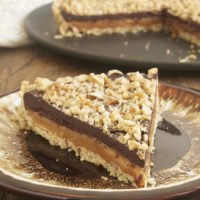 Ingredients:
For the crust:
1/2 cup unsalted butter, softened
1/4 cup firmly packed light brown sugar
1/4 teaspoon vanilla
1 cup all-purpose flour
1/2 cup finely chopped pecans
1/4 teaspoon salt
2 to 3 teaspoons water, if needed
For the caramel filling:
11 ounces soft caramels (about 40 caramels)
1/3 cup heavy cream
For the chocolate ganache:
8 ounces bittersweet chocolate, roughly chopped
1/2 cup heavy cream
1/4 cup chopped pecans, for garnish
Directions:
To make the crust:
Using an electric mixer on medium speed, beat the butter and brown sugar until light and fluffy. Mix in the vanilla.
Reduce mixer speed to low. Add the flour, pecans, and salt, mixing just until combined. The dough will be crumbly but should hold together when pinched. If it doesn't, add water a little bit at a time until it holds together.
Press the dough evenly into the bottom and up the sides of a 9-inch tart pan with a removable bottom.* Refrigerate for 30 minutes.
Preheat oven to 350°F. Bake the crust for 15 to 18 minutes, or until golden brown. Set aside to cool.
To make the caramel filling:
Place the caramels and cream in a medium saucepan. Cook over medium heat, stirring frequently, until the mixture is smooth.**
Pour on top of the cooled crust, spreading it evenly. Refrigerate while you make the ganache.
To make the chocolate ganache:
Place the chopped chocolate in a heatproof bowl. Set aside.
Place the cream in a small saucepan. Cook over medium heat until it comes to a boil. Pour the cream over the chocolate, and let it sit for 5 minutes. Then stir the mixture until it is smooth.
Spread the ganache evenly over the chilled caramel layer. Sprinkle the top with pecans. Refrigerate about 2 hours before serving.
Notes:
*You can use a regular pie pan, but a tart pan with removable bottom makes serving this tart much simpler.
**You can also make the caramel in the microwave. Place the caramels and cream in a microwave-safe bowl, and heat at half-power for a minute and then at 30-second intervals until it's easily stirred and smooth.
I recommend keeping the tart in the refrigerator and then setting it out at room temperature for about 20 minutes before serving.
This post contains affiliate links.