December 18, 2014
Spiced Cheesecake with Oatmeal Cookie Crust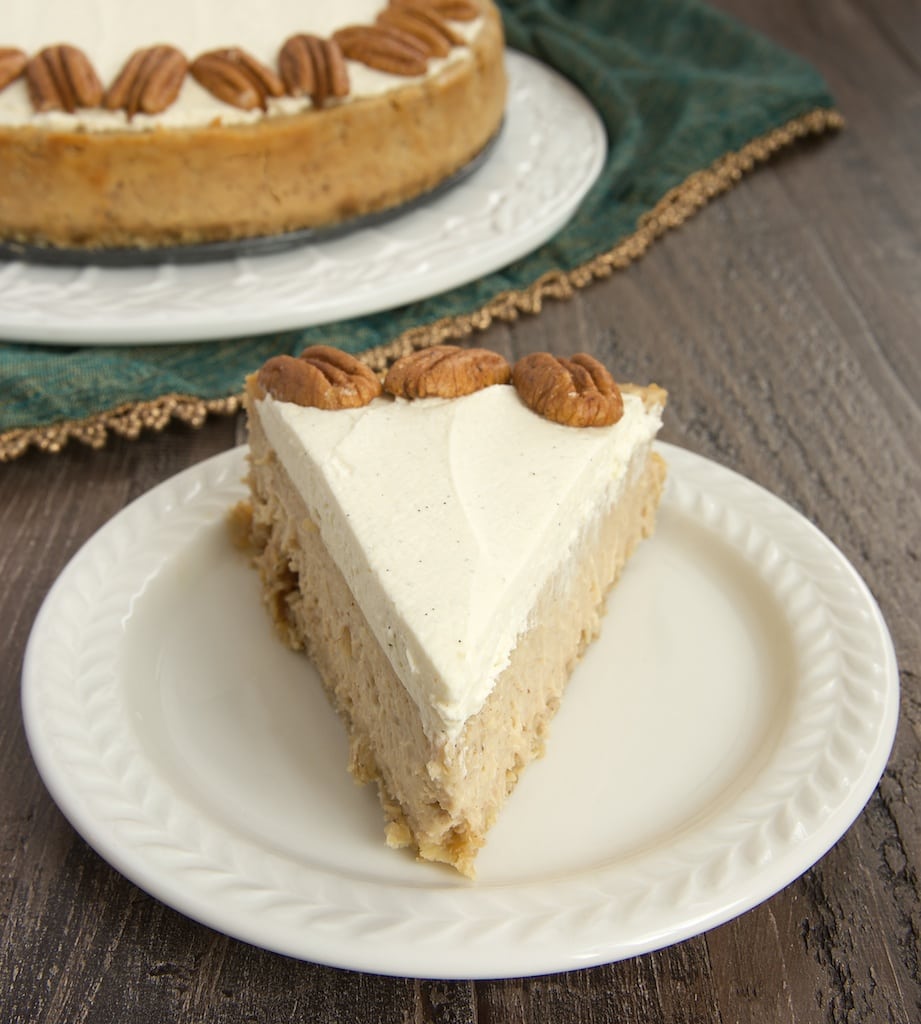 Somewhere along the way in the last several years, I've developed quite a taste for what I think of as fall and winter spices. I'm talking about cinnamon, nutmeg, allspice, cloves, etc. I just love combining them for big flavor in my baking!
When I first thought of adding all that spice action to a cheesecake, I have to tell you that I couldn't get in the kitchen fast enough! I love baking cheesecakes, and the thought of a Spiced Cheesecake was too tempting to pass up.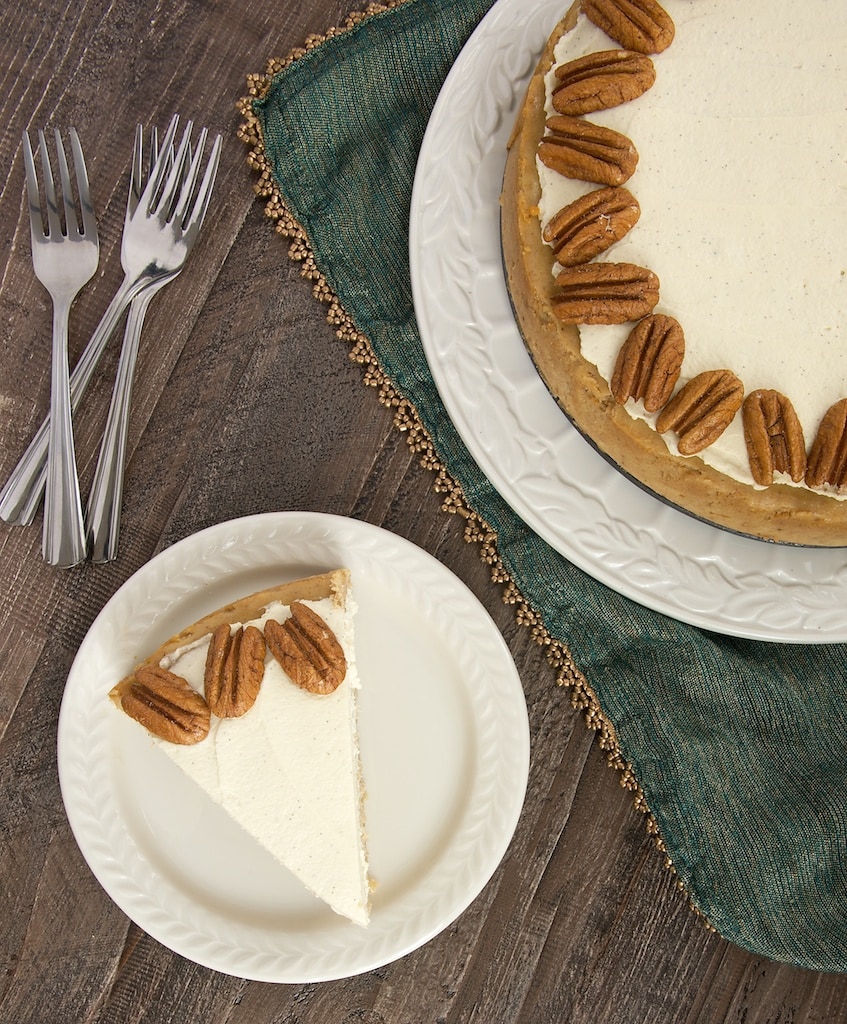 I decided to start with a crust that's much like an oatmeal cookie. It seemed like the perfect companion to all those spices. A cookie crust would work well, too. Graham crackers, vanilla wafers, or speculoos would all be great choices.
The cheesecake itself is pretty straightforward. It's your basic traditional cheesecake but amped up with a little brown sugar and a blend of spices. Then it's topped off with a sweetened vanilla bean whipped cream and a few toasted pecans.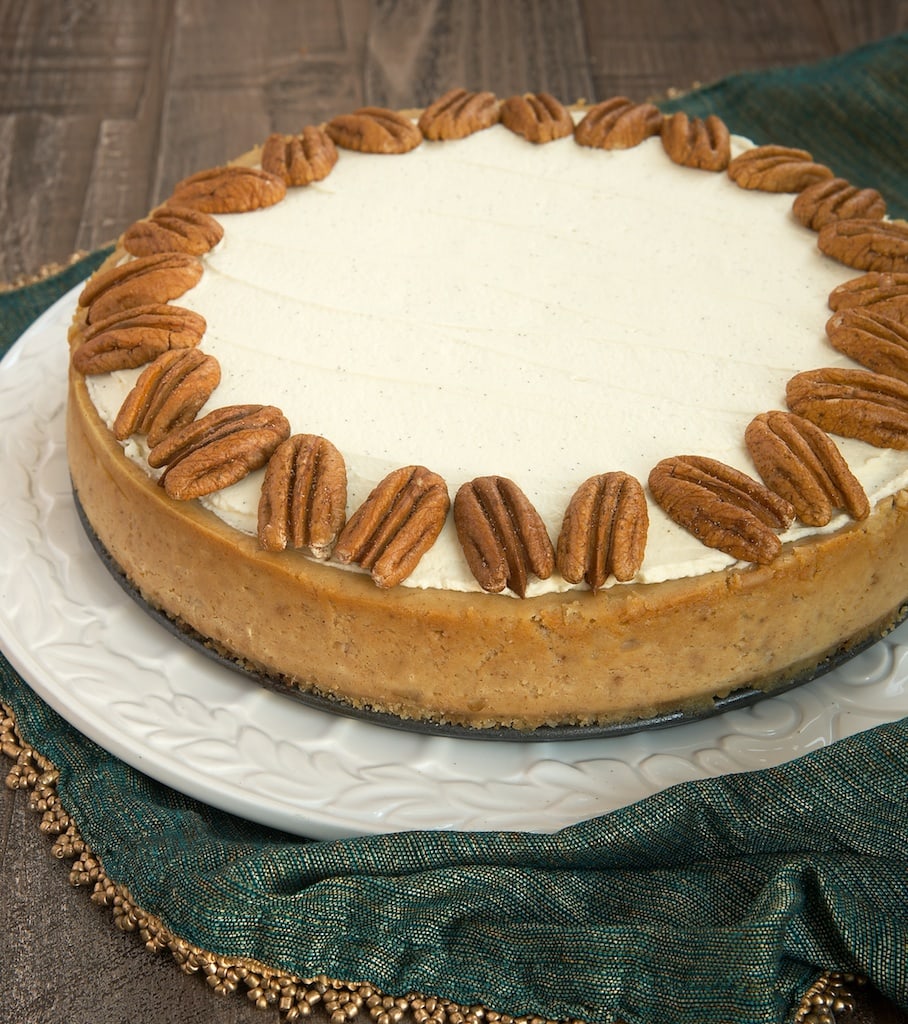 As always, I used PHILADELPHIA Cream Cheese for making this beauty. It has been my cream cheese of choice for many years. I love knowing that it's fresh and that the traditional cream cheese has no preservatives.
Let me tell you, my friends, that this cheesecake is amazing. It's absolutely beautiful and wonderfully delicious. If you're looking for a special holiday dessert, this may very well be your answer.
Spiced Cheesecake with Oatmeal Cookie Crust
Yield: 16 servings
Prep Time: 30 minutes
Cook Time: 2 hours 25 minutes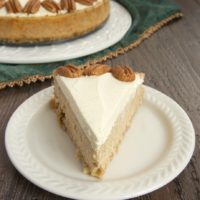 Ingredients:
For the crust:
1/3 cup packed light brown sugar
1/4 cup unsalted butter, softened
1/2 teaspoon vanilla extract
1/2 cup all-purpose flour
1/4 teaspoon salt
3/4 cup old-fashioned oats
For the cheesecake:
24 ounces cream cheese, softened
1/2 cup granulated sugar
1/2 cup packed light brown sugar
3 large eggs
1 teaspoon vanilla
1 & 1/2 teaspoons ground cinnamon
1/2 teaspoon ground allspice
1/2 teaspoon ground nutmeg
1/4 teaspoon ground cloves
1/2 cup sour cream
For the topping:
3/4 cup heavy cream
2 tablespoons granulated sugar
1 teaspoon vanilla bean paste or vanilla extract
toasted pecans, for garnish
Directions:
To make the crust:
Preheat oven to 350°. Grease a 9-inch springform pan.
Using an electric mixer on medium speed, beat brown sugar, butter, and vanilla until light and fluffy.
Reduce mixer speed to low. Add flour and salt, and mix just until combined. Mix in oats.
Press mixture evenly into bottom of prepared pan. Bake for 10 minutes. Then set aside to cool slightly.
To make the cheesecake:
Using an electric mixer on medium speed, beat cream cheese, sugar, and brown sugar until well-blended and smooth. Add eggs and vanilla, and mix until combined. Add cinnamon, allspice, nutmeg, and cloves, and mix well. Stir in sour cream.
Transfer batter to partially baked crust and spread evenly.
Bake for 15 minutes.
Reduce oven temperature to 200°. Continue baking for 2 hours.
Turn off oven. Remove cheesecake from oven and gently run a knife around the outside edge. Return cheesecake to oven. Leave cheesecake in oven for 2 more hours.

Cool to room temperature. Then cover loosely and refrigerate overnight.
To make the topping:
Place cream in a large, cold mixing bowl. Using an electric mixer with a whisk attachment, beat at medium-high speed until the cream begins to thicken.
Sprinkle sugar over the cream. Whisk until combined.
Add vanilla bean paste and continue beating until you can lift the whisk out of the whipped cream and a peak that curves downward forms in the cream. This should take 4 to 5 minutes.
Spread whipped cream over cheesecake. Garnish with toasted pecans.
Disclosure: I have been chosen by Kraft Foods to be a spokesperson for Philadelphia Cream Cheese. I have been provided with compensation for my time. All opinions are my own. For more cheesecake inspiration, be sure to visit www.creamcheese.com.