This Chocolate Chip Cheesecake with Brownie Crust combines a chewy brownie base with rich, creamy cheesecake to create a supremely decadent dessert!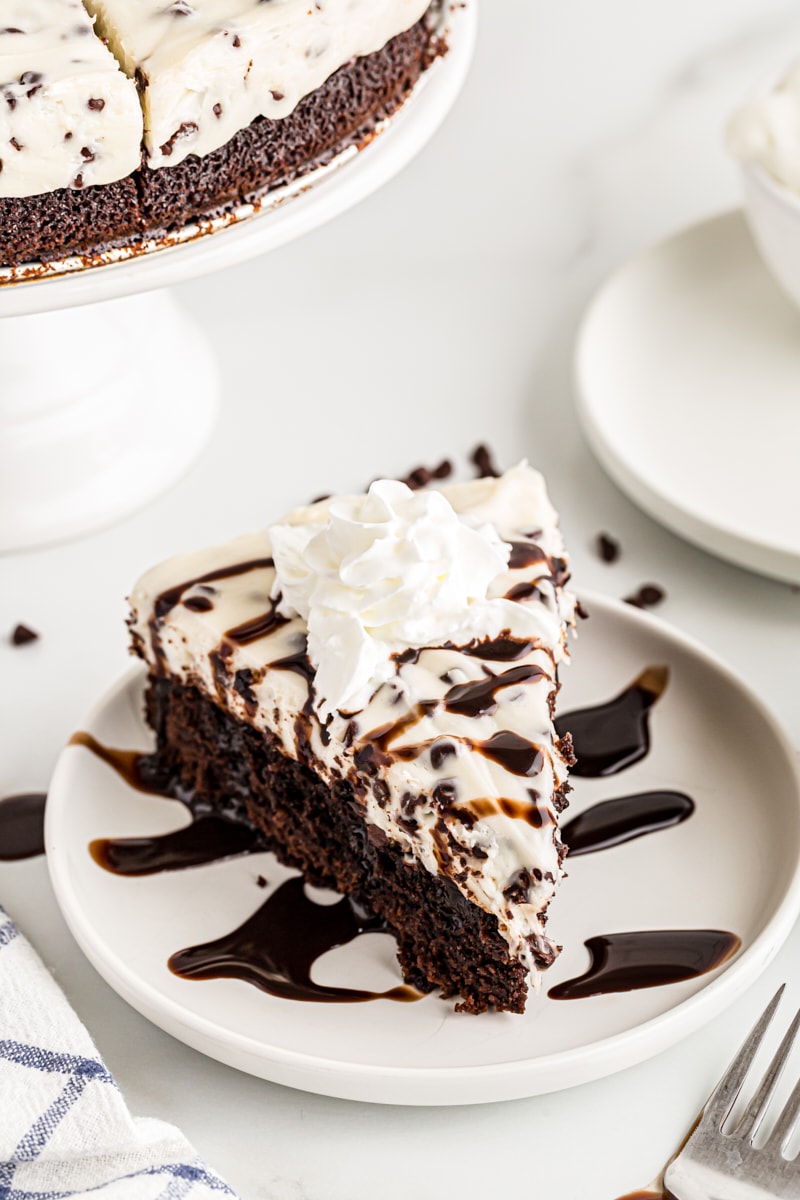 Easy Brownie Bottom Cheesecake With Boxed Brownie Mix
Sometimes you want two desserts. We've all been there. You're asked if you'd like a brownie or a slice of cheesecake, and it feels a bit awkward just to say "yes" and grab both, but if it were socially acceptable, that's exactly what you'd do. If you can identify with that, then this Chocolate Chip Cheesecake with Brownie Crust is for you.
It all starts with a fudgy brownie, which serves as the crust. Then, that's topped off with a simple no-bake cheesecake packed with plenty of chocolate chips. See? You get brownies AND cheesecake! Win-win!
You can use any brownie you like for the crust. For a shortcut to an already simple dessert, I use a boxed brownie mix, but if you want a from-scratch option, use your go-to recipe for an 8-inch square pan of brownies. My Favorite Fudgy Brownies would work wonderfully.
This is one of my favorite quick-to-make desserts. It's so simple to put together, and with that bit of chill time, it's a great make-ahead dessert, too.
(If you have a weakness for cheesecake, be sure to try my Cheesecake-Stuffed Chocolate Chip Cookies, No-Bake Cherry Cheesecake Pie, and Individual Berry Cheesecake Trifles! You can also make Brownie Bottom Mini Cheesecakes for a bite-sized version.)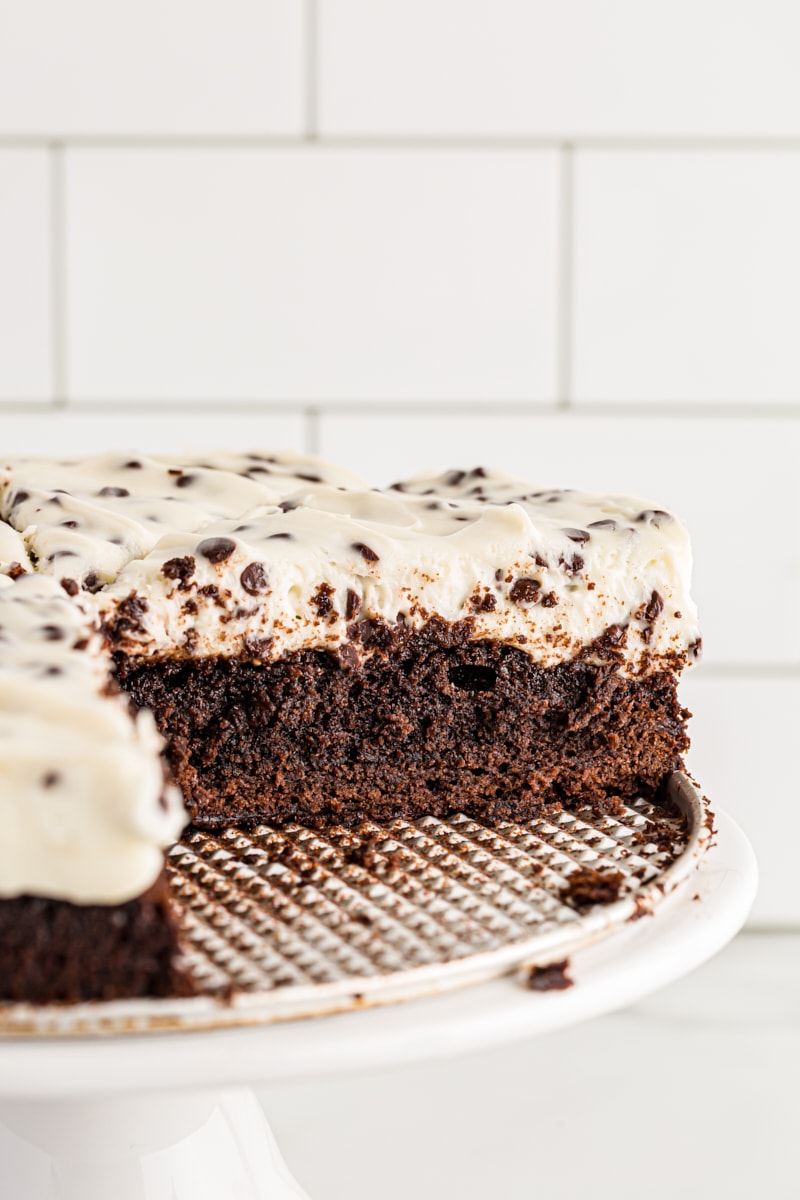 What Is the Secret to Making Good Cheesecake?
There are a few things to know about making cheesecake. First, you need to use full-fat cream cheese. Reduced-fat cream cheese just doesn't work as well. The texture is not as smooth and creamy, nor is the flavor as rich.
Second, make sure your cream cheese is at room temperature before you start. Cold cream cheese can be difficult to mix into a smooth batter, and you don't want lumpy bits of cream cheese in your cake!
Luckily, the cheesecake topping in this recipe is a no-bake cheesecake, which means a lot of the common issues with a baked cheesecake, like cracking, aren't a problem here.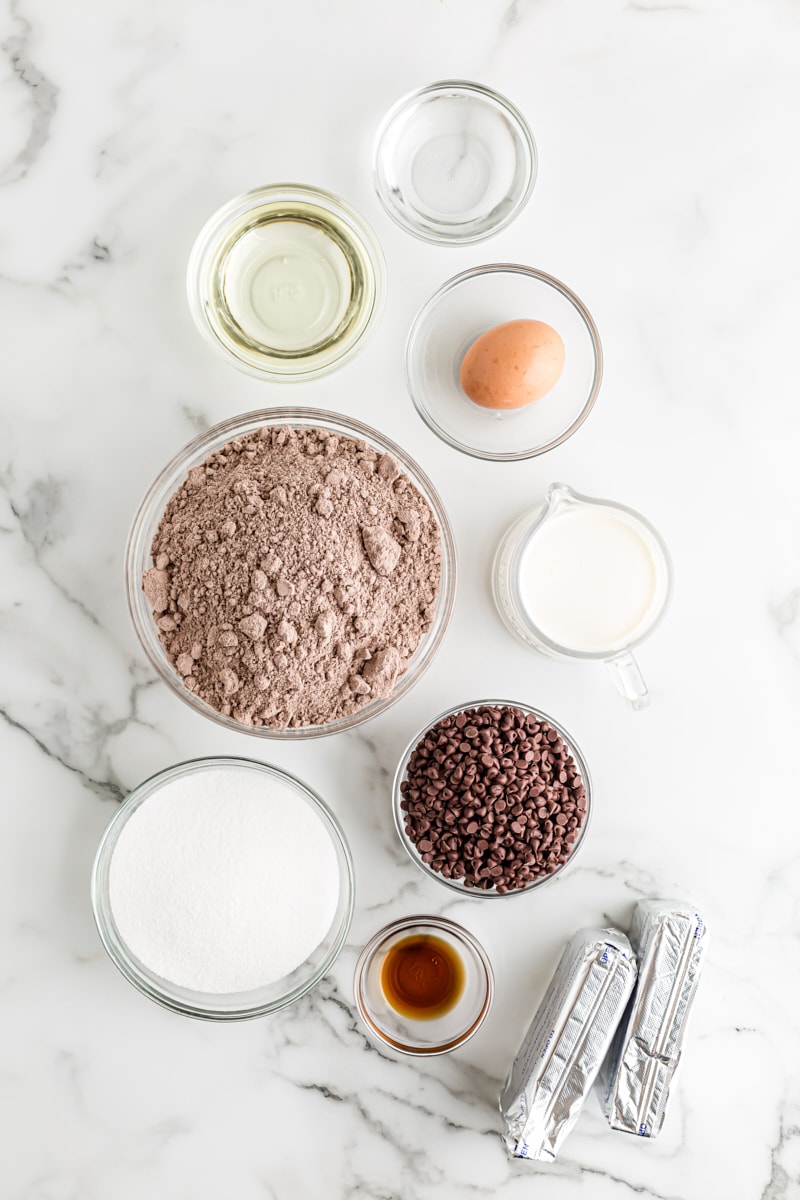 What You'll Need
Scroll down to the recipe card below this post for ingredient quantities and full instructions.
Brownie mix – You'll also need any ingredients called for in the instructions on the box.
Cream cheese – Use the full-fat variety that comes in blocks, not a tub.
Granulated sugar
Vanilla extract
Heavy cream
Mini chocolate chips
Can I Use Regular Chocolate Chips Instead of Mini?
I prefer mini chocolate chips in this recipe because they disperse more evenly throughout the cheesecake batter and the smaller size is more pleasant to eat in a chilled dessert. (Regular chocolate chips will be quite hard!)
If you have full-size chocolate chips on hand and you want to use them in this recipe, I recommend roughly chopping them first.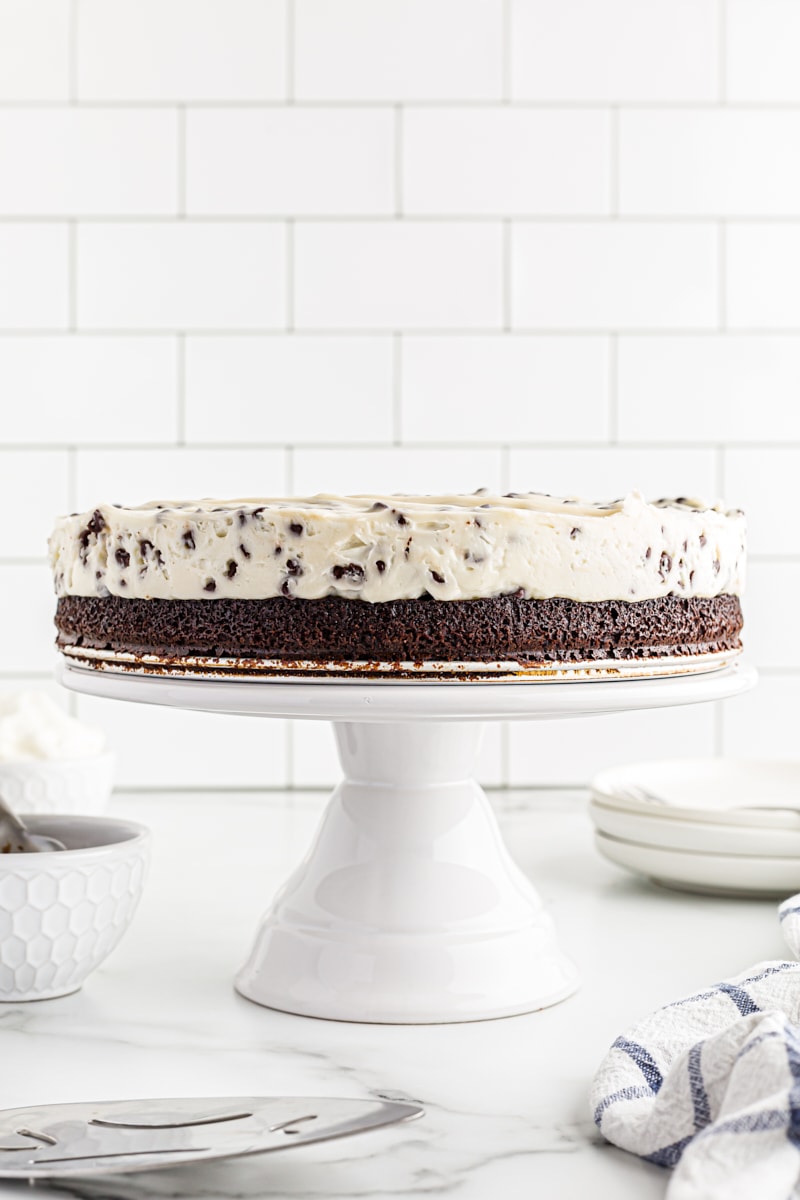 How to Make Chocolate Chip Cheesecake with Brownie Crust
Although this looks like an elaborate, over-the-top dessert, it's delightfully easy to make! Here's what you'll need to do.
Prepare. Preheat your oven to 325°F, then lightly grease a 9-inch round springform pan.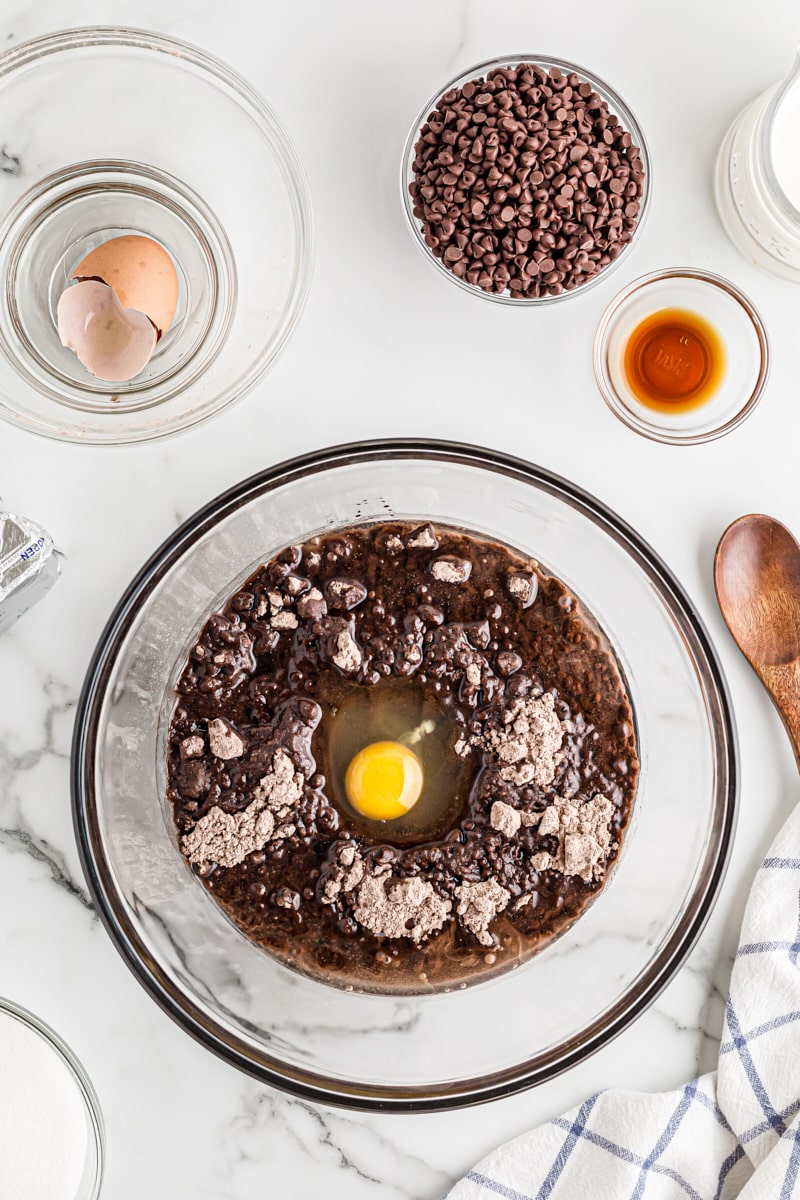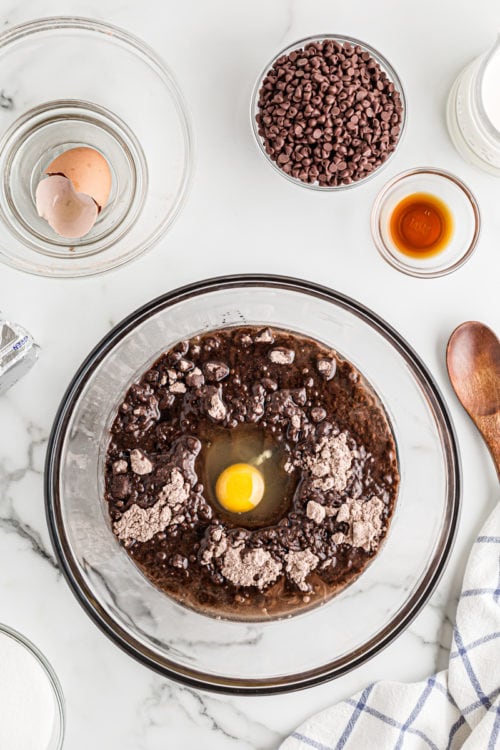 Make the brownie batter. Prepare the brownie mix as directed on the package. Pour the batter into the prepared pan and use a spatula to spread it evenly.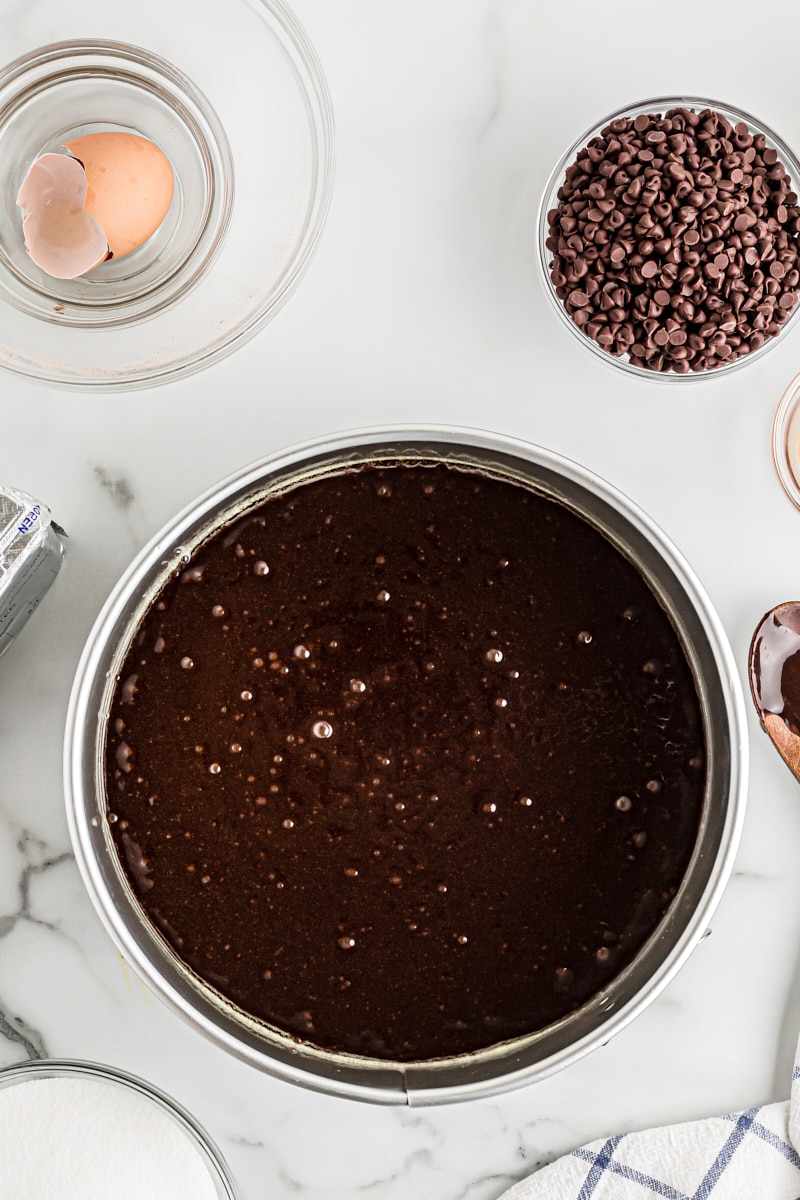 Bake the crust. Place the pan in the oven and bake according to the package directions, or until a toothpick inserted into the center comes out with only a few moist crumbs.
Cool. Set the pan on a wire rack and let the brownie cool completely before moving onto the next step of the recipe.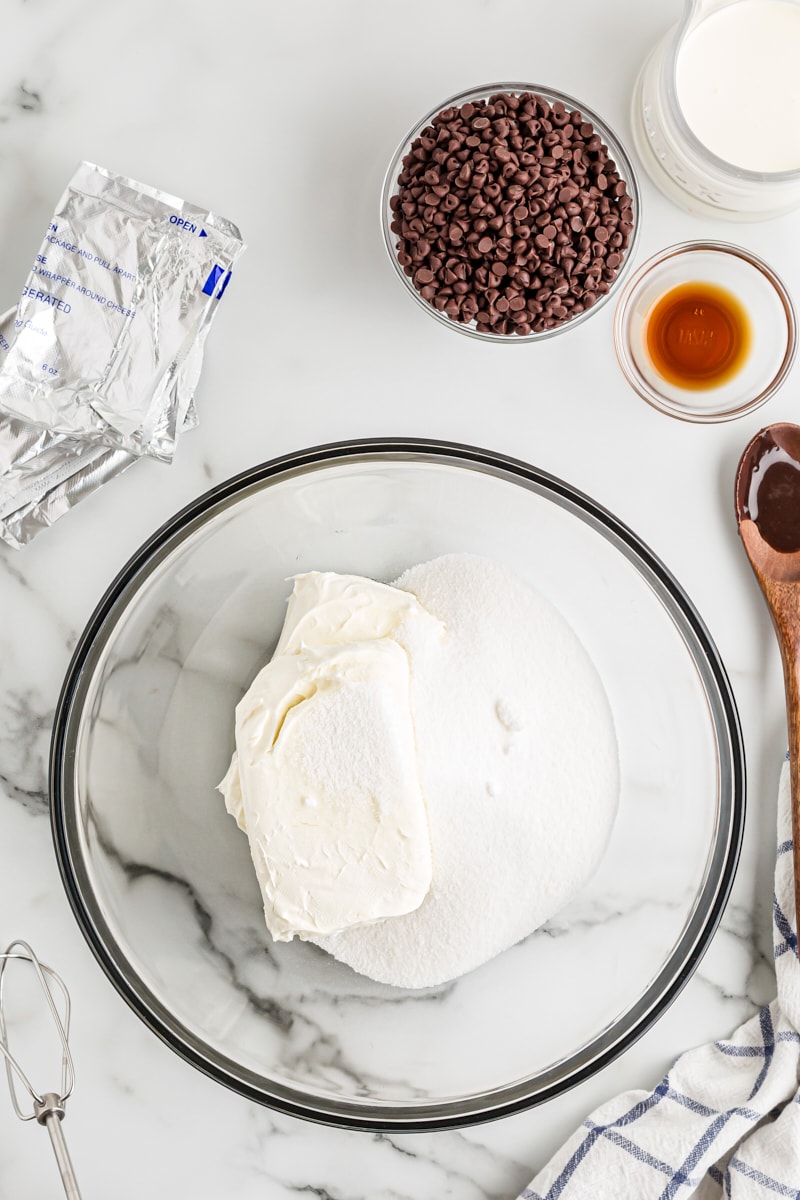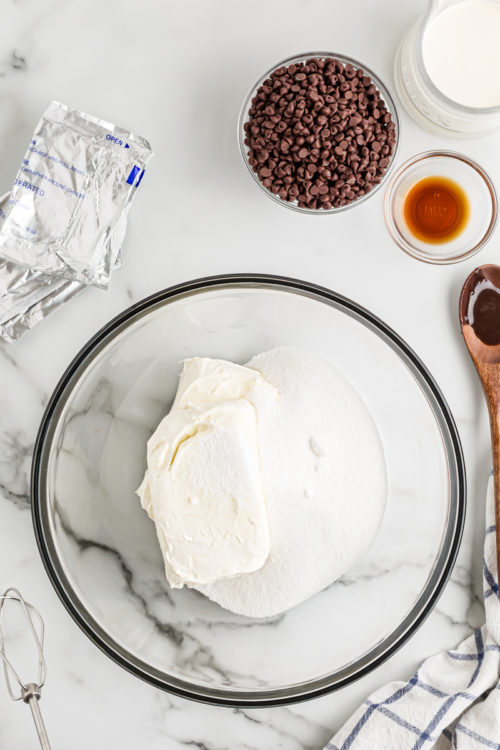 Start the cheesecake batter. Use an electric mixer on medium speed to beat the cream cheese and sugar until the mixture is smooth. Beat in the vanilla.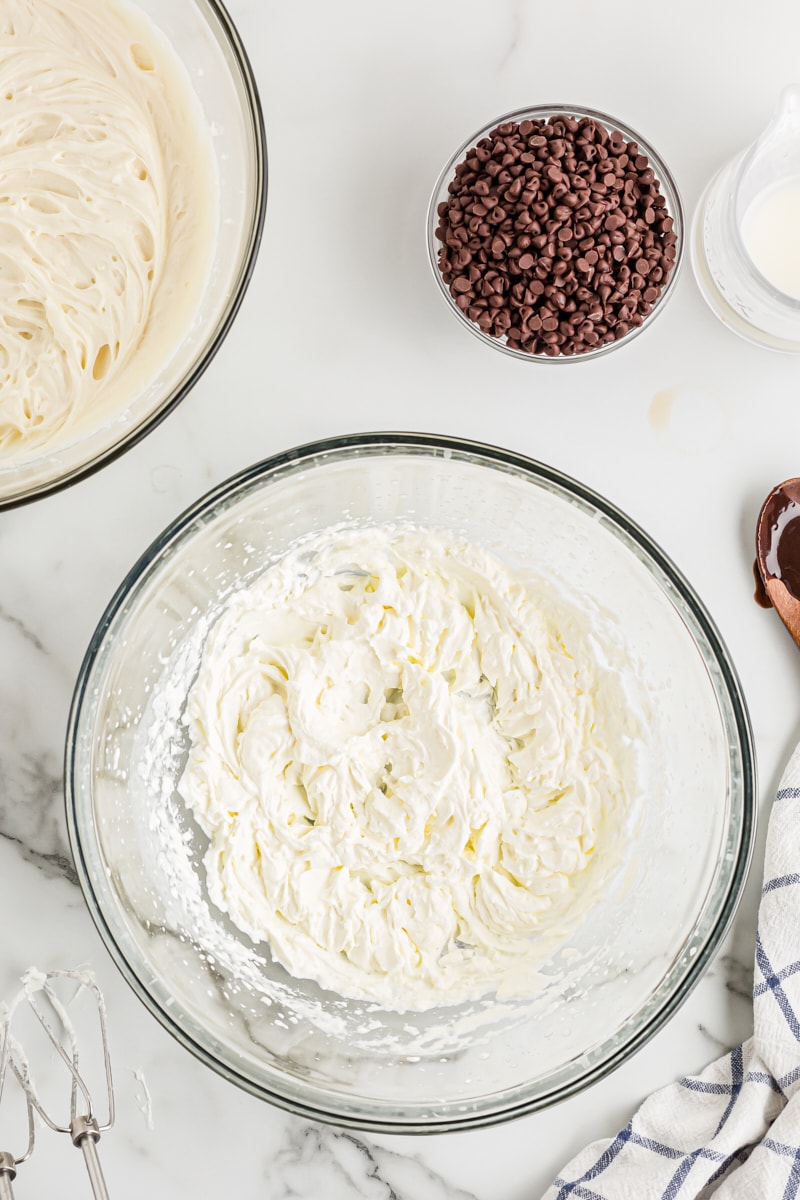 Whip the cream. In a separate bowl, use the whisk attachment on your mixer to beat the cream on medium-high speed, until soft to medium peaks form.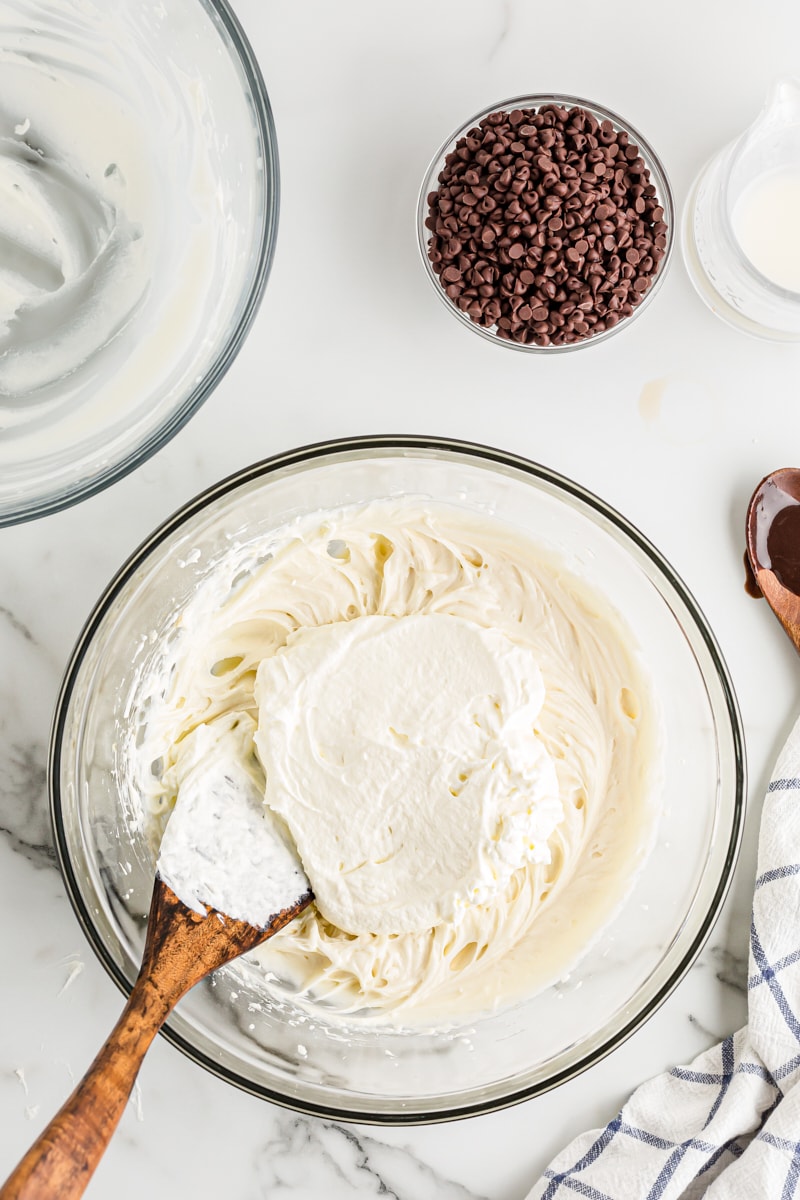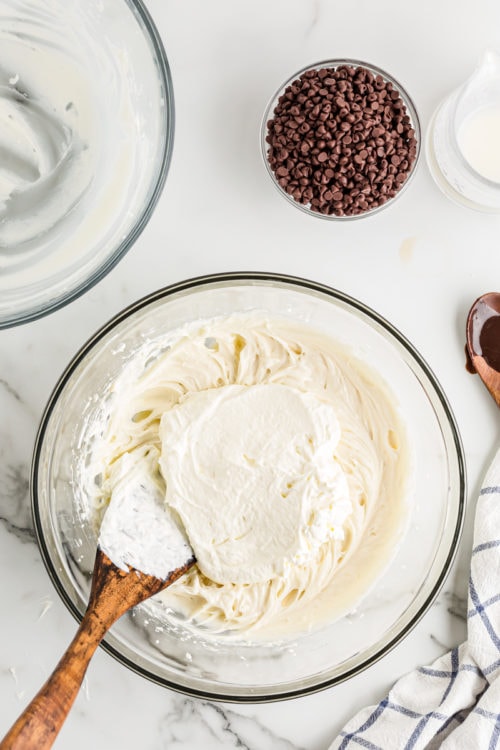 Finish the cheesecake batter. Fold the whipped cream into the cream cheese mixture just until combined, then fold in the chocolate chips.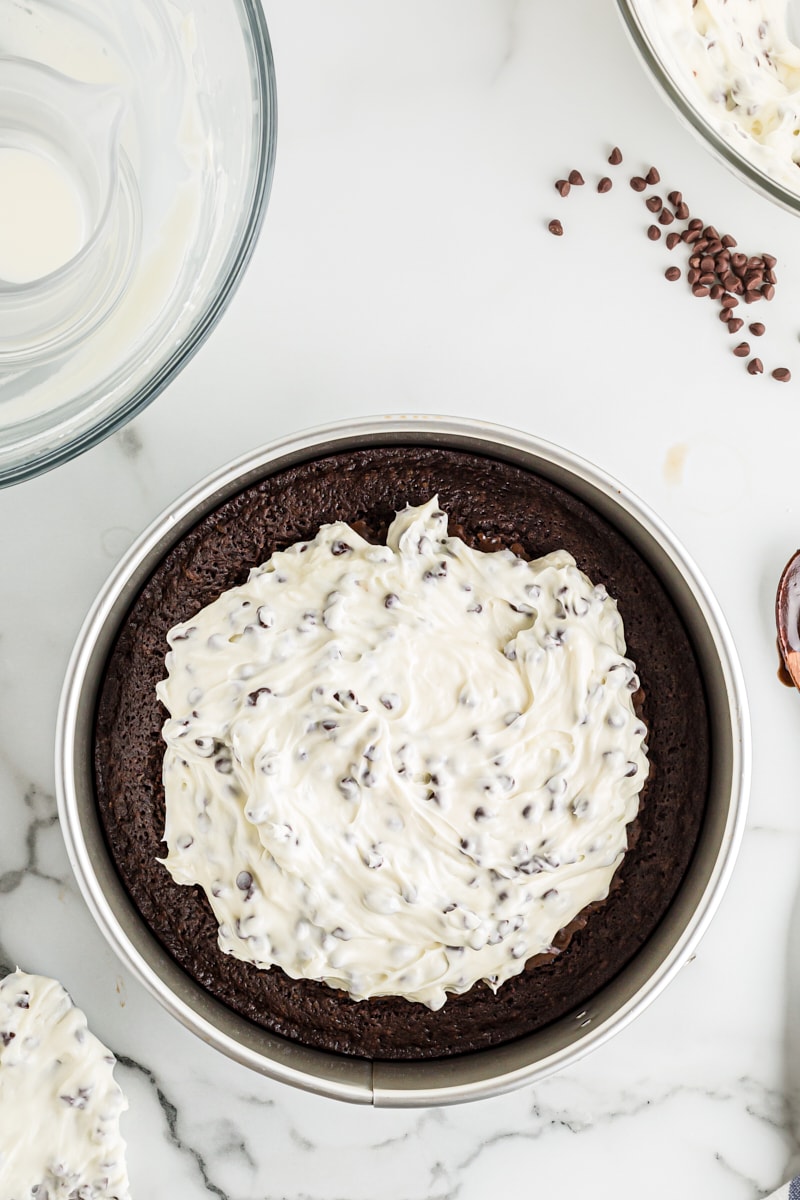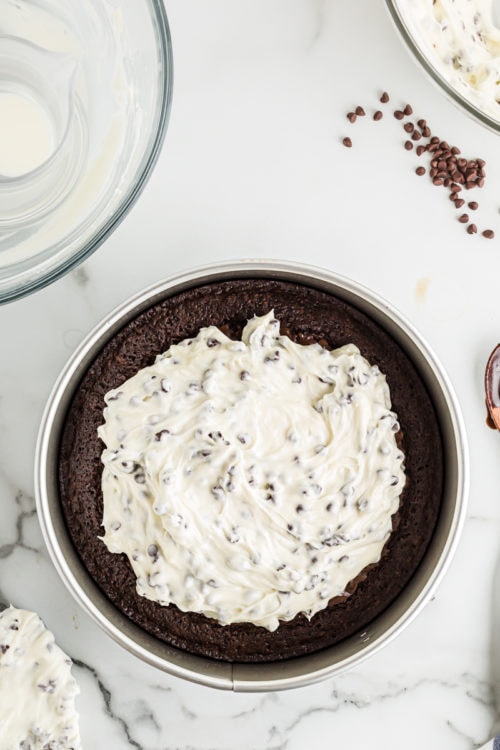 Chill. Pour the filling over the brownie crust and spread it evenly. Refrigerate for at least 4 hours before serving.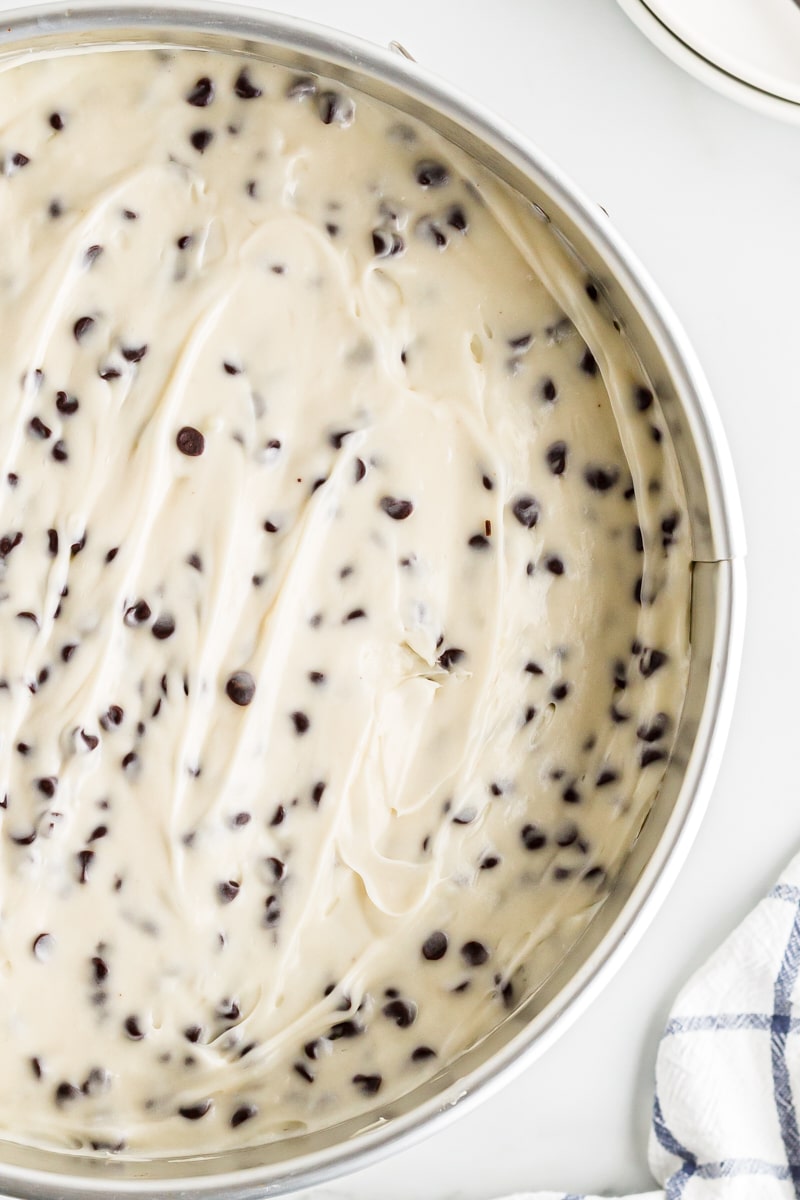 Tips for Success
Here are some tips to make sure this Chocolate Chip Cheesecake with Brownie Crust turns out perfect!
Using a homemade brownie recipe for the crust. If you're using a from-scratch recipe for the crust, make sure it's for an 8-inch square pan. Some brownie recipes are meant for a 9×13 pan, which will be more than you need!
Don't rush it. Let the brownie cool completely before adding the cheesecake filling. If it's even a little bit warm, it has the potential to deflate your light, fluffy cheesecake filling.
Getting perfect, clean slices. Use a large, sharp knife to cut the chilled cheesecake and wipe the knife clean between each cut for clean, clearly-defined layers.
Serving Suggestions
You can top this Chocolate Chip Cheesecake with whipped cream and chocolate sauce, as I did here, or scatter additional mini chocolate chips over the top. Fresh strawberries or raspberries are also delicious with this cheesecake!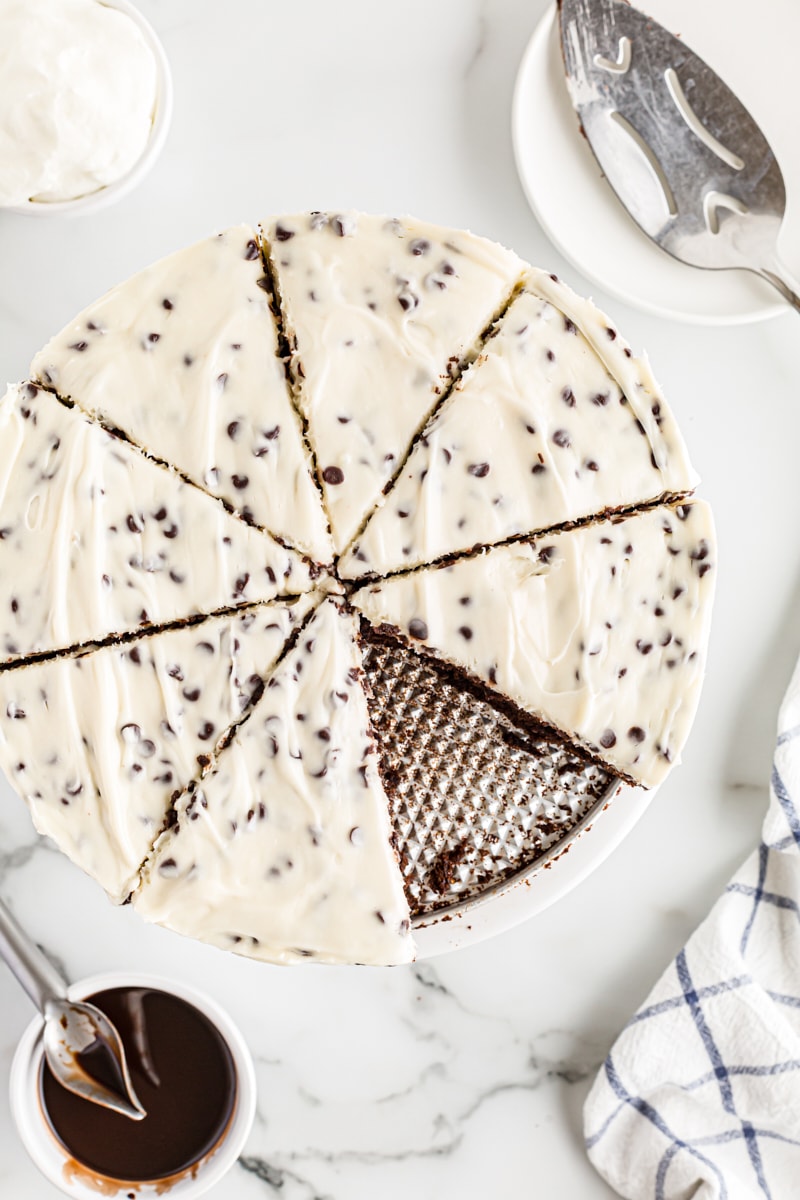 How to Store
This cheesecake will keep in the fridge for up to 5 days. Wrap it tightly, or transfer smaller amounts of leftovers to an airtight container.
Can This Recipe Be Frozen?
Yes, you can freeze Chocolate Chip Cheesecake with Brownie Crust. Wrap it tightly in plastic wrap and then place it in a freezer-safe container or bag. It will keep for 2 to 3 months.
To thaw, place the frozen cheesecake in the fridge overnight.