Gingerbread Cupcakes with Cream Cheese Frosting are a festive treat perfect for a holiday celebration! Rich cream cheese frosting is piped onto moist cake flavored with warm spices and molasses.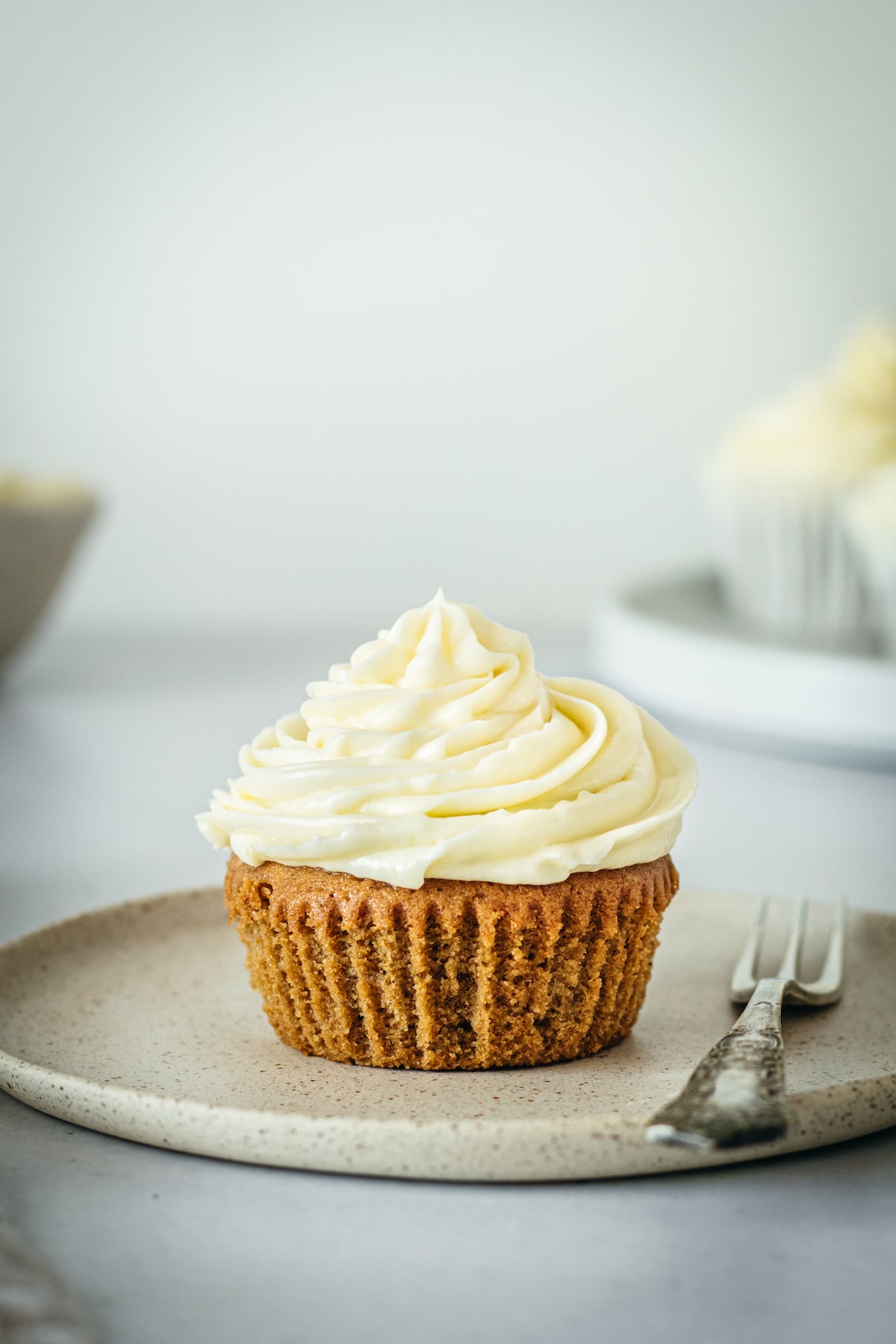 Festive Spiced Gingerbread Cupcakes
Most people associate gingerbread with cookies, but the real-deal, traditional gingerbread is actually more like, well, a bread! It's cake-y and moist, with a bit of a chewiness to it thanks to the addition of molasses. These gingerbread cupcakes remind me of that old-fashioned gingerbread—spiced, rich, and moist, with a delightfully tender crumb. And then top it all off with cream cheese frosting? Yes, please!
A plate of gingerbread cupcakes will bring instant cheer to family, friends, and neighbors, and they'll disappear lickety-split if you serve them at a holiday party. Plus, when you bake them, your whole house will smell like Christmas!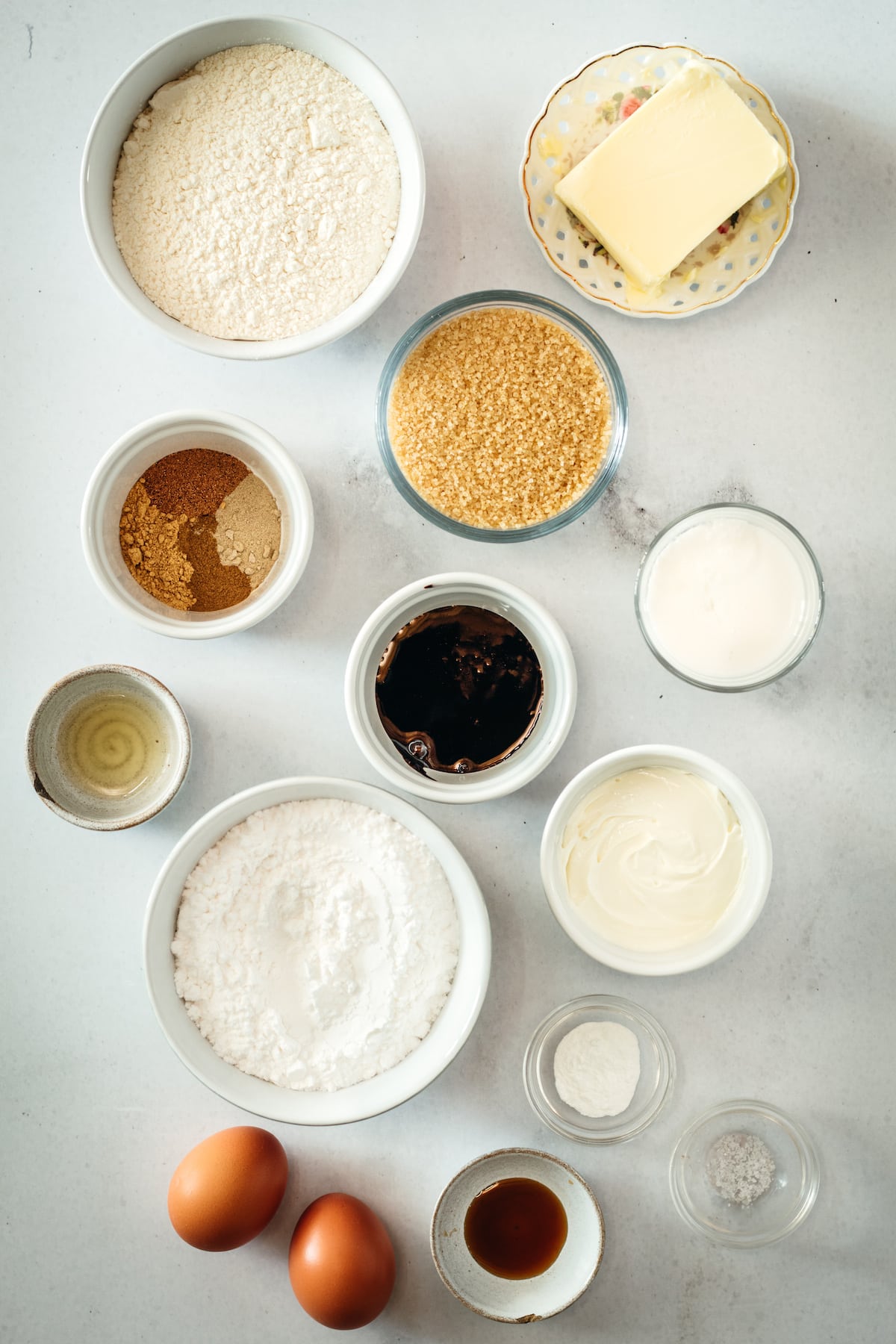 What You'll Need
While the ingredients for this recipe are similar to what you might expect for a spice cake, there's one important difference: molasses. This gives the gingerbread cake a rich color and a depth of flavor that makes it truly special!
For the gingerbread cupcakes:
All-purpose flour – For best results, measure by weight. If you don't have a scale, you can use the spoon and sweep method to avoid over-measuring.
Baking powder
Ginger – This recipe uses ground spices. Make sure yours are fresh and flavorful!
Cinnamon
Nutmeg
Cloves
Salt
Unsalted butter – The butter will need to be softened, so let it sit on the countertop for about 30 minutes before you start the recipe.
Light brown sugar – Haven't baked in a while? Here's how to soften brown sugar.
Blackstrap molasses
Eggs – Your eggs should be at room temperature.
Buttermilk – If you don't want to buy buttermilk, you can make your own by whisking together a scant cup of whole milk with 1 1/2 teaspoons of lemon juice or apple cider vinegar. (See more options: Buttermilk Substitutions)
Lemon juice
For the cream cheese frosting:
Unsalted butter – This, along with the cream cheese, will need to be at room temperature so you can whip it into a smooth, creamy frosting.
Confectioners' sugar
Cream cheese
Lemon juice
Vanilla extract – You can switch things up with maple extract for something different.
Types of Molasses
Molasses comes in 5 varieties, and they're not interchangeable! This recipe calls for blackstrap molasses, which is less sweet than other varieties, with a much stronger flavor and darker color. Dark molasses can be used in this recipe in a pinch (and it's often used in other gingerbread recipes), but I do recommend using blackstrap molasses if you can find it.
How to Make Gingerbread Cupcakes With Cream Cheese Frosting
Ready to roll up your sleeves and start making some cupcakes? Here's what you'll need to do:
Prepare. Preheat your oven to 350°F and grease or line 12 cups of a standard muffin pan.
Combine dry ingredients. Whisk the flour, baking powder, ginger, cinnamon, nutmeg, cloves, and salt in a large bowl.
Cream the butter and sugar. Place the butter in another mixing bowl and beat it with an electric mixer set to medium speed until it's light and fluffy. Beat in the brown sugar for a minute or two, then beat in the molasses.
Add the eggs. Beat the eggs into the butter mixture one at a time.
Combine wet and dry ingredients. Reduce the mixer speed to low, then beat in the flour mixture in three portions, alternating with two portions of the milk. Beat in the lemon juice.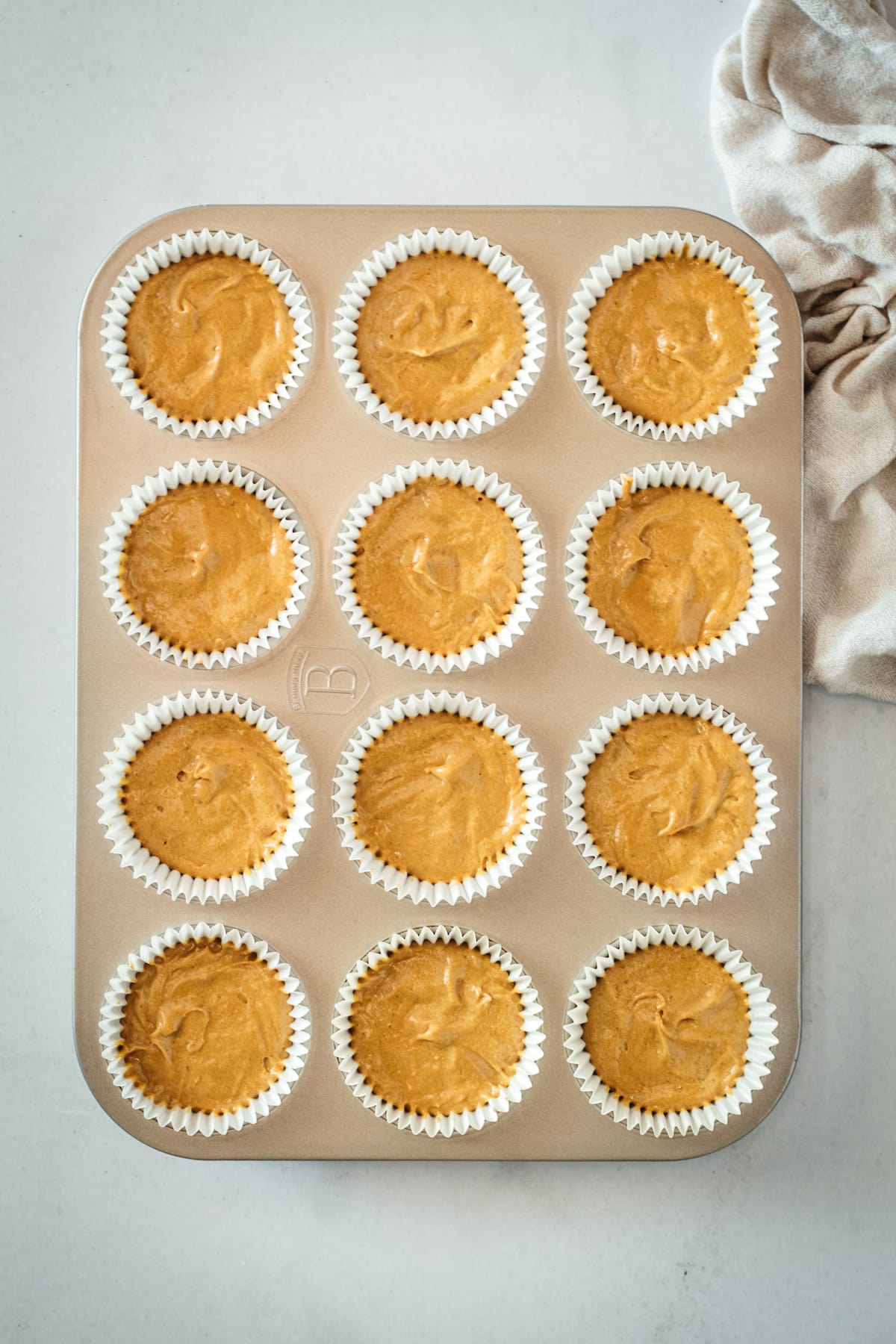 Bake. Divide the batter into the prepared pans, filling the muffin cups about 2/3 to 3/4 full. Bake for 20 to 25 minutes, or until a toothpick inserted into the center of one of the cakes comes out clean.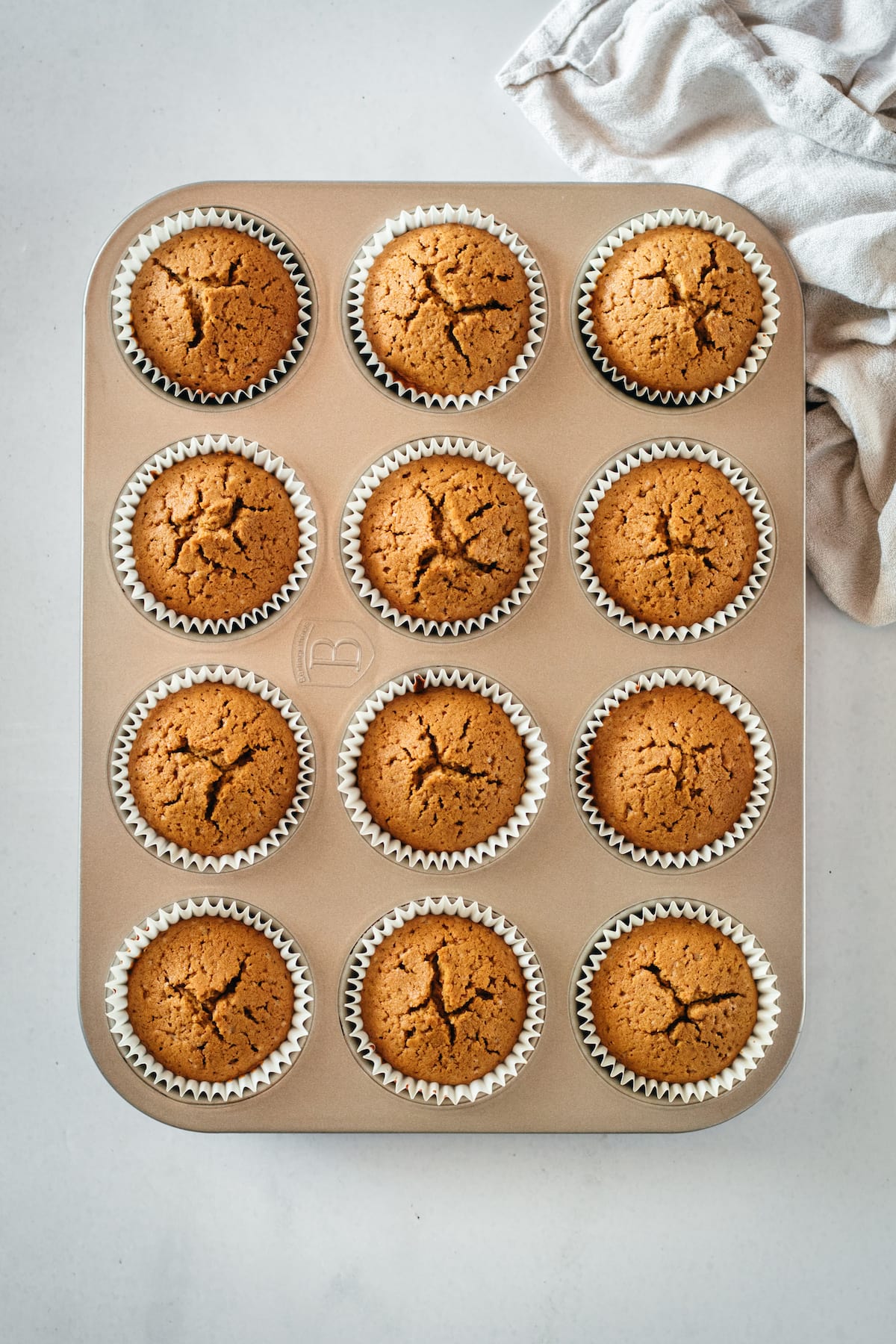 Cool. Place the cupcake pan on a wire rack to cool for 10 minutes, then remove the cupcakes and return them to the rack to finish cooling.
Make the frosting. While the cupcakes are cooling, use an electric mixer to beat the butter and confectioners' sugar at medium speed, then beat in the cream cheese, lemon juice, and vanilla extract until the mixture is smooth and creamy.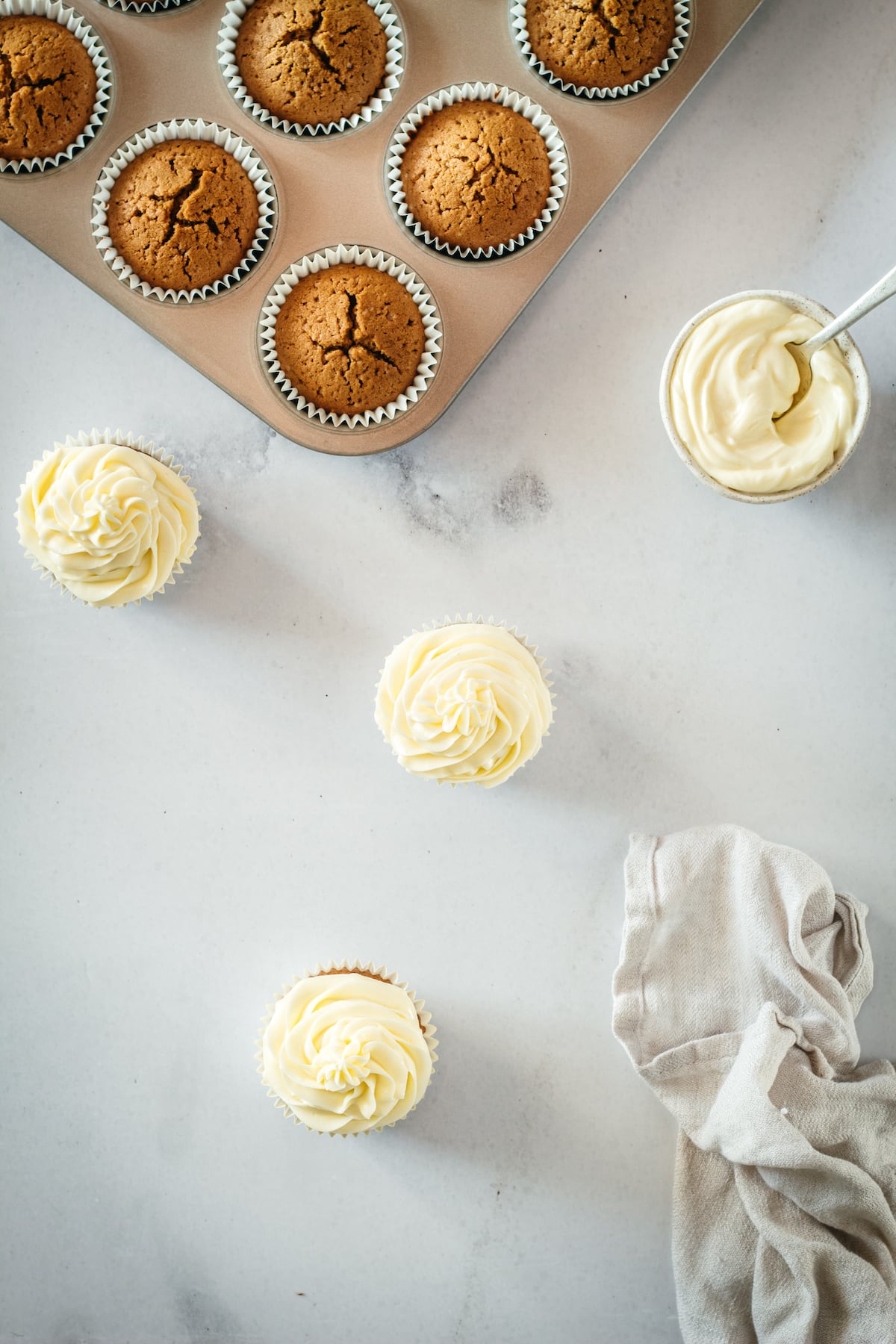 Frost the cupcakes. Scoop the frosting into a piping bag fitted with your preferred tip and frost the cooled cupcakes.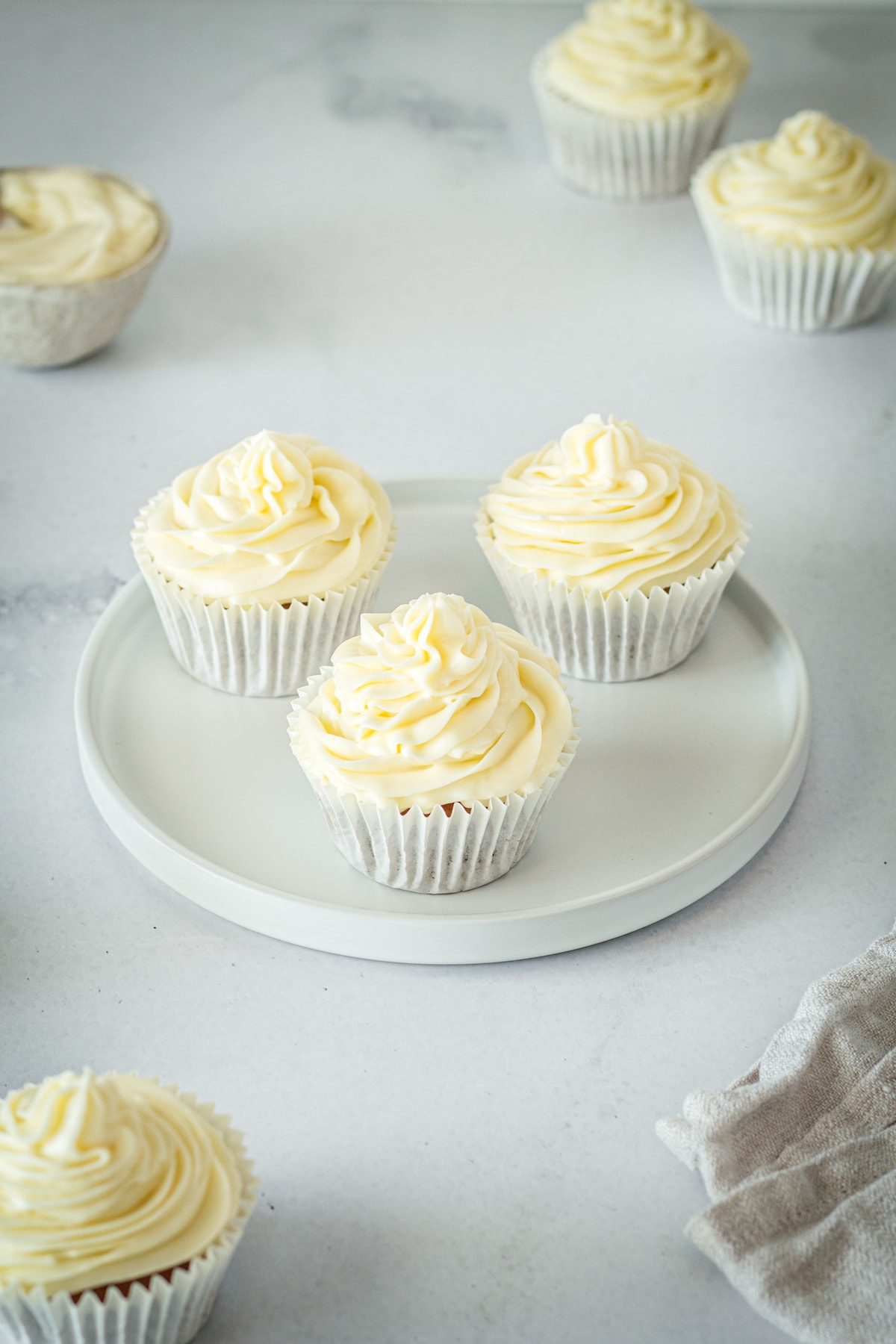 Tips for Success
Here are some hints and tips to help you make perfect cupcakes:
Extra-gingery cupcakes. If you're a big fan of ginger, you can add finely minced candied ginger to the cupcake batter. Candied ginger also makes a pretty garnish!
Frosting the cupcakes. Don't have a piping bag? No problem! You can use a zip-top bag instead and snip off a corner, or make your cupcakes the old-fashioned way by spreading the frosting on the top with a butter knife or offset spatula.
Decorating ideas. For a festive touch, add a sugared cranberry to the top of each cupcake.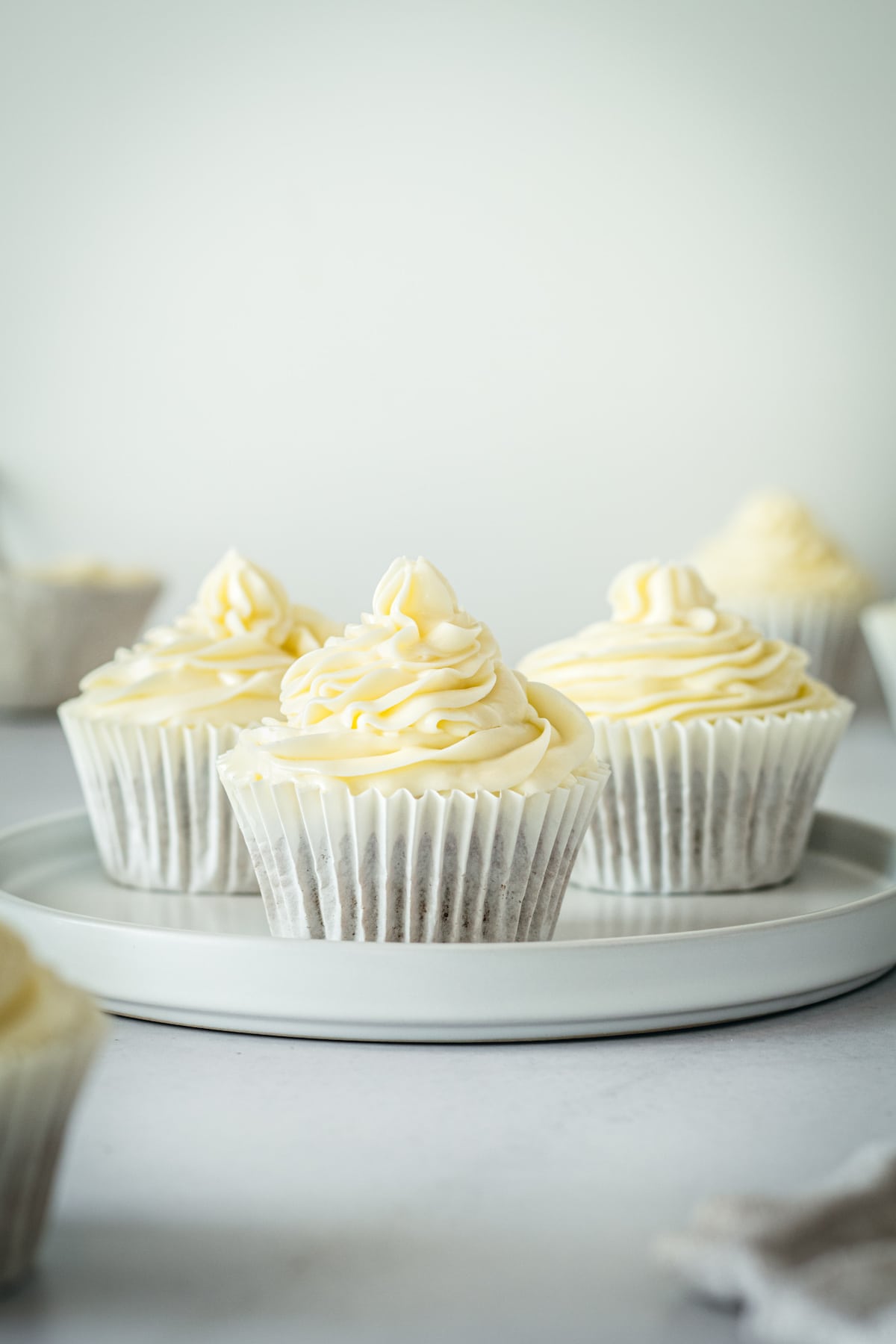 How to Store
Store the frosted cupcakes in an airtight container in the refrigerator for up to 5 days. For the best flavor, set out the cupcakes for about an hour before serving to bring to room temperature.
Can I Freeze These Cupcakes?
For longer storage, wrap the cupcakes well and freeze them for up to 2 months. Thaw the cupcakes overnight in the refrigerator before serving. I recommend freezing the cupcakes without the frosting.
You can freeze the frosting separately in an airtight container, then thaw it overnight in the fridge when you're ready to use it. You may need to whip the frosting briefly with a mixer before using it to add air back into it.