March 2, 2012
Chocolate Chip Bundt Cake
Chocolate Chip Bundt Cake is a simple cake with amazing flavor. With brown sugar, chocolate, and nuts, this one is sure to please!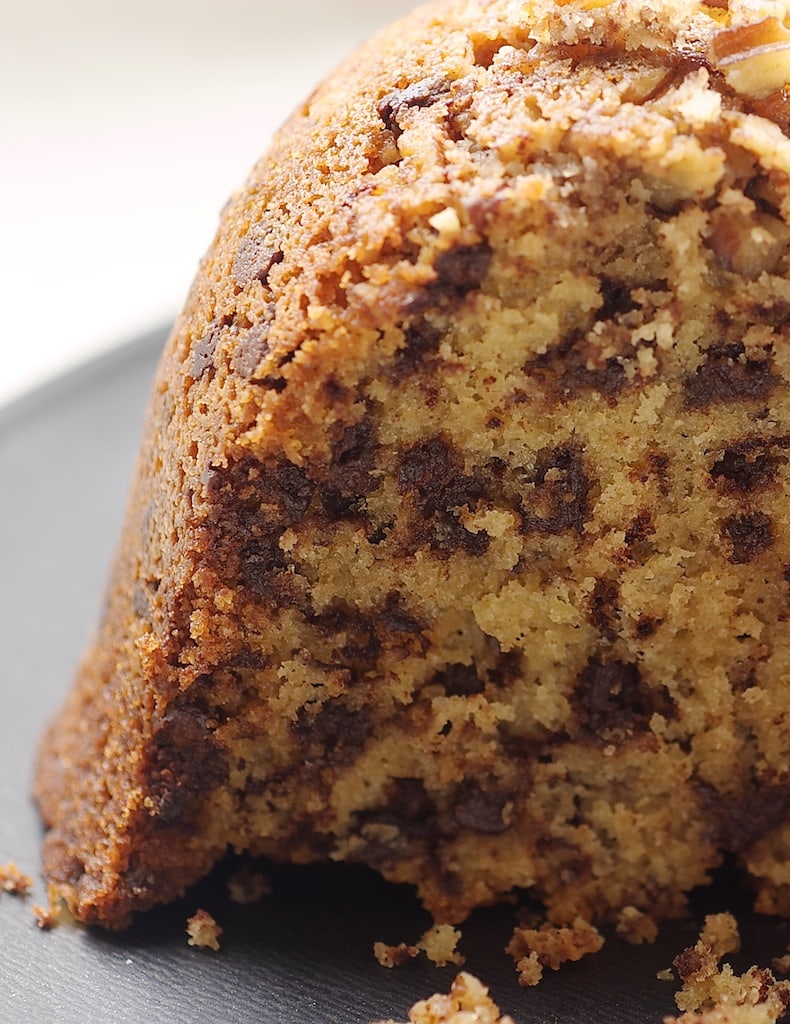 Bundt cakes and I are great friends. The pure genius of them is that you can make a beautiful, delicious cake without all the layers and frosting. As someone who values simplicity, that is a wonderful thing.
I have had this Chocolate Chip Bundt Cake recipe in my to-bake file for almost two years. I have no idea how I waited this long to make it. A Bundt cake with chocolate chips, brown sugar, and pecans??? Yes, please!

This recipe comes to us from Southern Living, which has long been one of my favorite magazines. The description from the recipe author says that this cake is her sister's favorite. After making it myself, I can understand that kind of attachment to it.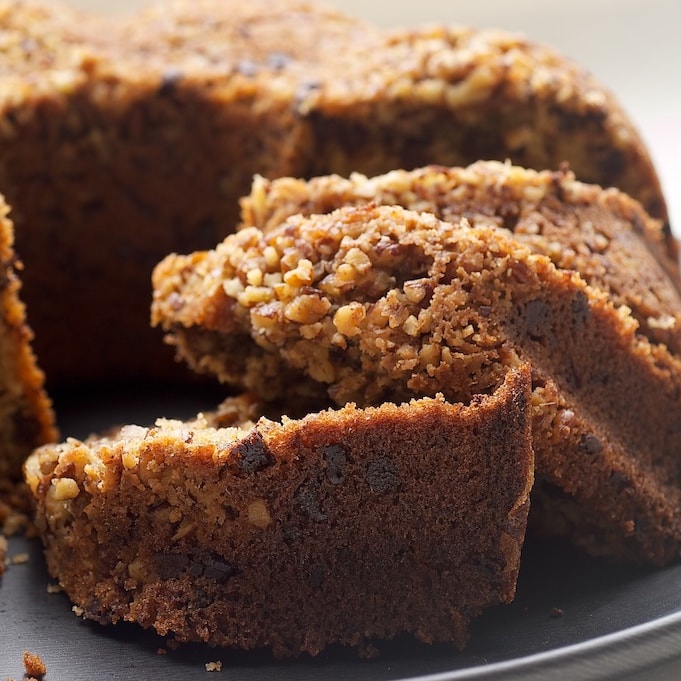 It's that kind of versatile recipe that's just as appropriate for a casual celebration as it is for an everyday treat. The amazing flavors are certainly crowd-pleasers. And it's a big, tall cake that will definitely serve a crowd.
Making the cake is fairly straightforward, so I only offer my usual baking tips for measuring accurately and using a cooking spray with flour for the best results in removing the cake from the pan. Despite the long-ish ingredient list, this is a relatively quick cake to make. While I'm all for experimenting with recipes, I highly recommend that you use the miniature-sized chocolate chips. Their small size seems to make it so every bite is brimming with chocolate.
The next time you need a dessert for a casual gathering or just want to bake something special for your family to enjoy, remember this Chocolate Chip Bundt Cake. It may very well become one of your favorites, too!
Visit the Recipe Index for more Bundt cake recipes!
More Chocolate Chip Cake Recipes
Bake or Break is a participant in the Amazon Services LLC Associates Program, an affiliate advertising program designed to provide a means for us to earn fees by linking to Amazon.com and affiliated sites.
Chocolate Chip Bundt Cake
Yield: 12 to 16 servings
Prep Time: 25 minutes
Cook Time: 55 minutes
Chocolate Chip Bundt Cake is a delicious combination of brown sugar, chocolate, and nuts. This one is always a winner!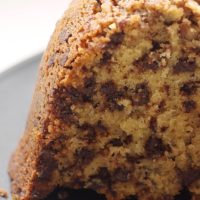 Ingredients:
For the topping:
2/3 cup (80g) chopped pecans
1/4 cup (57g) unsalted butter, softened and cut into small pieces
2 tablespoons granulated sugar
For the cake:
2 & 3/4 cups (330g) all-purpose flour
1 teaspoon baking soda
1 teaspoon salt
1 cup (226g) unsalted butter, softened
1 cup (200g) packed dark brown sugar
1/2 cup (100g) granulated sugar
1 tablespoon vanilla extract
4 large eggs
1 cup (237ml) buttermilk
2 cups (12 ounces/340g) semisweet chocolate mini chips
Directions:
To make the topping:
Preheat oven to 350°F. Grease a 12-cup Bundt pan.*
Stir the pecans, butter, and sugar together with a fork. Sprinkle the mixture in the bottom of the prepared pan.
To make the cake:
Whisk together the flour, baking soda, and salt. Set aside.
Using an electric mixer on medium speed, beat the butter, brown sugar, granulated sugar, and vanilla until fluffy (3-5 minutes). Add the eggs, one at a time, beating just until blended after each addition.
Add the flour mixture, alternating with the buttermilk. Begin and end with flour mixture. Reduce mixer speed to low and beat just until blended. Mix in the chocolate chips. Transfer the batter to the prepared pan.
Bake 50-55 minutes, or until a cake tester inserted into the center comes out clean.
Cool in pan on wire rack for 10 minutes. Remove from pan to cool completely on wire rack.
Notes:
*I recommend a cooking spray with flour, like Baker's Joy or Pam Baking.