May 30, 2007
Chocolate Wafer Icebox Cake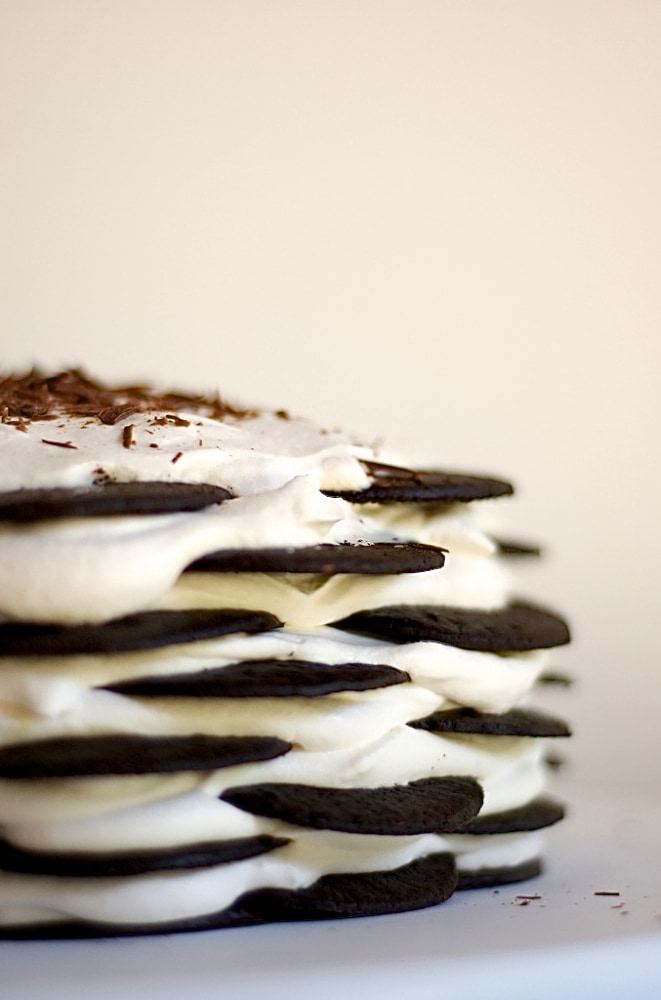 For months, I've been wanting to make this dessert. First, for Christmas, I got The Magnolia Bakery Cookbook, which includes the recipe. Then, I was even more sold on it when Deb made it. So, what took me so long? Finding those chocolate wafer cookies. Seriously, those are not easy to find. They do sell them at Amazon, but I didn't have great faith that they would arrive intact, not to mention the fact that you're buying a whole case of them. Nevertheless, I didn't give up hope. I searched every grocery store to no avail, until finally I found them at a grocery store in a nearby town.
So, for my Memorial Day dessert contribution, I got out my cookbook and relished finally being able to make this cake. Now, I'm the first to admit that this is one of the easiest things that I've ever made. Seriously, there are four ingredients. However, everyone's enjoyment of eating it was inversely proportional to the effort put into it. Unanimously, everyone loved it.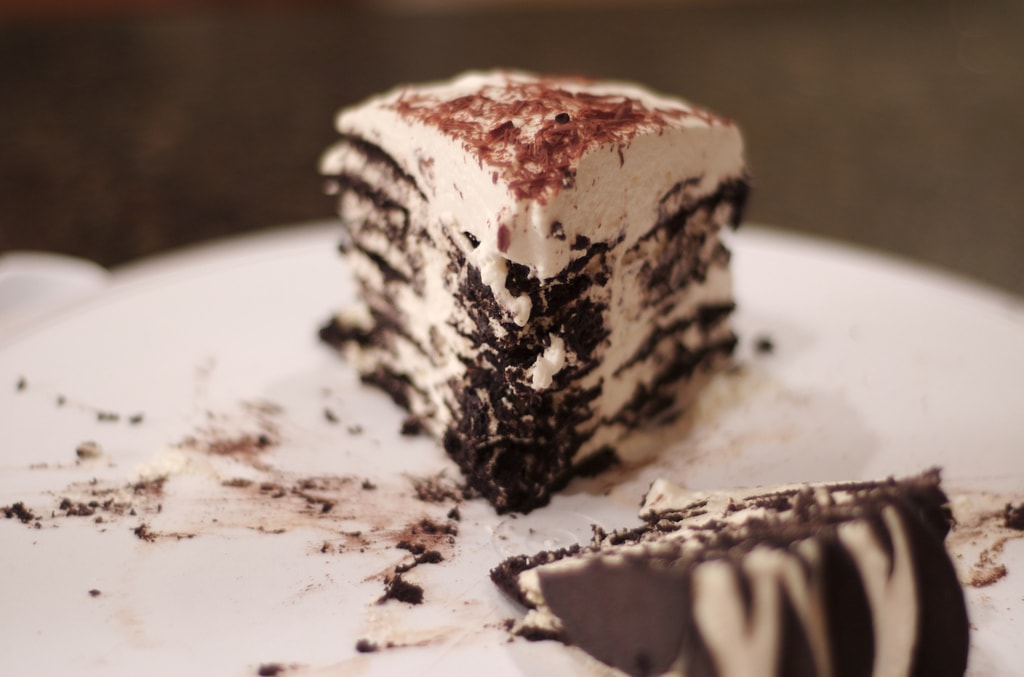 I opted to add some chocolate shavings to the top layer, more for aesthetics than anything. I debated adding some toasted, chopped hazelnuts, but didn't in deference to my brother-in-law who doesn't like nuts. With a dessert this simple, you can do all kinds of things to make it your own.
I highly recommend this cake, especially for these impending summer months. It's not too heavy, yet it's so rich and delicious. I do think it would be interesting to experiment a bit with some flavors. A little bit of Kahlua or Frangelico in the whipped cream mixture might just make it even better. With or without augmentation, don't be surprised if it's so big of a hit that you'll end up making it again and again.
A side note: I'm sure I'm not the only one with limited access to chocolate wafer cookies. Making your own is certainly an option. I might suggest these that I made a while back. I've not tried it with those, but it's probably worth a shot.
Chocolate Wafer Icebox Cake
Yield: 10 to 12 servings
Prep Time:25 minutes
Chocolate Wafer Icebox Cake is a delicious and simple no-bake dessert. It's always a crowd-pleaser!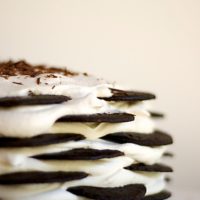 Ingredients:
4 cups heavy cream
3 tablespoons sugar
1 tablespoon plus 1 teaspoon vanilla extract
1 & 1/2 packages Nabisco chocolate wafer cookies
Directions:
Combine the cream, sugar, and vanilla in a large bowl. Whip until soft peaks form. Do not overmix.
Place a cookie in the center of a plate that is at least 9 inches in diameter. Arrange 6 cookies around the center one, forming a circle. Spread about 3/4 cup of the cream mixture onto the cookies.
Repeat layers, ending with the whipped cream. Garnish if desired with chocolate shavings, nuts, cocoa, etc. Refrigerate at least 5 hours or overnight.
This post contains affiliate links.