April 15, 2008
Raspberry Hazelnut Crumble Bars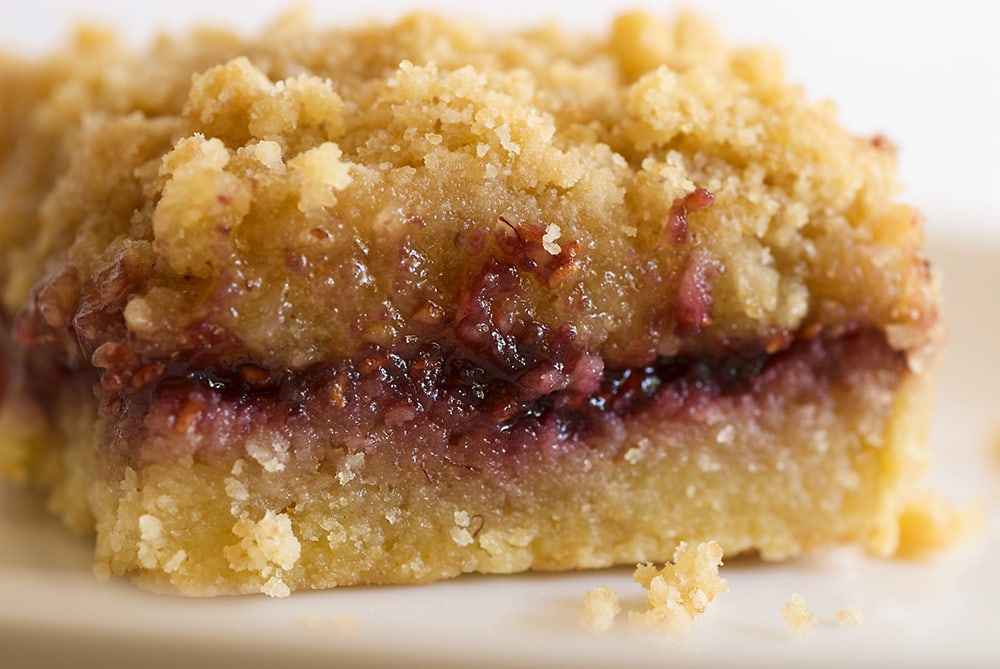 Do you like butter? A lot? Well, look no further. These bars are just for you. This may be the most butter I've ever used in a single recipe. Especially for something made in a small square baking pan.
I found this recipe in my "to bake" collection the other day and put it aside to make sooner rather than later. The page was ripped from a magazine, although I'm sad to say I'm not sure which one. From the looks of it, I think it was either Taste of the South or Southern Lady. Considering its Southern origin, I suppose we shouldn't be surprised at the amount of butter. Being a Southern girl myself, I'm certainly no stranger to butter-laden baked goods.

On to other aspects of these delicious bars…. I am a huge fan of both raspberries and hazelnuts. So, that was a certainly an appealing combination for me. The raspberry component is an easy one to use: raspberry preserves. Those are spread on top of a buttery, brown sugar-y crust. That is in turn topped with a buttery, sugar-y hazelnut layer. Then, more butter and brown sugar action on top in the form of a crumble topping.
These are definitely a decadent treat, perfect for serving and sharing as opposed to hoarding and blatant indulgence. Just keep in mind that it's not in the same "lighter" category as that Bundt cake. They are without a doubt delicious and worth the calories.
Raspberry Hazelnut Crumble Bars
Yield: 16 2-inch bars
Prep Time:25 minutes
Cook Time:48 minutes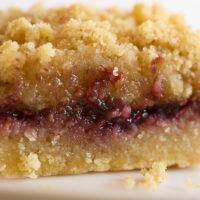 Ingredients:
For the crust:
2 cups all-purpose flour
1/2 cup firmly packed light brown sugar
1/8 teaspoon salt
3/4 cup cold unsalted butter, diced
1 egg, lightly beaten
For the filling:
12 ounces seedless raspberry preserves
1 & 1/2 cups chopped hazelnuts
1/2 cup sugar
1/2 cup unsalted butter, softened
2 eggs
For the topping:
1 cup all-purpose flour
1/2 cup firmly packed light brown sugar
1/2 cup cold unsalted butter, diced
Directions:
To make the crust:
Preheat oven to 350°. Lightly grease an 8″x 8″baking pan. Set aside.
Combine flour, brown sugar, and salt in a food processor. Add butter and pulse until mixture resembles cornmeal. Add egg. Process just until dough comes together in a ball. Spread dough into bottom of prepared pan.
Bake for 15 to 18 minutes, until light golden brown. Set pan on wire rack to cool.
To make the filling:
Spread raspberry preserves on top of cooled crust.
Using a food processor, pulse hazelnuts and sugar to a cornmeal consistency. Add butter and eggs, and process until creamy. (May be refrigerated until ready to use.) Spread over preserves. Set aside.
To make the topping:
Combine flour, brown sugar, and butter using a hand mixer at medium speed. Mix until mixture begins to pull together. Sprinkle over filling.
Bake at 350° for 25 to 30 minutes.* Let cool completely before cutting into squares.
Notes:
*The bars won't necessarily look "done." Look for some browning on the top and around the edges. Giving the pan a little shake, too. If it still jiggles a good bit, give it a few more minutes. As they cool, they will set. I am a notorious "underbaker," and I let these bake the entire 30 minutes. In retrospect, a couple more minutes might have helped.