May 27, 2014
Cinnamon Bun Crispy Treats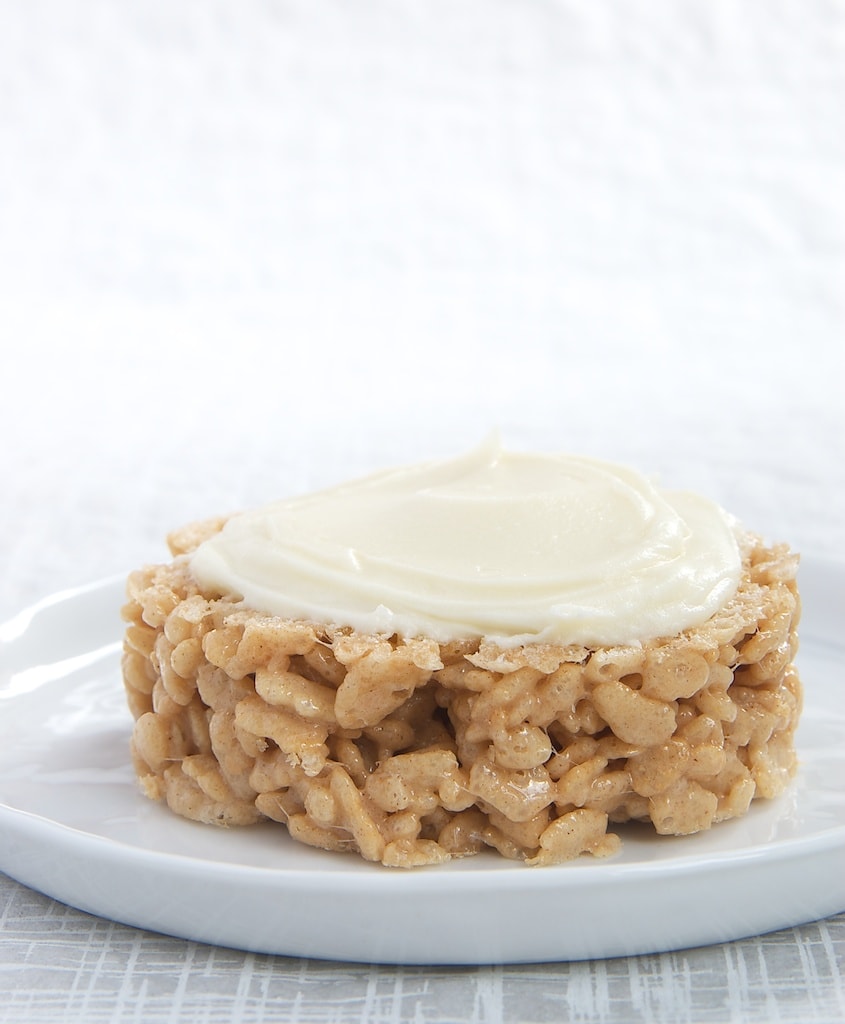 Do you ever see something and think, "Why didn't I think of that?" That's how I felt when I saw the recipe for these beauties in an issue of Cuisine at Home. Rice Krispies treats with cinnamon and cream cheese frosting? Yeah, I should have thought of that one.
Still, something this good has to be shared, no matter whose idea it is.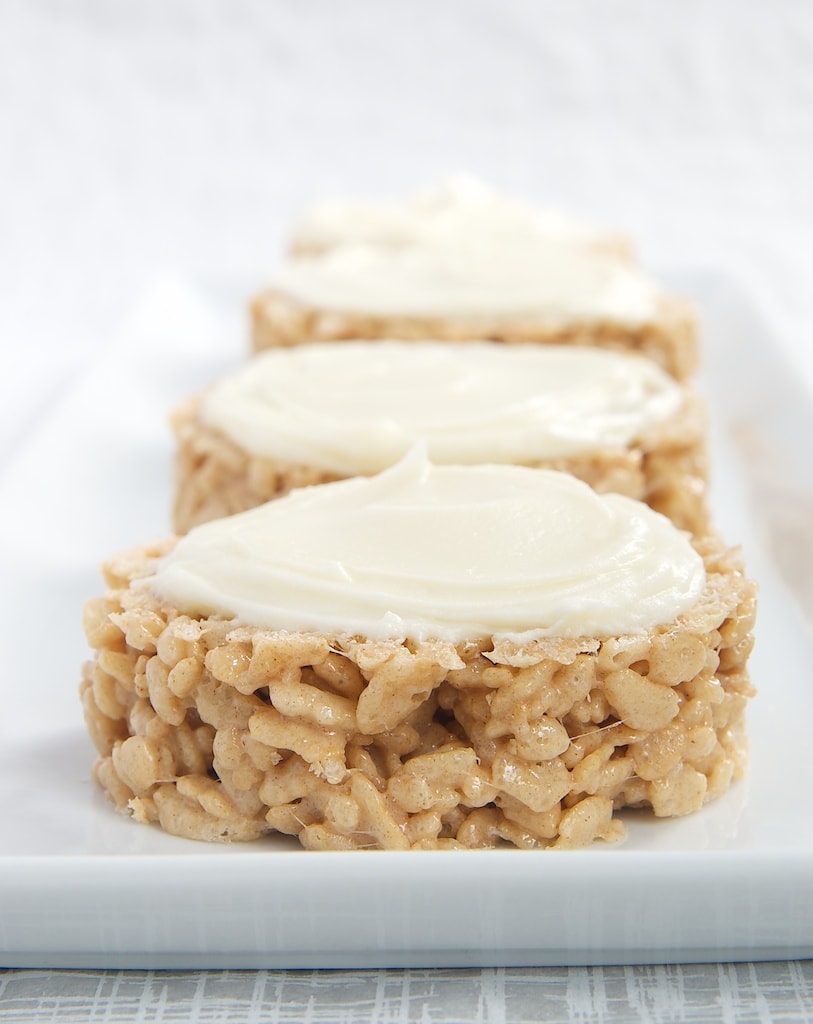 The treats themselves don't vary much from the traditional. The simple addition of cinnamon is enough to give them a lovely flavor. I opted to spread them into a half sheet pan and roll them so they'd be round like cinnamon buns. I just couldn't resist taking the cinnamon bun theme a bit further, even with that bit of extra effort.
Of course, what are cinnamon buns without cream cheese frosting? I'm not one to turn down cream cheese frosting on just about anything, but it's especially good here. It really takes an otherwise everyday treat up several notches.
Cinnamon Bun Crispy Treats
Yield: 20 servings
Prep Time:20 minutes
Cook Time:5 minutes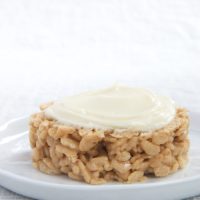 Ingredients:
For the treats:
4 tablespoons unsalted butter
2 tablespoons light corn syrup
2 to 3 teaspoons ground cinnamon*
pinch salt
10 ounces miniature marshmallows
6 cups crisp rice cereal, such as Rice Krispies
For the frosting:
4 tablespoons unsalted buter, softened
4 ounces cream cheese, softened
1 teaspoon vanilla extract
pinch salt
2 cups confectioners' sugar, sifted
Directions:
To make the treats:
Line a half sheet pan (15 & 1/2″x 10 & 1/2″) with plastic wrap. Spray with cooking spray.**
Place butter in a large saucepan. Melt over medium-low heat. Add corn syrup, cinnamon, and salt, and stir to combine. Add marshmallows and stir until melted and mixture is smooth.
Remove pan from heat. Add cereal and stir until thoroughly combined.
Spread mixture into prepared pan. Allow to cool until it can be handled.
Start at a long end and roll into a log, pulling away the plastic wrap as you go. Wrap the log with plastic wrap and chill for at least 15 minutes.
To make the frosting:
Using an electric mixer on medium speed, beat butter, cream cheese, vanilla, and salt until light and fluffy.
Gradually add confectioners' sugar, beating until smooth and fluffy.
To assemble:
Unwrap the treats. Use a sharp knife to slice them into 3/4-inch thick rounds.
Top each with 2 to 3 tablespoons of frosting.
Notes:
*Adjust the cinnamon to your tastes. If you like big cinnamon flavor like I do, go with the larger amount.
**If you want to simplify the process, you can certainly take the simpler route and spread them into a 9″ x 13″ pan and cut them into squares.