August 25, 2016
Salty Cashew Caramel Cookies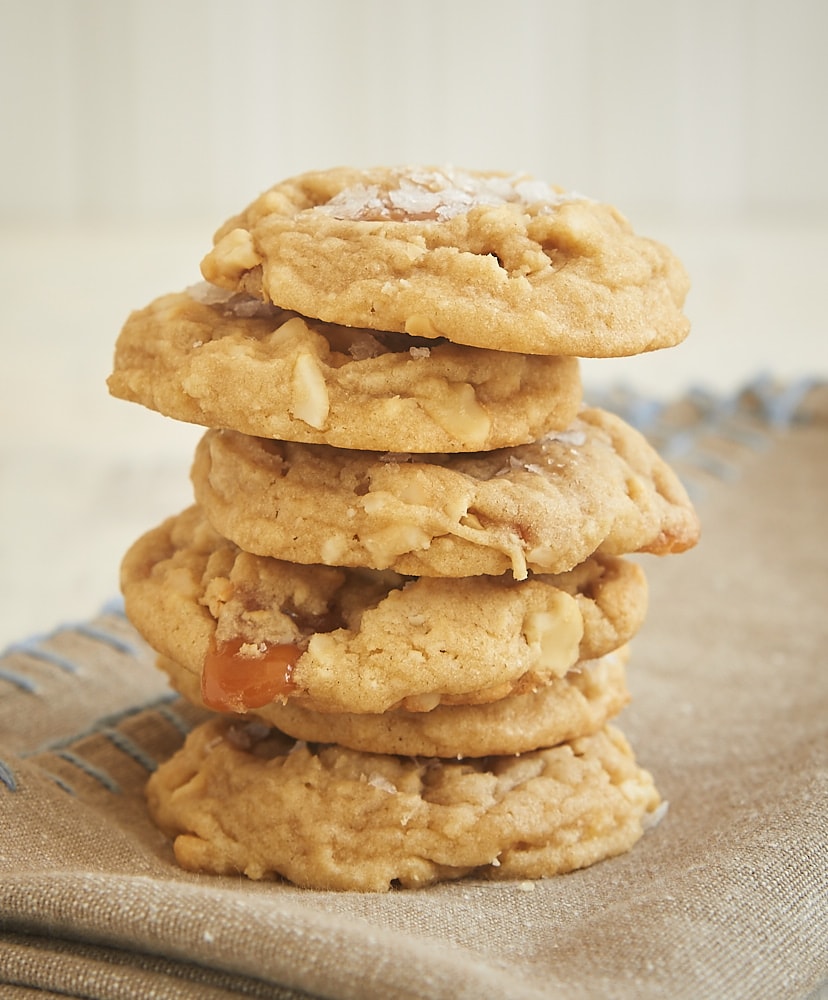 It's been far too long since I shared a cookie recipe here on BoB. They're one of my favorite things to bake, so you know it will never be too terribly long between cookie recipes. And let me tell you, I'm diving back into cookiedom in a big, big way.
These chewy, nutty cookies combine two favorites – cashews and caramel – with a salty bite. If you're a sweet and salty fan like I am, then you're going to adore these cookies.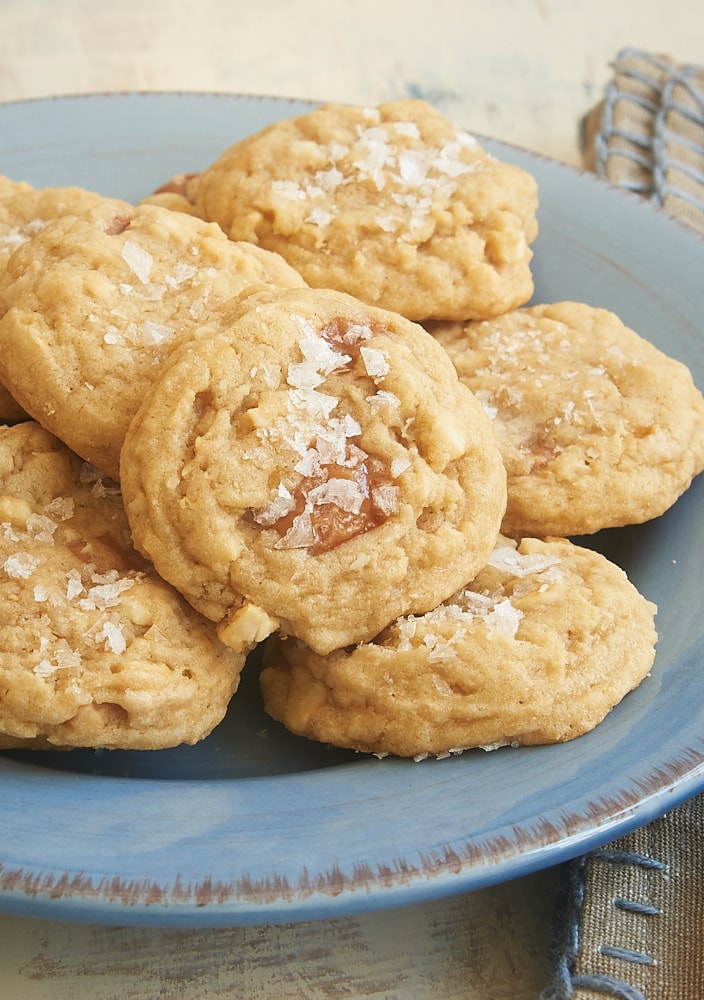 A little pinch of salt on top of these cookies adds so much flavor. While regular table salt is great for baking, coarse salts have many uses, too. Many of you probably cook with kosher salt, which is a type of coarse salt. I prefer sea salt for topping recipes like this one. It adds that wonderful salty crunch and really stands out on the cookies. Most any sea salt will work, but I usually keep a small box of Maldon sea salt on hand for just this kind of thing.
If you have access to caramel bits, they'll work well in these cookies. If not, regular soft caramels will certainly work. You'll just need to cut them into small pieces. I usually cut them into about 9 pieces, but you can cut them even smaller if you like. Smaller pieces means that the caramel will be better distributed among the cookies.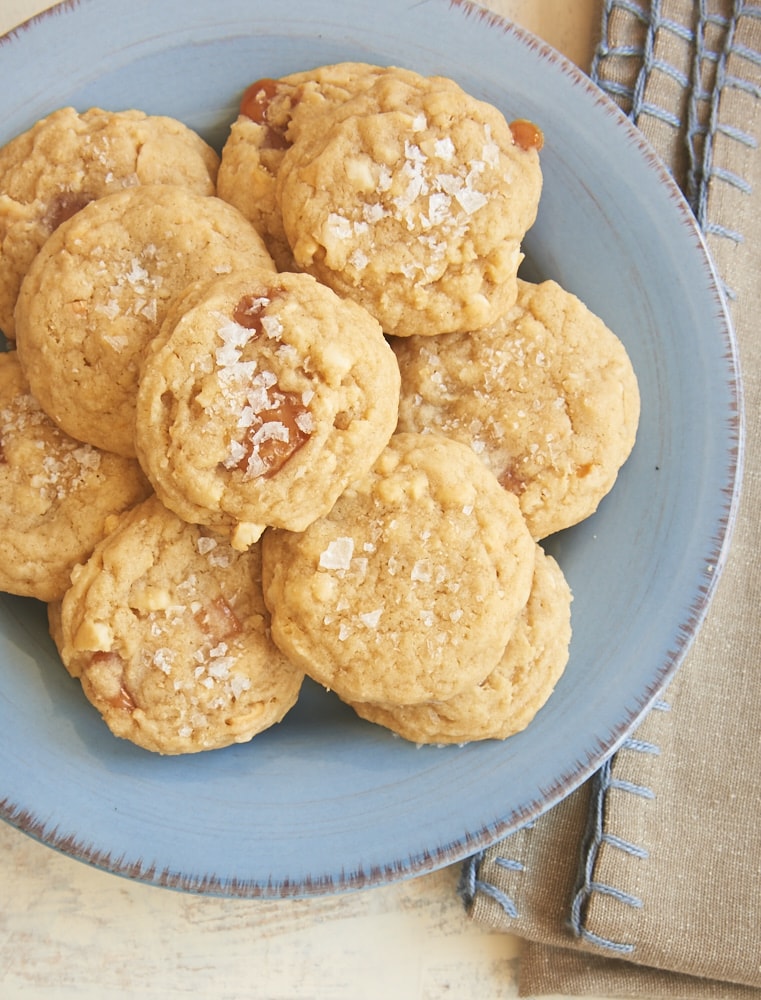 This recipe makes a big batch of cookies. I prefer to make them using 1 tablespoon of dough per cookie, but you can use 2 or 3 tablespoons portions if you want larger cookies. As always, a cookie scoop is your cookie-baking best friend for consistently sized cookies. When your cookies are all the same size, they'll bake more evenly.
If your cookie craving is for something a bit different, give these sweet and salty cookies a try. The flavors are irresistible! And if your needing cookies for a crowd, you'll have a whole bunch of happy cookie eaters!
Find more cookie recipes in the Recipe Index.
Salty Cashew Caramel Cookies
Yield: about 60 cookies
Prep Time:15 minutes
Cook Time:12 minutes per pan
Rich caramel and crunchy cashews add big flavor to these Salty Cashew Caramel Cookies. The sprinkle of salt on top is the perfect finish!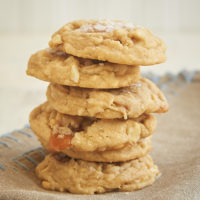 Ingredients:
3 cups all-purpose flour
1 teaspoon baking powder
1/2 teaspoon baking soda
1/2 teaspoon salt
3/4 cup unsalted butter, softened
1 & 1/4 cups firmly packed light brown sugar
1/2 cup granulated sugar
2 large eggs
1 & 1/2 teaspoons vanilla extract
1 cup chopped cashews
3/4 cup caramel bits or about 12 soft caramels cut into small pieces
coarse salt
Directions:
Preheat oven to 350°F. Line baking sheets with parchment paper or silicone liners.
Whisk together the flour, baking powder, bargain soda, and salt. Set aside.
Using an electric mixer on medium speed, beat the butter, brown sugar, and sugar until light and fluffy. Add the eggs, one at a time, mixing well after each addition. Mix in the vanilla.
Reduce mixer speed to low. Gradually add the flour mixture, mixing just until combined.
Stir in the cashews and caramels.
Drop the dough by tablespoonfuls onto the prepared pans.* Flatten the top of each cookie slightly. Sprinkle the top of each cookie with a pinch of coarse salt.
Bake, one pan at a time, 10 to 12 minutes, or until lightly browned. Cool the cookies on the pan for 5 minutes. Then transfer the cookies to a wire rack to cool completely.
Notes:
*I highly recommend using a cookie scoop for consistent portioning.
Unless your kitchen is warm, you won't need to refrigerate the cookie dough before scooping and baking. I do suggest refrigerating the dough between baking batches to keep it cool.
This post contains affiliate links. If you make a purchase through one of the links, I'll receive a small commission at no additional cost to you.