Salty Cashew Caramel Cookies are a sweet and salty dream! Gooey caramel and crunchy cashews all wrapped up in a brown sugar cookie!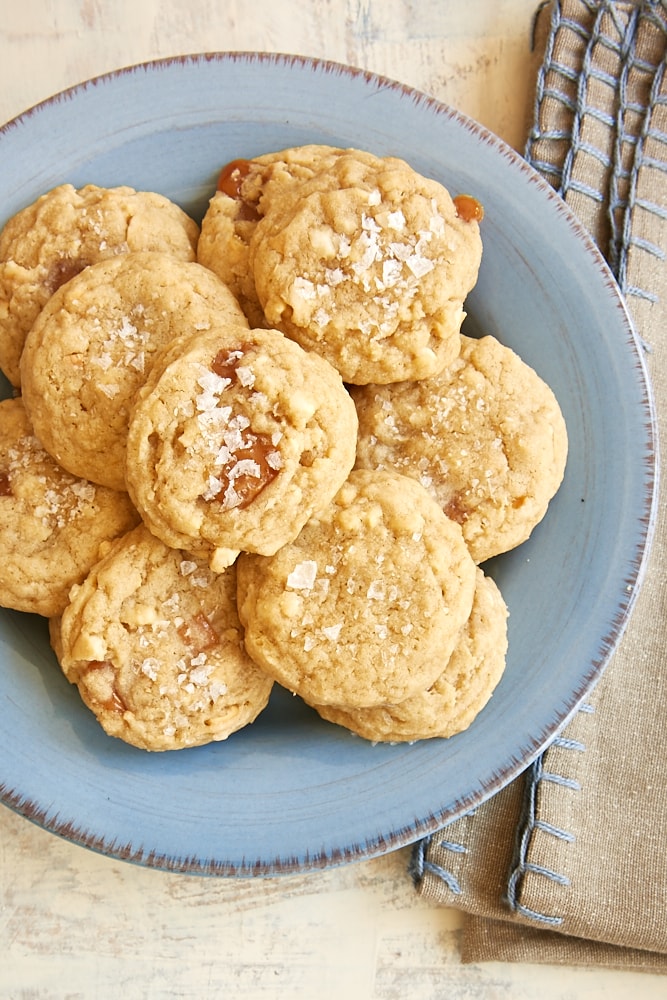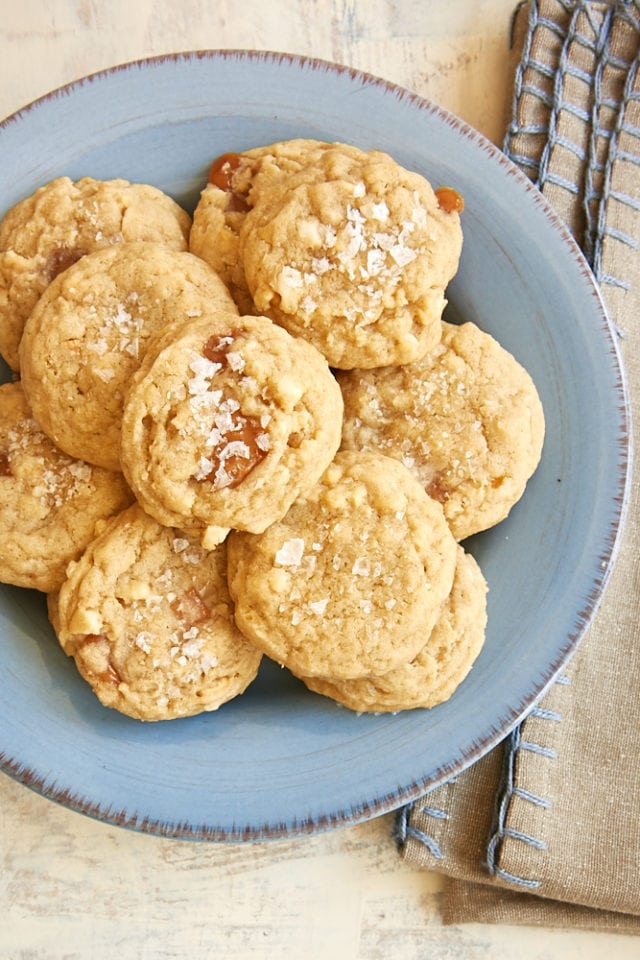 Salty Cashew Caramel Cookies
Cookies are one of my favorite things to bake, so you know it will never be too terribly long between cookie recipes around here. And let me tell you, these Salty Cashew Caramel Cookies would be a fantastic addition to your cookie repertoire!
These chewy, nutty cookies combine two favorites – cashews and caramel – with a salty bite. That's right – these aren't just caramel cookies, they're salted caramel cookies plus the crunch of cashews. SO good!
If you're a sweet and salty fan like I am, then you're going to adore these cookies. (And I encourage you to make more of my cookies with a salty bite, like Salted Oatmeal Cookies, Brown Butter Salty Sugar Cookies, and Sea Salt Lime Cookies.)
If your cookie craving is for something a bit different, give these Salty Cashew Caramel Cookies a try. The bold flavors and the gooey, crunchy texture are irresistible. And if you're needing cookies for a crowd, you'll have a whole bunch of happy cookie eaters!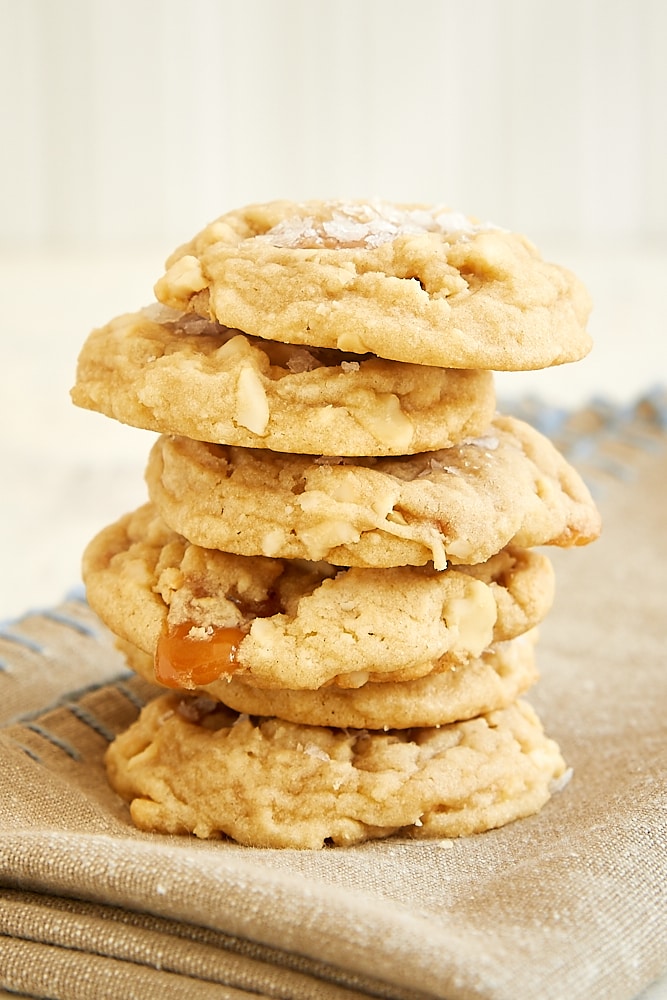 What You'll Need
You'll find a printable recipe card with ingredient quantities and full instructions at the end of this post. Here are some helpful notes about the ingredients.
All-purpose flour – As always, measure by weight or use the spoon and sweep method. Learn more: How to Measure Flour
Baking powder
Baking soda
Salt
Unsalted butter – Allow the butter to soften before mixing. Learn more: How to Soften Butter
Brown sugar – If you aren't measuring by weight, be sure to pack the brown sugar firmly into the measuring cup.
Granulated sugar
Eggs – Set the eggs to allow them to come to room temperature. I recommend baking with large eggs.
Vanilla extract
Cashews – Chop these into bite-size pieces. If you're using salted cashews, you may want to dial back the salt in the recipe.
Caramel bits or soft caramel candies
Coarse salt – See my notes below about what kinds of salts work well.
What kind of salt should I use on top of these cookies?
The little pinch of salt on top of these cookies adds so much flavor! While regular table salt is great for baking, coarse salts have many uses, too. Many of you probably cook with kosher salt, which is a type of coarse salt. I prefer a flaky sea salt for topping recipes like this one. It adds that wonderful salty crunch and really stands out on the cookies. Most any sea salt will work, but I usually keep a small box of Maldon sea salt on hand for just this kind of thing.
How to Make Cashew Caramel Cookies
Ready to make a batch of these sweet and salty cookies? Here's what you'll need to do.
Prepare for baking. Heat the oven to 350°F. Line baking sheets with parchment paper or silicone liners.
Combine the dry ingredients. Whisk together the flour, baking powder, baking soda, and salt.
Combine the wet ingredients. Place the butter and both sugars in a large bowl. With an electric mixer on medium speed, beat these three ingredients until fluffy and lightened in color. Mix in each egg followed by the vanilla.
Add the dry ingredients to the wet ingredients. With the mixer on low speed, gradually add the flour mixture to the butter mixture. Mix just until combined or a few streaks of flour remain.
Finish mixing. Stir the cashews and caramel bits into the cookie dough.
Portion. Drop the dough by tablespoonfuls onto the prepared baking sheets, leaving about 2 inches between the cookies. Flatten the top of each cookie slightly, and sprinkle a pinch of coarse salt over the top of each cookie.
Bake. Place the pan in the oven and bake (one pan at a time) for 10 to 12 minutes. The cookies should be lightly browned. Repeat with the remaining cookie dough.
Cool. Place the pan on a wire rack, and allow the cookies to cool for 5 minutes. Then transfer the cookies from the pan directly onto a wire rack to cool completely.
Does this cookie dough need to be chilled?
Unless your kitchen is particularly warm, then the dough shouldn't need to be chilled. If your dough seems too soft, then refrigerate it until it's more easily handled. Whether or not you chill the dough initially, it's a good idea to chill the dough between baking batches.
Tips for Success
If you don't have caramel bits, regular soft caramels will certainly work. You'll just need to cut them into small pieces. I usually cut them into about 9 pieces, but you can cut them even smaller if you like. Smaller pieces means that the caramel will be better distributed among the cookies.
Use a cookie scoop. It will make quick work of portioning the dough and also ensure even baking by making all the cookies the same size. I prefer to make them using 1 tablespoon of dough per cookie, but you can use 2 or 3 tablespoons portions if you want to make larger cookies.
Customize! These cookies would also be great with butterscotch chips instead of caramel bits. And a different nut can easily be used instead of cashews.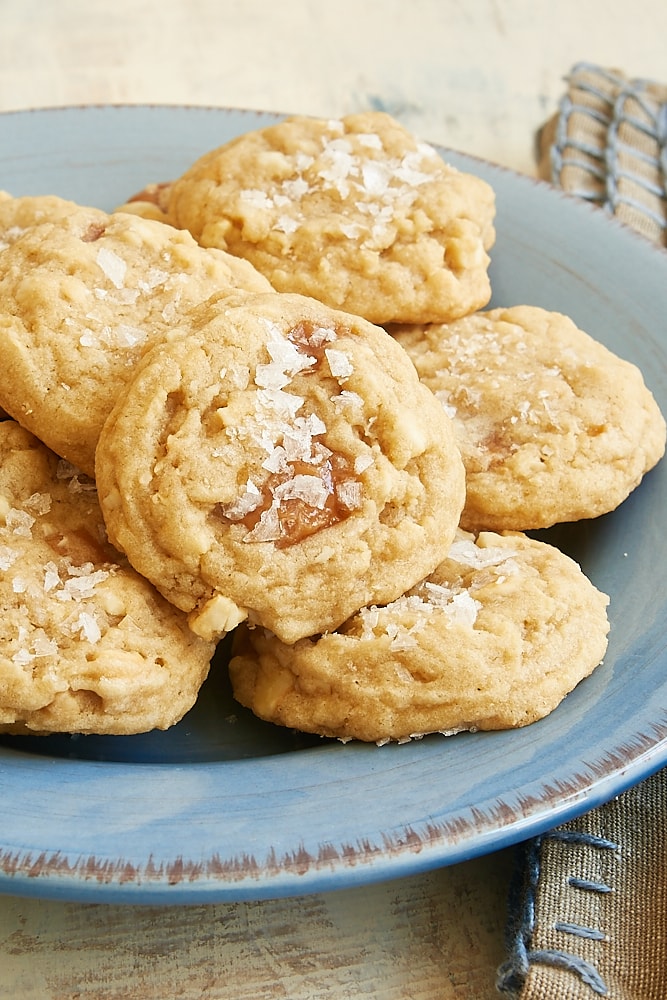 How to Store
Once the cookies have cooled, place them in an airtight container and store at room temperature up to 3 days.
Can These Caramel Cookies Be Frozen?
Yes, you can freeze these cookies. After they've cooled completely, place them in an airtight, freezer-safe container or bag. Properly stored, they should keep in the freezer up to 3 months.
You can also freeze the cookie dough. Portion the dough as directed, placing the balls of dough on a lined rimmed baking sheet. Freeze until solid (about 2 hours) and then transfer to a freezer bag or container. They should keep in the freezer up to 3 months. When you're ready to bake the cookies, place the frozen cookie dough on baking sheets and bake as directed, adding a couple of minutes to the baking time.