June 4, 2015
Cannoli Icebox Cake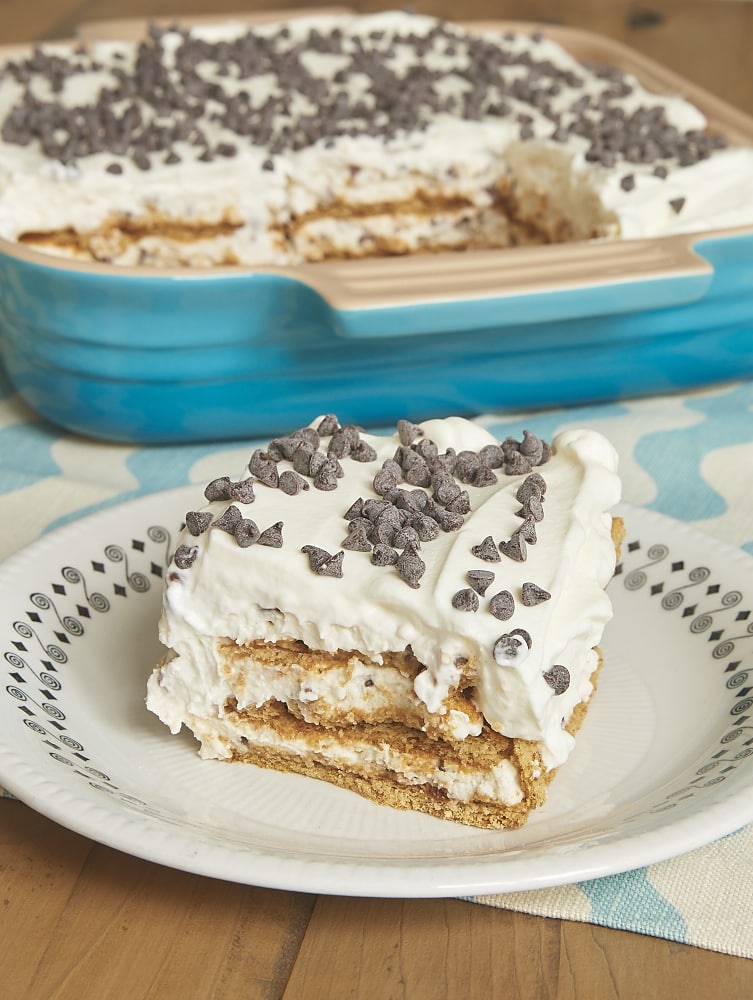 I have no seasonal qualms about making no-bake desserts all year long, but my desire for them goes up in full force when the days start getting warmer. A little mixing, a little assembling, a little chilling, and you've got a cool, creamy dessert!
This icebox cake celebrates the flavors of cannoli, particularly the sweet filling you usually find inside them. The lightly sweet ricotta filling reminds me so much of the cannoli at one of our neighborhood pizza spots. You don't get the crunch of a cannoli shell, but the graham crackers serve as a tasty substitute.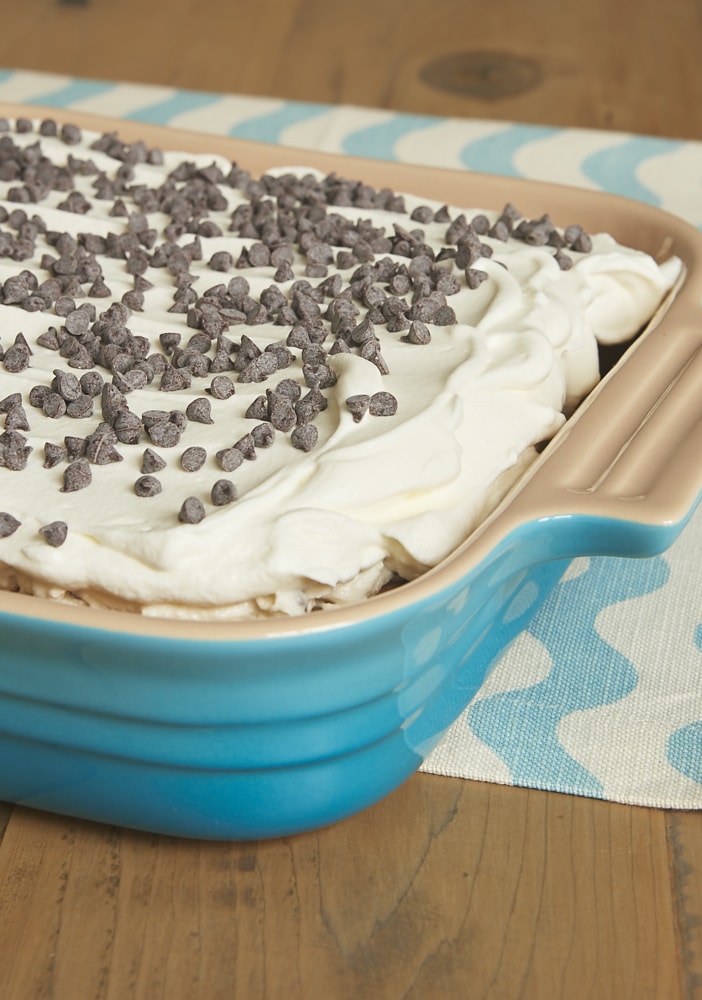 One of my favorite things about this icebox cake is that it's not overly sweet. That makes it even more perfect for warm weather when I normally want my desserts a bit lighter. A new summer dessert staple, for sure!
Of course, the most torturous part of making icebox cakes is waiting on them to chill. Your patience, however, will be rewarded when you dive in and enjoy that first bite. I must confess that Quinn and I liked this so much that we selfishly opted not to share it with anyone. It's just too good!
Cannoli Icebox Cake
Yield: 9 to 12 servings
Prep Time:25 minutes
Cannoli Icebox Cake celebrates the flavors of cannoli with a lightly sweet filling, chocolate chips, and graham crackers. A breeze to make!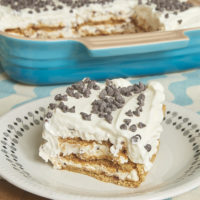 Ingredients:
16 ounces ricotta cheese
1/2 cup confectioners' sugar, sifted
1 teaspoon vanilla extract or almond extract
1/4 cup cold water
1 packet (about 2 teaspoons) unflavored gelatin
1 cup vanilla yogurt
3/4 cup mini semisweet chocolate chips, plus more for garnish
about 14 honey graham cracker sheets
1 cup heavy cream
2 to 3 tablespoons granulated sugar
Directions:
Using an electric mixer on high speed, beat the ricotta, confectioners' sugar, and vanilla until smooth.
Place cold water in a small saucepan. Sprinkle the gelatin over the water and let sit for 2 minutes. Then, cook over low heat, stirring constantly, until the gelatin is completely dissolved.
Resume mixing the ricotta mixture, and gradually add the gelatin mixture. Mix well. Stir in the yogurt and chocolate chips. Refrigerate for 30 minutes.
Arrange a layer of graham crackers in the bottom of a 9-inch square pan, breaking the crackers as needed to fit and cover the bottom. Carefully spread about a third of the ricotta filling over the crackers. Top with another layer of crackers and half of the remaining filling. Repeat with another layer of crackers and the remaining filling. Place the pan in the refrigerator.
Place the cream in a large, cold mixing bowl. Using an electric mixer with a whisk attachment, beat at medium-high speed until the cream begins to thicken.
Sprinkle the desired amount of sugar over the cream. Whisk until combined.
Continue beating until you can lift the whisk out of the whipped cream and a peak that curves downward forms in the cream. This should take 4 to 5 minutes.
Spread the whipped cream over the top of the icebox cake. Sprinkle with more chocolate chips.
Refrigerate at least 4 hours before serving. Keep refrigerated.
Recipe slightly adapted from Kraft.