October 5, 2006
Peanut Butter and Chocolate Cheesecake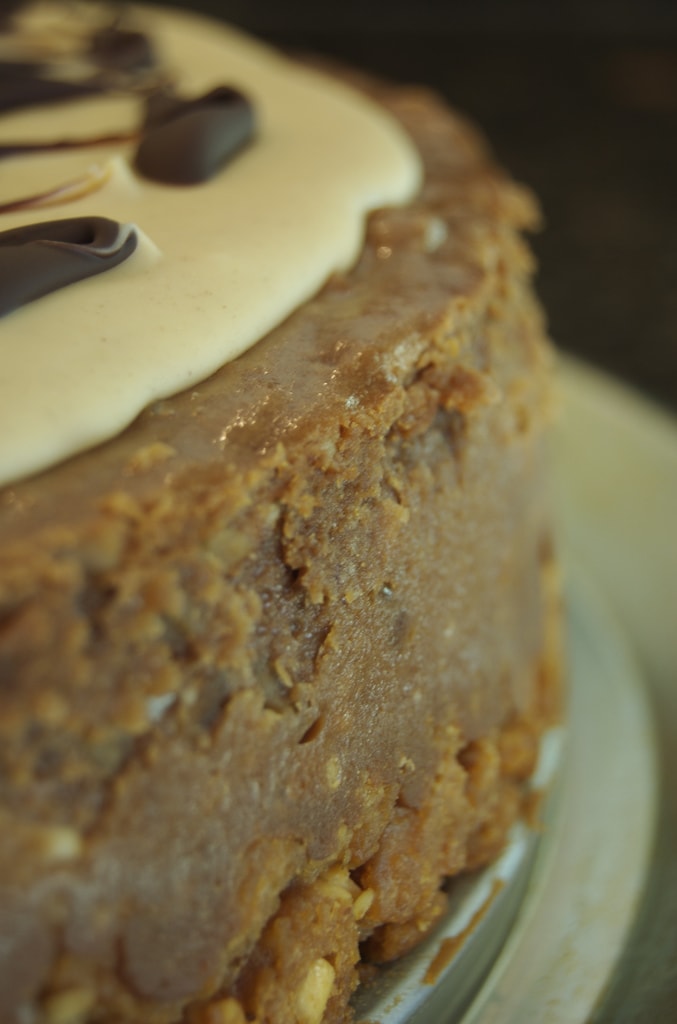 I have become famous, or perhaps infamous, in my family for cheesecakes. For every occasion, they can somehow justify serving cheesecake. I actually enjoy making them, so it's not really a huge imposition on me. Sunday was my daddy's birthday, so out came the best cheesecake book I've ever found. (Seriously, get this book. Feel free to check out previous evidence of its goodness.) No one loves peanut butter more than he does, so this choice was a no-brainer.
Let me begin by saying that every recipe I've ever made from this book calls for a 9″ springform pan. I usually use a 10″ pan. Even using the larger pan, I almost always have batter left over. Maybe her 9″ pan is a good bit taller than mine. Anyway, with a larger diameter pan, it stands to reason that you'll need more crust. This cheesecake has a cookie crust, so making more is no problem. I've found that you can't really screw up a cookie crust. Cookies, butter, maybe some nuts. And pretty much whatever consistency you like. For this cheesecake, I decided to go all out on the peanut butter flavor and use peanut butter sandwich cookies instead of the book's recipe with non-filled peanut butter cookies and chocolate wafer cookies. Those peanut butter-filled Oreos would have been good, too, I think.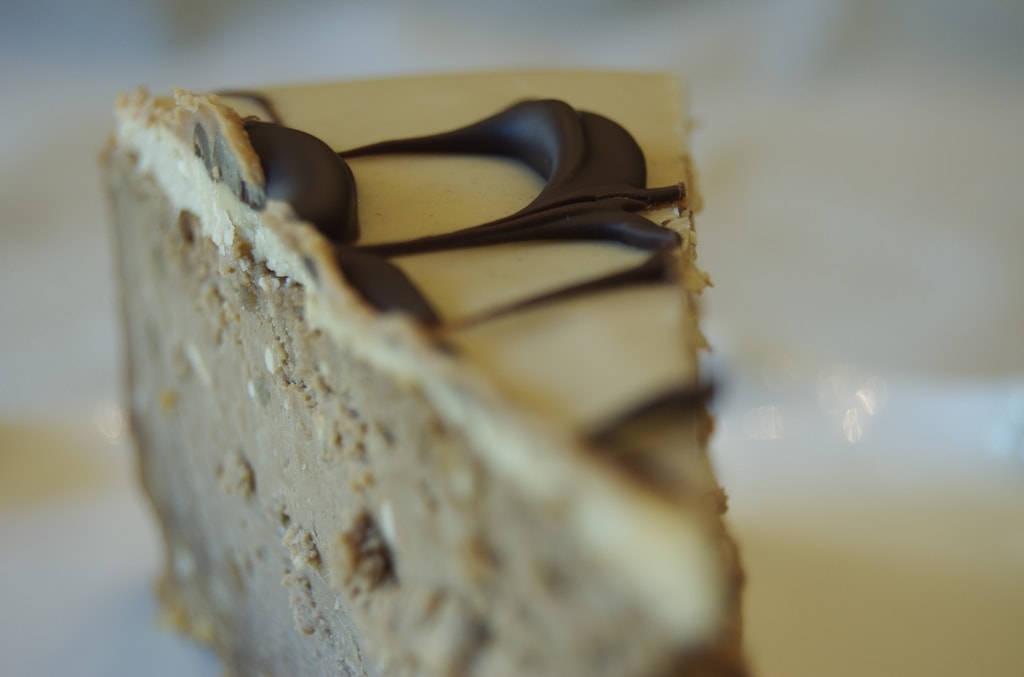 Mixing a cheesecake is, to me, one of the simplest things to do. Basically, everything goes in my stand mixer, and I let it do all the work. The best advice I can give you, as with just about anything you bake, is to avoid overmixing. The only tedious part of making a cheesecake is the time you must devote to it. Most cheesecakes I make are in the oven for about 4 hours. I usually just plan on sticking close to home for the day.
Everyone loved this cheesecake. Wonderful creamy texture, big peanut butter flavor with a hint of chocolate, just the perfect crunch from the crust and peanuts. As I write this, I am a bit sad, though, because I only had one piece. We left later that day for North Carolina (where I am writing this) to visit our very dear friends, so the cheesecake was dispersed to the family. I didn't think cheesecake would survive the road trip. Well, we know what that means. I'll have to find a new excuse to make cheesecake.
Peanut Butter and Chocolate Cheesecake
Yield: 12 to 14 servings
Prep Time:30 minutes
Cook Time:2 hours 15 minutes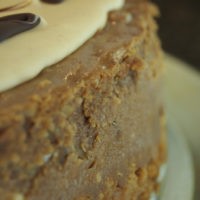 Ingredients:
For the crust:
2 cups crushed peanut butter sandwich cookies (e.g. Nutter Butters)
1/3 cup peanuts, finely chopped
1/2 cup unsalted butter, melted
For the filling:
32 ounces cream cheese, softened
1 cup dark brown sugar
3 tablespoons cornstarch
1/2 cup sour cream
5 large eggs
2 teaspoons vanilla extract
3/4 cup creamy peanut butter
1 cup semisweet chocolate chips, melted
2/3 cup peanuts, chopped
For the topping:
6 ounces white chocolate
3 tablespoons creamy peanut butter
1 ounce semisweet chocolate, melted
Directions:
To make the crust:
Combine ingredients and press onto bottom of a greased/sprayed 10″ springform pan.
To make the filling:
Preheat oven to 350 degrees.
Beat together cream cheese, brown sugar, cornstarch, and sour cream until smooth. Add eggs one at a time, mixing well after each. Add vanilla extract and peanut butter. Mix well. Add melted chocolate and mix well. Add peanuts and mix well. Pour filling over crust.
Bake for 15 minutes. Reduce oven temperature to 200 degrees and bake for 2 hours. Run a knife around the edges to loosen from pan. Turn oven off and leave cheesecake in oven for 2 hours.
Refrigerate overnight.
To make the topping:
Melt white chocolate and peanut butter in a saucepan over low heat. Cool to lukewarm.
Pour over cheesecake.
Drizzle melted semisweet chocolate over top in parallel lines. With the dull side of a knife, draw through the chocolate to create swirls. Chill.