This Cream Cheese Pecan Pound Cake has such wonderfully rich flavor. An easy cake recipe that's perfect for breakfast or dessert!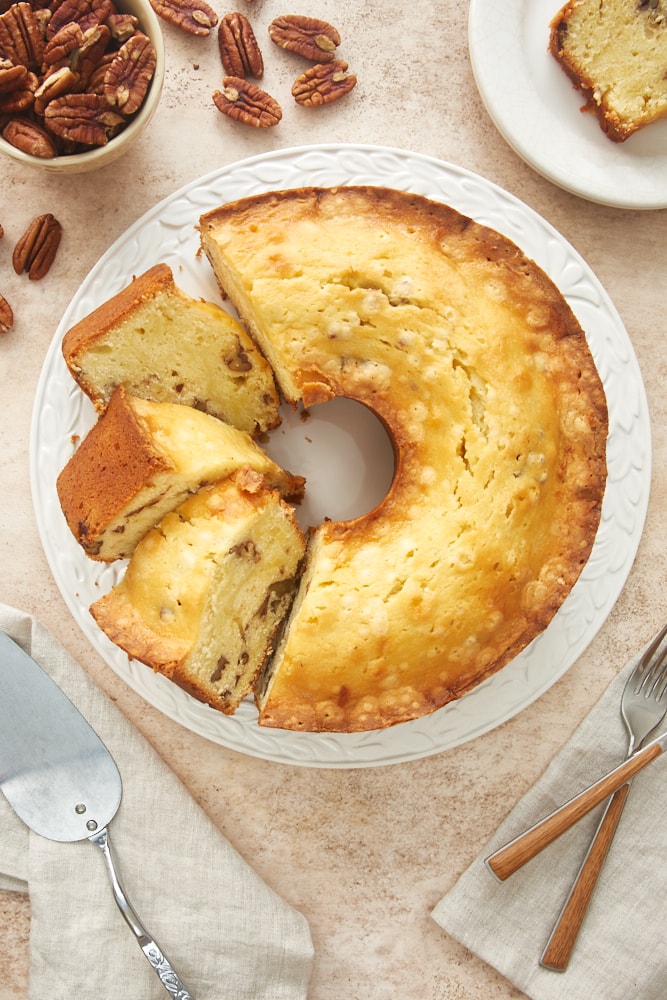 Easy Cream Cheese Pound Cake with Pecans
One of my favorite things about baking is making something that combines a few simple ingredients into an incredible dessert. That's exactly what we have here with this Cream Cheese Pound Cake! This is the kind of simple homemade cake you can enjoy at breakfast with a cup of hot coffee, or serve for dessert along with a dollop of whipped cream. I've even been known to make this pound cake for the holidays, especially when guests are coming over and I want a simple dessert without spending too much time in the kitchen.
This is a fairly straightforward cake to make. If you've baked your share of cakes, then you aren't likely to find any surprises along the way. One of the beauties of this cakes is that it mixes so quickly and easily!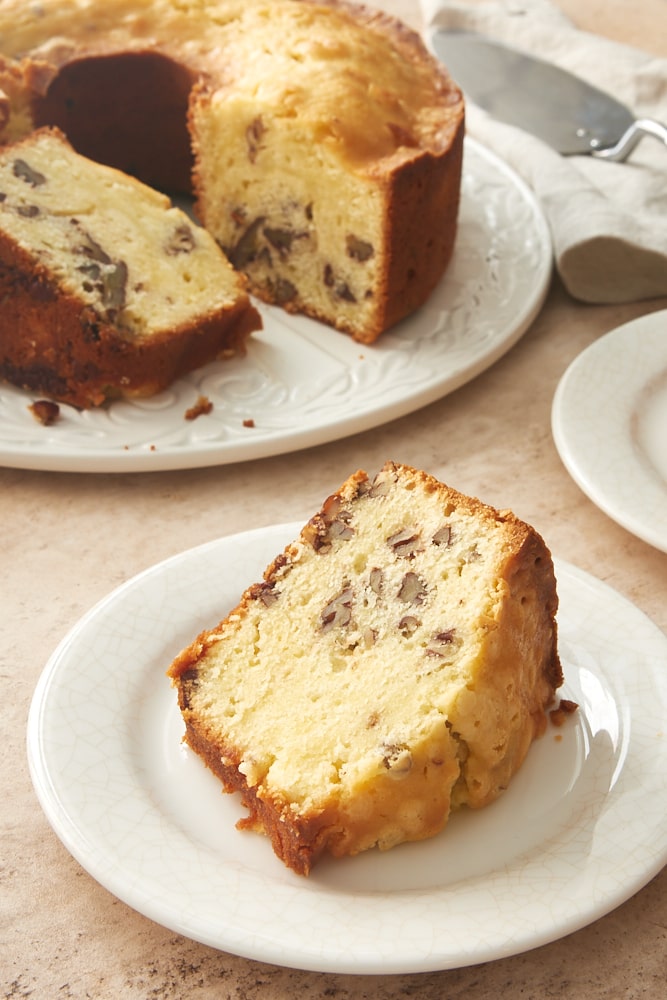 What Makes this Recipe so Good?
Cream cheese. Unlike traditional pound cakes, this one has cream cheese to give it a wonderful, tangy flavor boost. I am pretty much always in favor of baking with cream cheese, but I must say that it really makes this cake something special.
Pecans. My other favorite part of this cake is the addition of lots of pecans. Having been raised in the South, I learned to love pecans early and have never stopped. They add a nice crunch to this cake and also take the flavor up another notch. You can, of course, substitute another nut if you like. Honestly, though, pecans are so perfect here that I never make this cake without them.
This Cream Cheese Pecan Pound Cake is a long-time favorite of mine. I really love everything about it, from how easy it is to make to how wonderfully delicious it is. It's the kind of cake that is welcome for a simple, casual dessert as well as for a time when you want to impress.
Can't get enough pound cake? Try Sour Cream Pound Cake, Chocolate Pound Cake, and Coconut Pound Cake, too!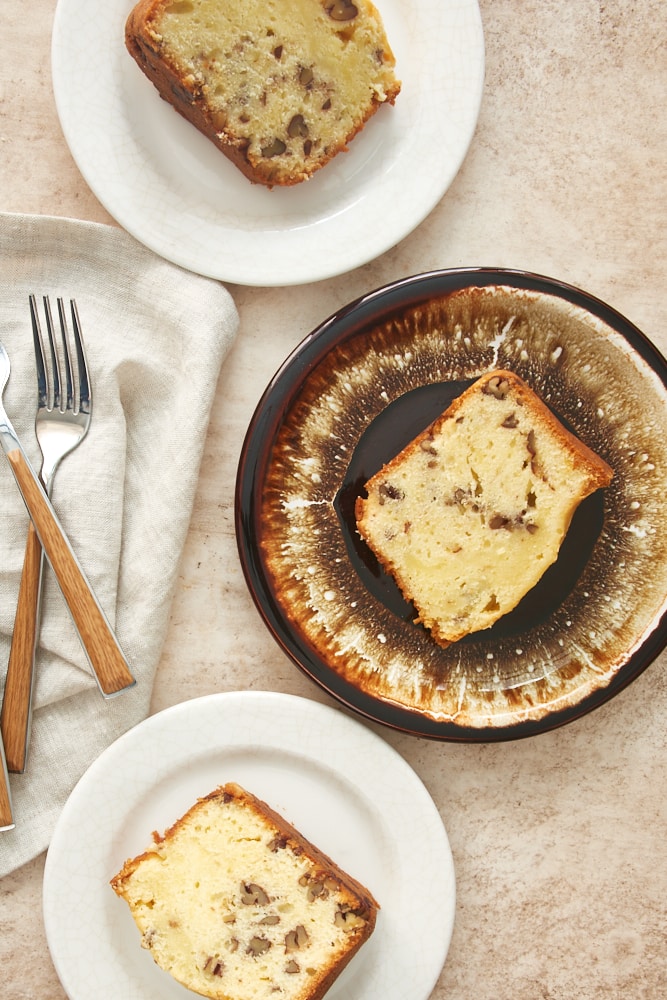 Recipe Ingredients
You only need 8 ingredients to make this simple pound cake! Here's the quick rundown. Be sure to scroll to the recipe card below for specific amounts. Scroll to the recipe card at the bottom of the post for ingredient quantities and full instructions.
Butter: I recommend unsalted butter, softened by leaving it out on the counter for about 30 minutes. Learn more: How to Soften Butter
Cream cheese: Use the bricks of cream cheese, not whipped cream cheese. Full-fat works best. Leave it out on the counter with the butter to soften.
Sugar
Eggs: This recipe uses 6 large eggs. Bring them to room temperature so they'll mix more easily.
Vanilla extract
Cake flour: I don't recommend substituting with all-purpose flour. Cake flour is a low protein flour that's milled to a fine consistency so it is not the same thing as AP flour.
Salt
Pecans: Chopped so that you don't get any large chunks of nuts in your cake. Feel free to use other kinds of nuts, such as walnuts, if you prefer.
Why isn't there baking powder or soda in this recipe?
The air incorporated into the batter during mixing creates enough physical leavening to make the cake rise, meaning there's no need for chemical leaveners like baking powder or baking soda.
That starts with creaming the butter and sugar. Then it gets more "rising power" from the eggs – there are a whopping six of them! The tube pan also helps this cake rise by encouraging the cake to expand upwards.
How to Make Cream Cheese Pound Cake
Now that you've assembled your ingredients, here's how to make this cake:
Prep your tools. Preheat oven to 325°F. Grease and flour a 10-inch tube pan.
Mix the wet ingredients. With a hand mixer or stand mixer on medium speed, cream together the butter and cream cheese in a large bowl. Add the sugar gradually and mix until light and fluffy. Add the eggs, one at a time, mixing well after each addition. Mix in the vanilla.
Add dry ingredients. Reduce mixer speed to low. Gradually mix in the cake flour and salt. Mix in the pecans.
Bake. Pour the batter into the pan. Bake for about an hour and twenty minutes or until a toothpick inserted into the center comes out clean.
Cool the cake in the pan for about 10 minutes. Then remove the cake from the pan and finish cooling on a wire rack.
What's the difference between a tube pan and a Bundt pan?
Any cake pan with a hole in the center is technically a tube pan, but we tend to differentiate Bundt pans. Tube pans have straight sides and a flat bottom. They can come in two pieces or as a single piece. Bundt cake pans have more intricate designs and usually have a rounded bottom. While you can bake a pound cake in a Bundt pan, a tube pan will do a better job giving that signature pound cake crust and texture.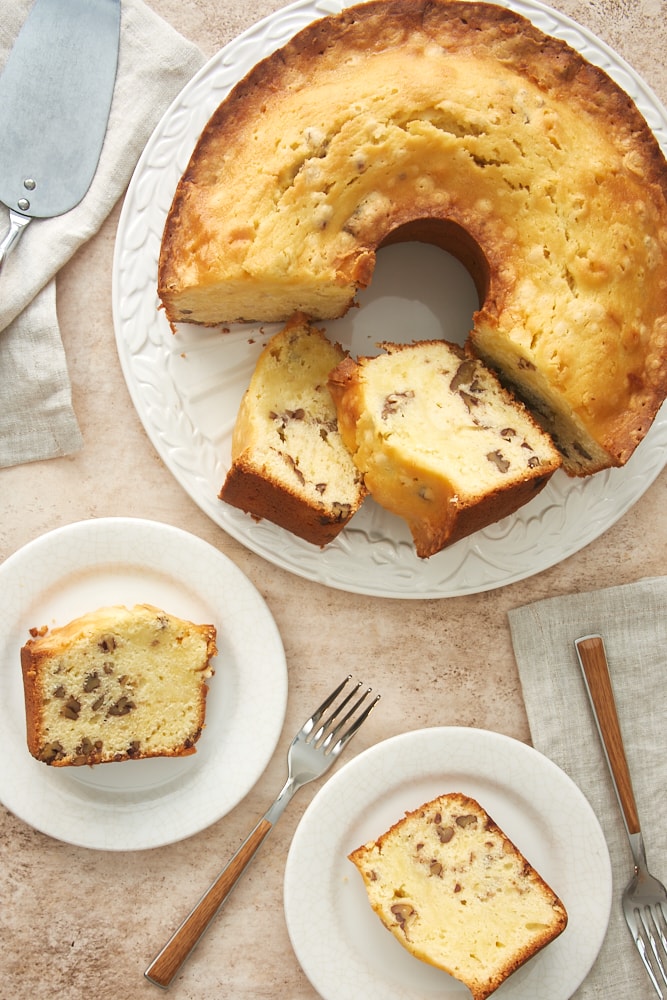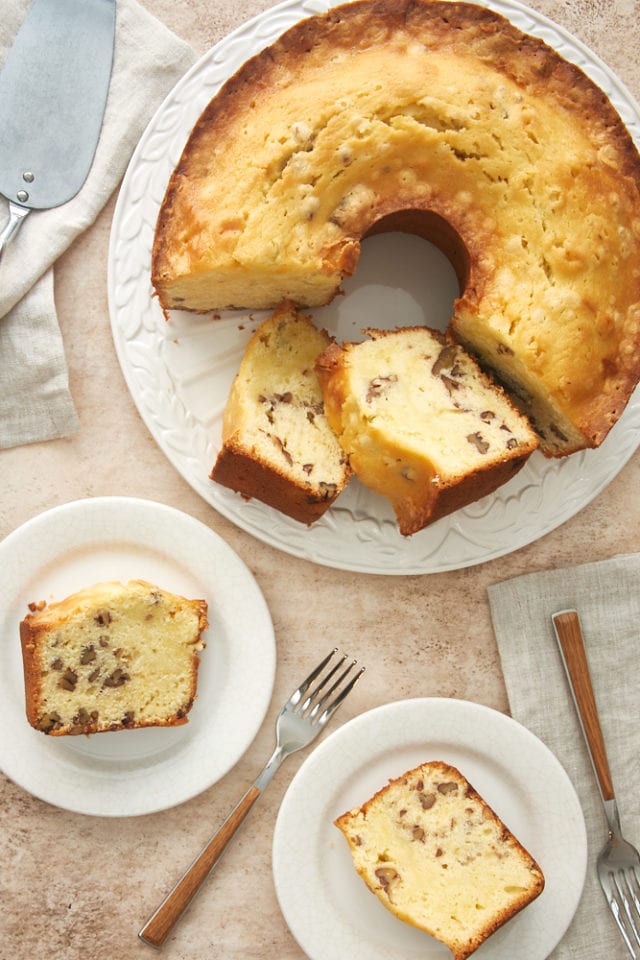 Tips for Success
Measure accurately. Use a kitchen scale to measure by weight for the best results. Otherwise, use the spoon and sweep method, for the flour, and take care to measure all the ingredients precisely. If you don't use a scale, keep in mind that the cake flour measurement is for sifted flour, meaning a volume measurement should be done after sifting.
Use a light-colored, metal pan. Dark pans tend to over-bake the outside edges, leaving the center under-baked and perhaps leading to a fallen cake. Metal pans are almost always the best choice for any kind of baking.
Thoroughly grease the pan. I prefer using a cooking spray with flour, like Baker's Joy or Pam for Baking.
Don't have cake flour? While cake flour is really the best flour for this recipe, you can try making a substitute.
Don't over-mix. Pound cakes don't usually depend on leavening ingredients for rise. Instead, they rely on the air incorporated during mixing. Over-mixing can cause the cake not to rise properly. For further reading, see The Creaming Method.
Serving Suggestions
This simple cake is absolutely love just as it is. But you can dress it up a bit if you like. Dust confectioners' sugar over servings for a simple addition. You can also serve with a dollop of whipped cream and fresh berries. Of course, ice cream is always a perfect pairing with most any cake, and a little drizzle of caramel sauce on top is pretty darn good.
How to Store Pound Cake
You can store your cake on the counter covered with plastic wrap or in an air-tight container for up to 4 days. This cake can also be refrigerated in an airtight container for up to 1 week, although refrigerating tends to dry out cake.
Want to freeze your cake? I usually will slice the cake, then wrap each slice in a couple layers of plastic wrap. The wrapped slices can then be placed in an airtight, freezer-safe container for up to 3 months. When you are ready to enjoy a slice, simply thaw it in the refrigerator overnight, on the counter for a few hours, or in the microwave for about 30 seconds.
Find more cake recipes in the Recipe Index.
Video Tutorial: Cream Cheese Pound Cake