August 29, 2006
Chocolate Caramel Pocket Cookies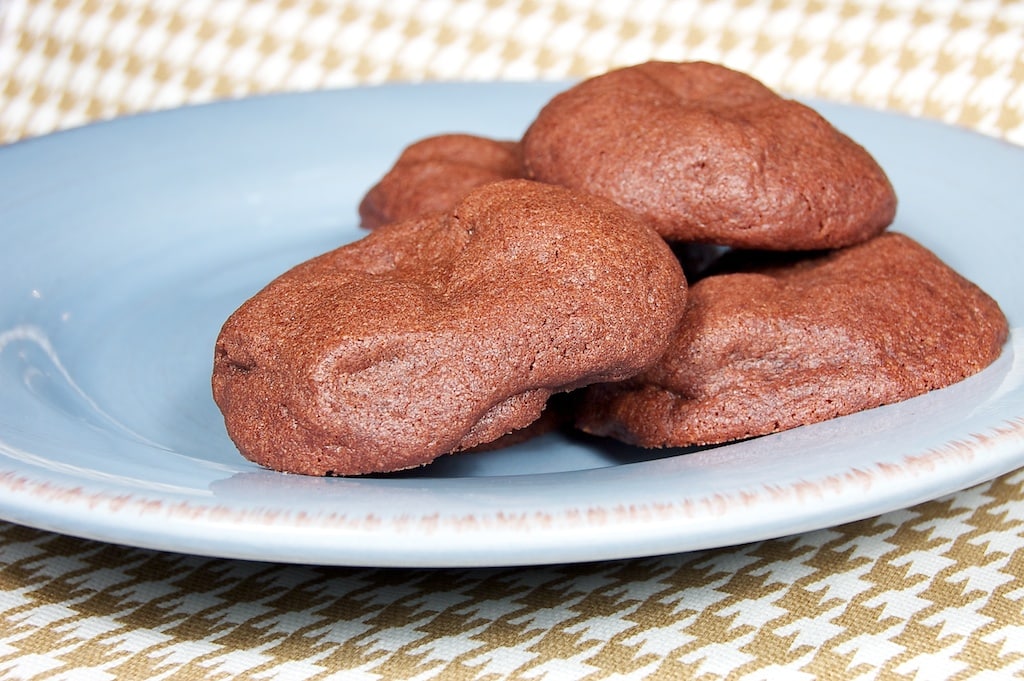 For my recent birthday, I received five (yes, five) new cookbooks. One of these five, from Quinn, was The Ultimate Chocolate Cookie Book. Of course, I'm sure this was a completely unselfish gift. Surely he's not trying to encourage me to make more cookies. Anyway, I thought my first recipe to try should be something Quinn would really like. He's a big caramel fan, so I knew he would like these.
These cookies have a caramel center. To make the center, store-bought chewy caramels do the trick. You'll need about 36 of these, with each one cut in half. I recruited Quinn for caramel duty. Baking was delayed as he stacked them for their photo shoot. Baking was further delayed when I foolishly remarked that he could make a little "Caramelhenge" out of them. Ah, such is life with Quinn.
These were, as predicted, a big hit with Quinn. Not the prettiest cookies I've ever seen. A bit lumpy. Some looked like standard cookies, while some looked like cookies wrapped around caramels. I'm not really a big caramel fan, so I think I would have preferred a different filling. The recipe suggested some variations – chocolate-covered almonds, Hershey's kisses, hazelnuts… you get the idea. In hindsight, I would have made part of these with different fillings. It would be kinda like the Whitman's Sampler of chocolate cookies. Hmmm… perhaps I'll give it a try some day.
Chocolate Caramel Pocket Cookies
Yield: 36 cookies
Prep Time:20 minutes
Cook Time:12 minutes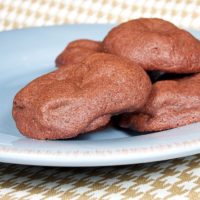 Ingredients:
36 soft caramels
2 & 1/4 cups all-purpose flour
1/2 cup cocoa powder, sifted
1/2 teaspoon baking powder
1/4 teaspoon salt
1 cup unsalted butter, softened
1/2 cup granulated sugar
1/2 cup dark brown sugar
1 large egg
1 large egg yolk
2 teaspoons vanilla extract
Directions:
Preheat oven to 350°.
Cut each caramel in half and set side.
Mix together flour, cocoa, baking powder, and salt.
In a separate bowl, beat butter until softened. Add sugars and mix well. Add egg and egg yolk; then, add vanilla.
Once this is mixed, add the flour mixture and mix well.
Form a tablespoon of dough into a circle. Place 2 caramel halves in the center of the circle. Fold the dough around the caramels, making sure to seal well. Place each cookie on an ungreased baking sheet.
Bake for 10 to 12 minutes. Cool on wire racks.