These moist, flavorful Date Nut Muffins are perfect for breakfast or a snack. You'll love the natural sweetness of the dates combined with the satisfying crunch of nuts. Delicious and easy to make!
Easy Date Muffins with Nuts
Of the things I bake most frequently, I think muffins come in second only to cookies. I love trying new muffins as well as making versions of the classics.
Here we have a classic flavor combination – dates and nuts! These muffins feature sweet, chewy dates along with crunchy nuts in a soft, moist muffin for a fantastic anytime treat.
Why You'll Love This Date Nut Muffin Recipe
These are just a few of the reasons you'll love these date muffins!
Not too sweet. Unlike a lot of bakery-style muffins, these aren't over-the-top sweet.
Versatile. Enjoy a muffin for a sweet breakfast or an afternoon snack!
Cozy. That word gets used a lot these days, but it's an apt label for these lovely muffins with their warm spices, sweet dates, and crunchy nuts.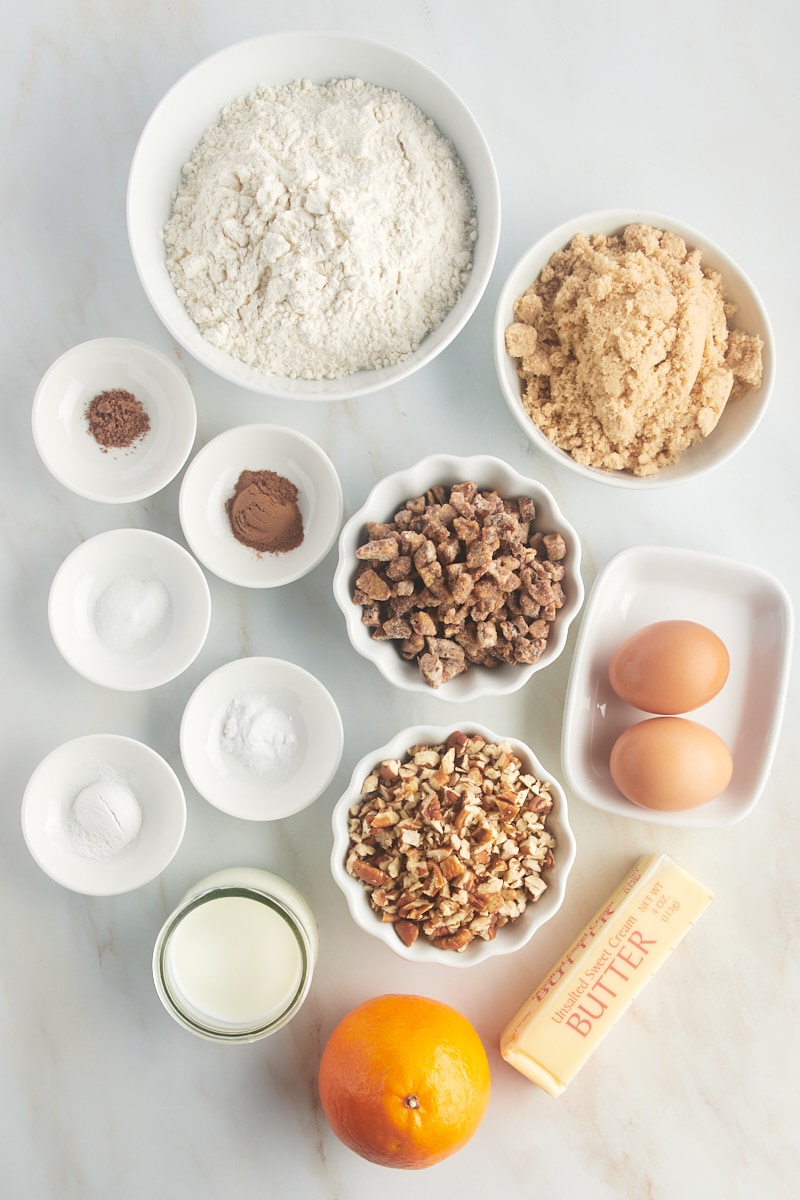 What You'll Need
See the recipe card at the bottom of this post for ingredient quantities and full instructions. Here are some notes about the ingredients you'll need to make these date nut muffins.
All-purpose flour – As always, measure by weight or use the spoon and sweep method. Learn more: How to Measure Flour
Brown sugar – I recommend light brown sugar for this recipe. It adds a subtle molasses flavor and helps make the muffins nice and soft.
Baking powder and baking soda – These help the muffins rise.
Cinnamon – Check that your cinnamon is fresh by giving it a sniff. It should have a strong aroma.
Nutmeg – Check your nutmeg for freshness, too, for the best flavor.
Salt
Orange – You'll need both zest and juice from an orange for these muffins.
Unsalted butter – After melting the butter, allow it to cool for a few minutes before adding the other ingredients. It should still be warm but not hot.
Milk – I usually use whole milk or 2% milk. While I've not tried it, a nondairy milk should work, too.
Eggs – Set these out to come to room temperature before mixing.
Dates – Pit these and chop them into small pieces, or buy chopped dates for convenience.
Nuts – I most often use pecans, but walnuts, hazelnuts, or most any other nut will work.
Coarse sugar – This is optional but adds a bit of sparkle, sweetness, and crunch to the tops of the muffins.
How to Chop Dates
Dates (and other dried fruits) can be a bit tricky to chop because they tend to be sticky. To get started, use a sharp knife to remove the pits. Then stack the dates and slice them into the desired size. Sprinkle a bit of flour on your knife to help combat the stickiness.
You can also purchase chopped dates to use in baking. Look for them with the other dried fruits or try an online shop that specializes in dried fruits and nuts.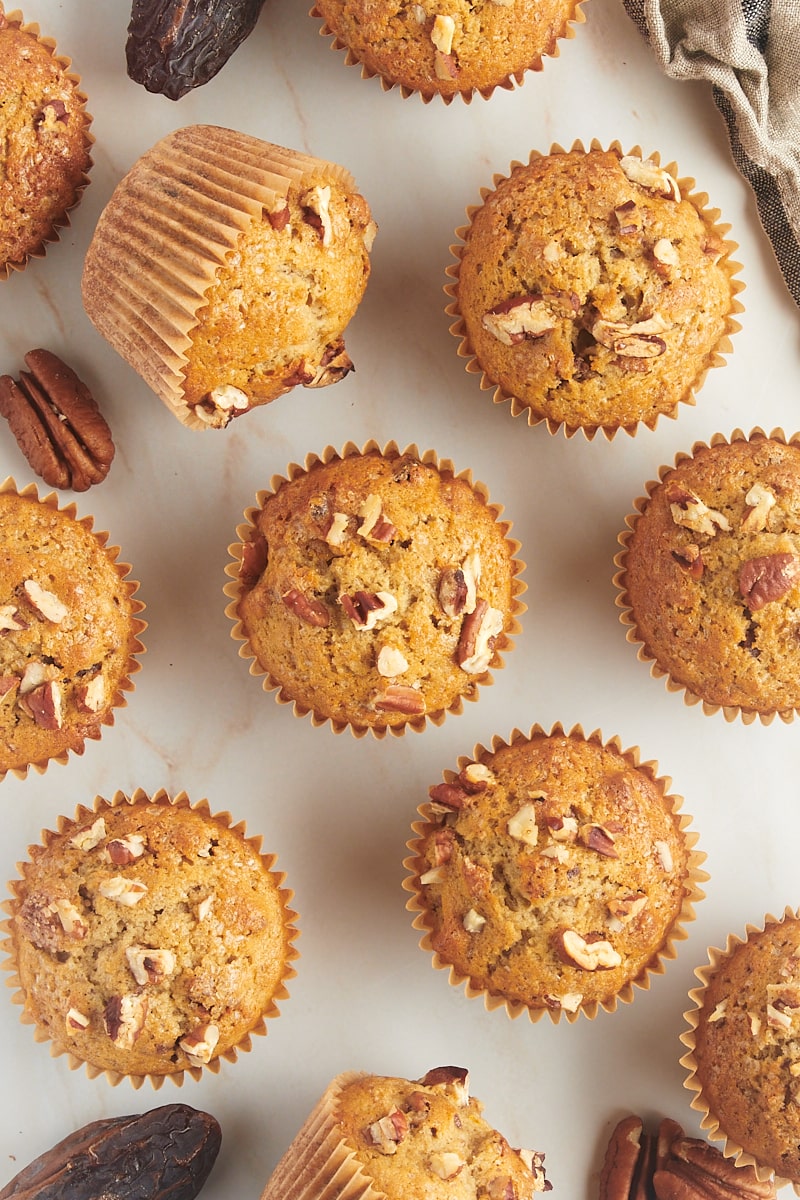 How to Make Date Nut Muffins
You'll have these date muffins mixed and in the oven in just a few minutes. Here's what you'll need to do.
Prepare for baking. Heat the oven to 400°F. Prepare a 12-cup muffin pan by lining the cups with paper liners or greasing with a cooking spray with flour.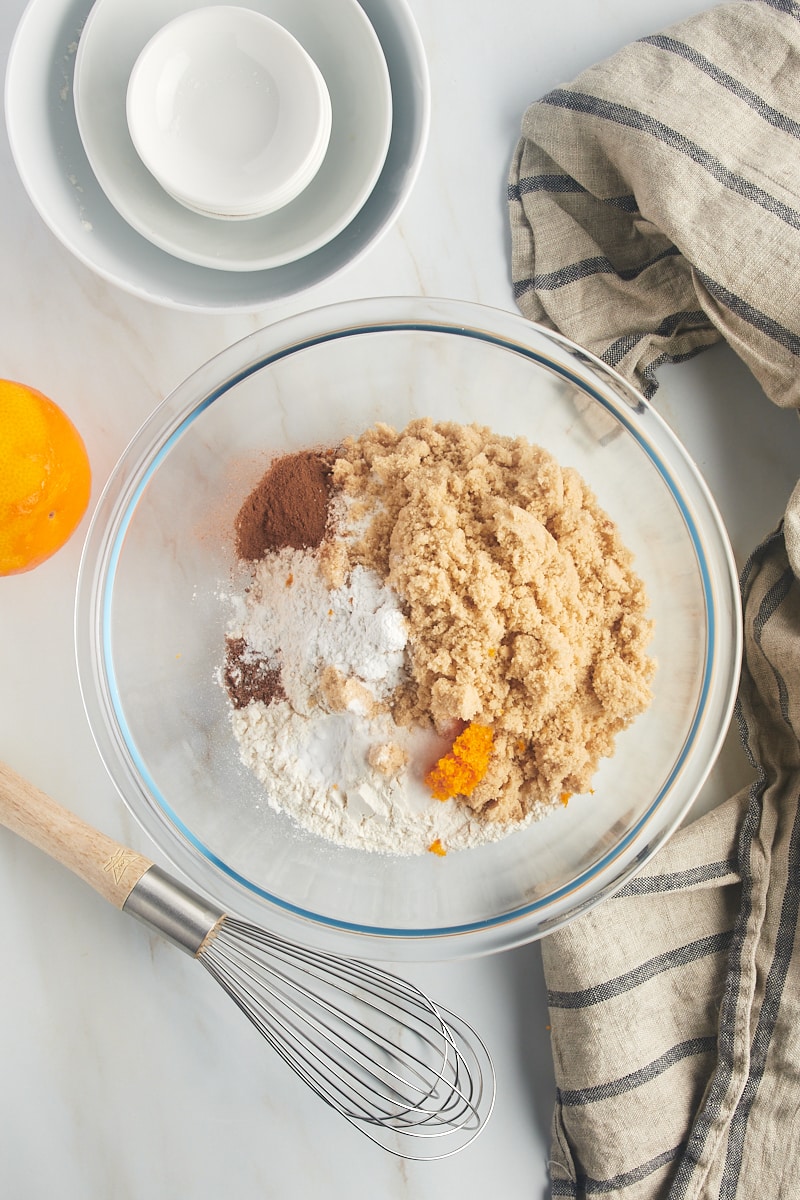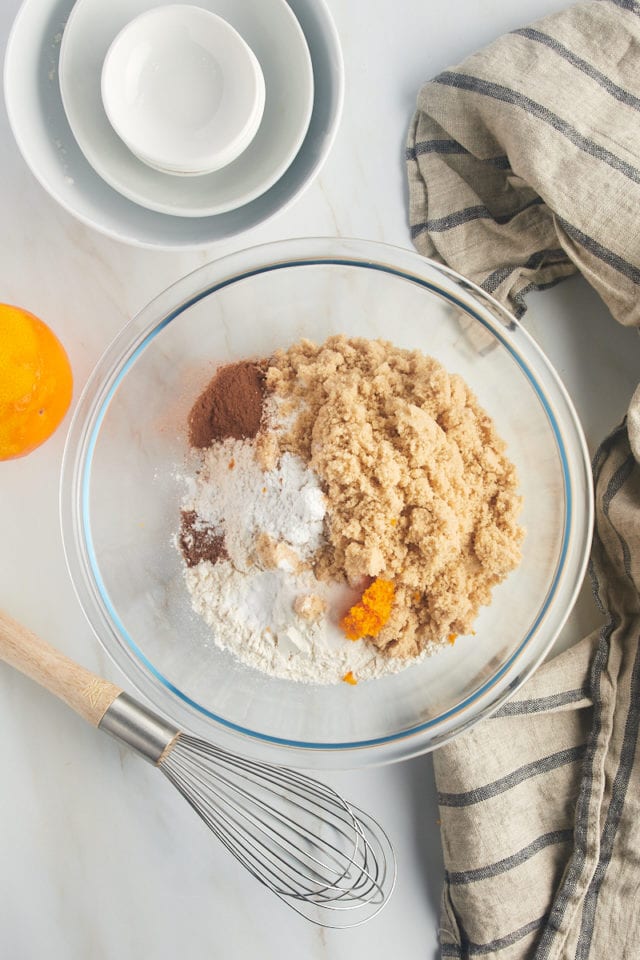 Mix the dry ingredients. Whisk together the flour, brown sugar, baking powder, baking soda, cinnamon, nutmeg, salt, and orange zest. Make a well in the center.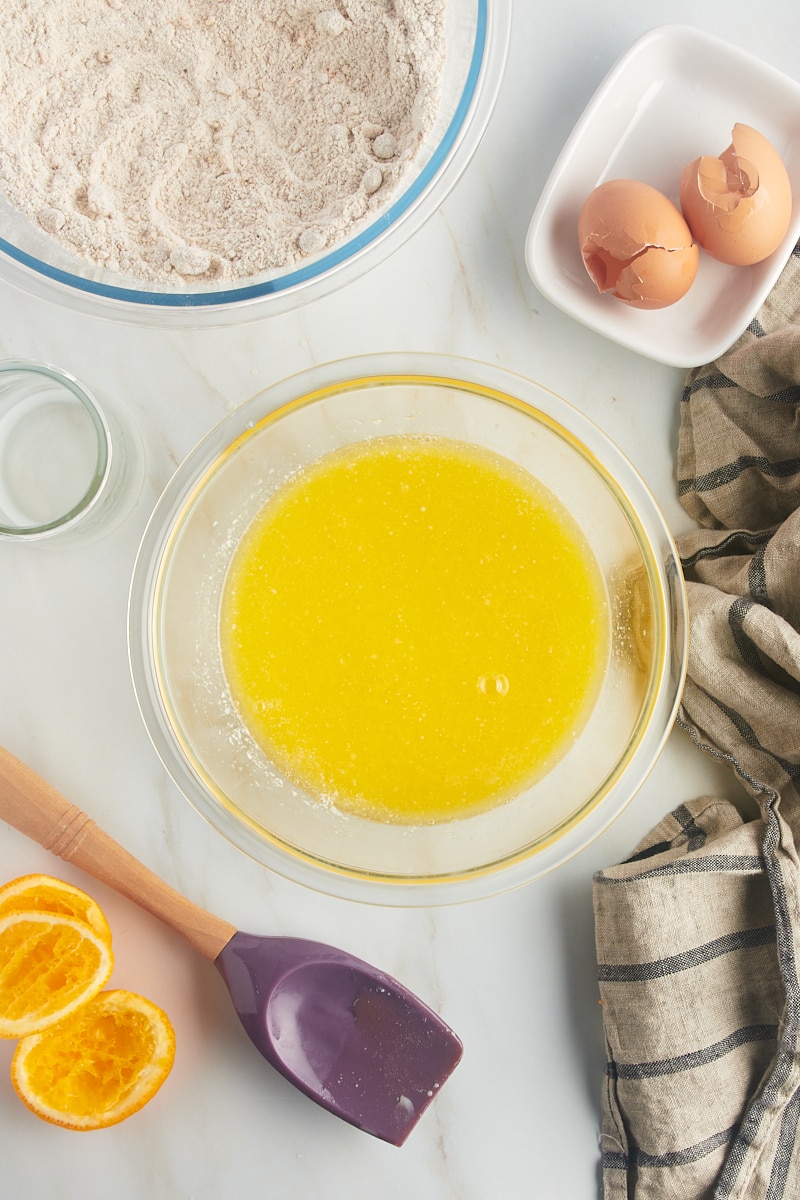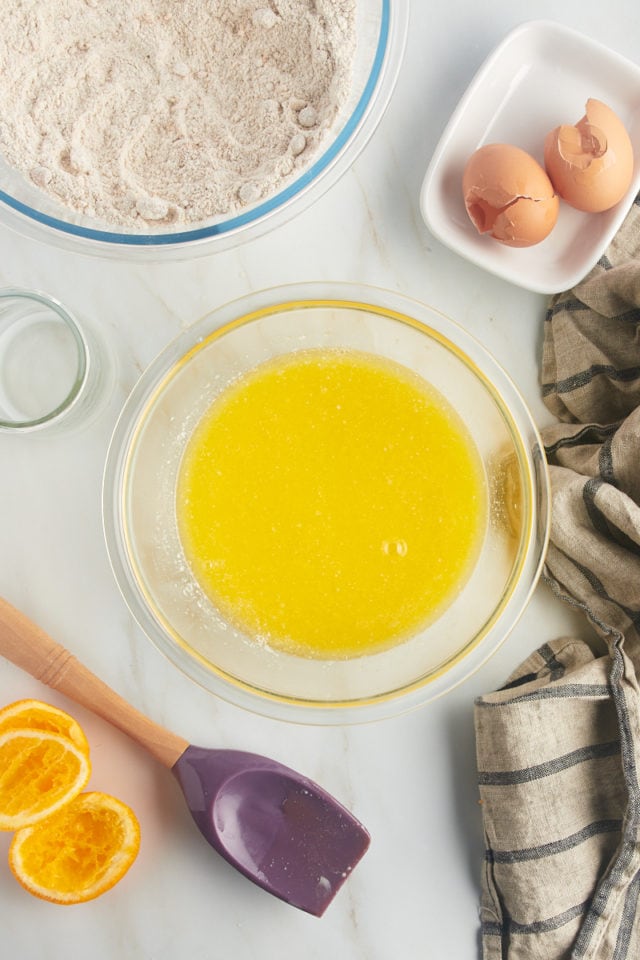 Mix the wet ingredients. Stir together the cooled butter, milk, eggs, and orange juice. It's fine if this doesn't make a smooth mixture.
Add the wet ingredients to the dry ingredients. Add the butter mixture to the well in the flour mixture. Stir just until combined or a few small streaks of flour remain.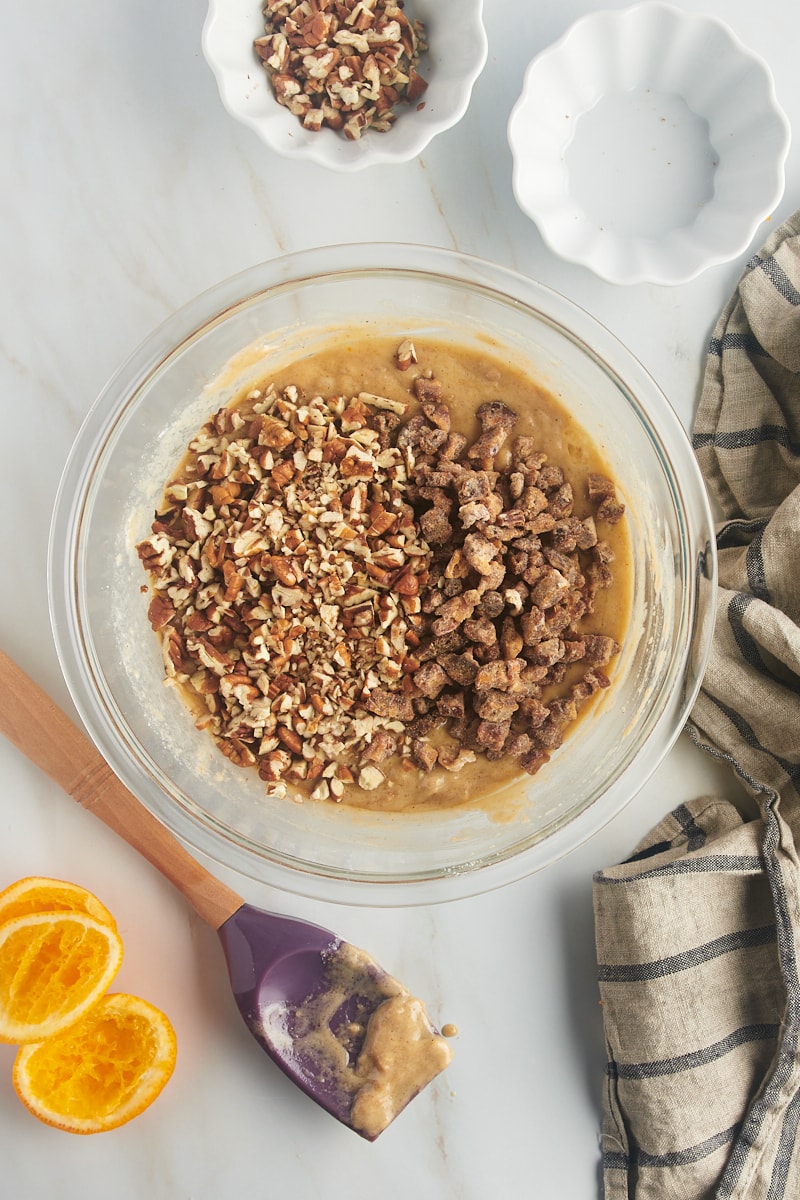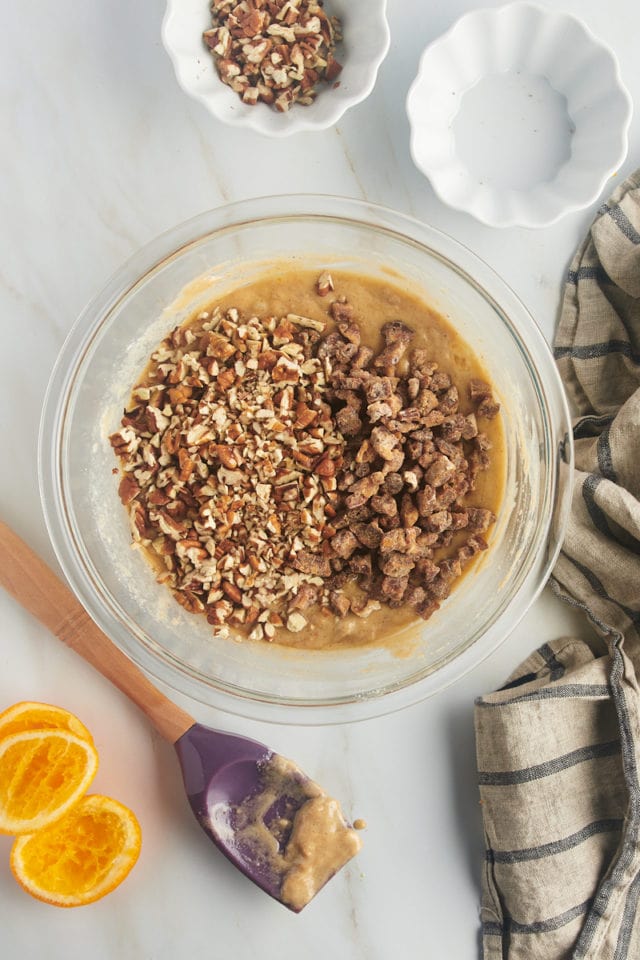 Finish mixing. If you like, save some of the nuts for topping the muffins. Add the dates and nuts, stirring just until combined.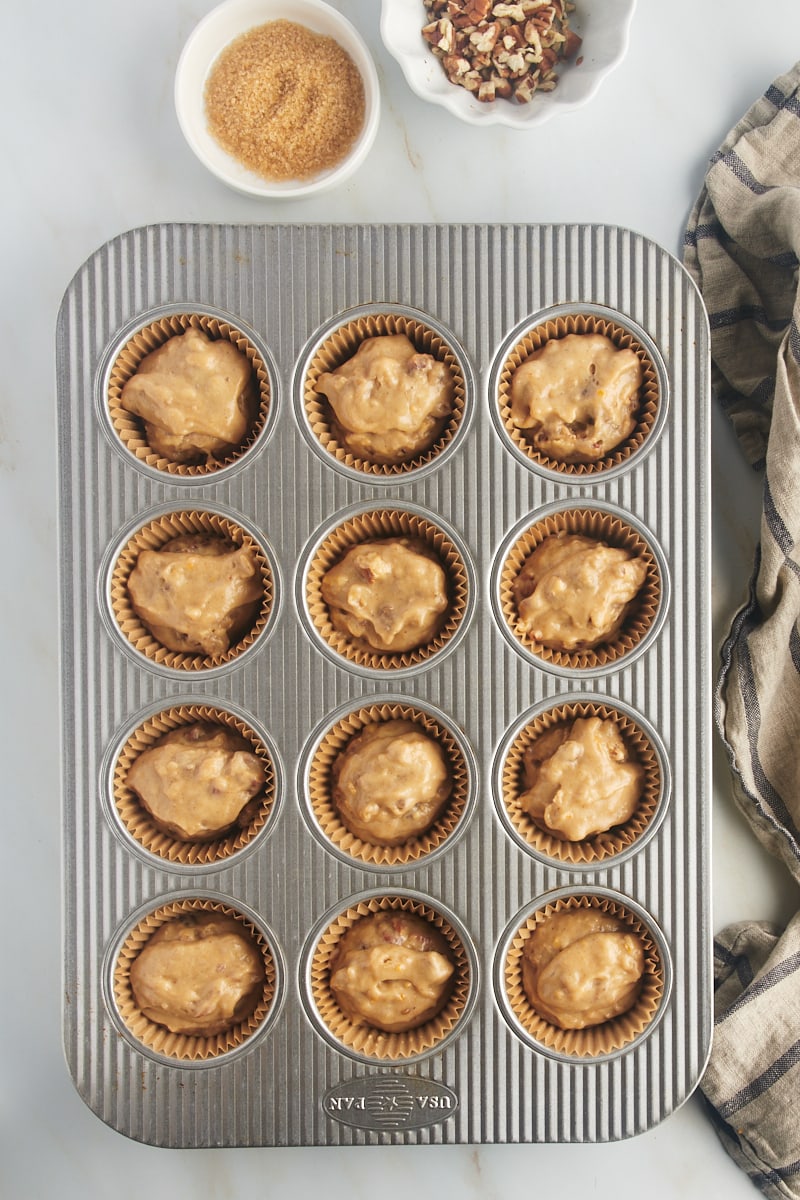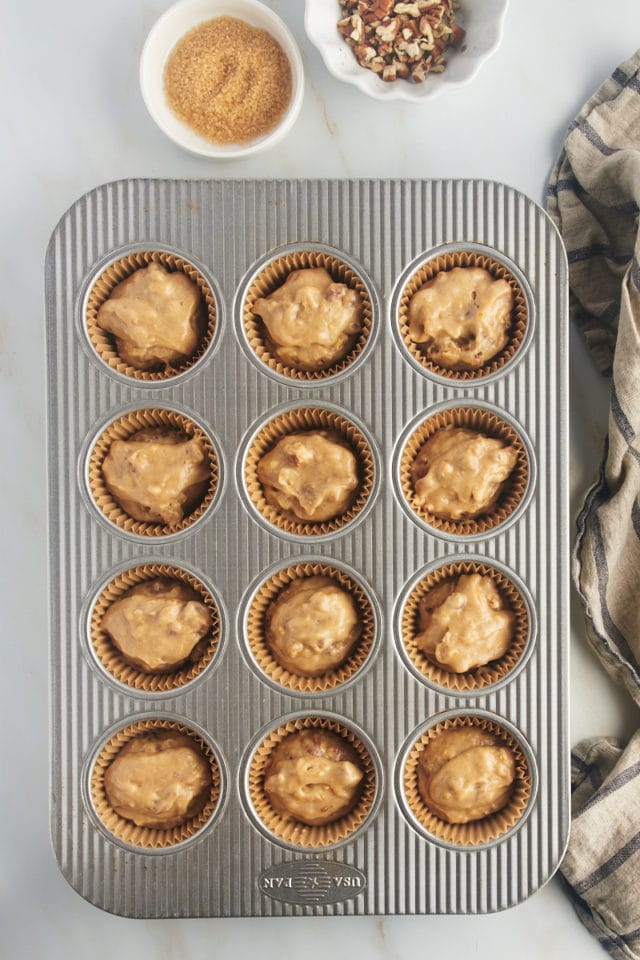 Portion. Divide the batter evenly among the muffin cups, filling them about 3/4 full. You'll use about 3 tablespoons of batter in each cup. If you reserved any nuts, sprinkle them on top of the batter now. Add a pinch of coarse sugar to the top of each muffin if you like.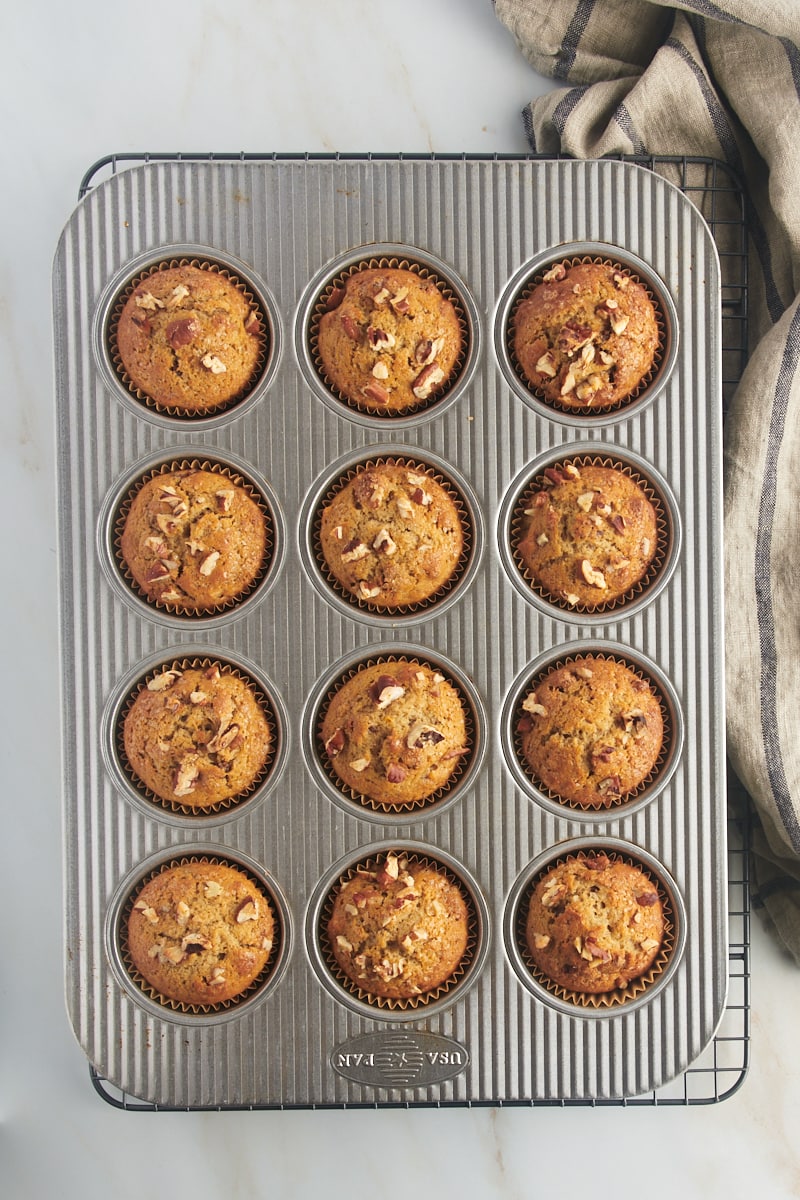 Bake. Place the pan in the heated oven, and bake for 16 to 20 minutes. The muffins should be browned and a pick inserted into the center should come out clean.
Cool. Place the pan on a wire rack, and allow the muffins to cool for 10 minutes. Then transfer the muffins from the pan to a wire rack to cool completely.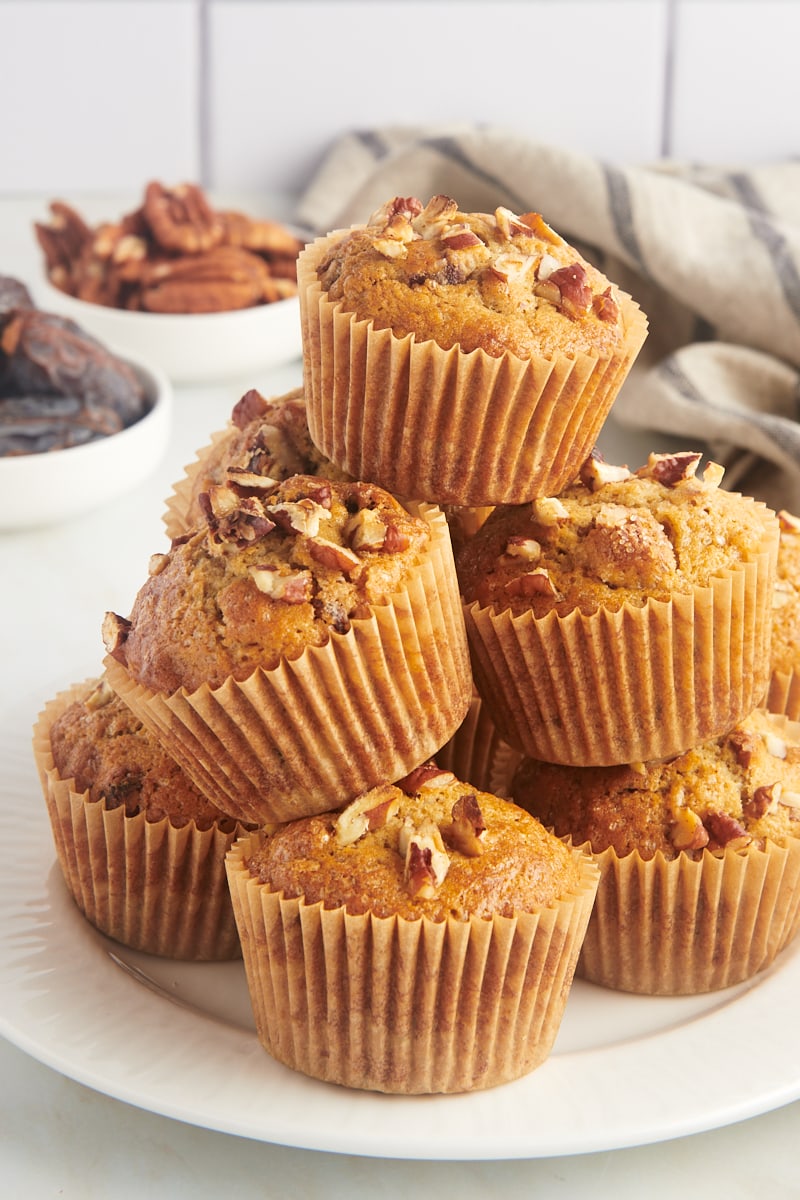 Tips for Success
Read through my tips for baking muffins, and then follow these additional tips to make sure your date nut muffins turn out perfectly!
Use a light-colored metal pan. Your muffins will bake more evenly and thoroughly.
Don't over-mix. Too much mixing leads to tough muffins. Stir only as much as needed – a few small streaks of flour in the batter are fine.
Use a scoop. Portioning the dough with a scoop helps make sure all your muffins are equal in size so that they bake evenly. For these and most muffins, a 3-tablespoon scoop works well.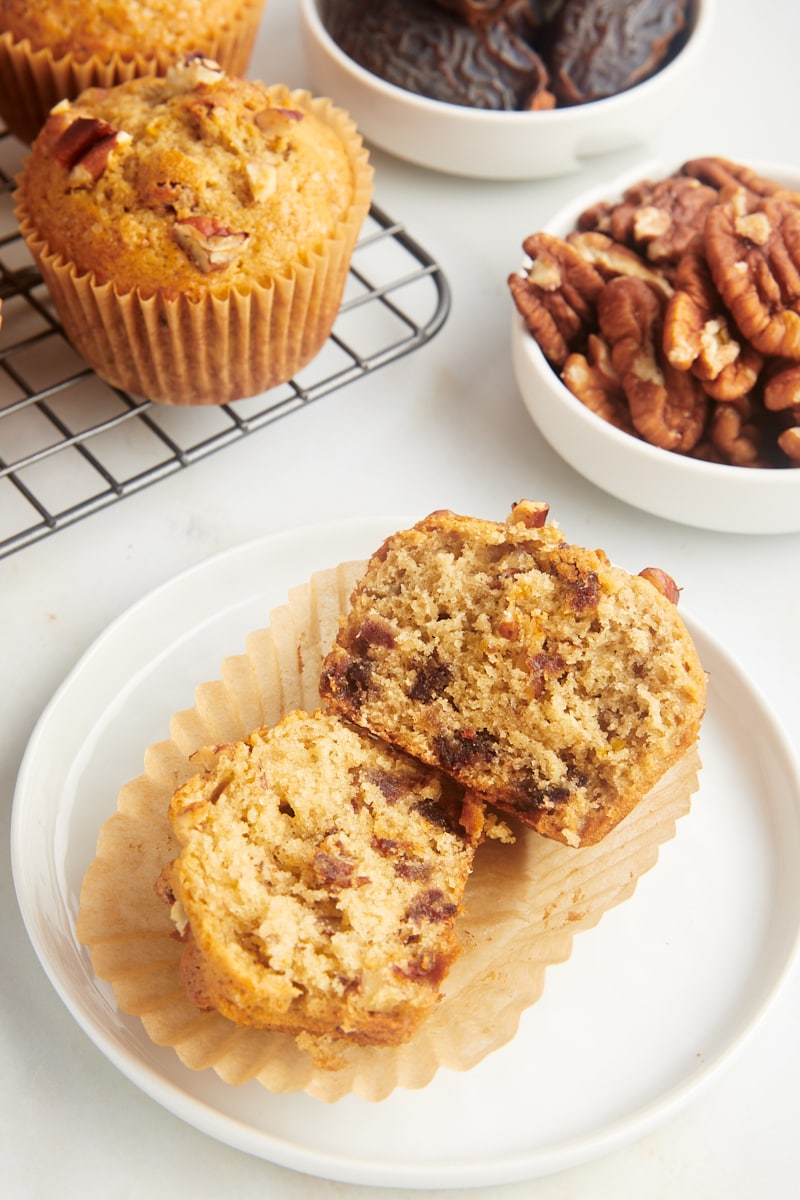 Ideas for Variations
As long as you keep the quantities the same, you can easily make some substitutions in this muffin recipe. If you aren't a fan of nuts, you can omit them or add more dates or a different dried fruit in their place. Dried cranberries or dried currants pair well with dates. You can even use a combination of dried fruits instead of just dates. Try using lemon zest and juice in place of the orange, or omit the citrus and use a teaspoon of vanilla or almond extract.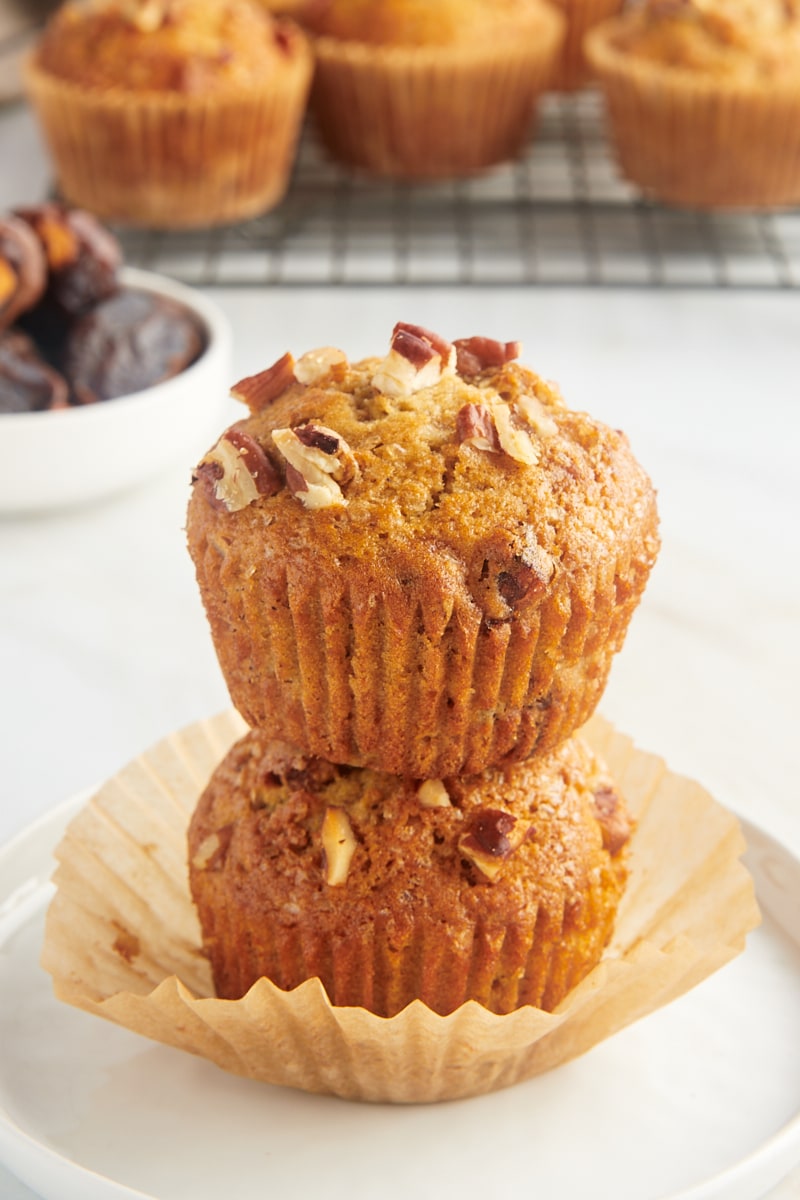 How to Store
After the muffins have cooled completely, place them in an airtight container. They should keep at room temperature up to 3 days.
Can These Muffins Be Frozen?
Yes, these muffins freeze quite well. Place the cooled muffins in an airtight container or bag that's freezer-safe. If you like, first wrap each muffin in plastic wrap. This provides an additional layer of protection and also makes it easy to grab one at a time from the container. Thaw at room temperature or warm briefly in the microwave for serving.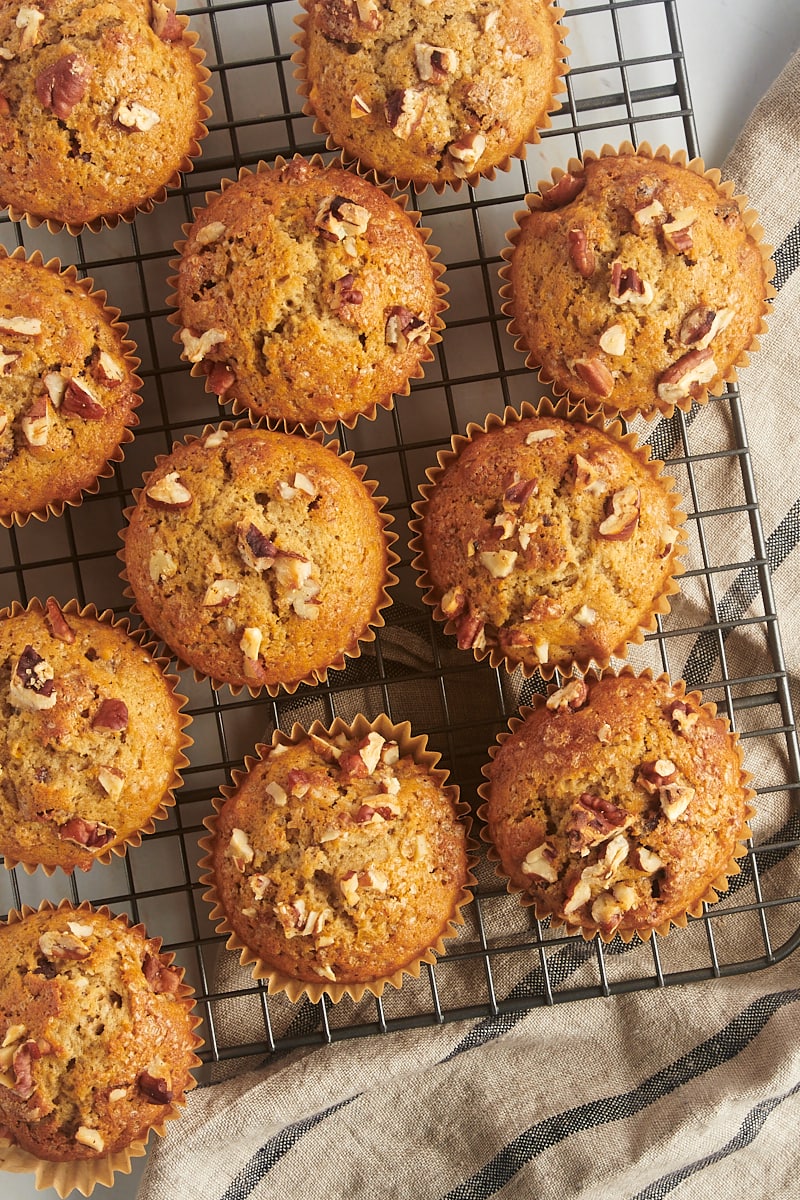 More Date Recipes