Packed with savory herbs and spices, fluffy Herb Cloverleaf Rolls make a flavorful side for any hearty meal. These dinner rolls pair so well with Italian dishes and make a great addition to any Thanksgiving spread.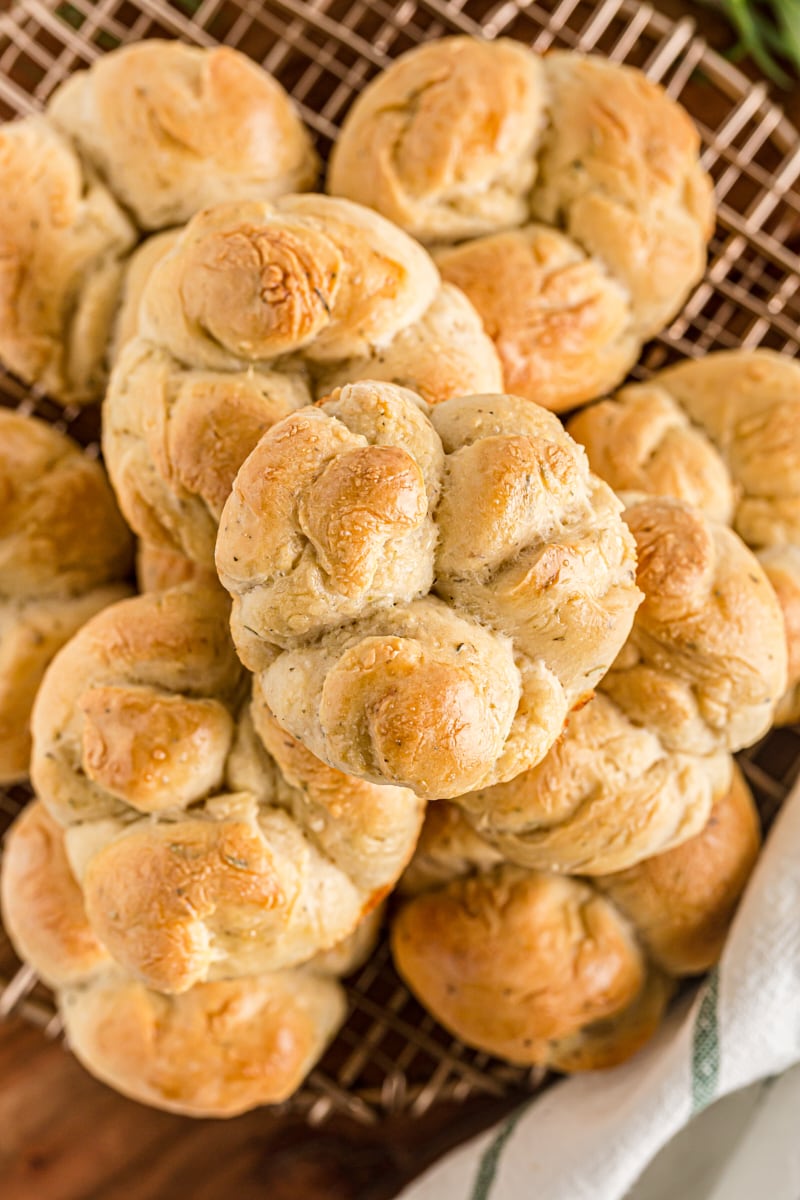 Buttery Homemade Dinner Rolls
These soft dinner rolls are perfect for soaking up the last of the sauce from your entree. Rosemary, thyme, and oregano all come together in a flavorful blend of seasonings, and the bread is soft, pillowy, and so satisfying to sink your teeth into. The flavors are balanced perfectly, bringing depth and complexity to a classic dinner roll dough.
I love to serve these rolls with Italian food. The herbs really complement the bold flavors in pastas and other Italian dishes. And with these dinner rolls there to sop it up, not a single drop of bright and savory tomato sauce will go to waste.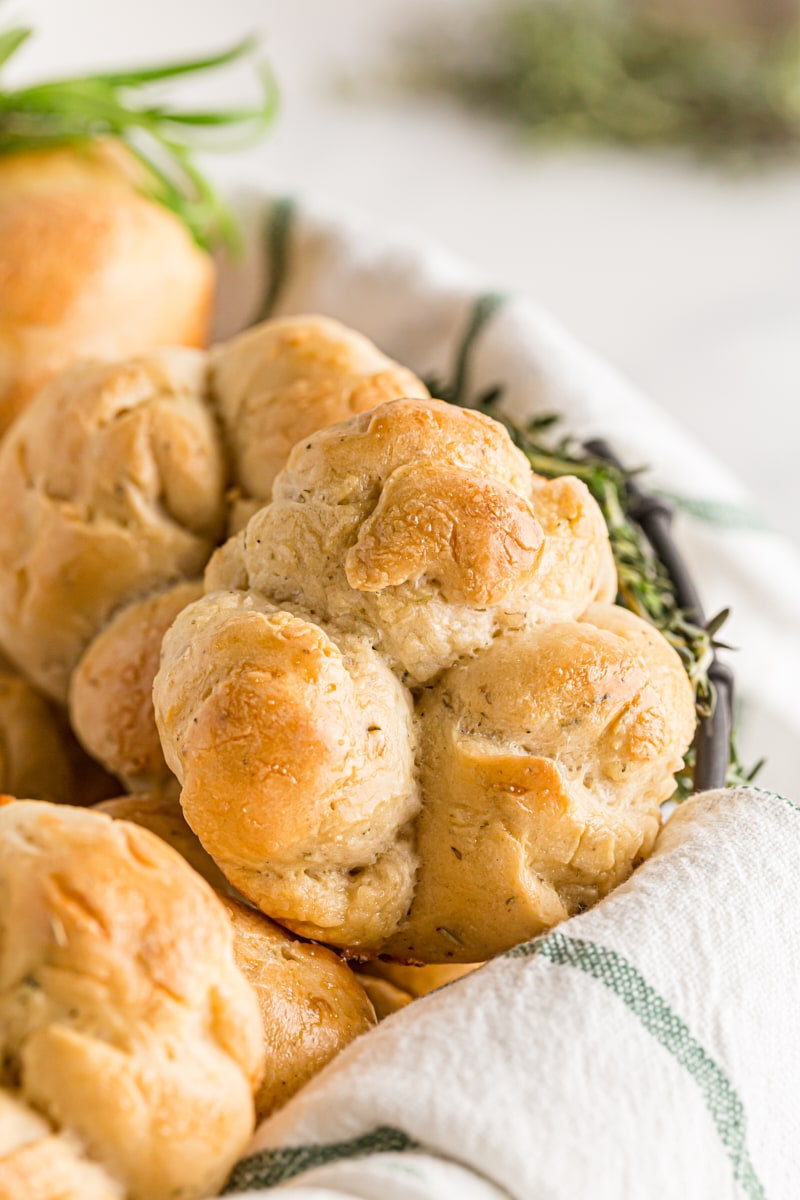 What Is a Cloverleaf Roll?
A cloverleaf roll is less about the ingredients that go into it and more about the shape. Since each of these dinner rolls has 3 sections that rise outward from the center, they share an obvious resemblance with a 3 leaf clover. This presentation makes the rolls prettier, and also makes them easier to break apart into smaller sections for dunking in soups or soaking up sauces.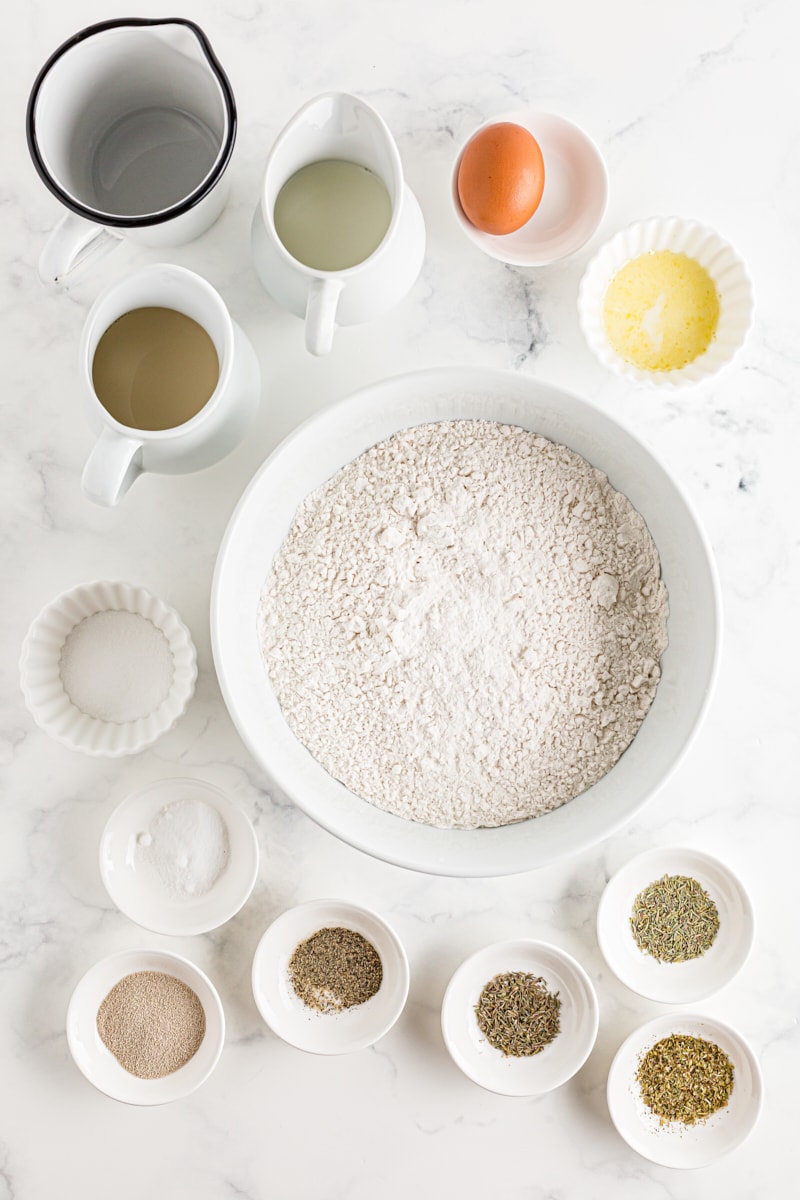 Recipe Ingredients
These dinner rolls are packed with flavorful herbs and seasonings. Scroll down to the printable recipe card to find the exact amounts you'll need for everything.
Dry yeast
Granulated sugar
Warm water: A good temperature range is 105-115°F for the yeast to activate.
Milk: Whole, 2%, or 1% will work.
Evaporated milk: Regular or skim.
Bread flour: Or all-purpose flour, divided.
Unsalted butter: Melted.
Salt
Dried rosemary
Dried thyme
Dried oregano
Black pepper: I prefer freshly ground, since it has a stronger flavor.
Water
Egg white: Lightly beaten.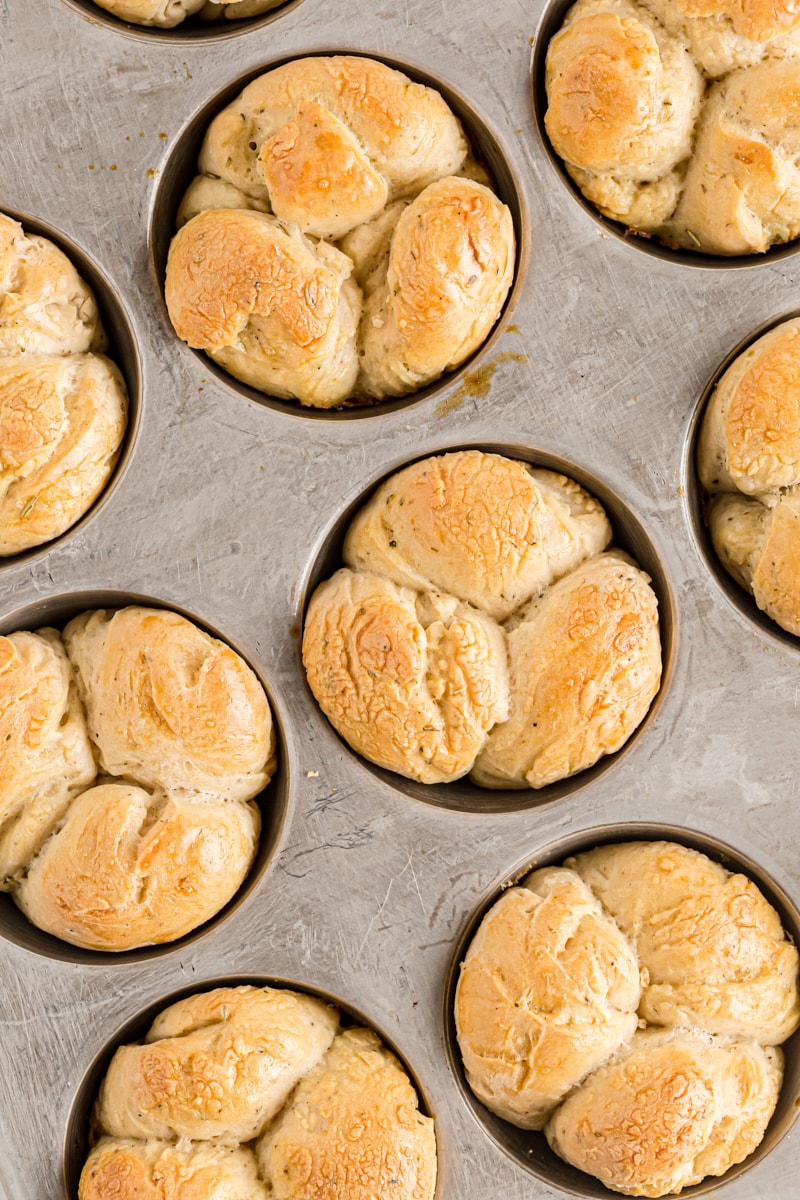 How to Make Herb Cloverleaf Dinner Rolls
A lot of the time that goes into these dinner rolls is spent letting the yeast do its thing. With only 20 minutes of active prep, you'll have plenty of time to kick back while you wait.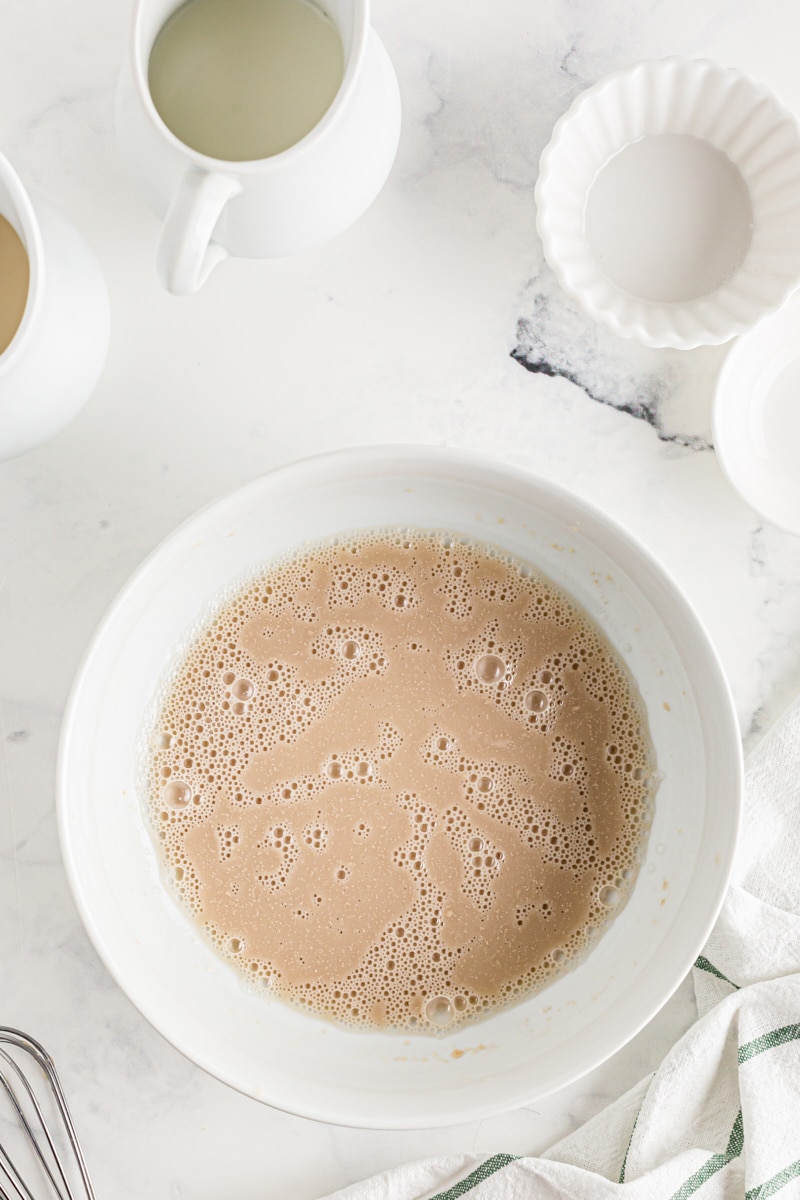 Make the dough. Dissolve the yeast and sugar in the warm water. Let the yeast stand for 5 minutes, then stir in the milk and evaporated milk. Add 3 cups of the flour, melted butter, salt, rosemary, thyme, oregano, and pepper. Stir it all together until everything is fully blended.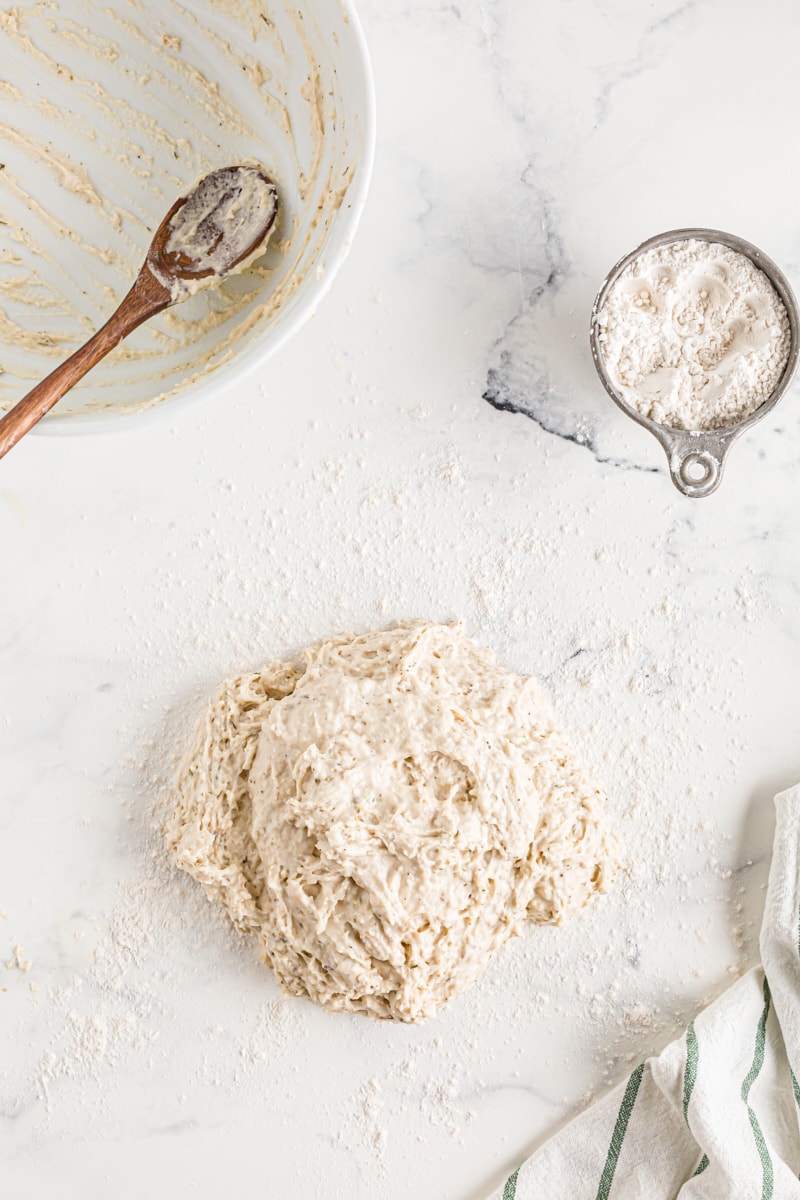 Knead the dough. Place the dough on a lightly floured surface. Knead it until it smooths out and turns elastic, which should take about 10 minutes. Add more flour, about a tablespoon at a time, until the dough doesn't stick to your hands.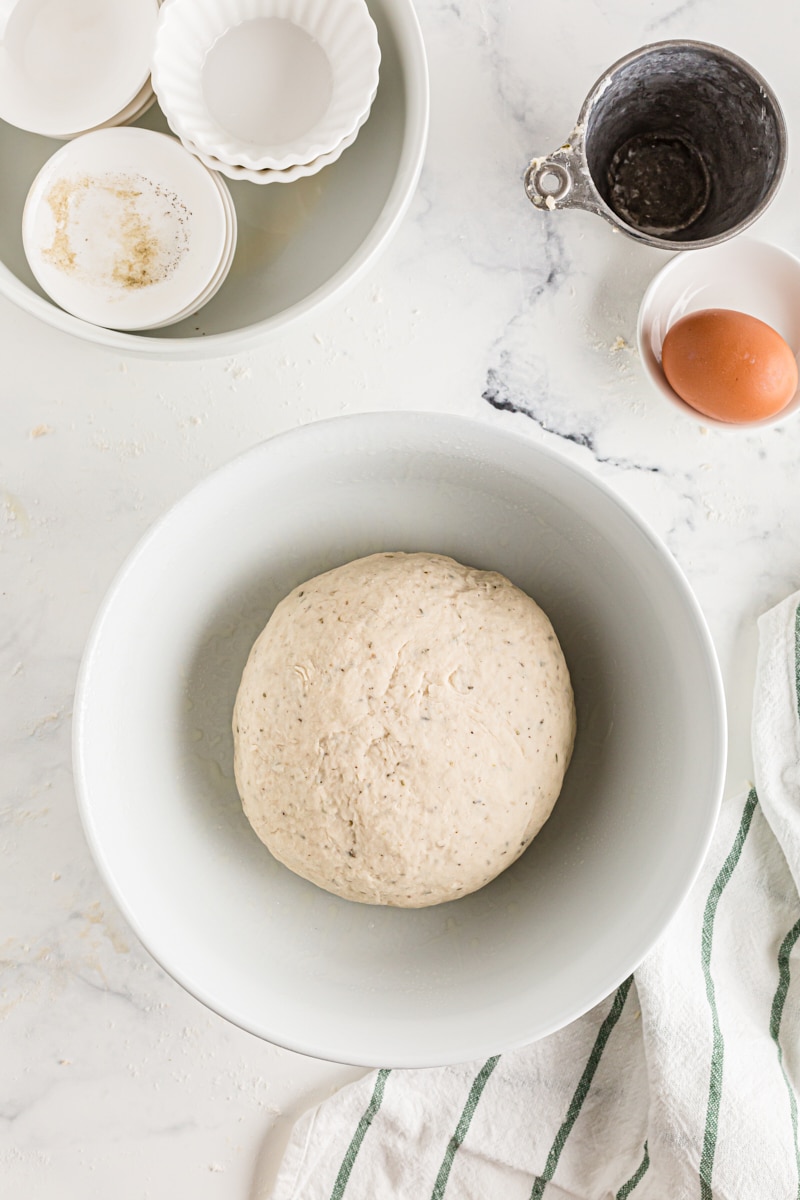 Let the dough rise. Place the dough in a large bowl coated with cooking spray. Turn the ball of dough so it's coated with the cooking spray. Cover the bowl and let the dough rise in a warm place (about 85°F) for 1 hour, or until it doubles in size.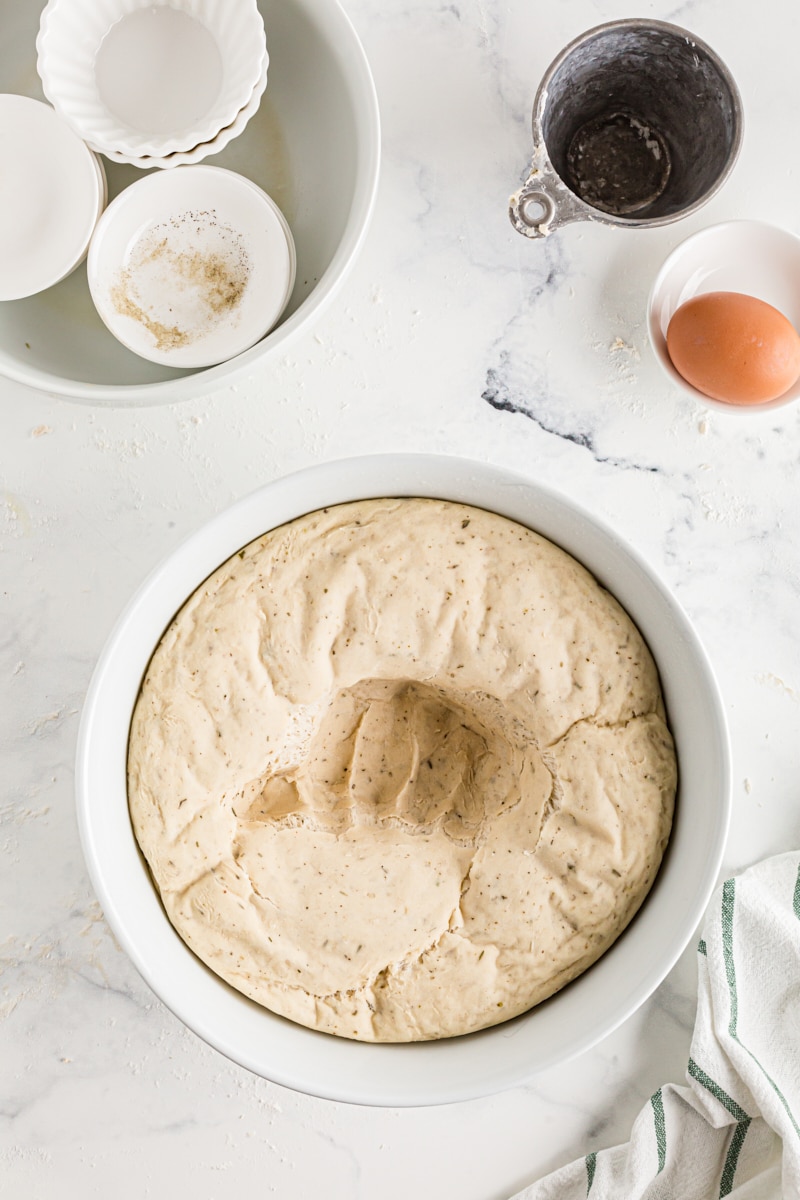 Separate the dough. Punch down the dough to get some of the air out and cover it. Let it rest for around 10 minutes. After that, coat 18 cups from a few standard muffin pans with cooking spray and divide the dough into 18 roughly equal portions.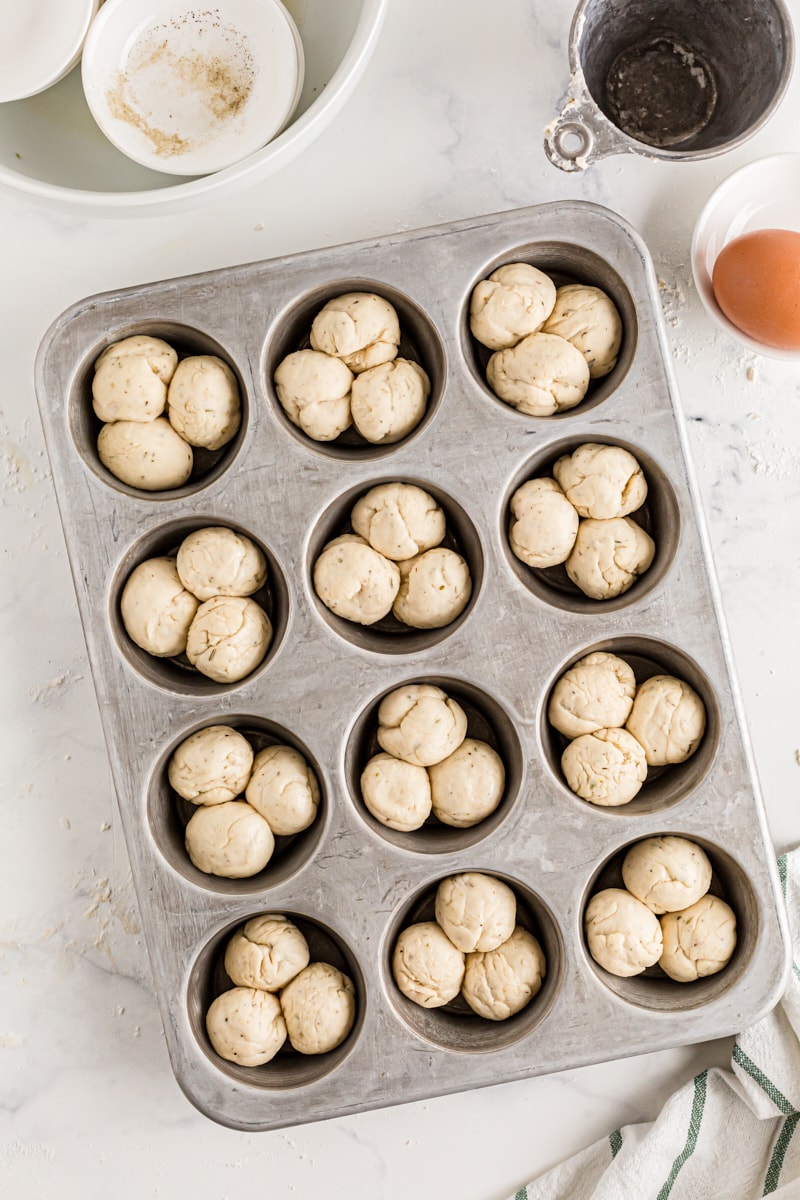 Divide the dough balls. Taking one portion of the dough at a time, divide each portion into 3 pieces and shape each piece into a ball. Place the 3 dough balls into each muffin cup so that each one touches the bottom. Repeat this step with the remaining dough. Cover the pans and let the dough rise in a warm place for 30 minutes or until it doubles in size.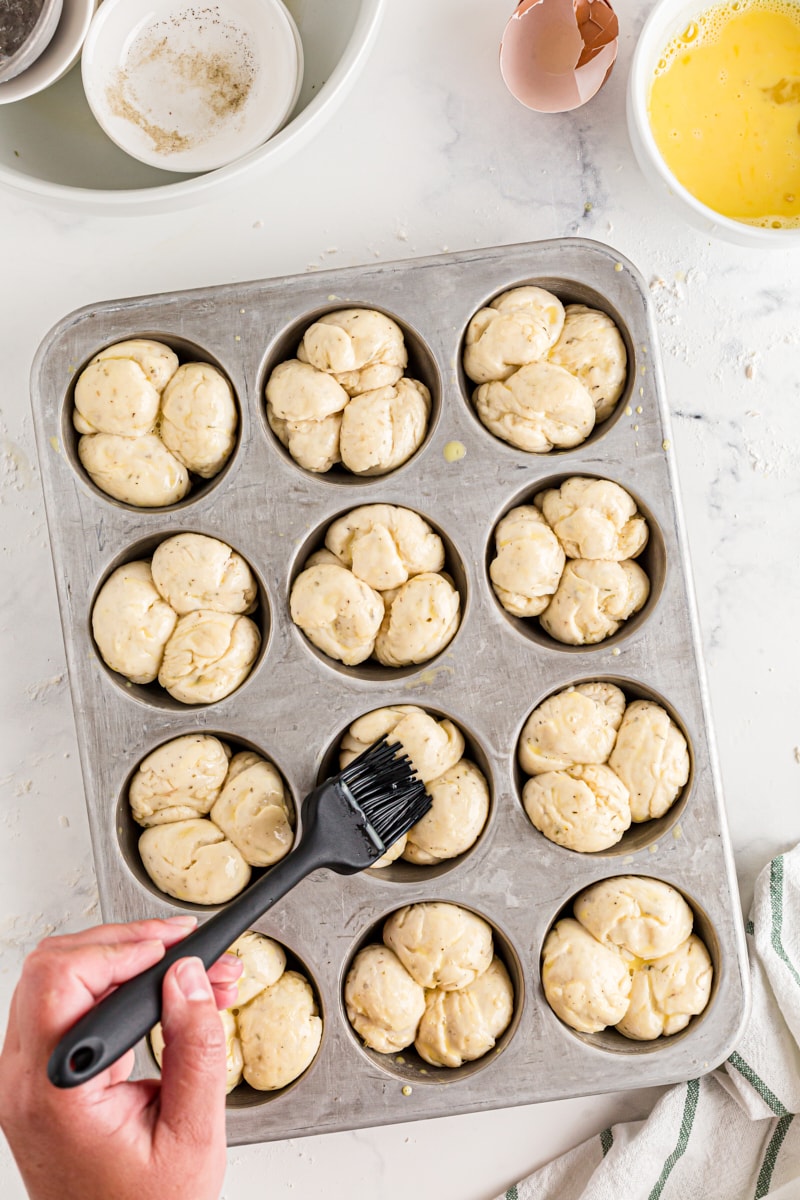 Prep for the oven. Preheat the oven to 350°F. Combine the water and egg white in a small bowl, and mix them together. Brush the mixture over the tops of the dough.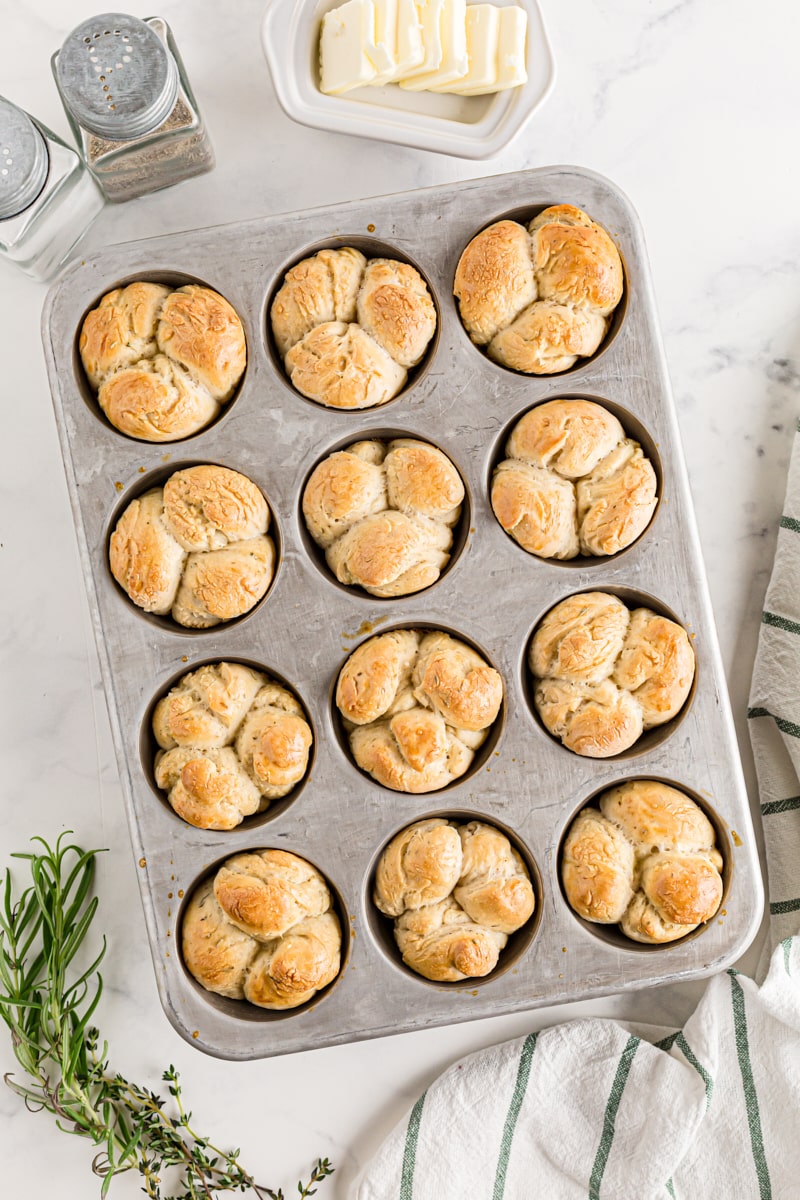 Bake and serve. Bake your dinner rolls for 20 minutes, or until the tops turn golden brown. Take them out and let them cool in the muffin tins until they're cool enough to remove, then serve them warm.
Can I Make the Dough in Advance?
Absolutely! The dough for these dinner rolls can be refrigerated for up to 24 hours without a problem. The best time to refrigerate them is after you've set them up in the muffin tin but before you add the egg wash. Just make sure you cover them tightly with plastic wrap before you stick them in the refrigerator. When you take them out, give them some extra time to rise, and then follow the recipe as you normally would.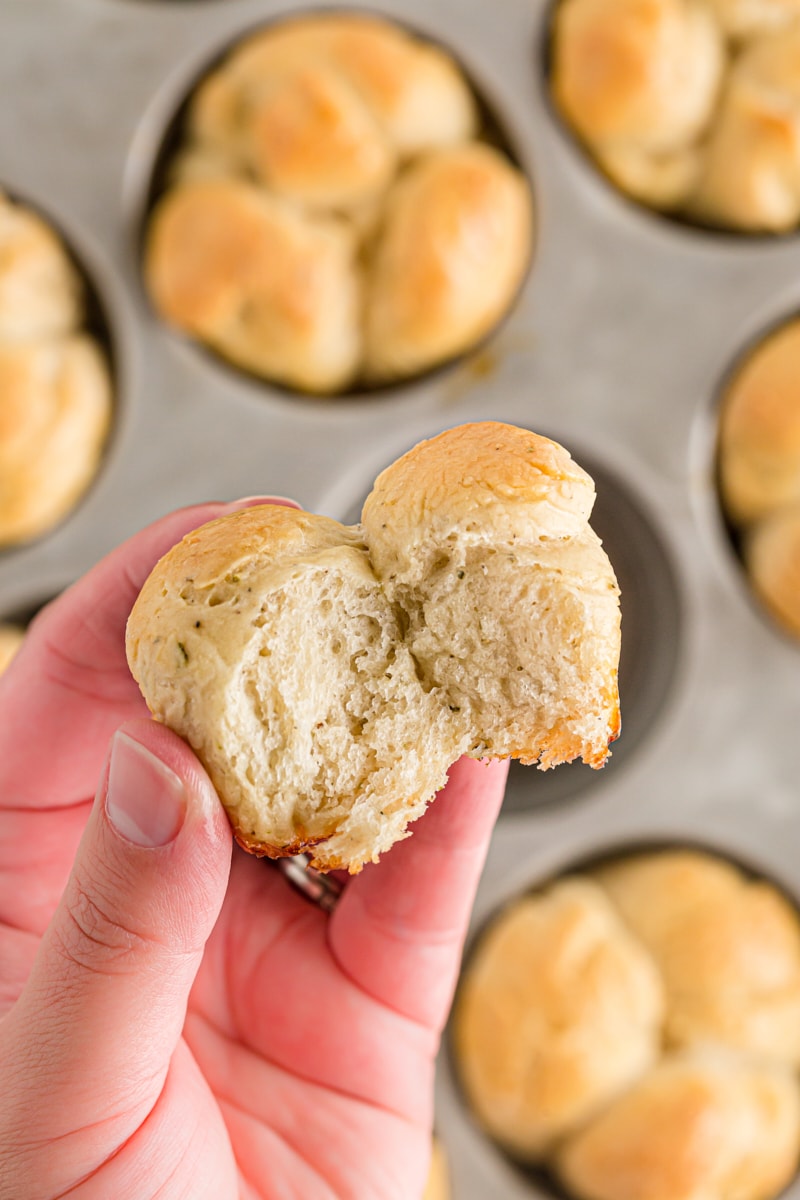 Tips for Success
With only 7 steps, these dinner rolls are super easy to make. Follow these quick tips so that everything goes smoothly.
Try a shortcut. A lot of recipes call for hand kneading, but it's perfectly fine to leave all the hard work to the tools you have around your kitchen. Instead of kneading by hand for 10 minutes, I sometimes let my stand mixer with its trusty dough hook do all the work, and it turns out great.
Add flour as needed. During the kneading process, up to another cup of flour can be added, a tablespoon at a time, to keep the dough from being sticky. The dough should be smooth and not tacky by the time you're done kneading.
Cover the dough. While you're separating the dough, and later dividing and shaping it into smaller balls, make sure to cover the remaining dough to keep it from drying out. You can use plastic wrap or even a clean dish towel.
Weigh the dough. To make separating the dough simpler and to make your rolls evenly sized, weigh the dough in grams and divide that number by 18. Then weigh each portion of dough according to that number.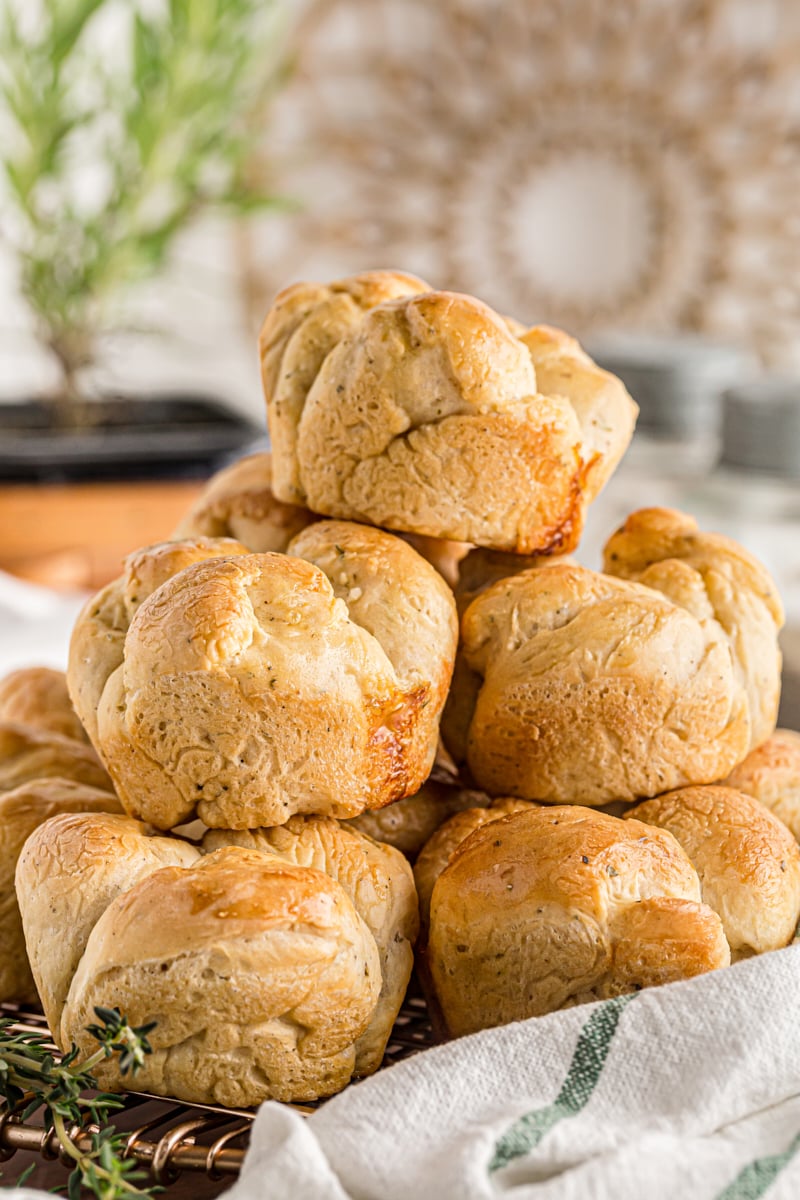 Variation Ideas
It's really easy to make variations to these rolls. Here are some ideas to help you shake things up.
Lose the herbs. If you're not a fan of the flavors in these rolls, feel free to leave one or all of the seasonings out. The base dough is just as good in a plain roll.
Change the herbs. Whether you don't care for the seasoning in these rolls or they just don't go with the entree you're making, go ahead and switch up the herbs you're using. You can choose other savory herbs, or go sweet with things like cinnamon, allspice, and cloves.
Make them cheesy! These rolls taste delicious with some cheese thrown on top. Just take them out around 3 minutes before the end of the baking time and cover the tops of the rolls with any shredded or grated cheese of your choice, then put them right back in the oven. This will give the cheese enough time to melt and crisp up without browning too much or burning.
Make garlic bread. Instead of cheese, you could top these dinner rolls with olive oil and minced garlic and turn them into garlic bread. You could even sprinkle some parmesan on top to make it cheesy garlic bread.
Skip the cloverleaf. If you need to save a little time, you can always skip dividing the rolls and just place them in the oven whole. Although the shape of these dinner rolls is where they get their name, it's not really a necessary step. They'll taste just as good either way.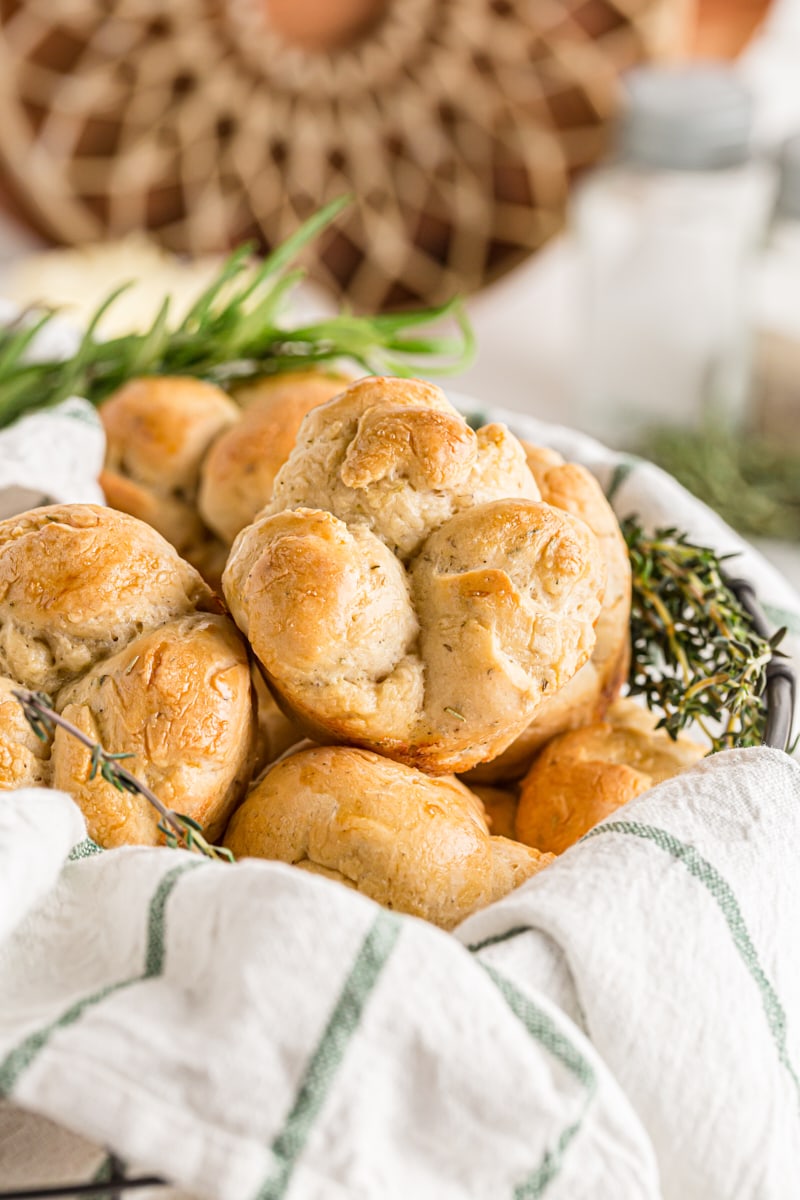 Serving Suggestions
Although I love serving these dinner rolls as a side, they're flavorful enough on their own to have as a snack between meals. When I make them as part of a meal, I love to serve them with saucy dishes so that I can use the rolls to soak up anything that's left over after I finish my main course. This works really well with dishes like pasta with tomato sauce and Thanksgiving turkey with gravy. They're also great for dunking in soups.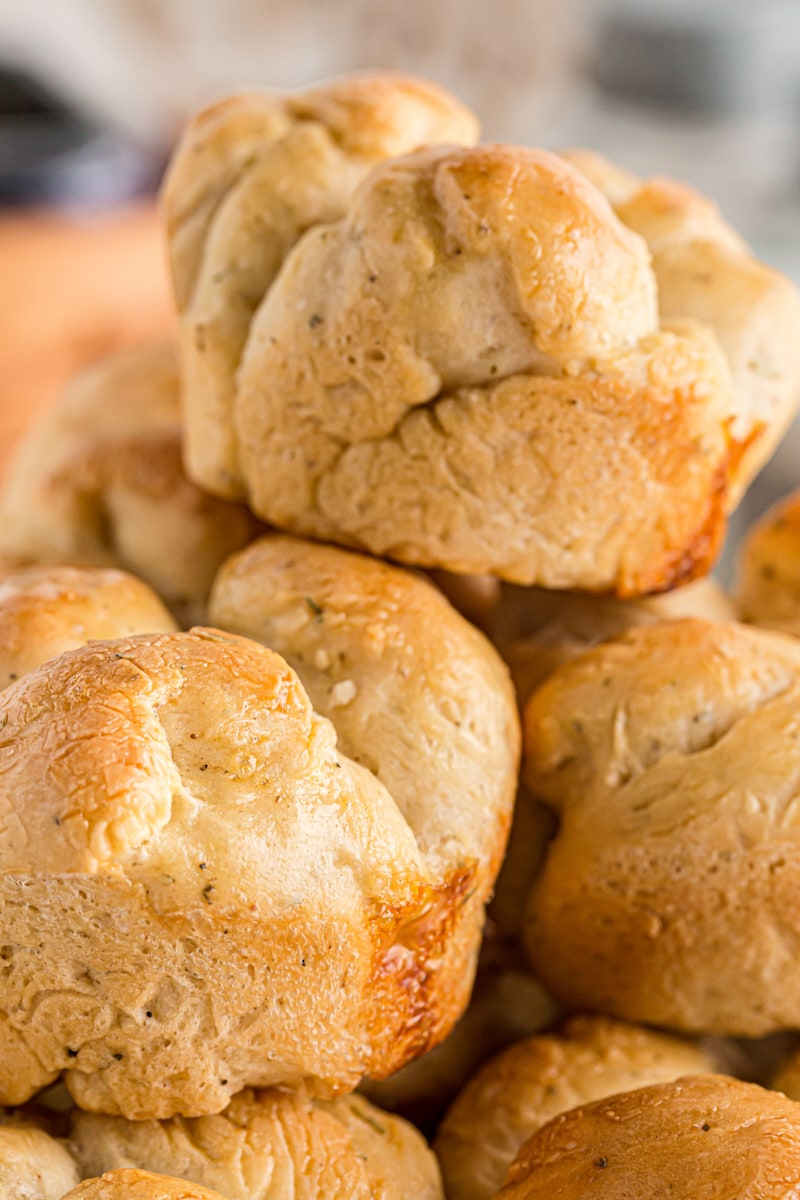 How to Store and Reheat Extras
These dinner rolls can be kept at room temperature in an airtight container for up to 3 days, or kept in the refrigerator for up to 5 days. Just make sure to seal them tightly. They taste best when they're warm, so go ahead and wrap them in foil and stick them in the oven for 10-15 minutes at 350°F to heat them up a little.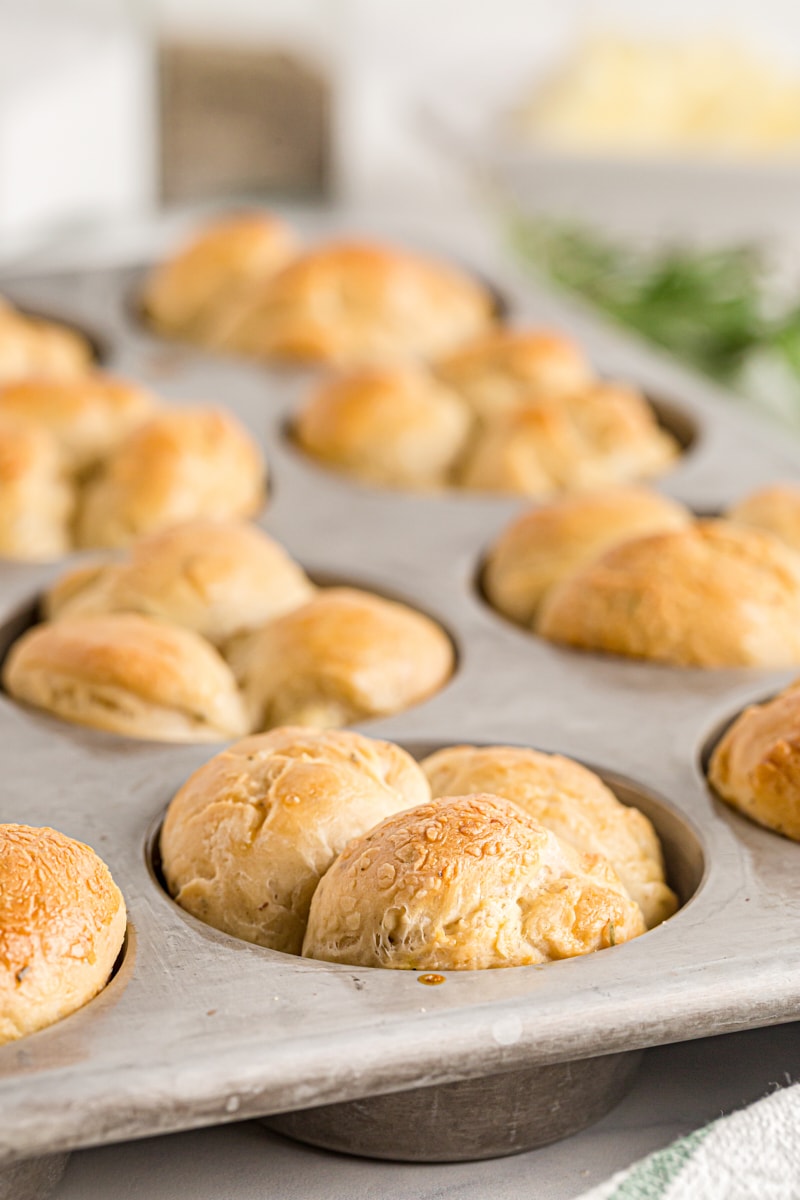 Do These Rolls Freeze Well?
You can freeze the dough before baking it or freeze the finished dinner rolls. When you're freezing the raw dough, make sure to do it after you've divided the rolls in the muffin pan but before you leave them out to expand again. You can freeze the dough balls directly in the muffin tray, then move them into a double-lock freezer bag for up to 1 month.
When you take them out, let them thaw fully on the counter. Let the raw rolls rise before baking them. Wrap the baked ones in foil and reheat them in the oven.
More Crowd-Pleasing Sides to Try