These homemade oatmeal cream pies are made with soft, chewy oatmeal cookies sandwiched around a rich vanilla cream. If you grew up eating Little Debbie snack cakes, this simple recipe is going to bring back memories!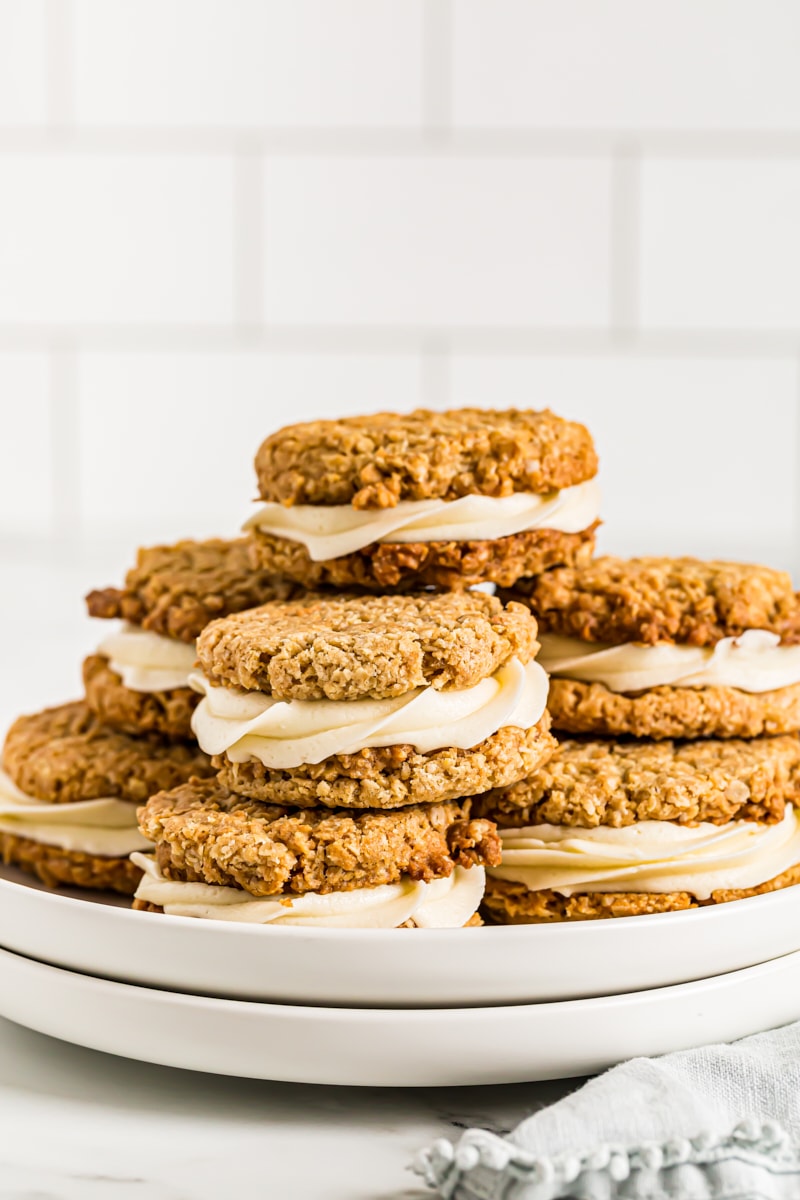 Homemade Oatmeal Cream Pies
My grandmother's kitchen always had a box of oatmeal cream pies. They were those store-bought kind by Little Debbie with the thin, soft oatmeal cookies sandwiched around a sweet filling. Eating these was such a childhood treat!
I somehow never really thought about trying to make them myself, then one day I had a nostalgic craving for these and decided to go for it. The result? Soft and chewy oatmeal cookies with a hint of cinnamon and a creamy vanilla filling. And as it turns out, these oatmeal cream pies were super simple to make!
Fair warning: you may never go back to store-bought once you learn how to makes these yourself. Sorry Little Debbie!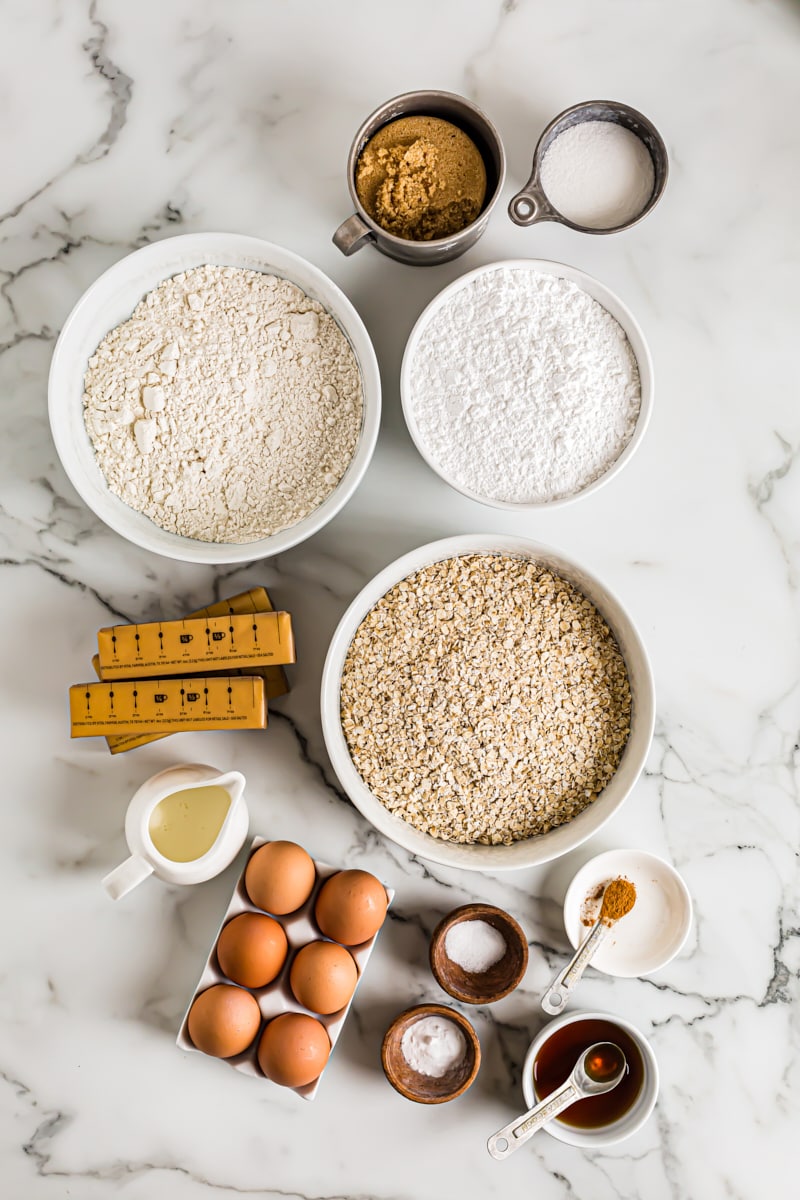 What You'll Need
Here's a brief overview of what you'll need to make these oatmeal cream pies. Be sure to scroll down to the recipe card below for specific amounts.
For the cookies:
All-purpose flour – Here's how to measure flour.
Baking soda
Salt
Ground cinnamon
Quick-cooking oats – These aren't the same as rolled or old-fashioned oats, so be sure to get the quick variety! Learn more: Rolled Oats vs Quick Oats
Unsalted butter – Let the butter soften for about half an hour before baking.
Light brown sugar
Granulated sugar
Egg – Your egg should be room temperature before starting the recipe.
Vanilla extract
For the filling:
Unsalted butter – Let the butter soften so it can be whipped into a smooth, velvety filling.
Confectioners' sugar
Heavy cream – Heavy whipping cream is fine here.
Vanilla extract
Are There Raisins in Oatmeal Cream Pies?
Raisin haters can rejoice: there are no raisins in this recipe for oatmeal cream pies! And raisin lovers, there's no need to despair because you can add a handful to the dough and fold them in before forming the cookies. Everyone wins!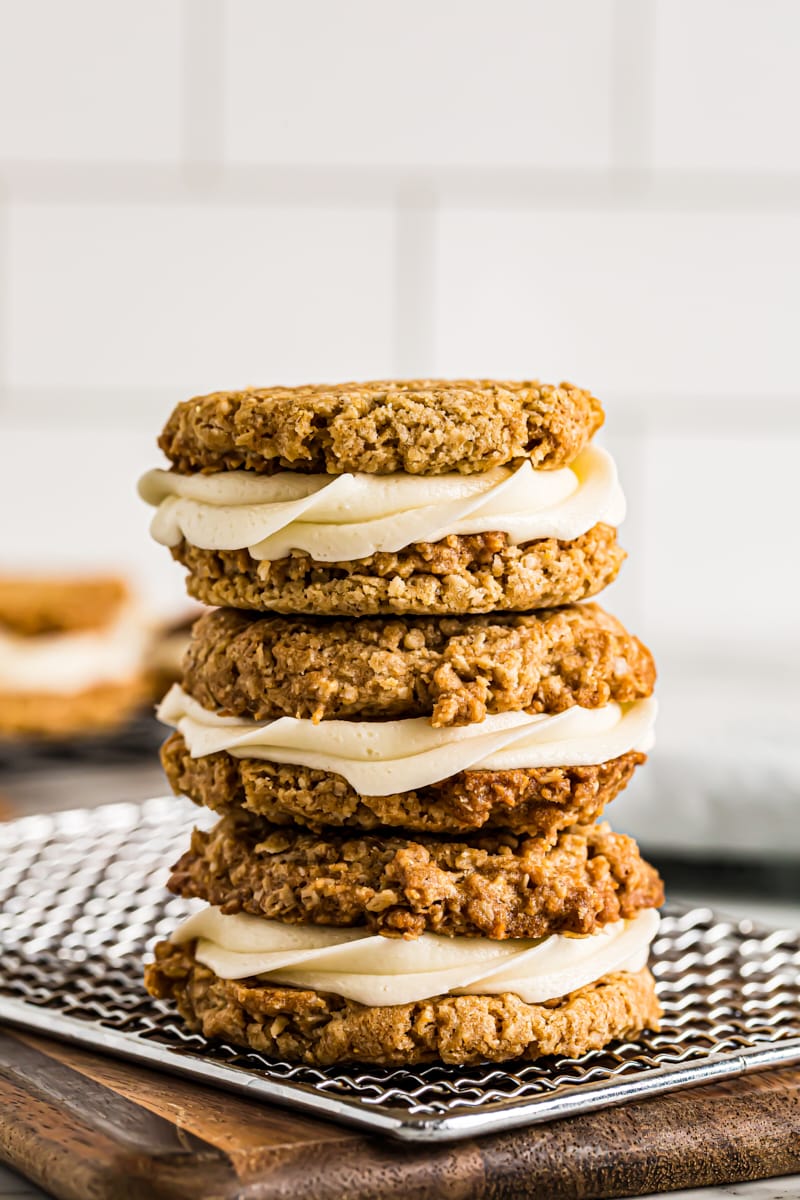 How to Make Oatmeal Cream Pies from Scratch
I know I mentioned that these are easy, but it bears repeating: they're really easy! Unlike many other sandwich cookie recipes, this one doesn't call for rolling out and cutting dough.
To make the cookies:
Prepare. Preheat your oven to 375°F and line baking sheets with parchment paper or silicone liners.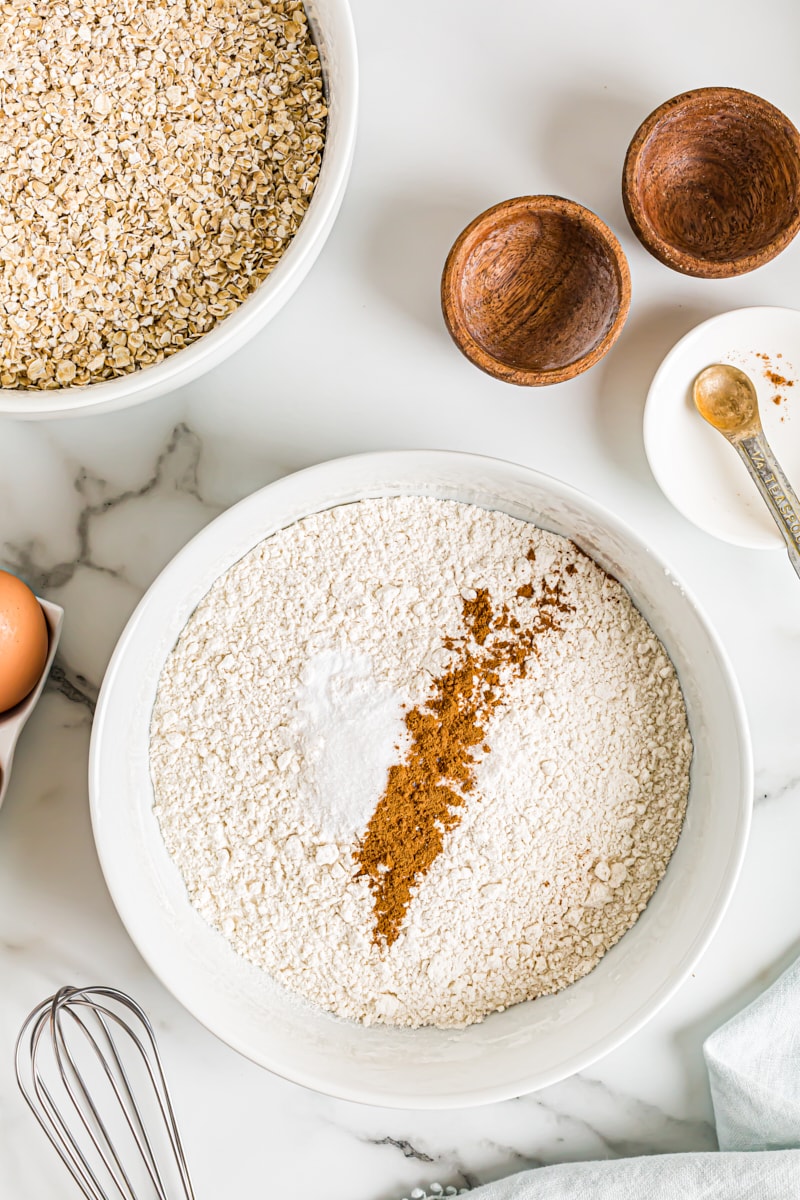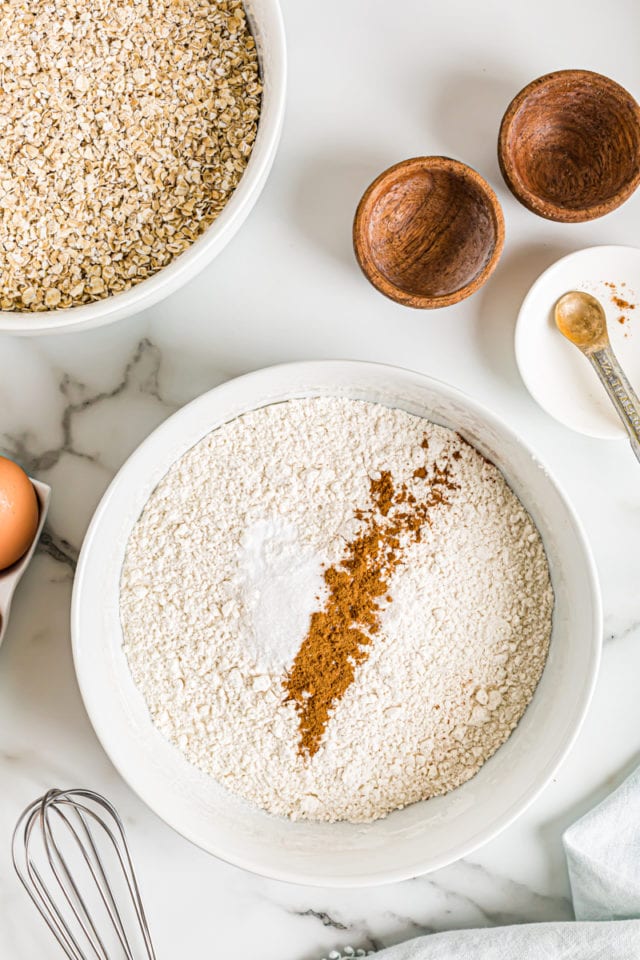 Mix the dry ingredients. Whisk the flour, baking soda, salt, and cinnamon in a mixing bowl and stir in the oats.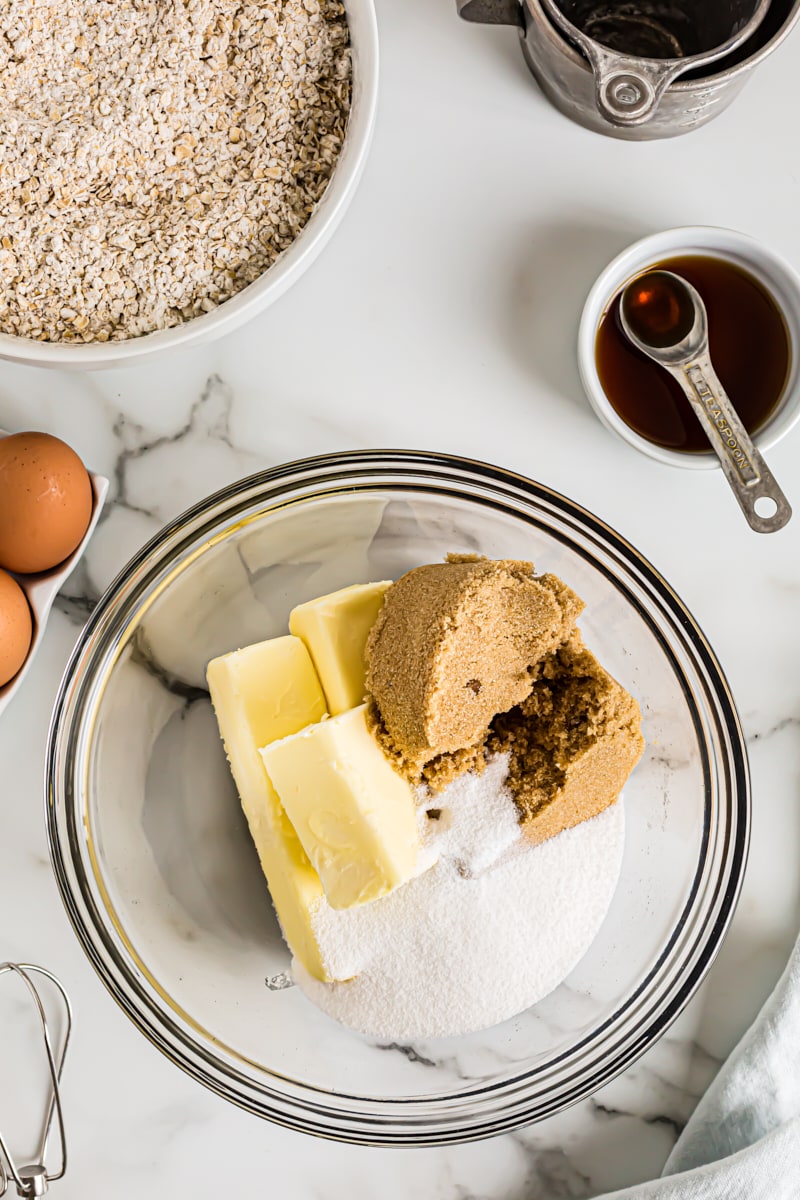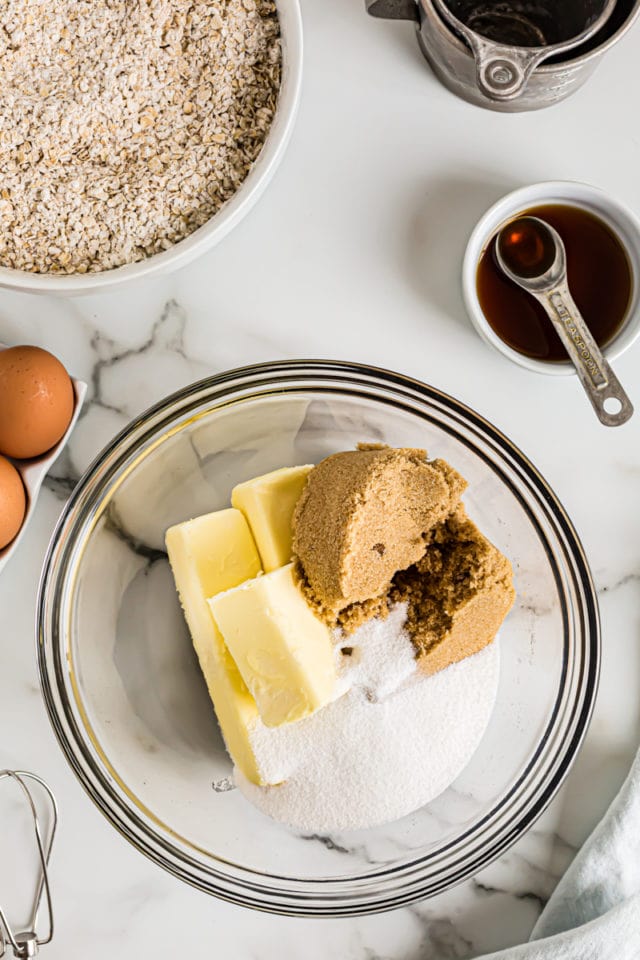 Mix the wet ingredients. Use an electric mixer to cream the butter, brown sugar, and sugar. Beat in the egg and vanilla.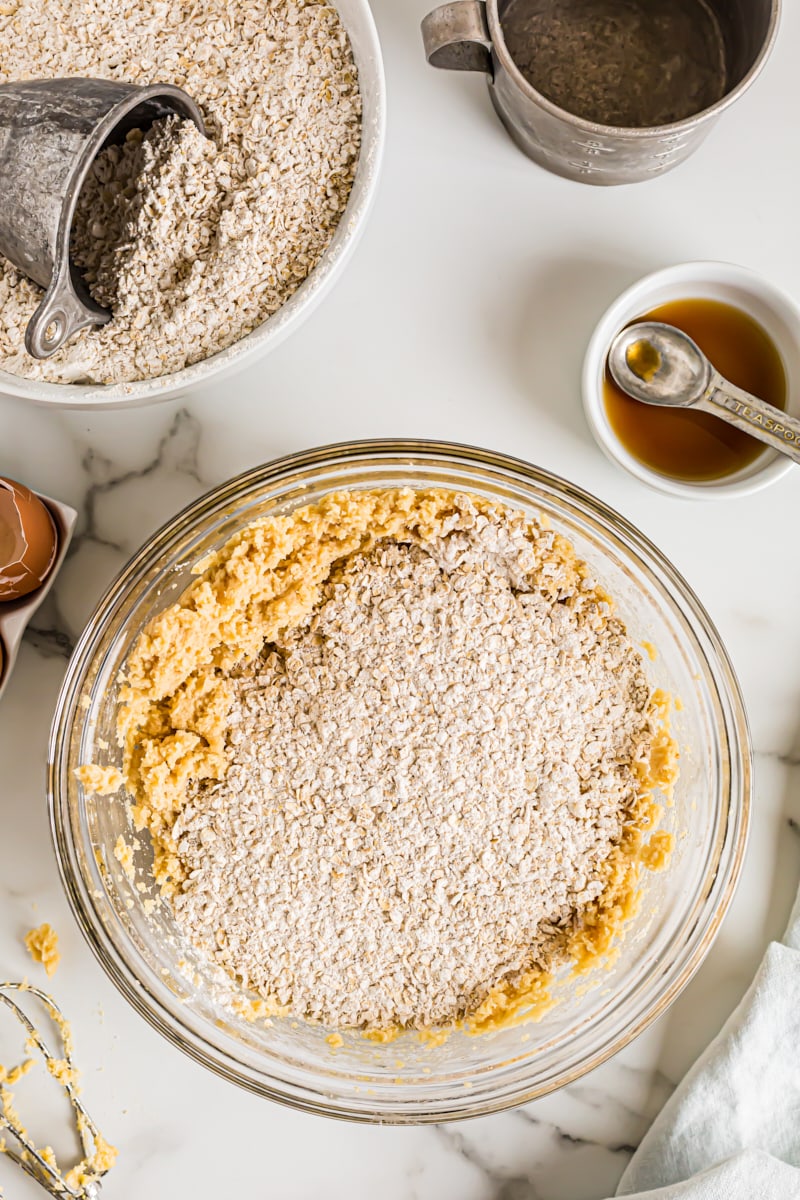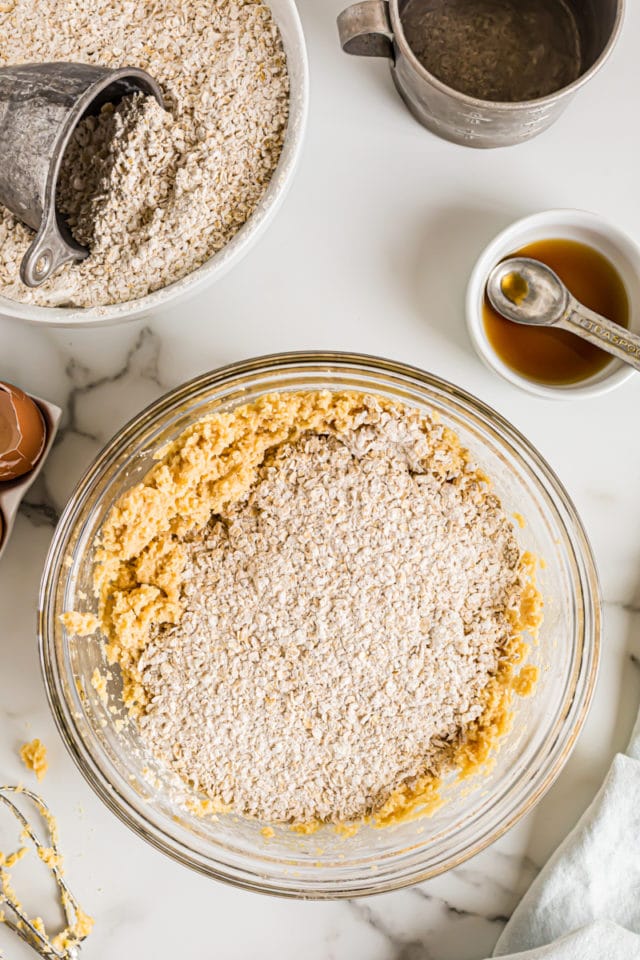 Combine the wet and dry ingredients. Slowly add the flour mixture to the wet mixture, stirring well until the ingredients are well-blended.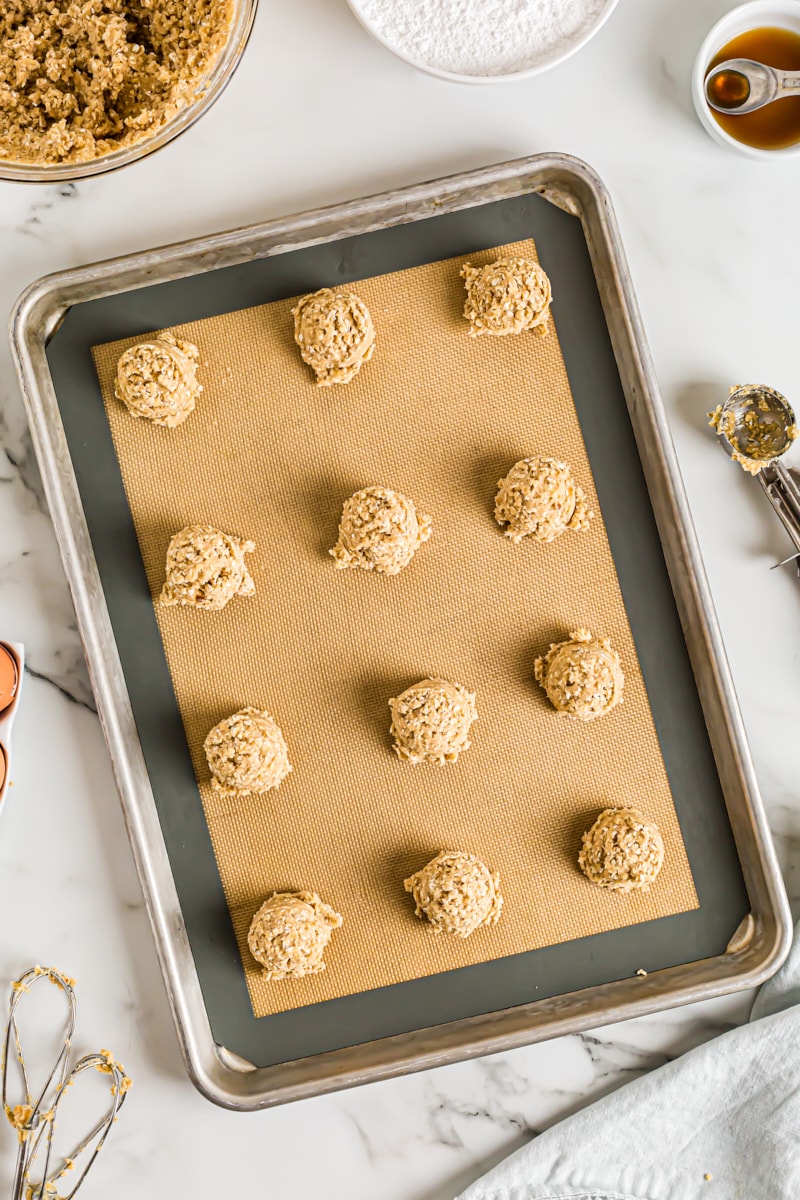 Form the cookies. Drop the dough by rounded tablespoonfuls onto the prepared baking sheets, about 2 inches apart.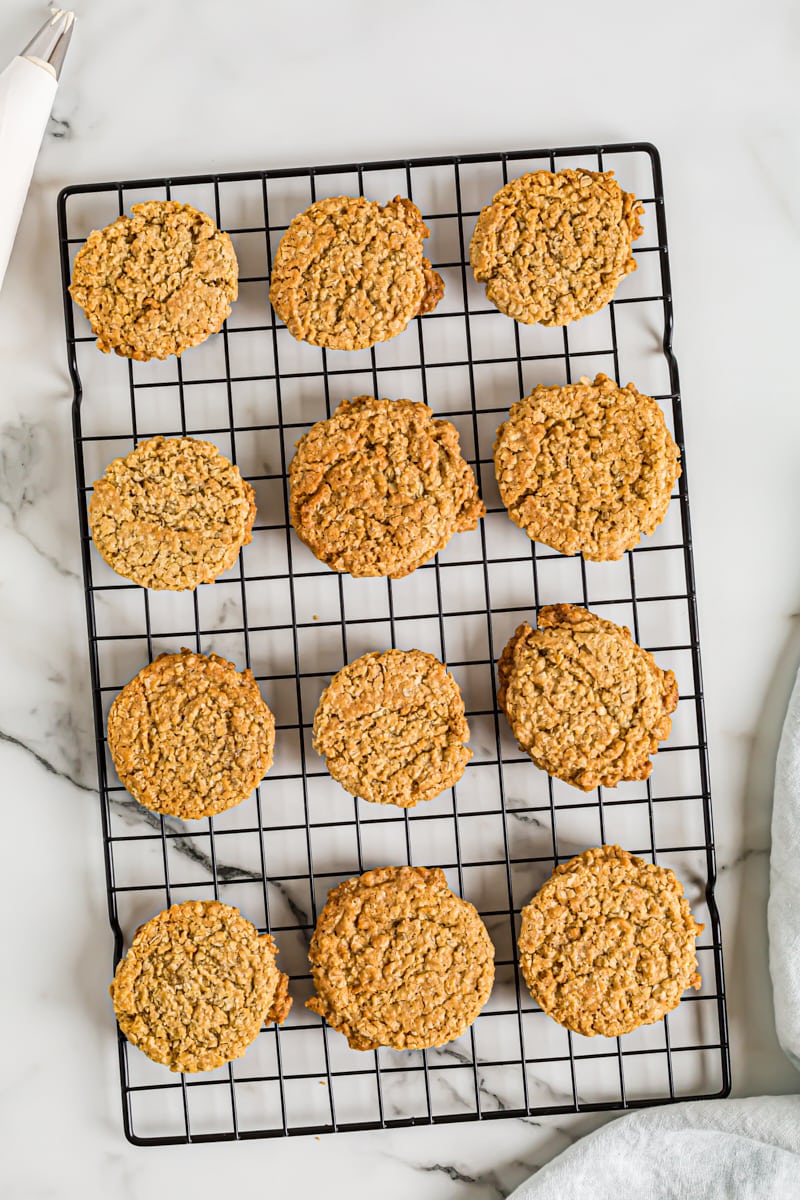 Bake. Bake the cookies for 10 to 12 minutes. Let them cool on the pan for 2-3 minutes, then transfer to wire racks to cool completely.
To make the filling and assemble: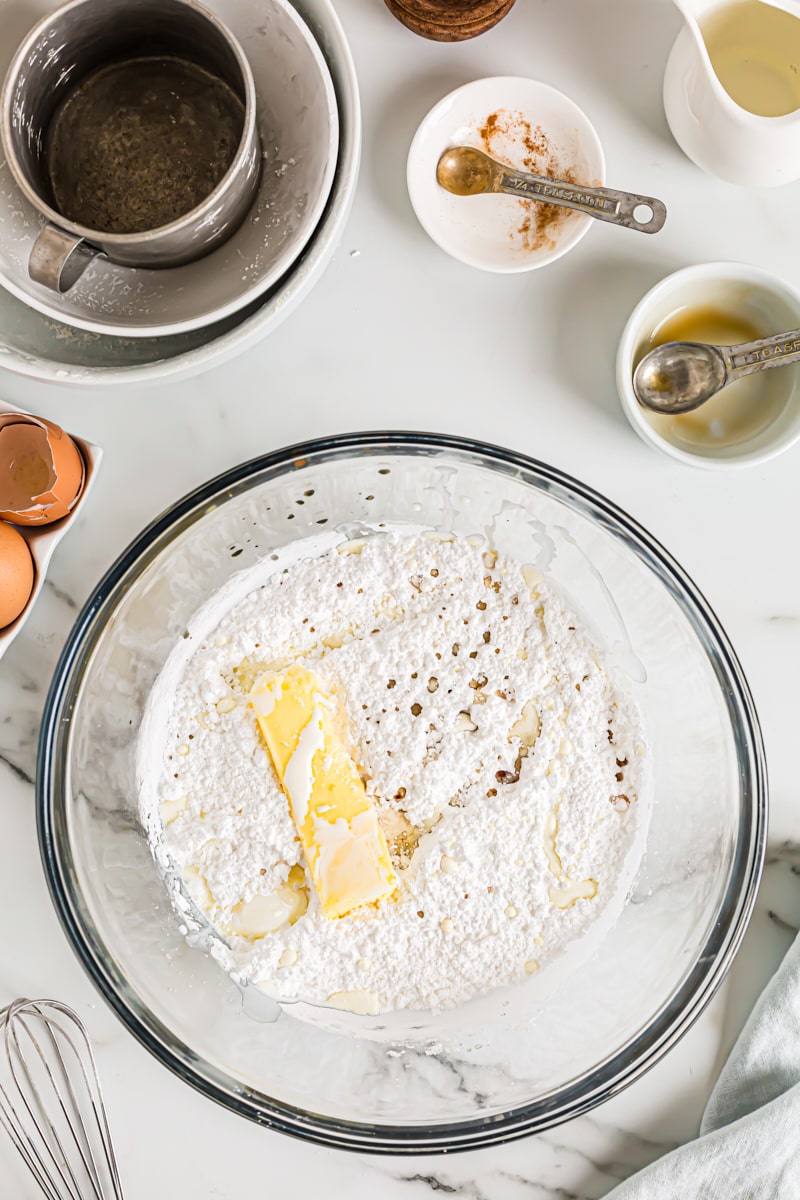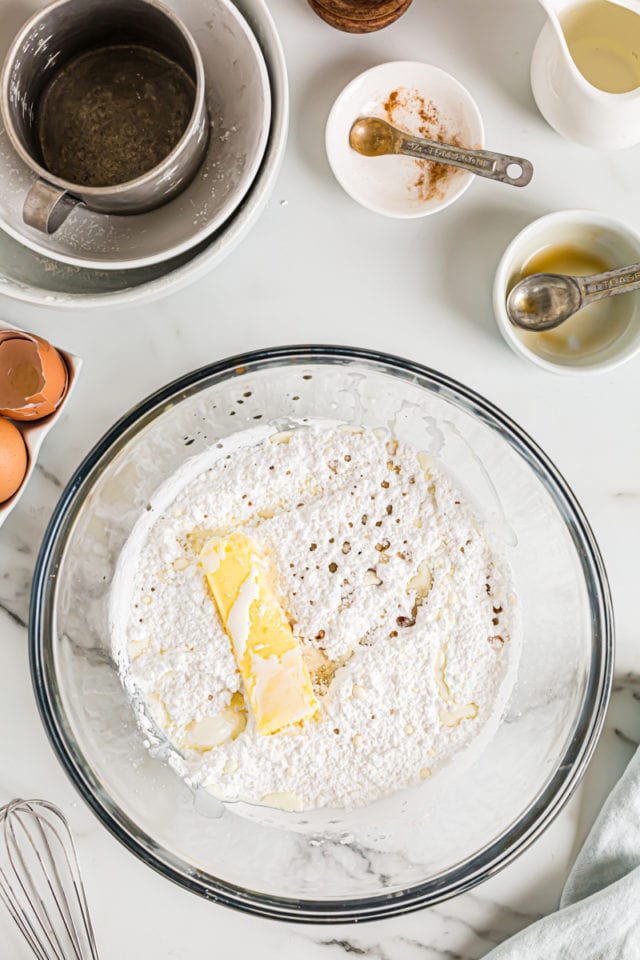 Make the filling. Combine all of the filling ingredients in a medium bowl. Use an electric mixer on low speed to beat them until they're combined. Then, increase the mixer speed to high, and continue to beat until the filling is light and fluffy.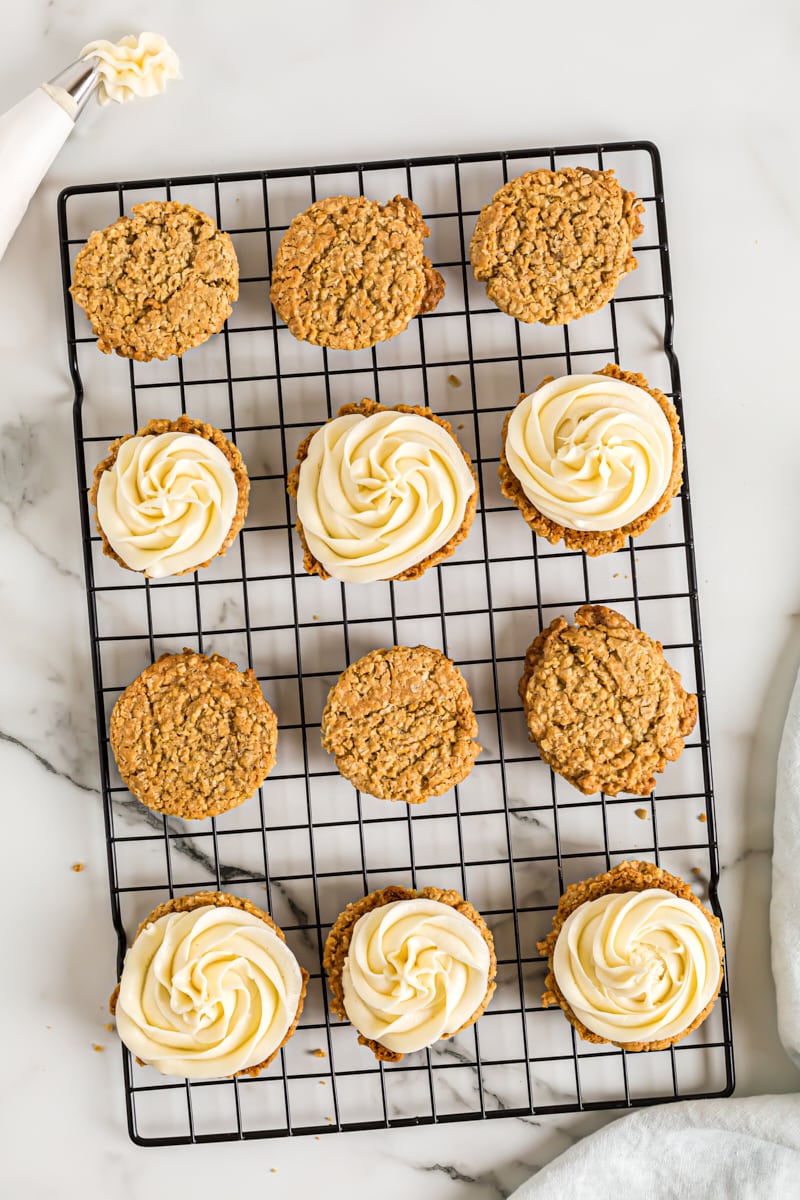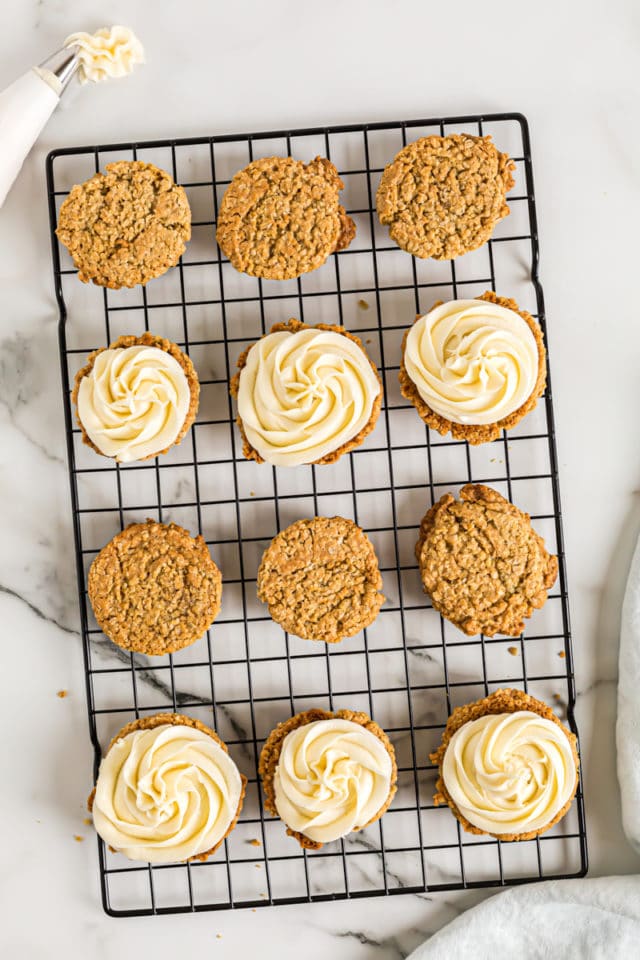 Finish. Spread about a tablespoon of filling over the bottom sides of half of the cookies. Top with the remaining cookies so that the bottoms of both cookies are sandwiching the filling.
Tips for Success
Here are some hints and tips for the best oatmeal cream pies:
Knowing when the cookies are done. When the edges of the cookies are lightly browned, you can pull them out of the oven even if the centers don't seem completely set. They'll continue baking from the residual heat on the baking sheets.
Pair like-size cookies together. The downside of these cookies being freeform vs. cut-out is that the shapes might vary slightly. Do a little planning before you start assembling and pair similar shapes and sizes.
Don't spread the filling all the way to the edges. Just put a dollop in the center (or pipe it for a more professional look), then press the two sides of the sandwich together until the filling reaches the edges of the cookies.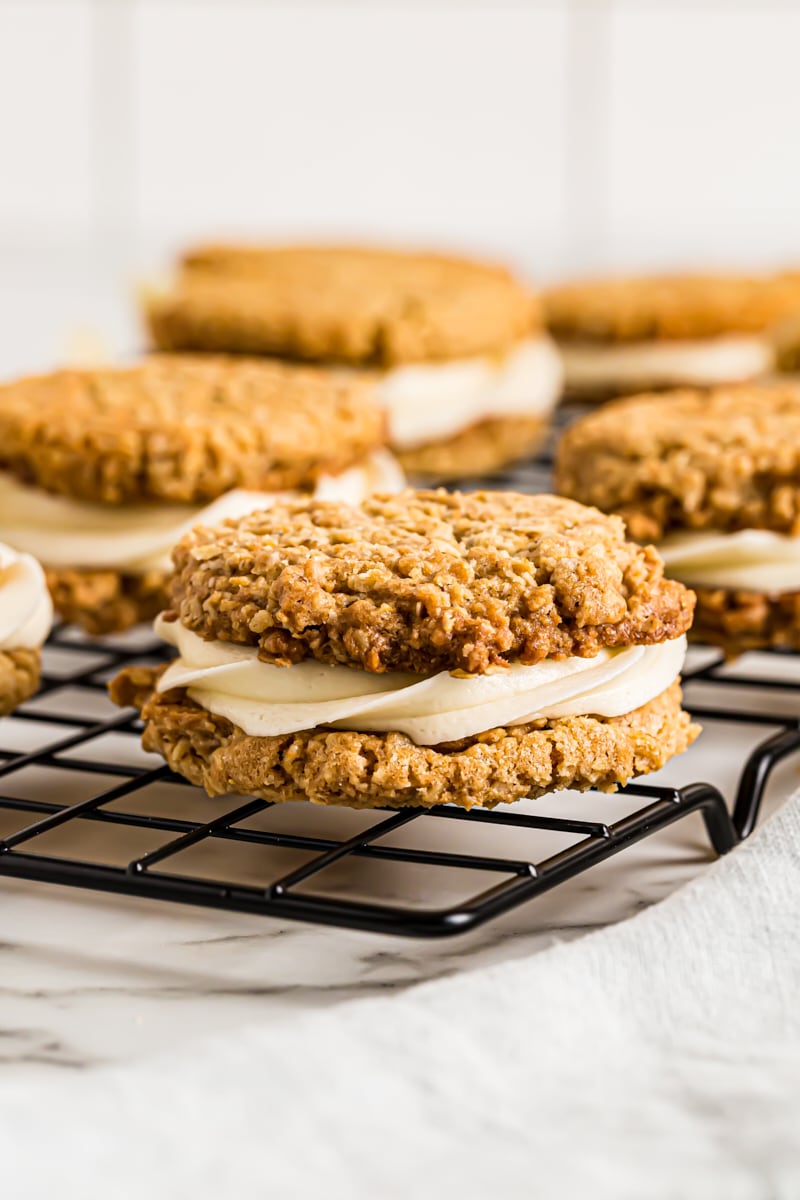 How to Store
Store Oatmeal Cream Pies in an airtight container in the refrigerator for 4 to 5 days. I recommend letting them come to room temperature before serving so the filling softens up a bit.
Can I Freeze Oatmeal Cream Pies?
Yes, you can freeze oatmeal cream pies in an airtight container or freezer bag for up to 3 months. Let them thaw in the refrigerator before serving.