April 28, 2014
Pistachio Cake with White Chocolate Frosting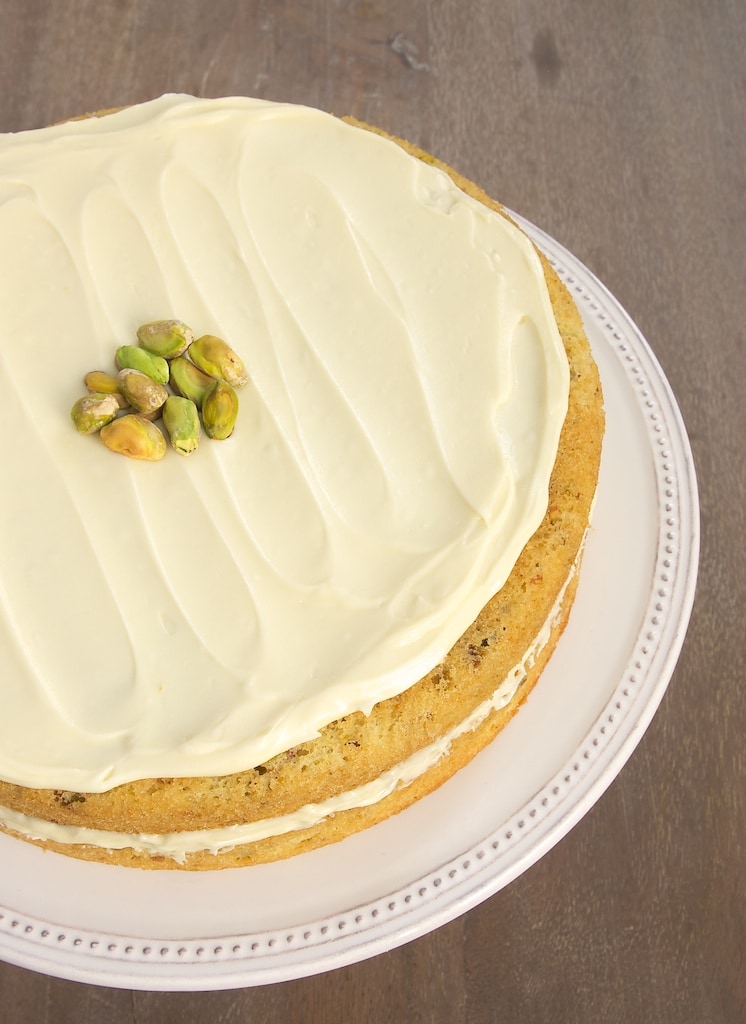 I am not the kind of baker who makes lots of tall, beautiful layer cakes. It's just not my thing. But, this time of year, I get such an urge to make layer cakes! I guess it could be the combination of Easter and Mother's Day that makes me want to bake pretty things.
In any case, I took advantage of my layer cake whims and whipped up this beauty that features a lovely pairing of pistachios and white chocolate.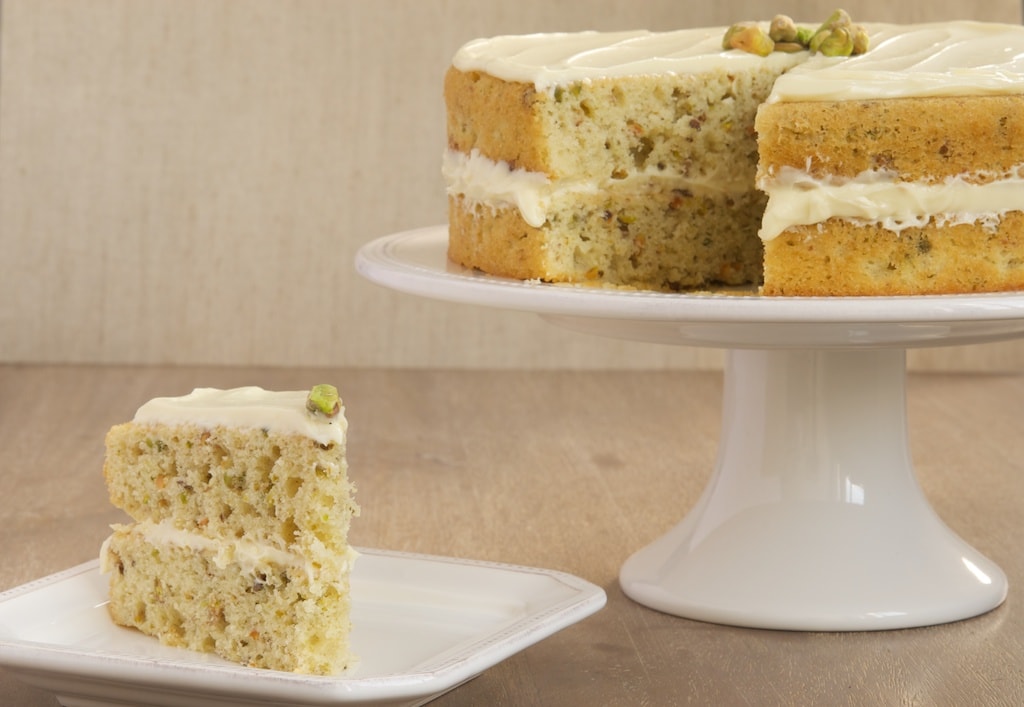 Along with cashews, pistachios are underused in baking in my opinion. Maybe it's just my baking? Anyway, I seem to get all excited when I can use pistachios in a dessert. In this case, a generous helping of pistachios goes into layers of moist, delicious cake. The flavor is wonderful, and there's just the right amount of crunch.
Then, a simple buttercream jazzed up with white chocolate tops off those layers. As I've told you countless times and as is evident with my cake, frosting cakes is not my strong suit. I tend to keep it simple. For this cake, you just need to frost the top of each cake layer. You'll get plenty of sweet frosting in each bite. Of course, if you're a big frosting fan, make extra and frost the sides as well.
Visit the Recipe Index for more layer cake recipes.
Pistachio Cake with White Chocolate Frosting
Yield: 12 to 16 servings
Prep Time:30 minutes
Cook Time:30 minutes
Pistachio Cake with White Chocolate Frosting is sweet, nutty, and wonderfully delicious!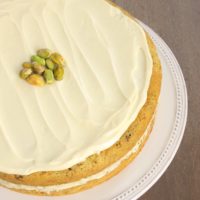 Ingredients:
For the cake:
2 cups all-purpose flour
1 teaspoon baking powder
1/2 teaspoon baking soda
1/2 teaspoon salt
1/2 cup unsalted butter, softened
1 & 1/4 cups granulated sugar
3 large eggs
2 teaspoons vanilla extract
1 cup sour cream
3/4 cup chopped pistachios, plus more for garnish
For the frosting:
1/2 cup unsalted butter, softened
6 ounces white chocolate, melted and slightly cooled
1/2 cup confectioners' sugar, sifted
1/2 teaspoon vanilla extract
Directions:
To make the cake:
Preheat oven to 350°F. Grease and flour two 9-inch round cake pans.
Whisk together the flour, baking powder, baking soda, and salt. Set aside.
Using an electric mixer on medium speed, beat the butter and sugar until light and fluffy. Add the eggs, one at a time, mixing well after each addition. Mix in the vanilla.
Reduce mixer speed to low. Add the flour in three portions, alternating with two portions of sour cream. Mix just until blended. Stir in the pistachios.
Divide the batter evenly between the prepared pans. Spread evenly.
Bake 25 to 30 minutes, or until a pick inserted into the center comes out clean.
Cool the cakes in the pans on wire racks for 15 minutes. Then, transfer the cakes from the pans to wire racks to cool completely.
To make the frosting:
Using an electric mixer on medium speed, beat the butter until creamy. Add the melted white chocolate and beat until combined.
Add the confectioners' sugar and vanilla, and continue mixing until the frosting is smooth and fluffy.
Place one layer of the cooled cake on a cake plate. Spread half of the frosting over the top of the cake.
Place the other cake layer on top of the frosted cake layer. Spread the remainder of the frosting on top of the cake. If desired, garnish the top of cake with pistachios.
This recipe was originally developed for Go Bold with Butter, where I am a paid contributor.