September 25, 2017
Pimiento Cheese Biscuits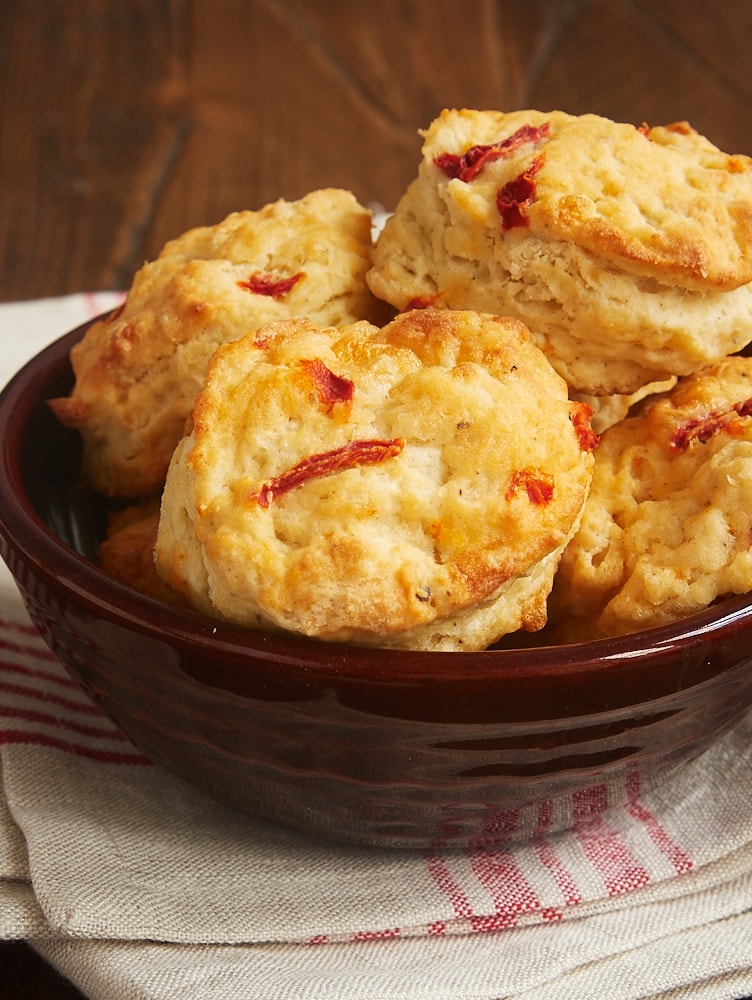 One of my favorite Southern treats is pimiento and cheese. If you're not familiar with it, it's a spread made from lots of cheese, pimientos, some seasonings, and something to hold it all together, like mayonnaise. I've never known two people to have the same recipe for it, as I think it gets tweaked here and there to suit personal tastes. I like to keep mine simple with just a bit of garlic, salt, and pepper.
These Pimiento Cheese Biscuits take those flavors and turn them into a wonderful dinner companion or even just a snack. With plenty of cheese and peppers, there's no shortage of flavor. Be warned, though, that these flavorful biscuits are quite addicting!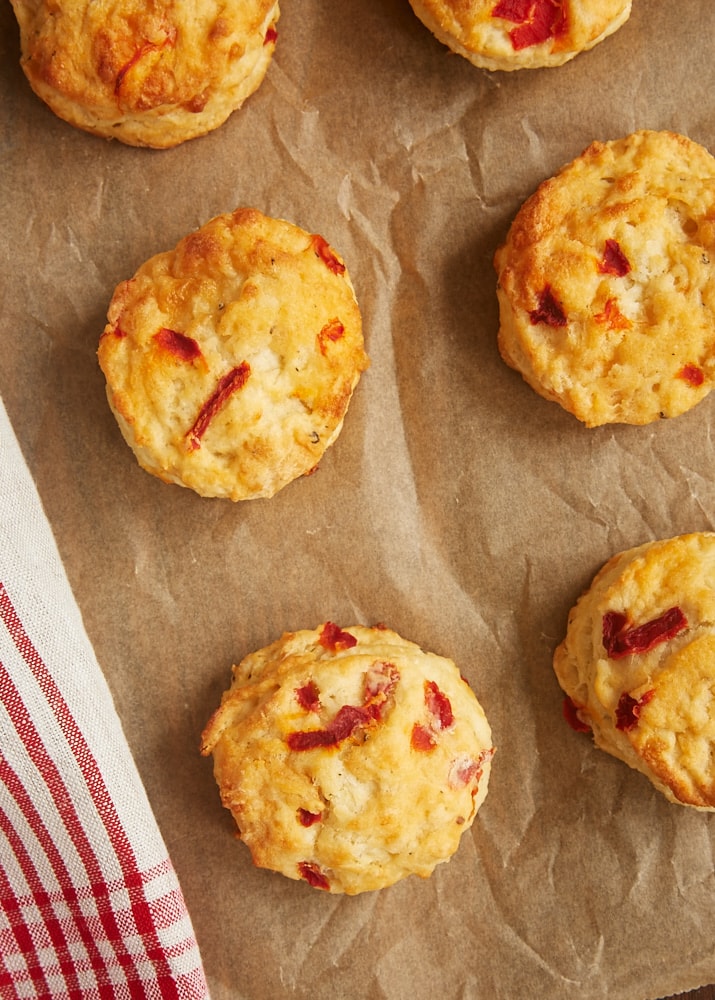 Pimientos are a type of pepper that has some sweetness along with its spice. They're not very spicy, but you'll notice a bit of heat with them. Their flavor is a bit similar to roasted red peppers. I always get the jarred variety that are already chopped into small pieces. The jars are convenient and provide a good shelf life so that you can whip up some of these biscuits whenever you like.
I prefer Cheddar cheese in these biscuits. More specifically, I like extra sharp Cheddar. It pairs so well with the peppers and spices that I just can't seem to vary from the Cheddar route. If you prefer, substitute another cheese (like Colby or Monterrey Jack) or use a combination of your favorites.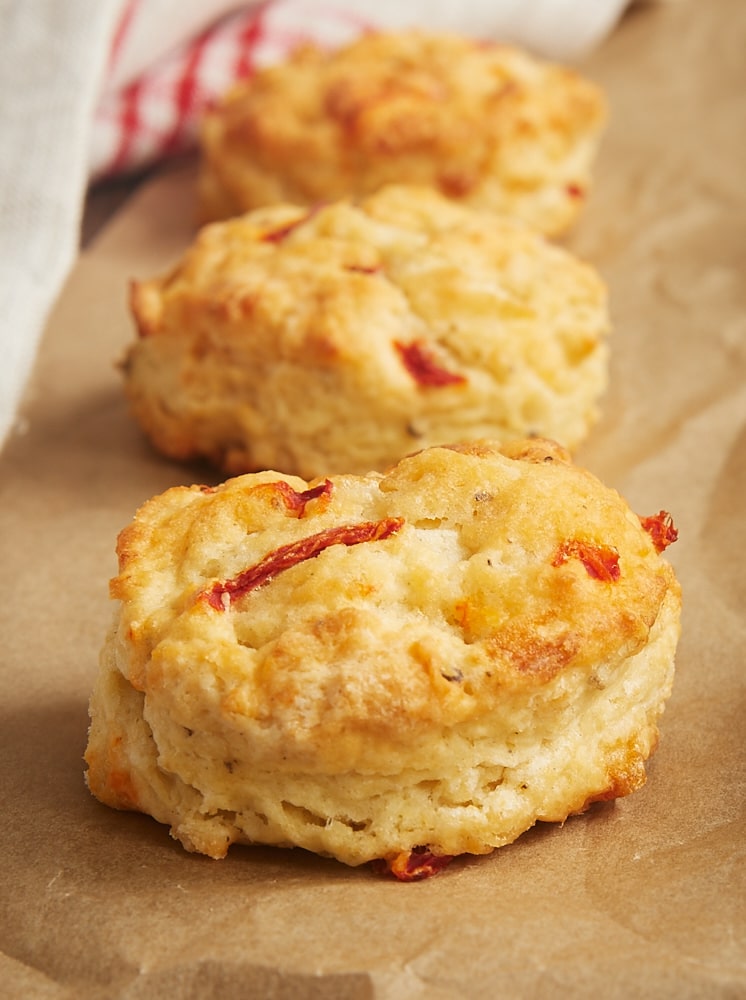 The method for making these biscuits is fairly standard, so there aren't any real surprises. I highly encourage you to drain those pimientos very well to cut down on how much liquid you add to the biscuit dough. Even well-drained ones will add enough liquid to make this biscuit dough a little more wet than normal. If you find it's too wet to handle, sprinkle a bit more flour over the dough and knead it a bit until it's more manageable.
These biscuits are a perfect companion to so many meals. I especially like them alongside soups and chili. I've been known to enjoy one for an afternoon snack, too. Try one warm with a little cream cheese spread on it. Oh, my!
Find more biscuit recipes in the Recipe Index.
Pimiento Cheese Biscuits
Yield: 10 biscuits
Prep Time: 15 minutes
Cook Time: 14 minutes
The cheesy, mildly spicy flavor of Pimiento Cheese Biscuits makes them a great companion for so many meals.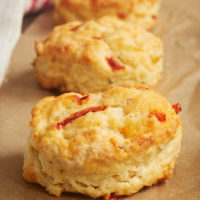 Ingredients:
2 cups all-purpose flour
2 teaspoons baking powder
1 teaspoon salt
1/2 teaspoon baking soda
1/2 teaspoon garlic powder
1/4 teaspoon freshly ground black pepper
1/4 cup unsalted butter, cold and cut into 1/2-inch cubes
3/4 cup buttermilk
1 cup shredded Cheddar cheese*
1 (4-ounce) jar chopped pimientos, well-drained**
1 tablespoon unsalted butter, melted
Directions:
Preheat oven to 450°F. Line a baking sheet with parchment paper or a silicone liner.
Whisk together the flour, baking powder, salt, baking soda, garlic, and black pepper.
Add the cold butter, and mix with a pastry blender, a fork, or your hands until the butter is about the size of small peas.
Add about 3/4 of the buttermilk, and continue mixing. Continue adding buttermilk, about a tablespoonful at a time, until a dough forms. You may not need to use all of the buttermilk.
Mix in the cheese and pimientos. (If the dough is too wet to handle, mix in just a bit more flour until it's manageable.)
Place the dough on a lightly floured surface. Pat or roll the dough out to 1/2-inch thick.
Use a 2 & 1/2-inch biscuit cutter or other round cutter to cut out biscuits. Gather and re-roll the dough once and continue cutting out biscuits.
Place the biscuits on the prepared pan. Brush the tops with the melted butter.
Bake 12 to 14 minutes, or until the biscuits are golden brown.
Notes:
*I prefer extra sharp Cheddar for these biscuits, but just go with your preference.
**VERY well drained!