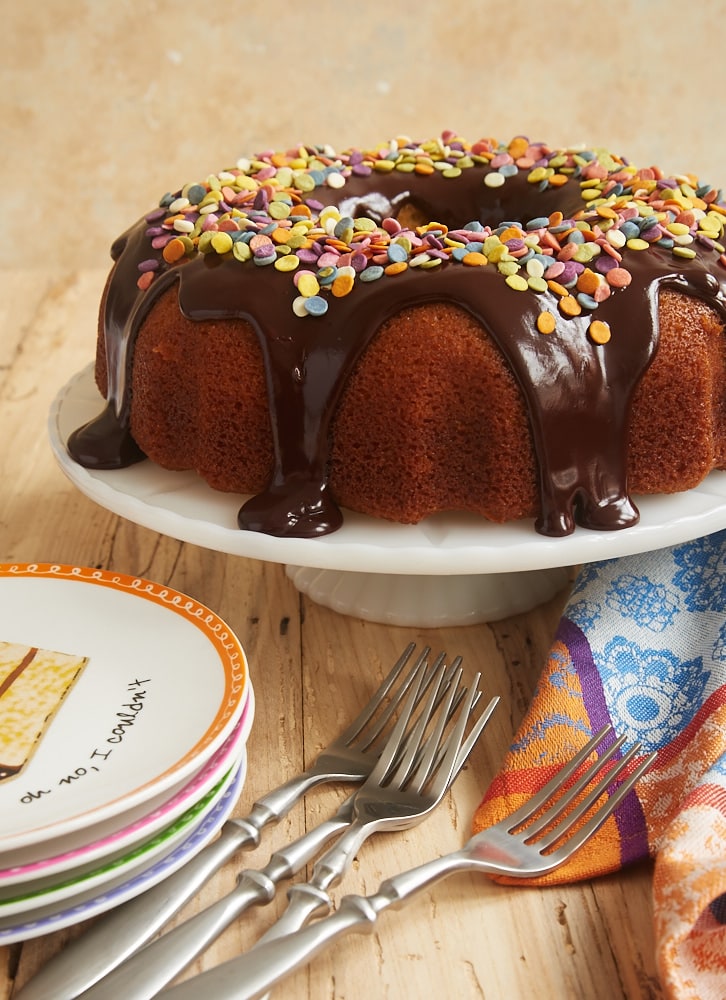 Ingredients
For the cake:
3 cups (360g) all-purpose flour
1 teaspoon salt
1 teaspoon baking powder
1/2 teaspoon baking soda
1 cup (226g) unsalted butter, softened
2 cups (400g) granulated sugar
4 large eggs
2 teaspoons vanilla extract
1 cup milk
For the ganache:
4 ounces (113g, or about 2/3 cup) dark chocolate (about 70% cacao), roughly chopped
1 tablespoon corn syrup*
1/2 cup heavy cream
sprinkles, for garnish
Instructions
To make the cake:
Preheat oven to 350°F. Generously grease a 10- or 12-cup Bundt pan.
Whisk together the flour, salt, baking powder, and baking soda. Set aside.
Using an electric mixer on medium speed, beat the butter and sugar until light and fluffy. Add the eggs, one at a time, mixing well after each addition. Mix in the vanilla.
Reduce mixer speed to low. Add the flour in three portions, alternating with two portions of milk, mixing just until combined.
Transfer the batter to the prepared pan, and spread evenly. Bake 50 to 60 minutes, or until a pick inserted into the center comes out clean.
Cool the cake in the pan for 20 minutes. Then, flip the cake onto a serving plate to continue cooling.
To make the ganache:
Place the chopped chocolate and corn syrup in a medium bowl.
Heat the cream in a small saucepan over medium heat, stirring occasionally, just until the cream begins to bubble around the edges.
Pour the cream over the chocolate. Let stand for 5 minutes. Then whisk until smooth.
Pour the ganache over the cooled cake. Garnish with sprinkles.
Notes