September 15, 2016
Chocolate Chip Pistachio Pound Cake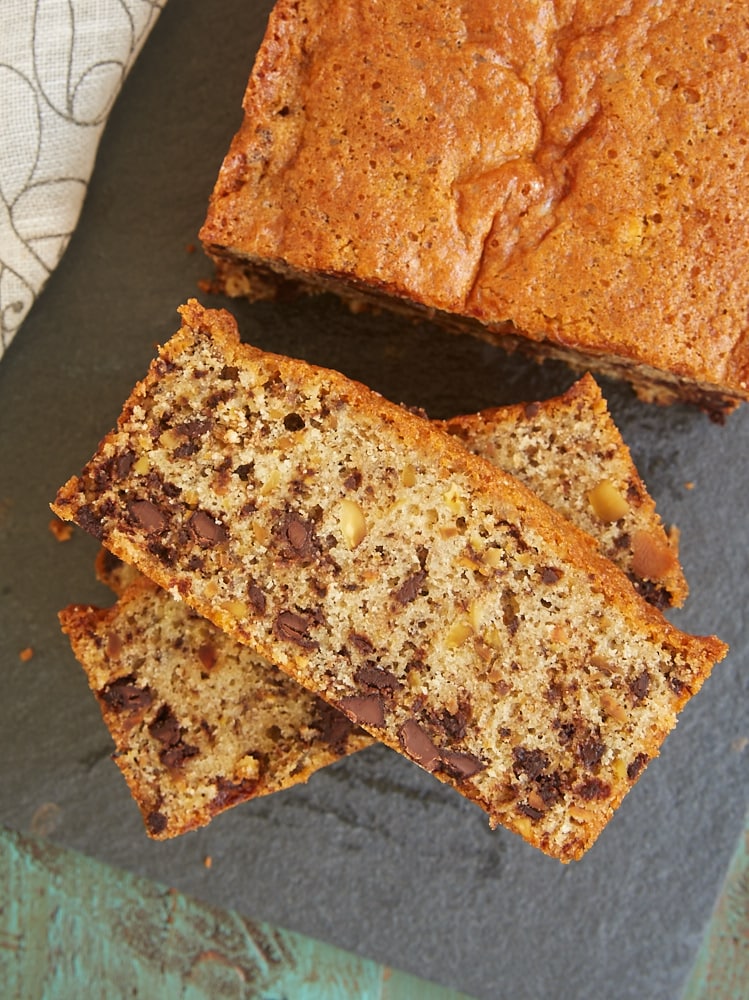 Some of you likely already know that I am quite the baseball fan. Quinn and I are both Yankees fans, but we also enjoy watching the other teams as well. During a recent Dodgers game, I heard the incomparable Vin Scully describe a player as having "no chrome." The idea was that this isn't a flashy player. He just shows up and does his job.
That may seem like an odd way to begin a post about pound cake, but I thought of that description as I was thinking about what to tell you about this cake. Traditional pound cake doesn't have a lot of chrome, either. It lacks the bells and whistles of a lot of other desserts. But, it is a dependable crowd-pleaser.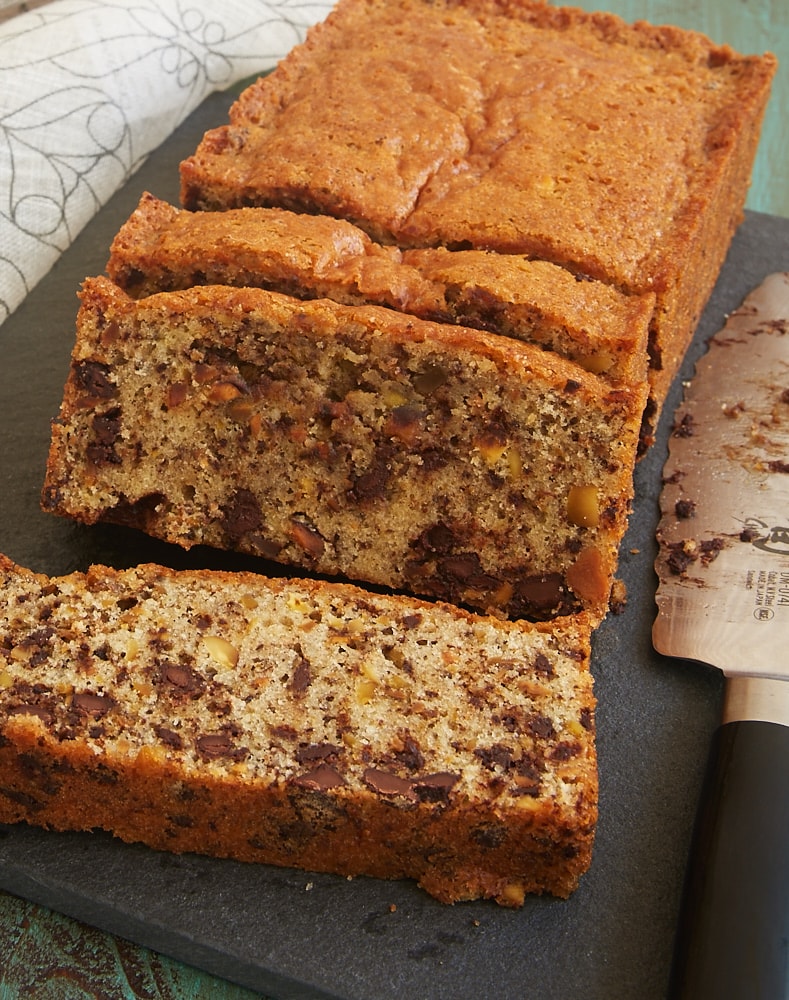 Don't get me wrong. Pound cake is wonderful. And there are plenty of ways to dress it up, too. This one, for instance, gets a flavor boost from chocolate chips and pistachios. But at its heart, it's an unassuming, no-frills pound cake. And a very, very good one.
This cake is packed with lots and lots of chocolate and pistachios. The flavor combination is fantastic. I roughly chopped both so that there are tiny pieces of each along with larger pieces all through the cake. That means plenty of amazing flavor in every bite.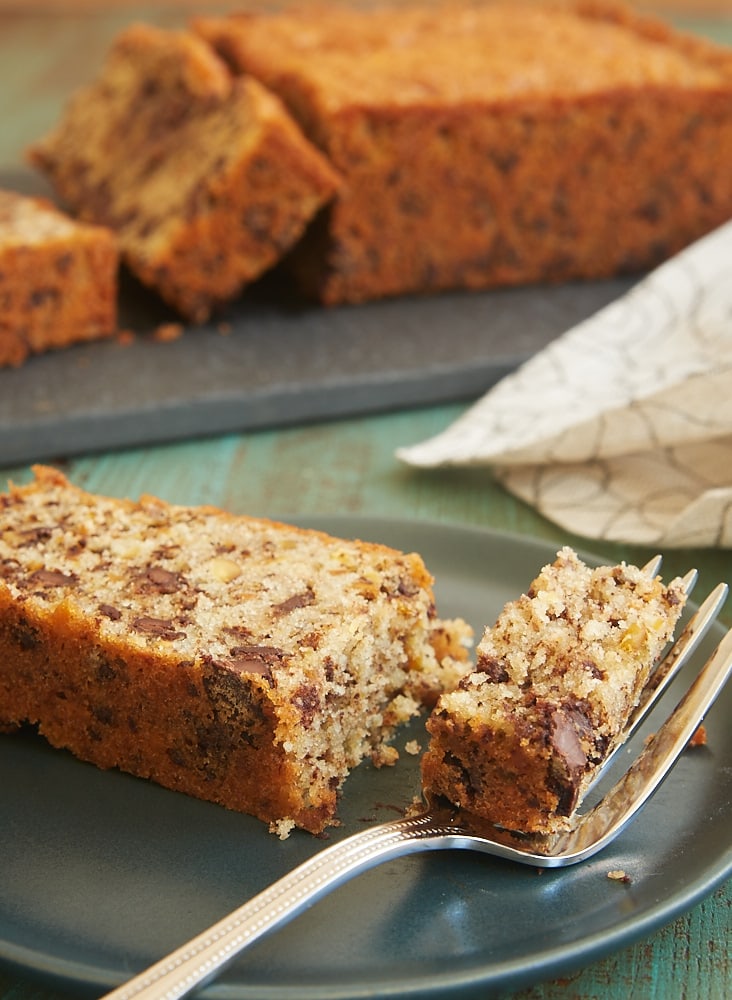 The recipe for this cake comes to us from One Girl Cookies, a favorite sweet spot in my neighborhood. Their cookbook is one of my favorites and has brought us really delicious things like their famous whoopie pies and some really good shortbread.
Serve this cake warm or at room temperature. Warming it will make the chocolate a bit gooey. And that's always a good thing, right? Or just grab a slice and enjoy it immediately without heating it. I think you'll be pretty darn happy either way.
Find more cake recipes in the Recipe Index.
Chocolate Chip Pistachio Pound Cake
Yield: 10 to 12 servings
Prep Time:20 minutes
Cook Time:50 minutes
Pound cake is always a favorite, and this Chocolate Chip Pistachio Pound Cake is no exception. Packed with lots of chocolate and pistachios, this cake is sure to please!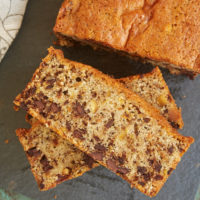 Ingredients:
1 & 1/2 cups cake flour
1/2 teaspoon salt
1/4 teaspoon baking soda
1/4 cup milk
2 teaspoons lemon juice
1/2 cup unsalted butter, softened
1 cup granulated sugar
3 large eggs
2 large egg yolks
1/2 teaspoon vanilla extract
1 cup semisweet chocolate, roughly chopped*
3/4 cup shelled pistachios (unsalted), roughly chopped*
Directions:
Preheat oven to 350°F. Grease and flour a 9″x 5″ loaf pan.
Whisk together the flour, salt, and baking soda. Set aside.
Combine the milk and lemon juice. Set aside.
Using an electric mixer on medium speed, beat the butter and sugar until light and fluffy.
Reduce mixer speed to low. Gradually add the eggs and egg yolks. Mix in the vanilla.
Add the flour mixture in three portions, alternating with two portions of the milk mixture. Mix until you still see a few streaks of flour remaining.
Add the chocolate and pistachios, and stir just until combined.
Transfer the batter to the prepared pan, and spread evenly. Bake 45 to 50 minutes, or until a pick inserted into the center of the cake comes out clean.
Cool in the pan for 20 minutes. Then transfer the cake to a wire rack to cool completely.
Notes:
*I simply chopped the chocolate and pistachios with a chef's knife. If you prefer, place them in the work bowl of a food processor and pulse a few times. Either method will give you both large and small pieces.
This post contains affiliate links. If you make a purchase through one of the links, I'll receive a
small commission at no additional cost to you.