June 27, 2016
Strawberry Cheesecake Cobbler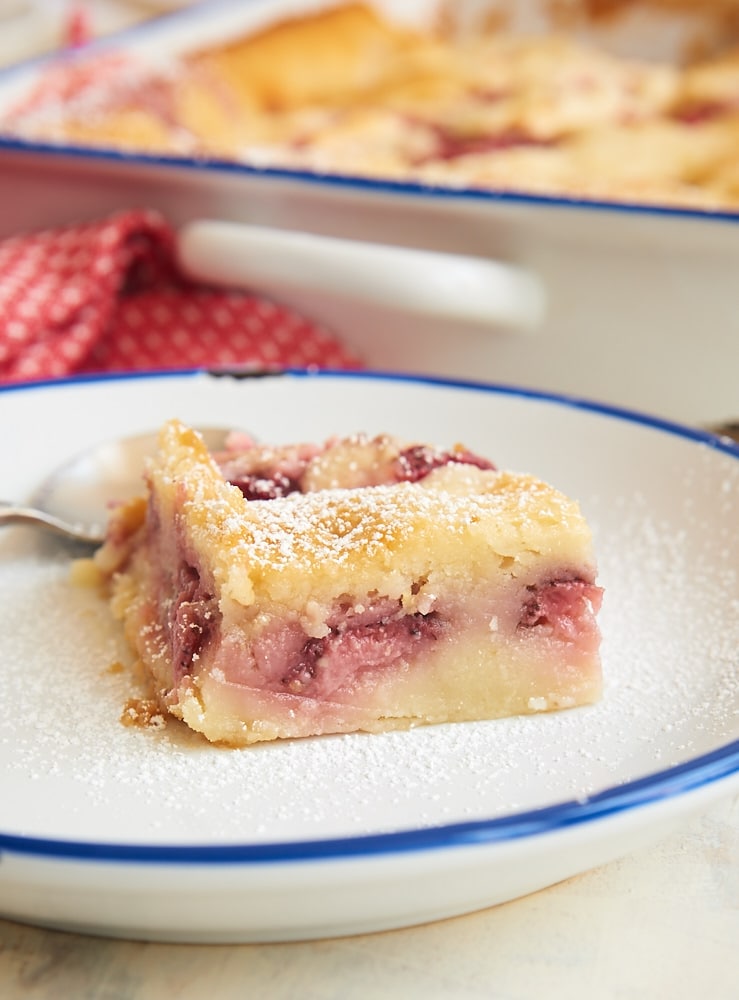 Our neighborhood recently welcomed a weekly's farmers market. I am now officially spoiled to having so many great local vendors nearby. On a recent visit, I was so excited to see fresh strawberries! I immediately remembered a Strawberry Cheesecake Cobbler recipe I'd bookmarked and couldn't wait to get baking.
I'm sure I'm not alone in thinking that berries and cream cheese are a match made in dessert heaven. It's certainly one of my favorite pairings. (Have you met this Blueberry Cream Cheese Crisp?) The addition of cream cheese to this cobbler does not disappoint!

The mixing method of this cobbler reminds me a lot of those ubiquitous dump cakes. Everything is just put in one pan with very little mixing and then baked. It certainly simplifies the whole process and gets it into the oven much faster.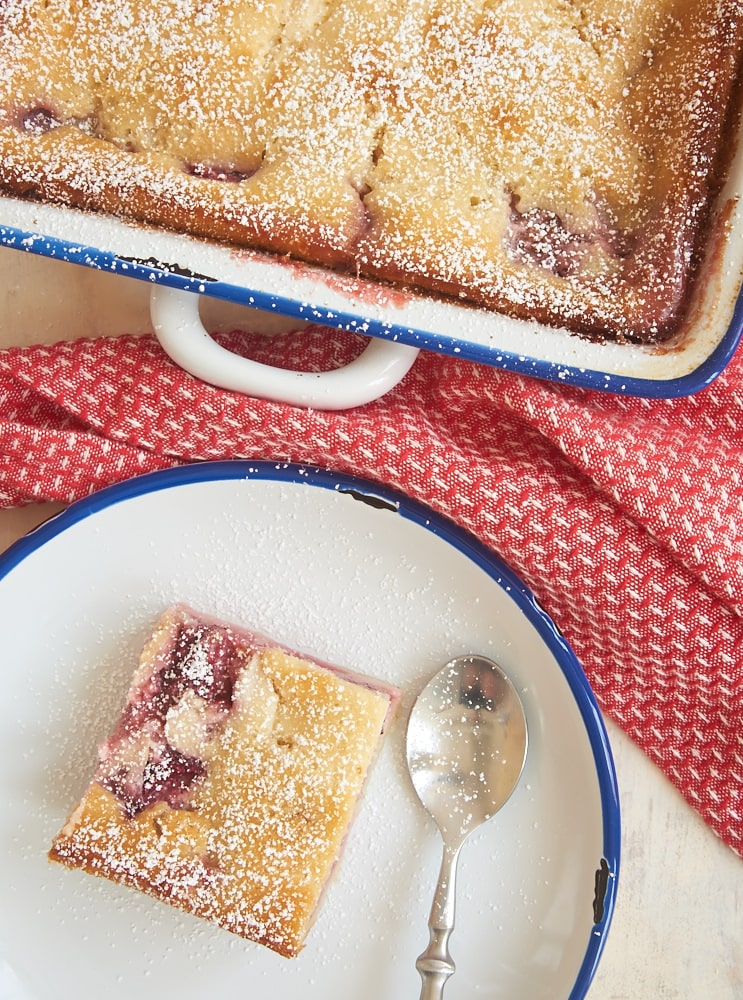 In much the same way, this recipe starts with melted butter, followed by a mixture of flour and milk, plenty of strawberries, and a sweet cream cheese mixture. Once it's all in the pan, you may have your doubts that it will work. I know I did. But all of that somehow yields this beautiful, delicious cobbler!
A sprinkling of confectioners' sugar is plenty of garnish for this cobbler, but a little whipped cream or ice cream wouldn't be a bad idea either. If you go the confectioners' sugar route, be sure to add it as you're serving because it will absorb into the cobbler after a few minutes.
While I do love a more traditional Strawberry Cobbler, this recipe is a tasty twist on the classic. It's like having cheesecake and cobbler all at the same time. Works for me!
Strawberry Cheesecake Cobbler
Yield: 8 to 10 servings
Prep Time:20 minutes
Cook Time:55 minutes
The great flavors of two classic desserts come together in this Strawberry Cheesecake Cobbler!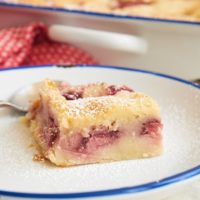 Ingredients:
For the cream cheese topping:
4 ounces cream cheese, at room temperature
3 tablespoons granulated sugar
1 teaspoon vanilla extract
For the cobbler:
1 cup unsalted butter, melted
2 cups all-purpose flour
1 & 1/2 cups granulated sugar
1 tablespoon baking powder
3/4 teaspoon salt
2 cups milk
4 cups strawberries, halved
confectioners' sugar, for garnish
Directions:
To make the cream cheese topping:
Preheat oven to 375°F.
Using an electric mixer on medium speed, beat the cream cheese, sugar, and vanilla until thoroughly combined and smooth. Set aside.
To make the cobbler:
Pour the melted butter into a 2 & 1/2 quart baking dish.*
Whisk together the flour, sugar, baking powder, and salt.
Add the milk, and whisk until smooth. Pour the mixture over the butter in the pan, distributing the batter as evenly as possible.
Place the strawberries on the top of the batter.
Drop the cream cheese mixture by teaspoonfuls over the top.
Cover the pan with foil. Bake for 30 minutes.
Remove the foil, and bake 20 to 25 minutes, or until a pick inserted into the center comes out clean.
Sprinkle with confectioners' sugar before serving.
Notes:
*While this cobbler fits well in a 2 & 1/2 quart baking dish, a 3 quart dish (like a 9″x 13″x 2″ pan) might be a little friendlier to use. It will give you a little extra room and hopefully prevent any of the cobbler from spilling out into your oven. You can also place the baking dish on a lined, rimmed baking sheet to catch any spills.