Up your chocolate chip blondies game with these Hazelnut Chocolate Chip Brown Butter Blondies. They're packed with good stuff like nuts and toffee and, of course, chocolate chips!
With spring comes spring cleaning. Specifically, I get an overwhelming urge to clean out my pantry. And, by pantry, I mean those couple of food-containing cabinets in my expectedly small New York apartment. The lack of space is good in that I don't tend to hoard ingredients, but it doesn't take long for it to have that feeling that it could all fall out on me when I open the doors.
Of course, with that cleaning comes the discovery of some ingredient odds and ends. I must confess that some of my favorite things I've baked have been a result of a little pantry purging. Combining handfuls of this or that can lead to a really great treat. And, that is exactly what we have here with these Hazelnut Chocolate Chip Brown Butter Blondies: a wonderfully delicious blondie packed with so many good things that I couldn't even attempt to include them all in the title of the recipe.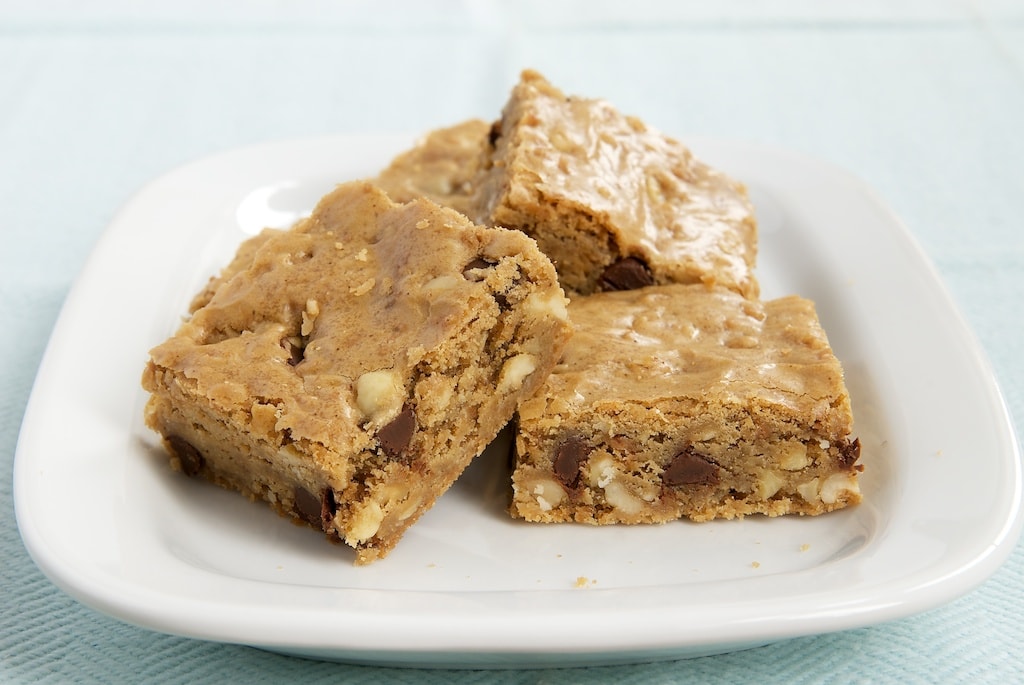 I opted for a denser blondie than I usually with these blondies. I also decided to go big flavor-wise by using browned butter. Hey, if you're going to melt the butter anyway, why not brown it? I just love the rich, nutty flavor it adds.
Then come all the extras. My first thoughts for add-ins usually turn to chocolate and nuts, so I made good use of chocolate chips and hazelnuts. Then I added in some toffee bits for a little crunch and for upping the buttery, brown sugar-y flavor.
These blondies are so wonderfully rich and flavorful. They are so adaptable, too. Substitute your favorite add-ins or do a little pantry purging and see what you can find to spruce up your brown butter blondies recipe!
Find more blondies recipes in the Recipe Index.
More Chocolate Chip Blondies Recipes