September 8, 2015
Chocolate Chip Ganache Blondies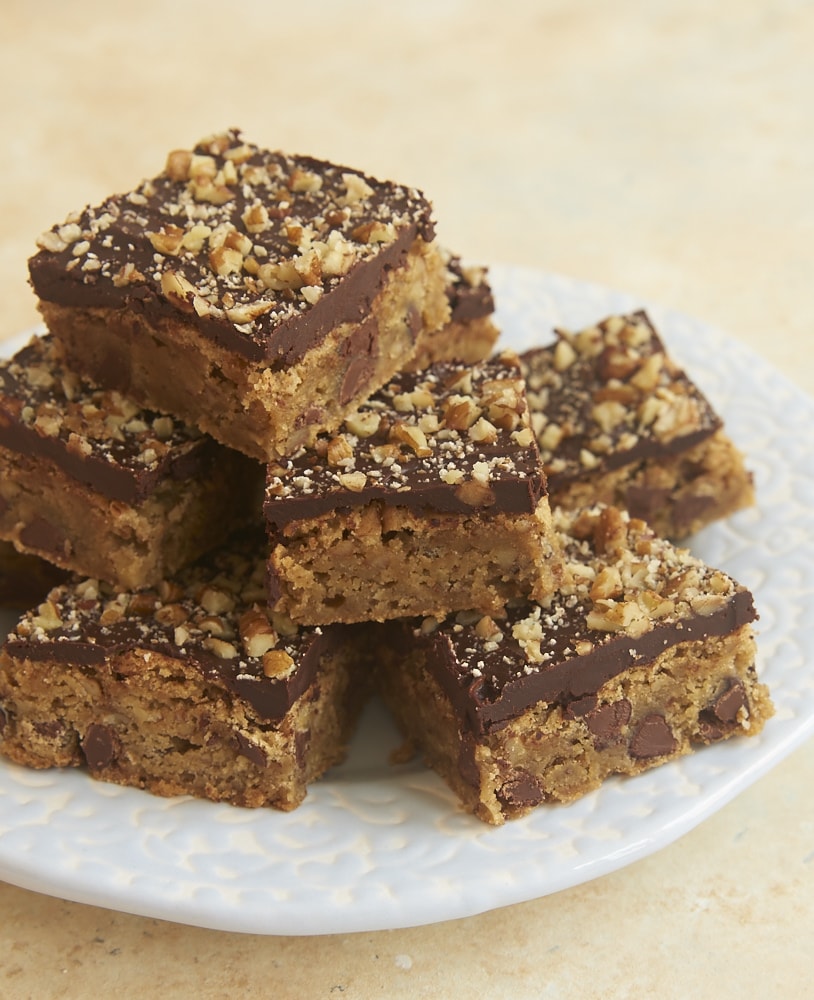 I generally consider myself organized, at least with most things. But then there are times that I find myself with a pretty barren pantry because I didn't quite plan out our grocery order as well as I should have. When that coincides with an urge to bake, that's when I get back to the basics.
These blondies are a prime example of putting some basic baking staples to use. All on their own, they are a delicious celebration of brown sugar with a good dose of chocolate and nuts thrown in for good measure. Even unadorned, they are really, really good. But with the ganache? Well, then they become something extra special.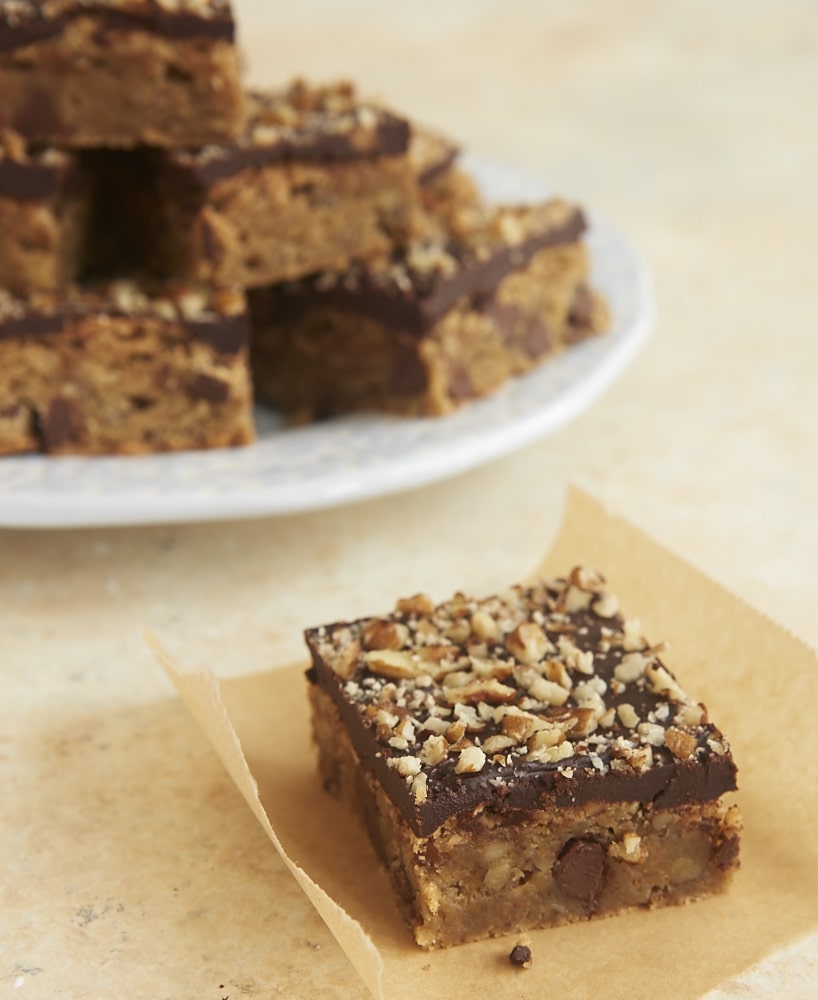 I'm a firm believer in "less is more." Unless you can put ganache on it, and then I say go for it. I used to think that ganache on anything was so impressive. And then I learned how easily it's made. Instead of that knowledge bursting my bubble, it just made me giddy to think I could now add ganache to all the things!!!
In less than 10 minutes (and 5 of that consisting of no effort on your part), you can whip up this dark chocolate ganache and transform a simple batch of blondies into a rich, delicious, beautiful dessert. Basic ingredients, yes. Basic results, not even close!
Find more blondies recipes in the Recipe Index!
Chocolate Chip Ganache Blondies
Yield: 24 2-inch bars
Prep Time: 20 minutes
Cook Time: 35 minutes
Simple blondies get all dressed up with a rich ganache topping in these Chocolate Chip Ganache Blondies!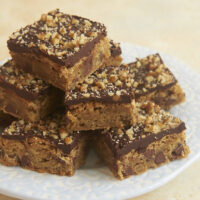 Ingredients:
For the blondies:
2 cups all-purpose flour
3/4 teaspoon baking powder
1/2 teaspoon salt
1 cup unsalted butter, melted and slightly cooled
2 cups firmly packed light brown sugar
2 large eggs
1 & 1/2 teaspoons vanilla extract
1 cup semisweet chocolate chips
1 cup chopped pecans
For the ganache:
8 ounces semisweet or bittersweet chocolate, roughly chopped
1 tablespoon light corn syrup*
1/2 cup heavy cream
chopped pecans, for garnish
Directions:
To make the blondies:
Preheat oven to 350°F. Grease a 9″x 13″x 2″ baking pan.
Whisk together the flour, baking powder, and salt. Set aside.
In a separate bowl, combine the butter, brown sugar, eggs, and vanilla until thoroughly mixed. Stir in the flour mixture, mixing just until combined. Stir in the chocolate chips and pecans.
Transfer the batter to the prepared pan, and spread evenly. Bake 30 to 35 minutes, or until a pick inserted into the center comes out clean. Set the pan aside to cool.
To make the ganache:
Place the chocolate and corn syrup in a heatproof bowl. Set aside.
Place the cream in a heavy saucepan. Bring to a boil over medium-high heat. Remove the cream from the heat, and pour it over the chocolate. Let sit for 5 minutes. Then stir until smooth.
Pour the ganache over the blondies. Garnish with chopped pecans. Allow the ganache to set (10-15 minutes) before cutting into bars.
Notes:
*The corn syrup is not necessary, per se. I sometimes like to add just that little bit of it to make the ganache hold up a little better. If you prefer not to use corn syrup, that's absolutely fine.