This Coca-Cola cake recipe is a Southern classic! It's a rich, moist chocolate cake finished with cola-infused frosting and toasted pecans.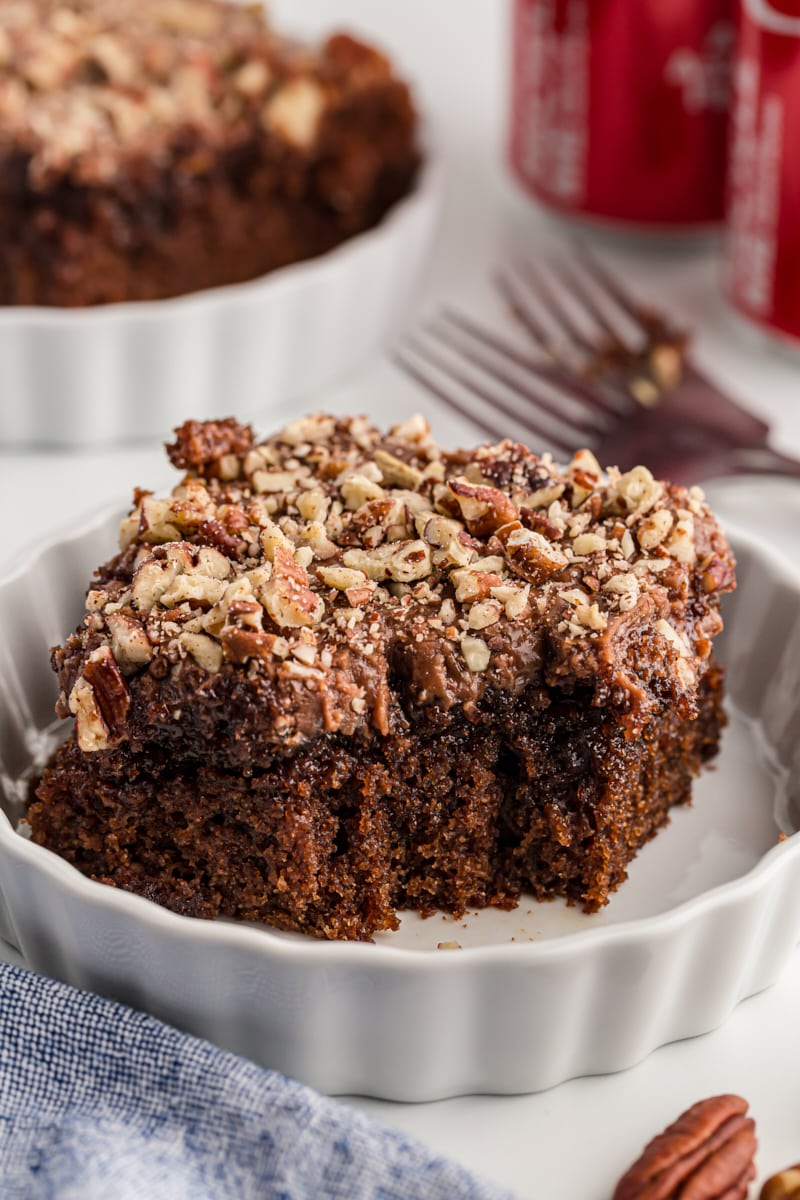 What Is Coca-Cola Cake?
Coca-Cola cake is a chocolate cake that uses Coca-Cola as one of its main ingredients. The Coke adds sweetness and moisture, and it also helps keep the cake fresh longer.
I've had a strange fascination with this cake for a long time, yet I've never made it. There's something about the thought of making a cake with a Coke that intrigues me. Sort of in a how-can-that-possibly-work way.
This particular recipe comes from Classic Southern Desserts by Southern Living. I don't know if this cake truly has Southern origins, but it certainly seems Southern enough to me. I mean, who else would pour Coca-Cola into a cake?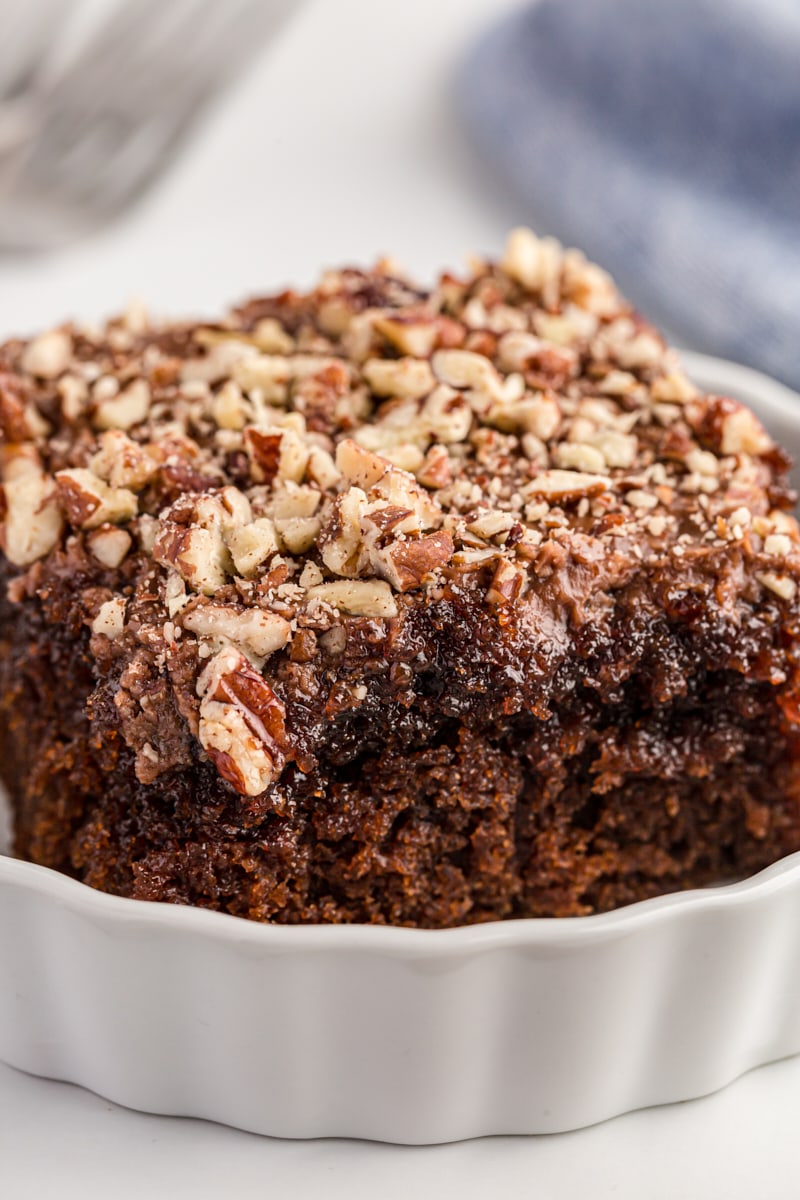 Once I finally made Coca-Cola cake for myself, I was surprised to find that it didn't actually taste like cola!
This is really a simple, beautiful chocolate cake, with the novelty of being made with Coca-Cola. It's delicious, and it smells heavenly. (Even with it covered, I could smell its tempting aroma every time I walked by it in my kitchen.) But yes, it is essentially a chocolate cake. And what could possibly be wrong with that?
(Love trying classic Southern cake recipes? Try my Italian Cream Cake, 6-Inch Hummingbird Cake, or Coconut Cake next!)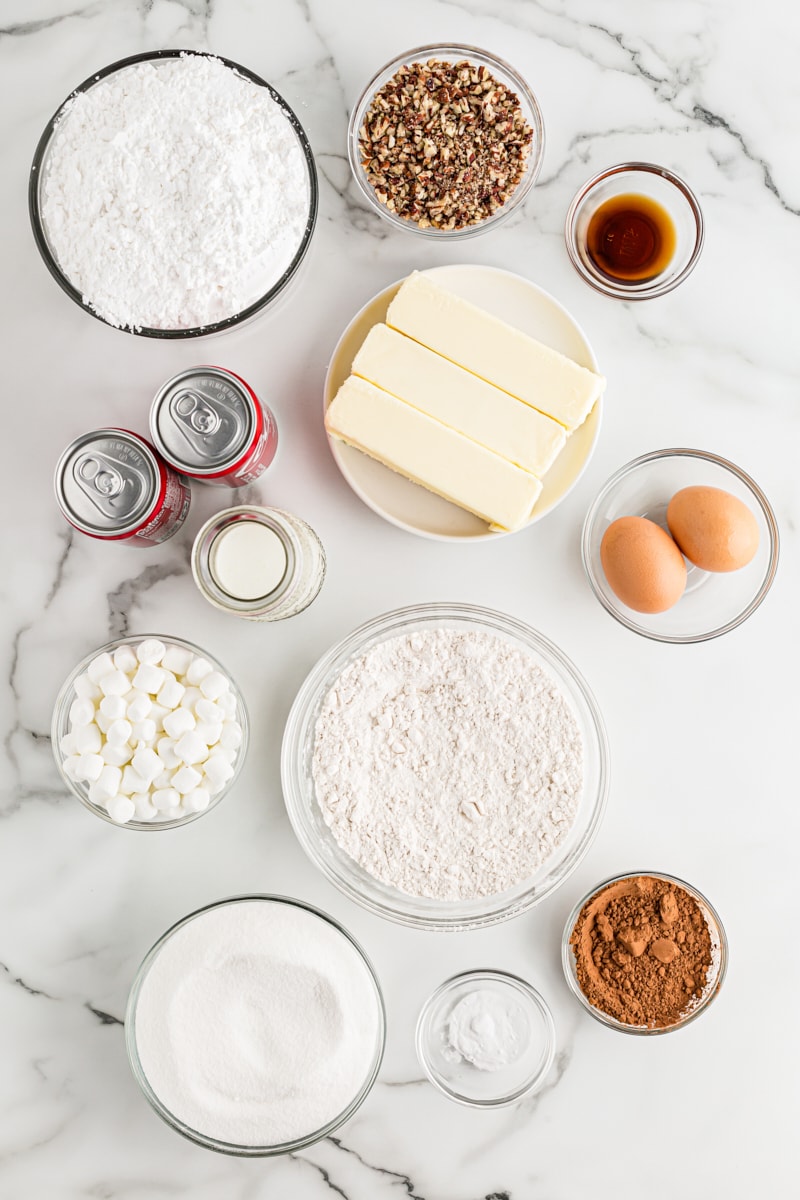 What You'll Need
Scroll down to the recipe card below this post for ingredient quantities and full instructions.
For the cake:
Coca-Cola – Although I haven't tried it, I'm positive Pepsi or another cola would work in this recipe.
Buttermilk – Here's how to make your own buttermilk.
All-purpose flour – Learn more: How to Measure Flour
Unsweetened cocoa powder
Baking soda
Unsalted butter – Learn more: Unsalted or Salted Butter: Which is Better for Baking?
Granulated sugar
Eggs – Lightly beat the eggs before using them in the recipe.
Vanilla extract
Miniature marshmallows
For the frosting:
Unsalted butter
Coca-Cola
Unsweetened cocoa
Confectioners' sugar
Vanilla extract
Chopped pecans – Toast the pecans on the stovetop or in the oven to elevate their flavor.
How to Make Coca-Cola Cake
Timing is everything when it comes to this cake. Getting the cake finished and the frosting done at the right times can be tricky. The frosting mixes up pretty quickly, so it is possible to make it after the cake is finished. I'd recommend having all of the frosting ingredients ready so you can get started as soon as the cake comes out of the oven.
To make the cake: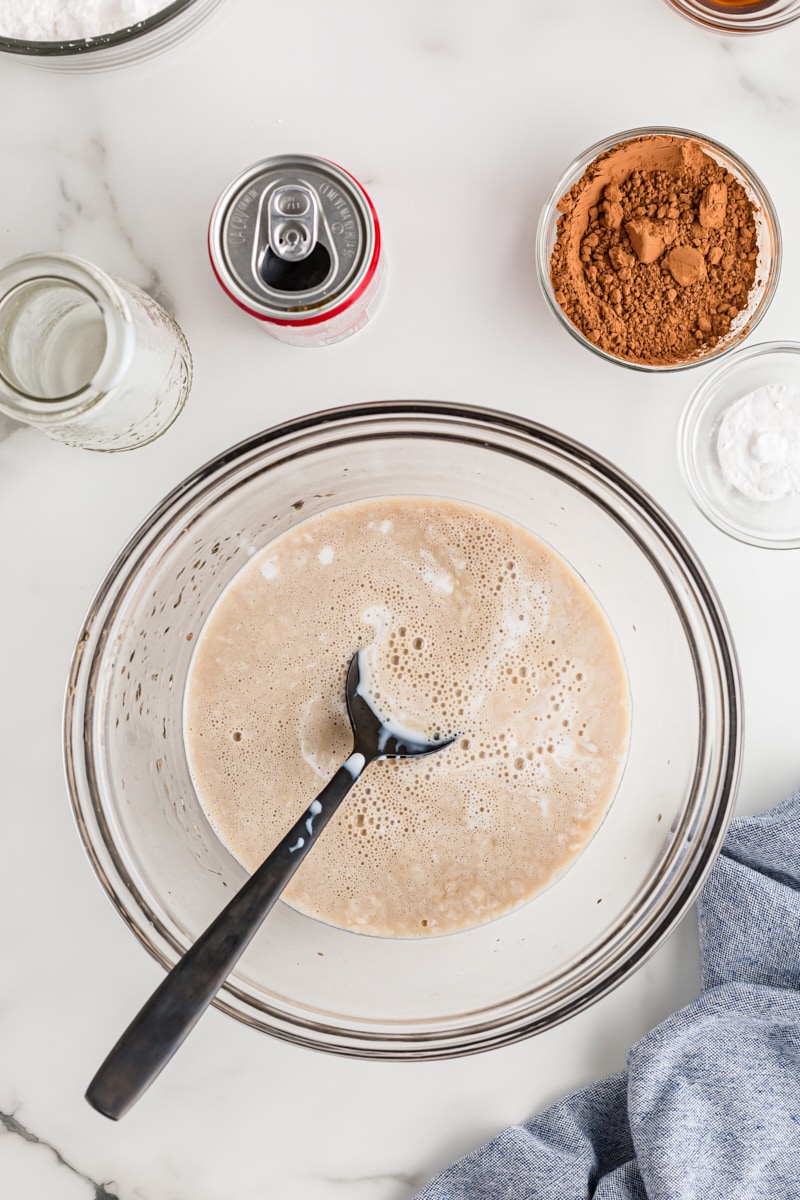 Prepare. Preheat your oven to 350°F and coat a 9″x13″ baking pan with cooking spray. Whisk the Coca-Cola and buttermilk in a small mixing bowl or liquid measuring cup.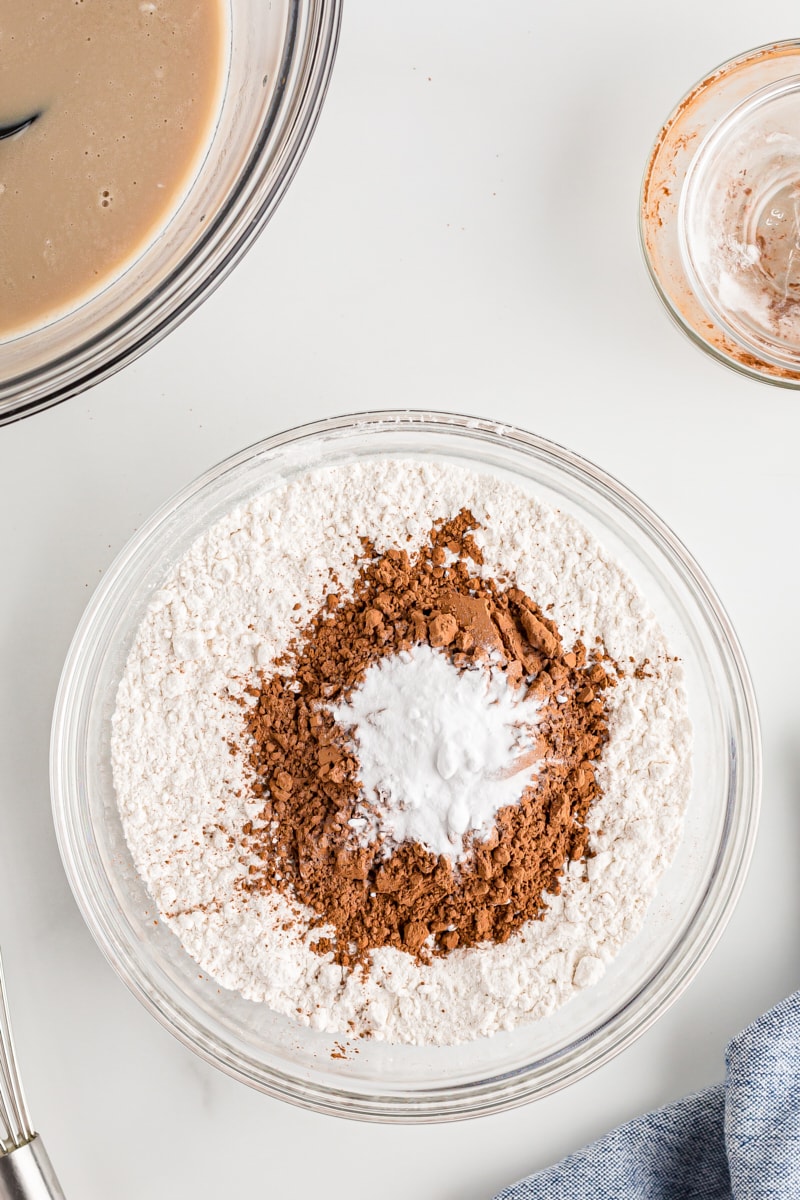 Mix the dry ingredients. Whisk together the flour, cocoa, and baking soda in mixing bowl.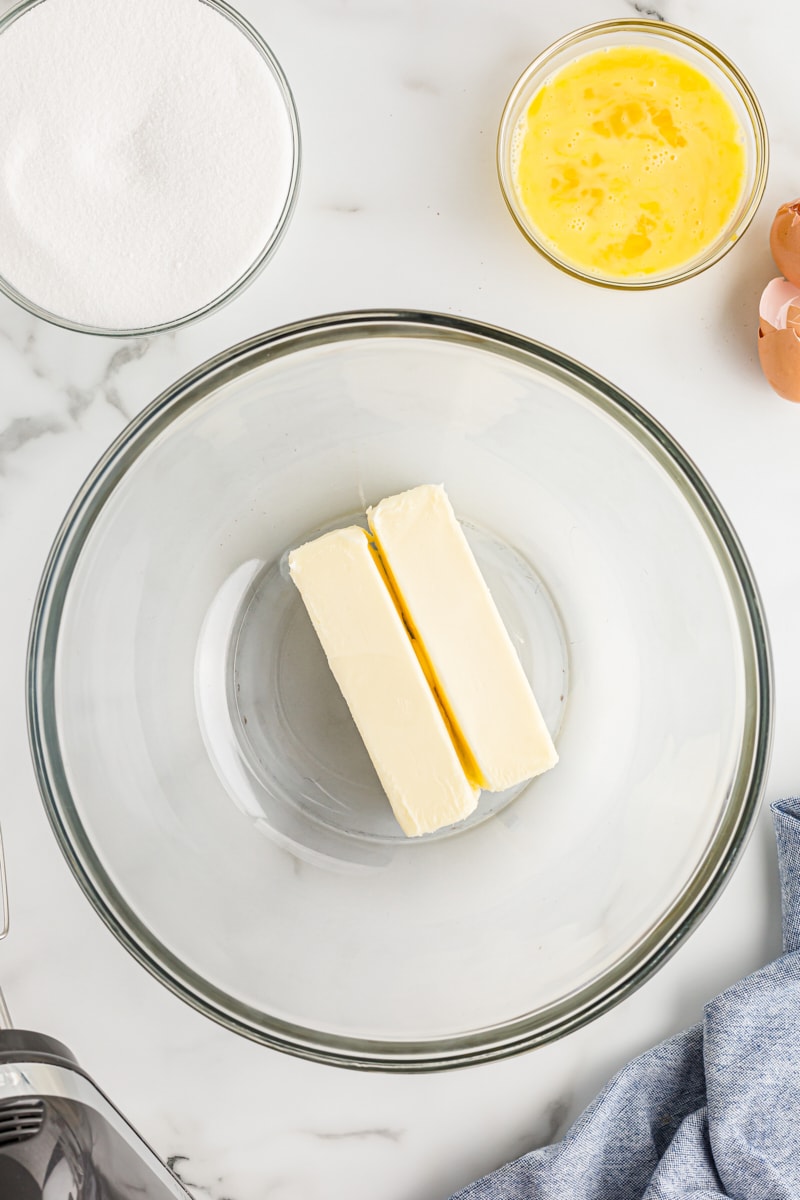 Mix the wet ingredients. In another mixing bowl, beat the butter with an electric mixer on low speed until it's creamy. Slowly add the sugar and beat it in, then beat in the eggs and vanilla.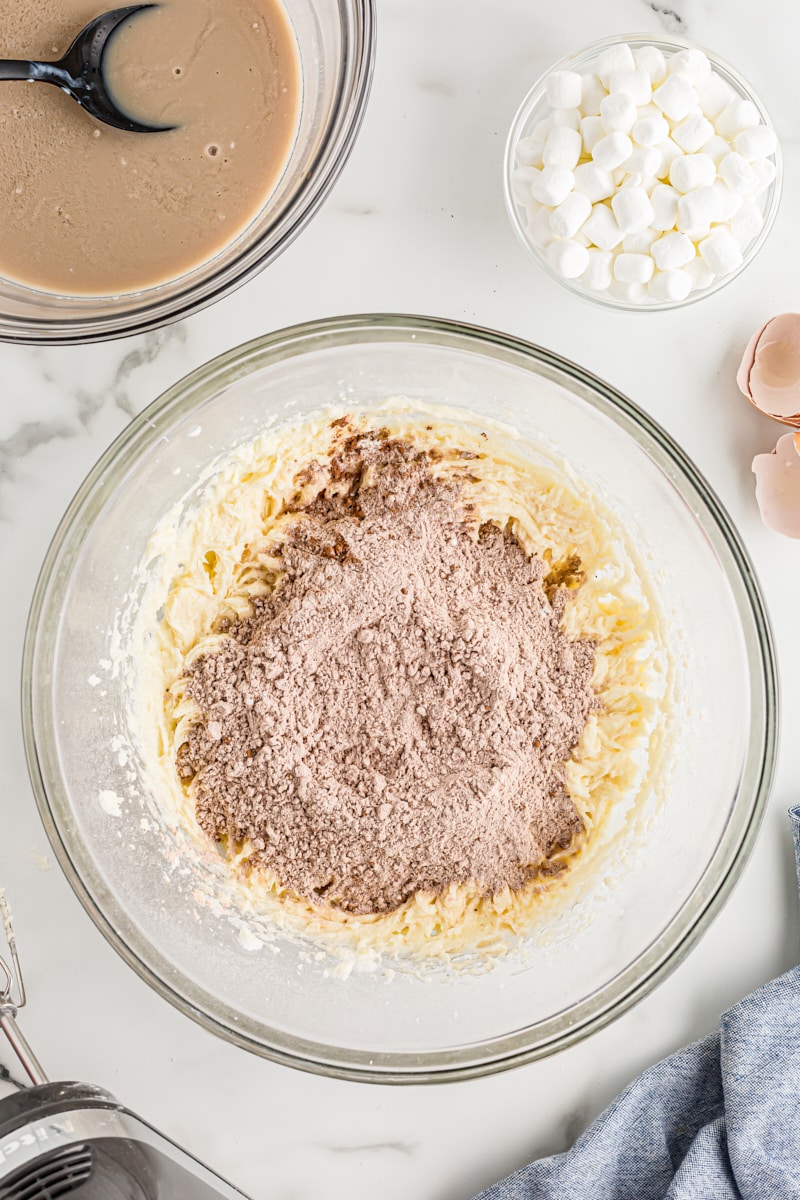 Finish the batter. Add the flour mixture to the butter mixture. Alternate with the Coca-Cola mixture, beginning and ending with the flour mixture. Beat at low speed just until combined after each addition, then fold in the marshmallows.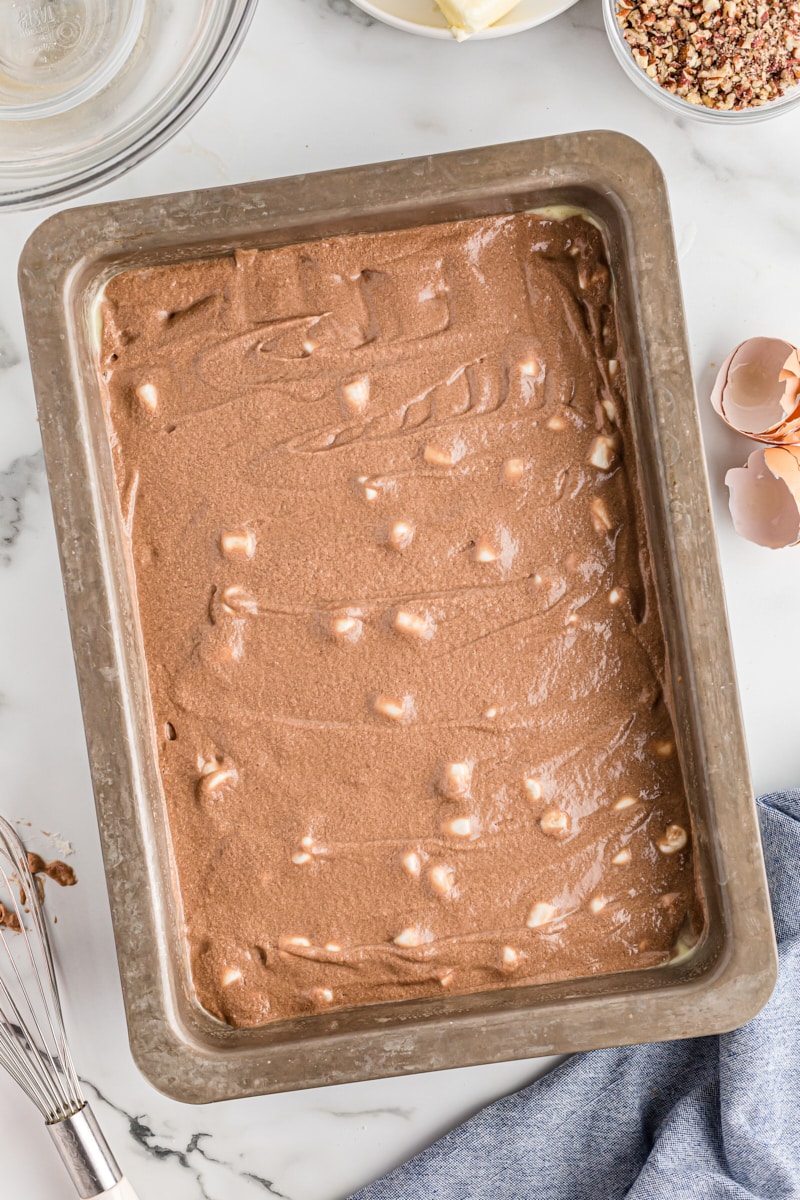 Bake. Pour the cake batter into the prepared pan and bake for 30 to 35 minutes. Let the cake cool for 10 minutes before frosting it.
To make the frosting: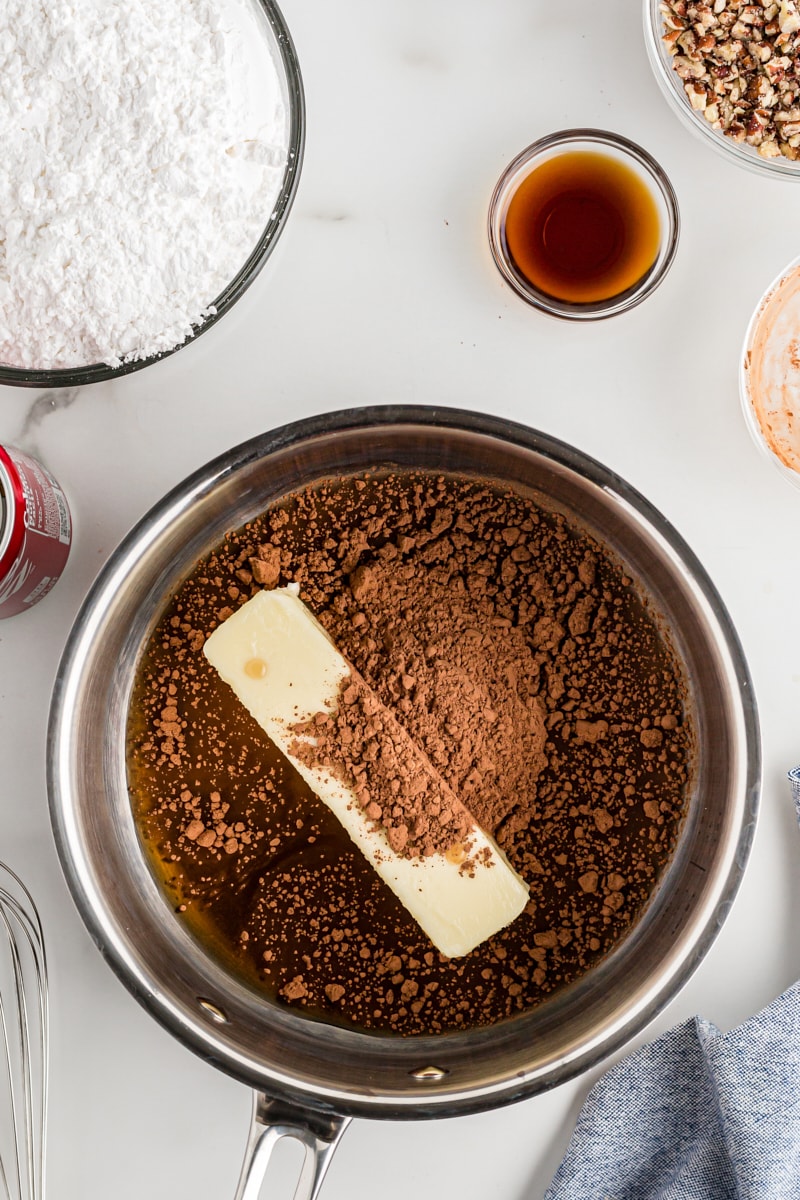 Melt the first three ingredients. Bring the butter, Coca-Cola, and cocoa to a boil in a large saucepan set over medium heat, stirring constantly until the butter melts.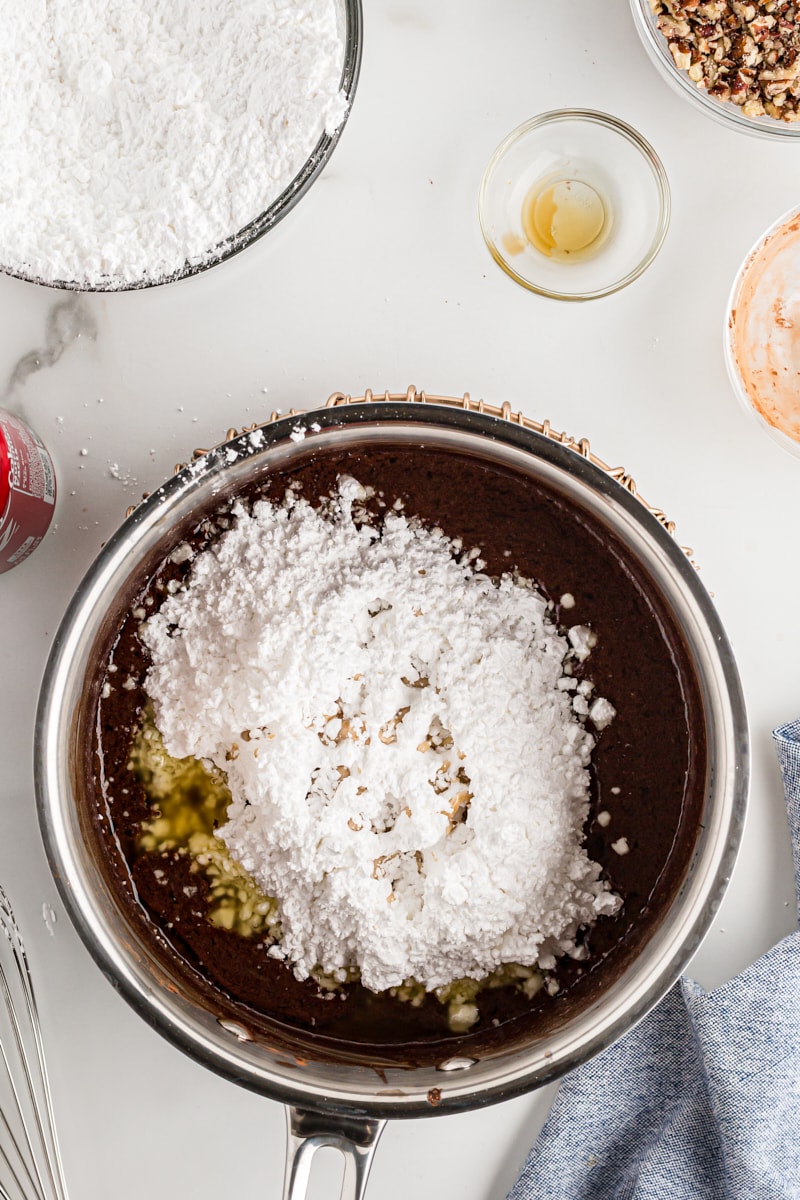 Add the next two ingredients. Once the butter has melted, remove the saucepan from the heat. Whisk in the sugar and vanilla.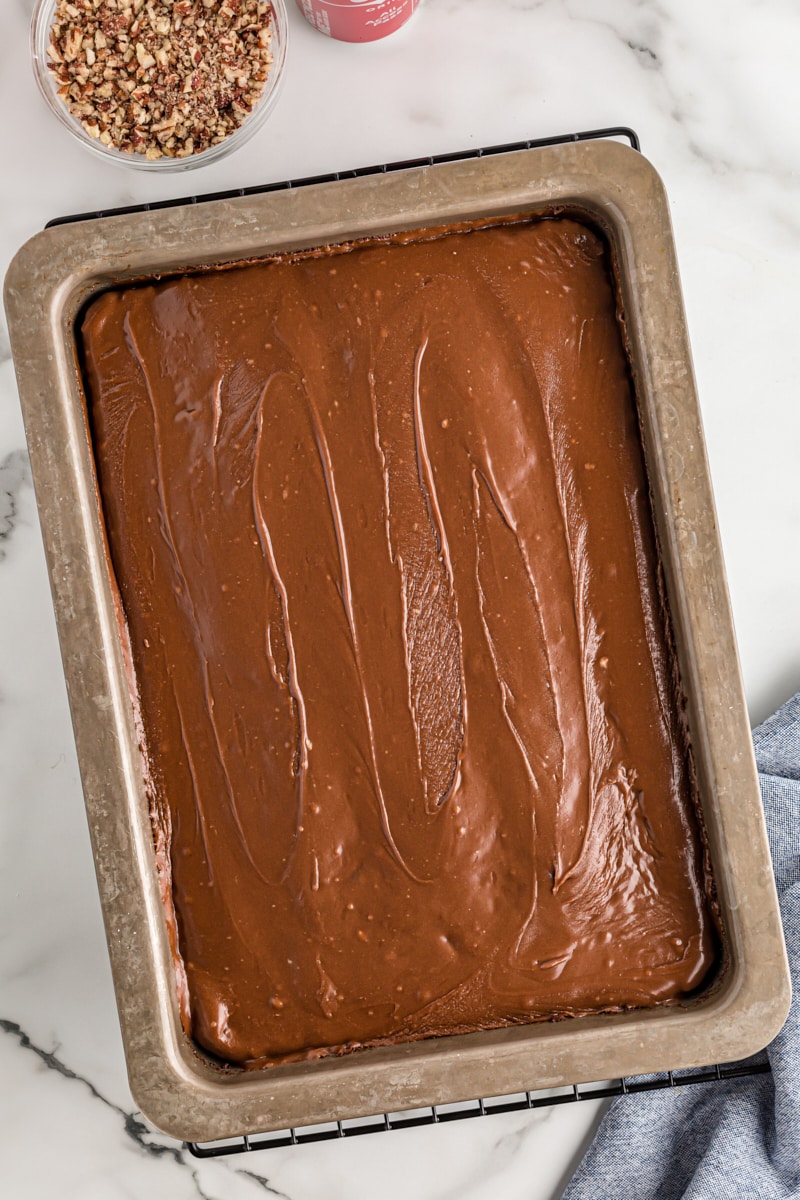 Frost the cake. Immediately pour the frosting over the warm cake and top it with the toasted pecans.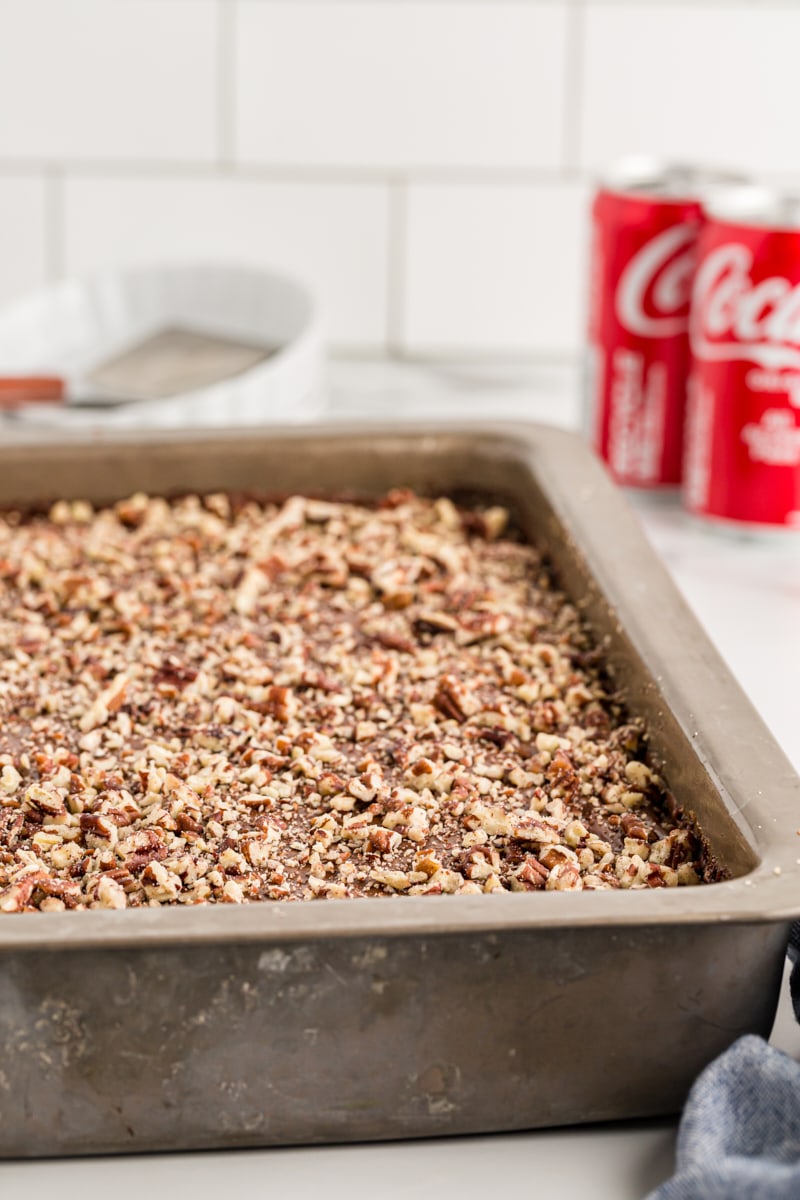 Tips for Success
These simple tips will help you make a perfect Southern Coca-Cola cake.
Use room temperature ingredients. Make sure the buttermilk, cola, and eggs are at room temperature before starting the recipe. This will help them to mix together more easily and give the cake more lift.
Mix just until combined. Don't over-mix the cake batter, or your cake will be tough.
Do not make the frosting ahead of time. Both the frosting and the cake need to be warm when you frost it.
How to Store
Coca-Cola cake can be stored in an airtight container at room temperature for up to 3 days. The cake will become more moist as it sits, so it is best eaten within the first day or two.
Can This Recipe Be Frozen?
You can freeze Coca-Cola cake for longer storage. Wrap the cake tightly in plastic wrap and place it in a freezer-safe container or freezer bag. Frozen cake will keep for up to 2 months. Thaw it overnight in the refrigerator, then let it sit on the counter at room temperature just before serving.