December 3, 2015
Almond Biscotti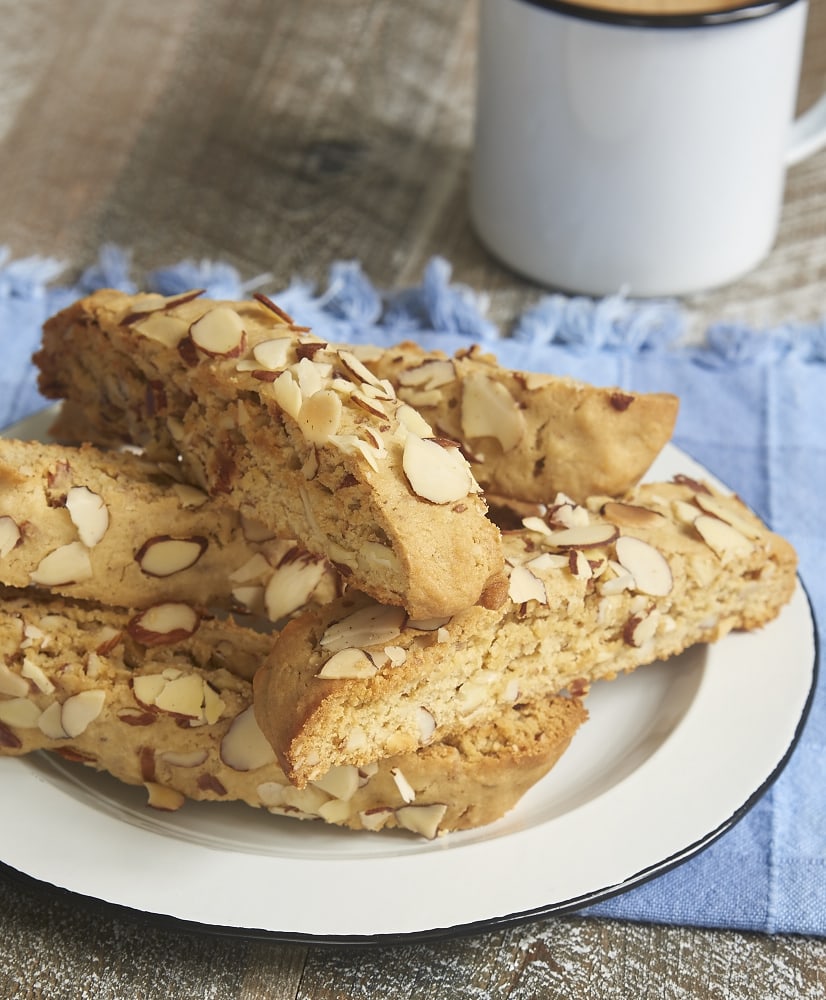 Biscotti is one of those things that looks much more difficult to make than it actually is. The last batch I made was for my cookbook, and I'll give you the same advice that I wrote about those. If you can make cookie dough, you can make biscotti.
They are, after all, cookies. They just look a bit different than traditional cookies. The gist is that you make a dough, bake it, slice it, and bake it some more. That's it. Sure, there's the extra step for baking them a second time, but you get to skip all the scooping that goes along with traditional cookies.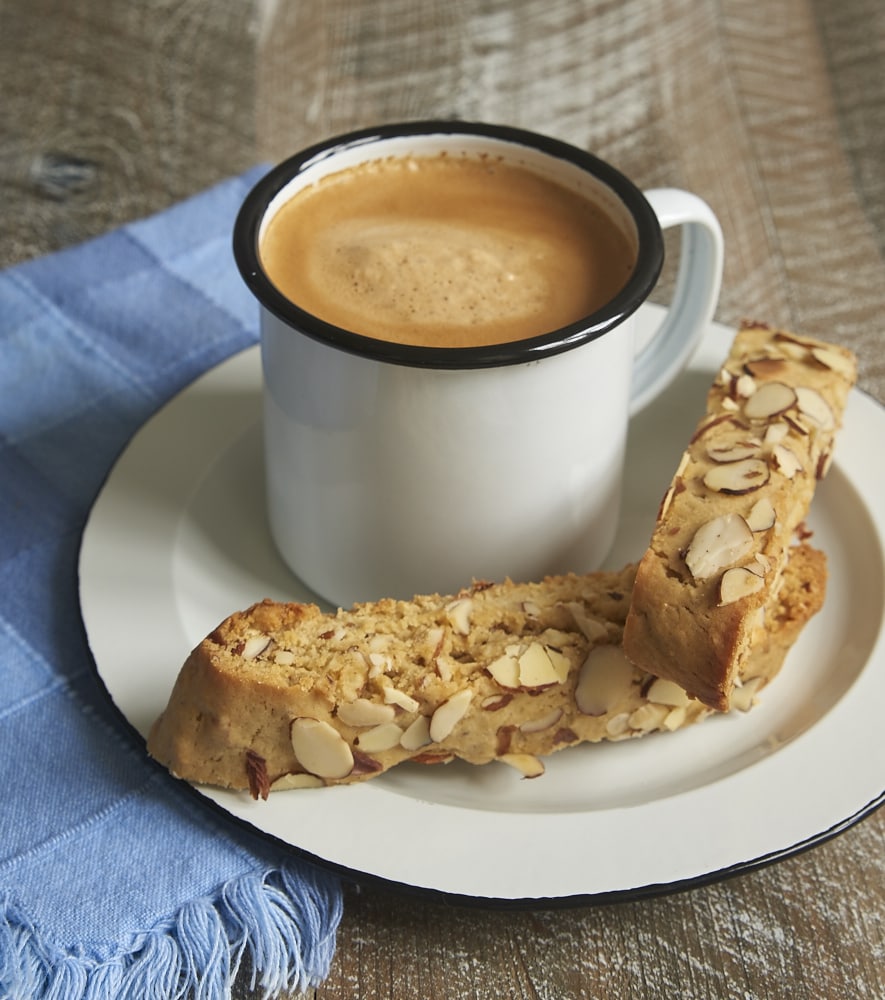 These particular biscotti feature the simple flavors of brown sugar and almonds. I admit that I was tempted to add more to the flavor mix, but I'm so glad I resisted. These are yet another example of "less is more" baking. Their simplicity doesn't mean a lack of flavor. In fact, focusing on those two elements just lets you revel in their deliciousness.
Traditionally, biscotti is served alongside coffee or tea. Dunking the biscotti into a warm drink softens them a bit, as they're usually pretty far to the right on the crunchy meter. These biscotti have the crunchiness dialed back a bit. They're plenty crunchy on the outside but softer on the inside. Dunking is still a great idea, but it's not required.
Try these Almond Biscotti alongside your favorite warm beverage, be it coffee, tea, or hot chocolate. And if you love to share your baking with family and friends, a bundle of these makes a great gift!
If you like these Almond Biscotti, find lots more cookies in my Recipe Index.
Almond Biscotti
Yield: 18 cookies
Prep Time: 25 minutes
Cook Time: 47 minutes
Almond Biscotti are a great companion for your coffee or tea!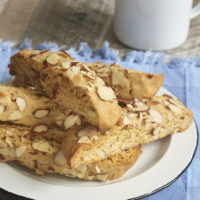 Ingredients:
2 cups all-purpose flour
1 teaspoon baking powder
1/2 teaspoon salt
1/2 cup unsalted butter, softened
3/4 cup firmly packed light brown sugar
2 large eggs
1 teaspoon vanilla extract
1/2 teaspoon almond extract
1 cup chopped almonds
1/4 cup sliced almonds
Directions:
Preheat oven to 350°F. Line a baking sheet with parchment paper or a silicone liner.
Combine the flour, baking powder, and salt. Set aside.
Using an electric mixer on medium speed, beat the butter and brown sugar until light and fluffy. Add the eggs, one at a time, mixing well after each addition. Mix in the vanilla and almond extracts.
Reduce the mixer speed to low. Gradually add the flour mixture, mixing just until combined. Stir in the chopped almonds.
Transfer the dough to the prepared pan. Shape the dough into a rectangle about 3 & 1/2" wide and 3/4" tall. The dough will be a bit sticky, so dust your fingertips with a bit of flour if necessary to help you shape it.
Sprinkle the sliced almonds over the top of the dough and press down lightly.
Bake for 25 minutes. Remove the pan from the oven and allow to cool for 10 minutes (or until is cool enough to handle).
Use the parchment paper to transfer the biscotti to a cutting board. Cut the biscotti into 3/4" crosswise slices.
Line the baking sheet with a fresh sheet of parchment paper or clean silicone liner. Place the biscotti, cut side down, onto the pan.
Bake 18 to 22 minutes, or until browned. Cool on the pan for 10 minutes. Then transfer the cookies to a wire rack to cool completely.
This recipe was originally developed for Clabber Girl, where I am a paid contributor. This post contains affiliate links.