April 23, 2015
Spiced White Chocolate Blondies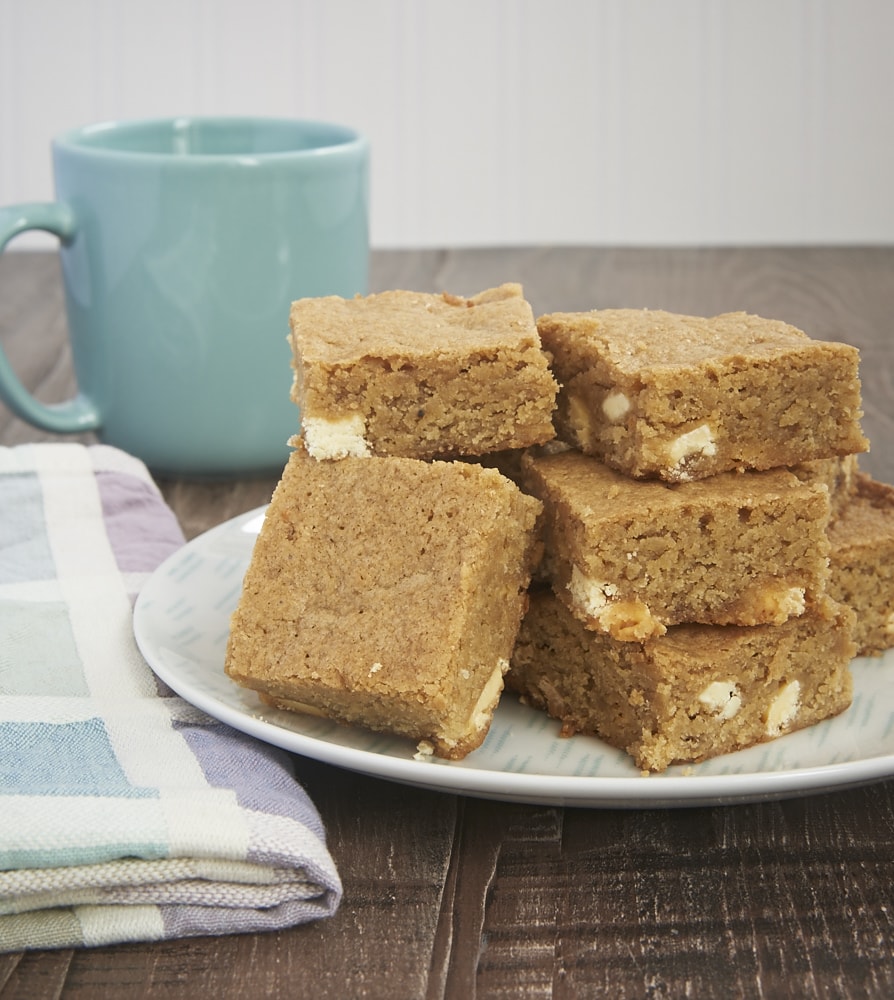 I'm a bit of a stickler about spices. I have a dedicated drawer in my kitchen for perfectly arranged, alphabetized, and labeled jars. And once a year, I throw them all out and get fresh ones. It's a small expense for fresher spices.
Although we only talk baking around here, Quinn and I both enjoy cooking. Thus the level of seriousness about the spices. Baking generally doesn't require a lot in the spice department. Maybe some cinnamon or nutmeg. A bit of ginger or some other spice here and there. These blondies take the other spice extreme with a bold blend of spices that leads to an amazing flavor.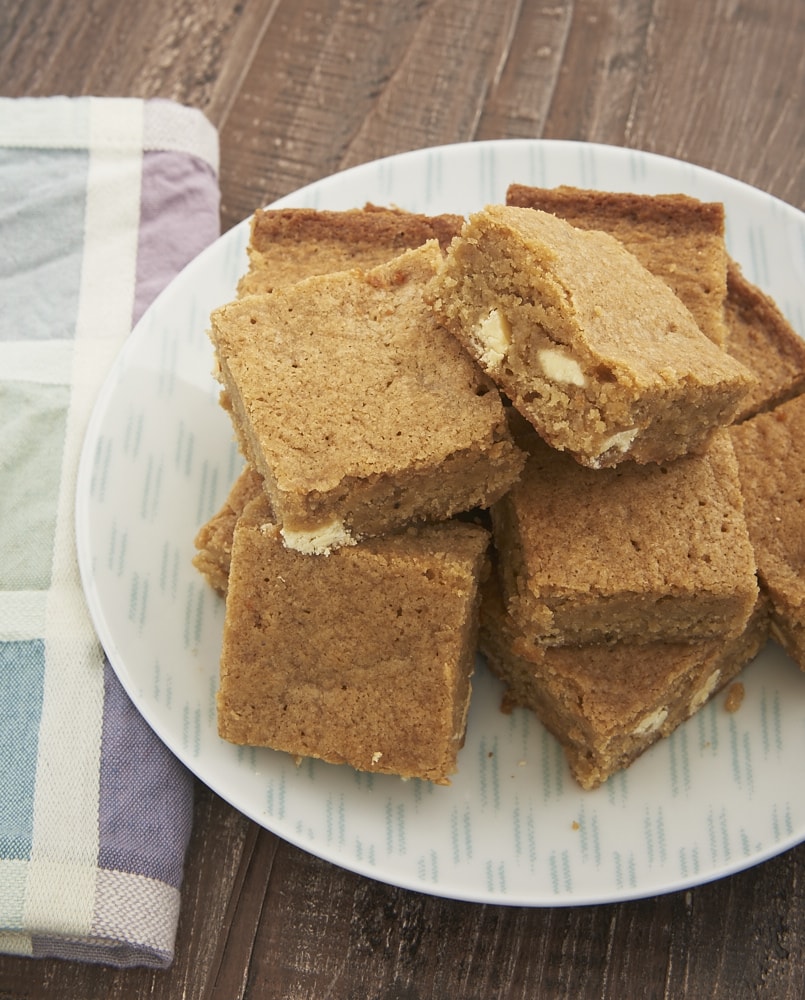 The spice blend in these blondies is essentially my own simple version of Chai spice. If you read enough about Chai spice blends, you'll find many, many variations. Different spices, different ratios. It can be a bit overwhelming.
My preferred blend simply consists of cardamom, cinnamon, ginger, and a hint of black pepper. The pepper provides a little bite that I just love. If you're not a fan, then you can omit it. Actually, take all the spice liberties you'd like to tailor these to your tastes. Even if you just add cinnamon, these are sure to be tasty.
To finish off these bars, white chocolate serves to complement all of that spice. Take a bite and see how beautifully spicy and sweet can work together!
Find more blondie recipes in the Recipe Index.
Spiced White Chocolate Blondies
Yield: 16 2-inch blondies
Prep Time:20 minutes
Cook Time:35 minutes
Spiced White Chocolate Blondies offer a tasty blend of sweet and spice. These are not your everyday blondies!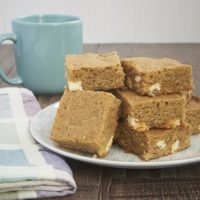 Ingredients:
1 cup all-purpose flour
1/2 teaspoon baking powder
1/2 teaspoon salt
1/2 teaspoon ground cardamom
1/2 teaspoon ground cinnamon
1/4 teaspoon ground ginger
pinch of freshly ground black pepper
1/2 cup unsalted butter, softened
1 cup firmly packed light brown sugar
2 large eggs
1 teaspoon vanilla extract
1 cup white chocolate chips or coarsely chopped white chocolate
Directions:
Preheat oven to 350°F. Grease an 8-inch square baking pan.
Whisk together the flour, baking powder, salt, cardamom, cinnamon, ginger, and pepper. Set aside.
Using an electric mixer on medium speed, beat the butter and brown sugar until light and fluffy. Add the eggs, one at a time, mixing well after each addition. Mix in the vanilla.
Reduce mixer speed to low. Gradually add the flour mixture, mixing just until combined. Stir in the white chocolate.
Spread the batter evenly in the prepared pan. Bake 30 to 35 minutes, or until a pick inserted into the center comes out clean.
Cool completely in the pan before cutting into bars.