November 20, 2017
Rosemary Onion Rolls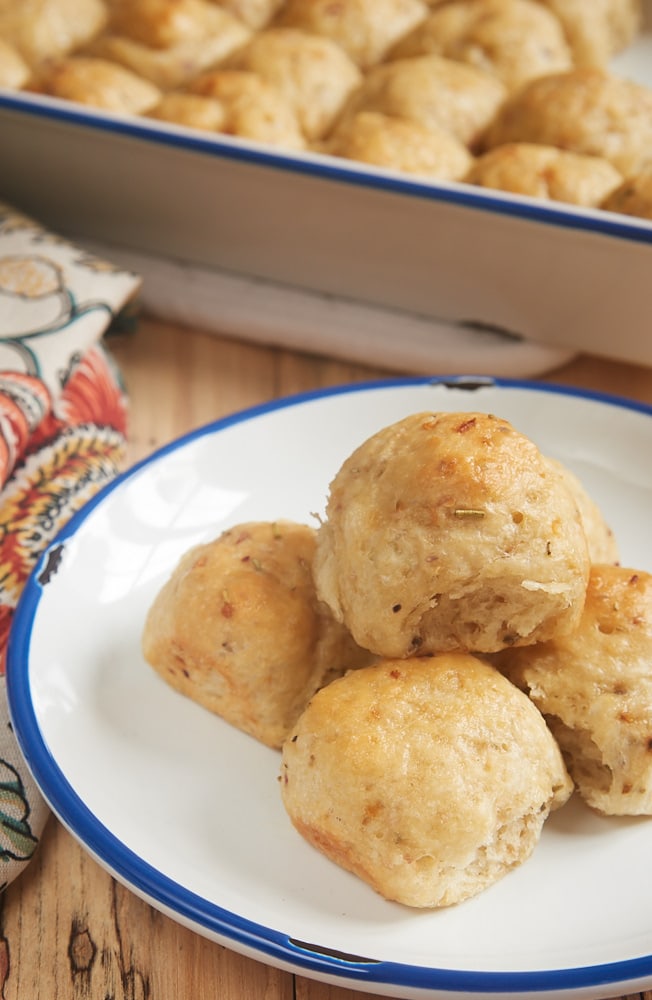 I love to bake homemade yeast breads but with one caveat. They must be easy to make. I don't know what that says about me as a baker, but it is what it is.
I'm happy to tell you that these Rosemary Onion Rolls are indeed easy to make. You only need about 20 minutes of hands-on time. If you can mix ingredients and portion the dough, then you've got this. Plus, the dough is very easy to handle. And then you'll have homemade yeast rolls with little effort and amazing flavor!

That wonderful flavor comes from a few of simple ingredients. Dried onions add a little flavor punch that is really fantastic. I've also used dried shallots for a slightly different flavor. Next comes rosemary, which complements the onion nicely. If you like, you can easily substitute another spice for the rosemary if it fits better with the other flavors of our meal.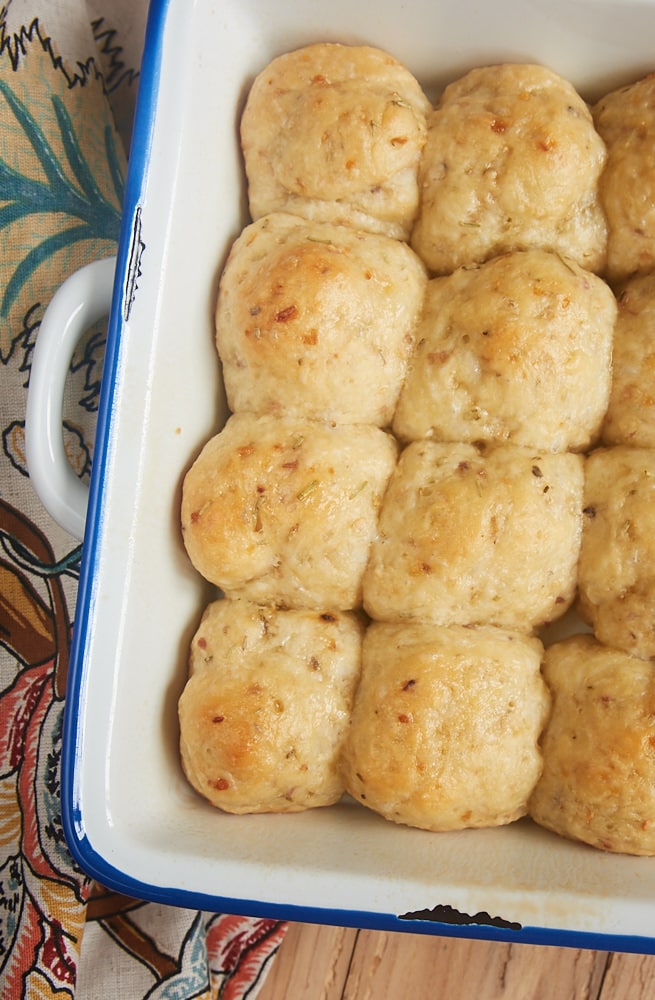 The most interesting ingredient here, though, is potato water. That's just what you're probably thinking it is: water in which potatoes have been boiled. The starch from the potatoes gets into the water, making the rolls so wonderfully soft. If you're already boiling potatoes for your meal, then you've got the water covered. If not, then see the recipe notes for a couple of options for substitution.
I like to make these rolls on the small size, making 24 pull-apart rolls in a 9″x 13″ pan. You can certainly make them larger if you like. Just see the notes in the recipe. The small ones work well for dinner, as your guests can grab however many they want to go with their meal. This size also works well if you're serving small bites instead of a full meal.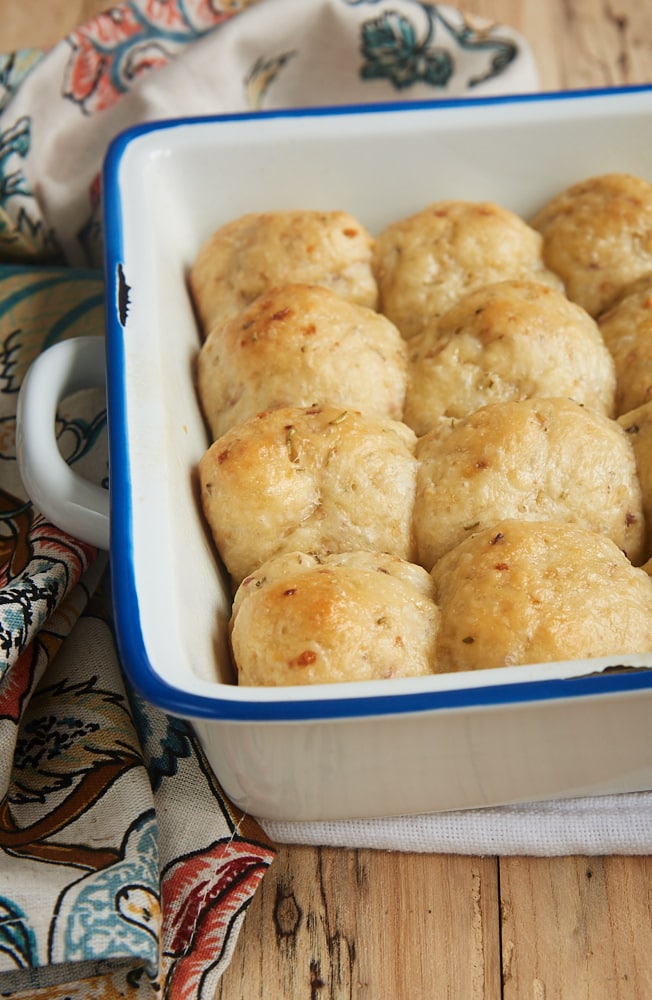 My best advice for making these rolls has to do with the portioning of the individual rolls. If you start by weighing the dough (weighing in grams will be simplest), you can then divide the total weight by the number of rolls you want. Then just weigh each portion. This is a super simple way to take the guess work out of sizing the rolls.
Once these rolls are baked, I like to brush melted butter on top of them to give them that irresistible buttery flavor plus a gorgeous shine. If you want your rolls a bit more browned, brush the tops with an egg wash (1 egg + 1 tablespoon water) before baking.
Make these up to a few days in advance if you like to get ahead on your meal planning or just want to enjoy them for several meals. These will also freeze for about a month. Once you've tried them and experienced how easy they are to make and how delicious they are, you are likely to find yourself making them time and time again!
Find more yeast breads in the Recipe Index.
This post contains affiliate links. If you make a purchase through one of the links, I'll receive a
small commission at no additional cost to you.
Rosemary Onion Rolls
Yield: 24 rolls
Prep Time: 20 minutes
Cook Time: 25 minutes
These wonderfully delicious Rosemary Onion Rolls have such fantastic flavor. A big-time favorite for an everyday meal or a special occasion.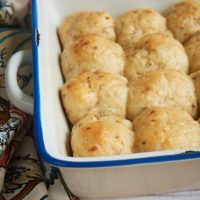 Ingredients:
3 cups all-purpose flour
1 teaspoon salt
1 tablespoon granulated sugar
2 & 1/2 teaspoons instant yeast
2 tablespoons minced dried onions or scallions
1 to 2 teaspoons rosemary, to taste
2 tablespoons olive oil
1 cup lukewarm potato cooking water*
1 to 2 tablespoons butter, melted
Directions:
Combine all of the ingredients except for the melted butter. Mix with an electric mixer or your hands until a dough forms. The dough will be sticky.
Cover the dough. Let it rise until doubled in size, about 60 to 90 minutes.
Gently deflate the dough. Divide the dough into 24 pieces.**
Shape each portion of dough into a round. Place in a lightly greased 9″x 13″ baking pan, arranging in 6 rows of 4 rolls each.
Cover and let rise for 90 minutes. The rolls should be puffy.
Preheat oven to 350°F.
Bake 22 to 25 minutes, or until the rolls are lightly browned.
Brush the tops of the rolls with the melted butter.
Serve warm. Tightly wrapped rolls will store at room temperature for about 3 or 4 days. They will also freeze for about a month.
Notes:
*This is water from boiling potatoes. If you don't have potato water, you can use 3 tablespoons of potato flour or 1/2 cup dried potato flakes, and use 1 cup lukewarm water. If you don't normally salt your water for potatoes or you're using a substitute for the potato water, I would also suggest adding about 1/4 teaspoon more salt to the recipe.
**For quicker and more accurate sizing, weigh the dough and divide the weight by 24. Then you can portion and weigh each roll easily. You can also make 12 larger rolls or 16 medium rolls if you prefer. For 12 rolls, please them on a lined baking sheet about 2 inches apart. For 16, use 2 lightly greased 8-inch round cake pans. They'll need about 5 more minutes of baking time.