June 25, 2014
Hazelnut Cake with Mocha Frosting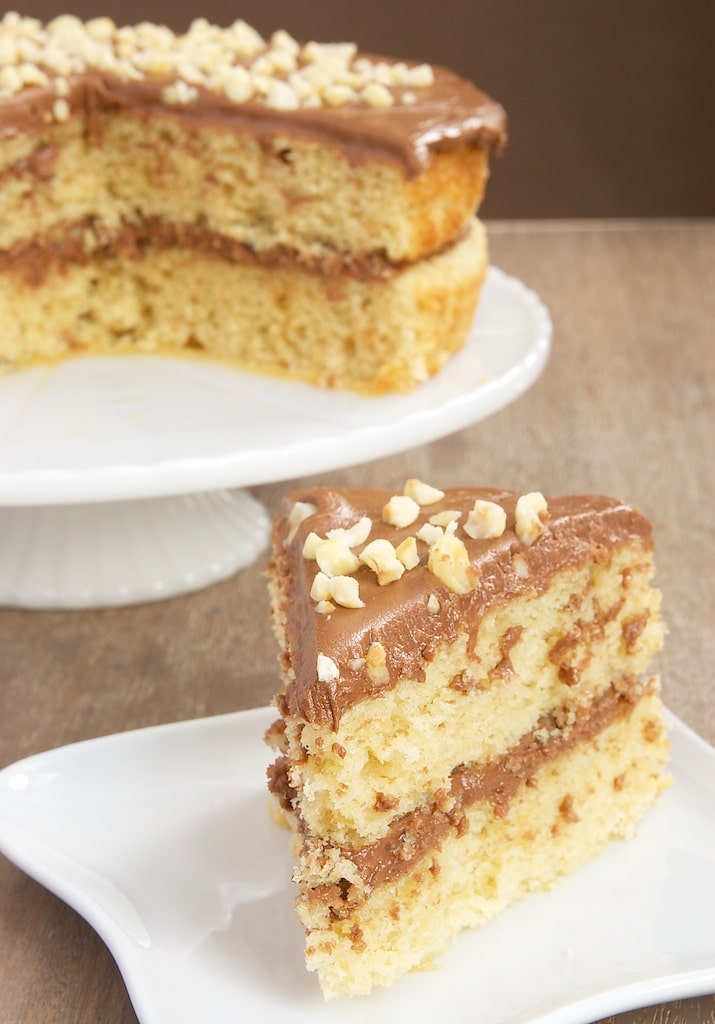 There are some food combinations that are just magical. One of the best examples is chocolate and coffee. Coffee just does something to chocolate to make it even better. Even if you aren't a coffee fan, it's hard to argue with the taste of those two together.
Recently, HiLine Coffee Company sent me some of their delicious Nespresso-compatible coffee capsules to try. Of course, my first thought was to break out some chocolate to go along with their coffee and get baking!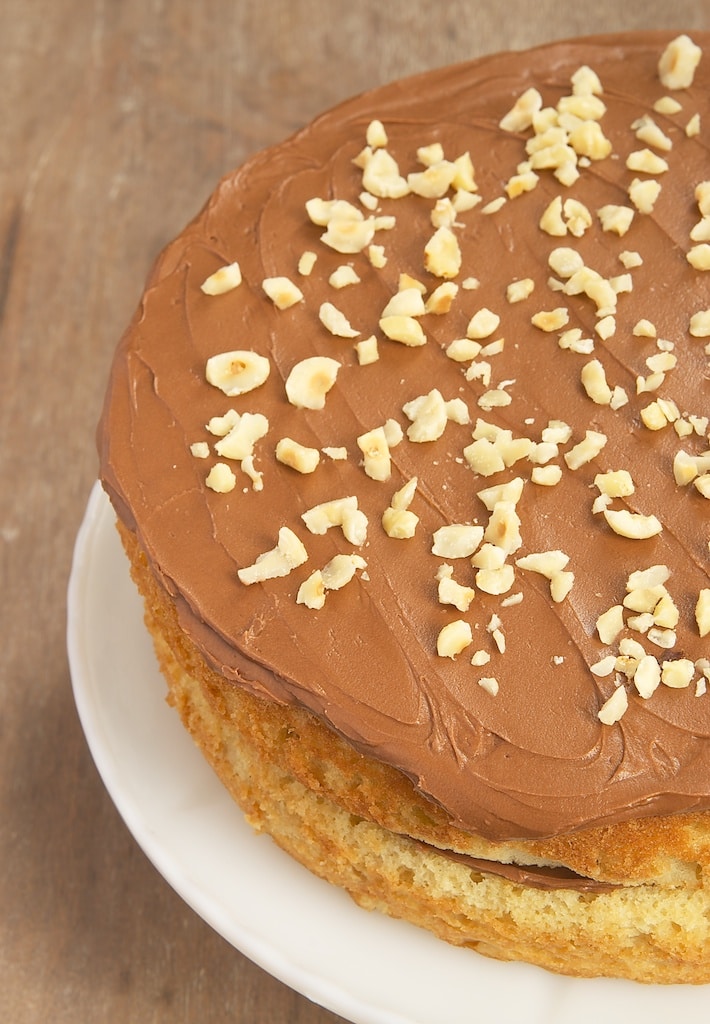 As Quinn is much more the coffee-drinker around here, I ran some baking ideas by him. When I mentioned the idea for this cake, he enthusiastically agreed, so I figured I'd have a winner with this one. And, I believe I was correct!
The cake itself is basically a simple yellow cake dressed up with a bit of brown sugar and some toasted hazelnuts. It's sweet and crunchy and so moist. Then, I made a simple chocolate frosting with a heavy dose of strong coffee.
I opted to frost just the tops of each cake layer for a simpler presentation and because, frankly, I'm not that great at frosting cakes. If you prefer more frosting, just increase the frosting recipe by half, or even double it. Then, you'll have plenty for frosting the sides as well. Or, just enjoy the leftover frosting on its own. I won't judge.
Hazelnut Cake with Mocha Frosting
Yield: 12 to 16 servings
Prep Time:30 minutes
Cook Time:30 minutes
Hazelnut Cake with Mocha Frosting combines sweet, nutty cake with a rich chocolate frosting flavored with espresso!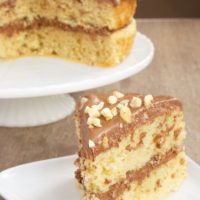 Ingredients:
For the cake:
2 cups all-purpose flour
1 & 1/2 teaspoons baking powder
1/2 teaspoon baking soda
1/2 teaspoon salt
1/2 cup unsalted butter, softened
1 cup granulated sugar
1/2 cup packed light or dark brown sugar
3 large eggs
1 tablespoon vanilla extract
1 cup sour cream
1/2 cup chopped toasted hazelnuts
For the frosting:
1/4 cup unsalted butter, softened
1/4 cup unsweetened cocoa powder
3 tablespoons brewed strong coffee or espresso*
1/2 teaspoon vanilla extract
3 cups confectioners' sugar, sifted
1 to 2 tablespoons milk
chopped toasted hazelnuts, for garnish
Directions:
To make the cake:
Preheat oven to 350°. Butter two 9-inch round cake pans. Line bottoms with parchment paper. Butter paper.
Whisk together flour, baking powder, baking soda, and salt. Set aside.
Using an electric mixer on medium speed, beat butter, sugar, and brown sugar until light and fluffy.
Add eggs, one at a time, mixing well after each addition. Mix in vanilla.
Reduce mixer speed to low. Add flour in three portions, alternating with two portions of sour cream. Mix until a few streaks of flour remain. Stir in hazelnuts.
Divide batter evenly between prepared pans. Smooth batter evenly in pans.
Bake 25 to 30 minutes, or until cakes are lightly browned and a pick inserted into the center comes out clean.
Cool in pans on a wire rack for 15 minutes. Then, run a knife around the edges to loosen the cakes. Transfer cakes from pans to a wire rack to cool completely. Remove parchment paper.
To make the frosting:
Using an electric mixer on medium speed, beat butter, cocoa powder, espresso, and vanilla until thoroughly combined.
Gradually add confectioners' sugar. Mix until smooth.
Add milk as needed to attain desired spreadable consistency.
To assemble the cake:
Place one cake layer on a cake plate. Spread half of the frosting on top of the cake.
Place remaining cake layer on top of frosted cake layer. Spread remaining frosting on top of the second cake layer.
Garnish with chopped hazelnuts.
Notes:
*This is the quantity from one HiLine Coffee capsule brewed on the Nespresso's Espresso setting.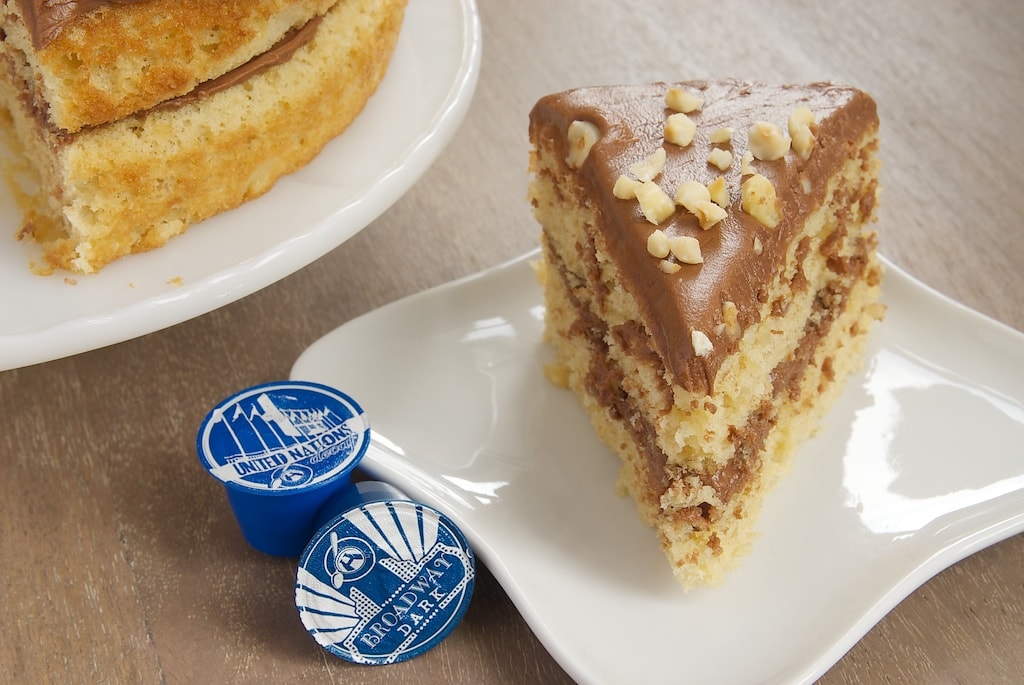 HiLine Coffee Company provided products for both my own use and for the giveaway. All opinions written are my own.