One of my favorite childhood desserts was one that my mother would make with a nutty crust topped with sweetened cream cheese, pistachio pudding from a mix, and frozen whipped topping. I loved everything about it and would request it fairly often.
My own baking preferences are very decidedly in the from-scratch direction. That makes recreating those bars a bit more challenging. Well, let's not say challenging. We'll go with time-consuming instead. No part of this dessert is difficult to make. But, if you're making everything from scratch, it will definitely take longer than using shortcut ingredients. But! It will be so, so worth it.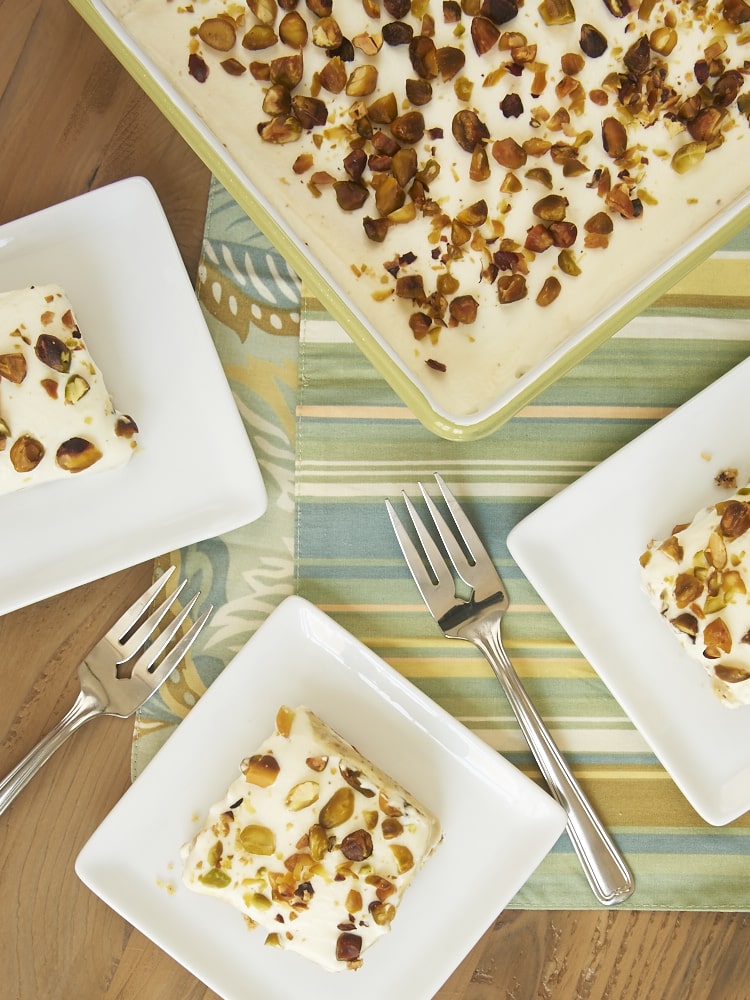 I've been wanting to make a homemade version of this long-time favorite for years. My motivation to do so went way up recently when I happened upon a recipe for homemade pistachio pudding. The very first thing I thought about was this dessert. Starting with that pudding recipe and my mother's old recipe, I set out to make my own version of my beloved pistachio dessert.
Let's have some real talk. If you want to go with a pudding mix, I will cast no stones. Making this pudding is in no way difficult, but it will certainly add to your prep time. As for the whipped cream layer, though, I do encourage you to make your own. It takes less than 5 minutes, and it is infinitely better than the frozen stuff.
If you do go the homemade route for the pudding (yay for you!), then I do recommend making it a day in advance. That gives it plenty of time to set, plus it breaks up the preparation to make assembling the entire dessert a bit easier. Either route you take will lead you to an amazingly delicious, cool, creamy, nutty dessert that's sure to become a favorite for you, too!