June 5, 2013
Cheesecake Thumbprint Cookies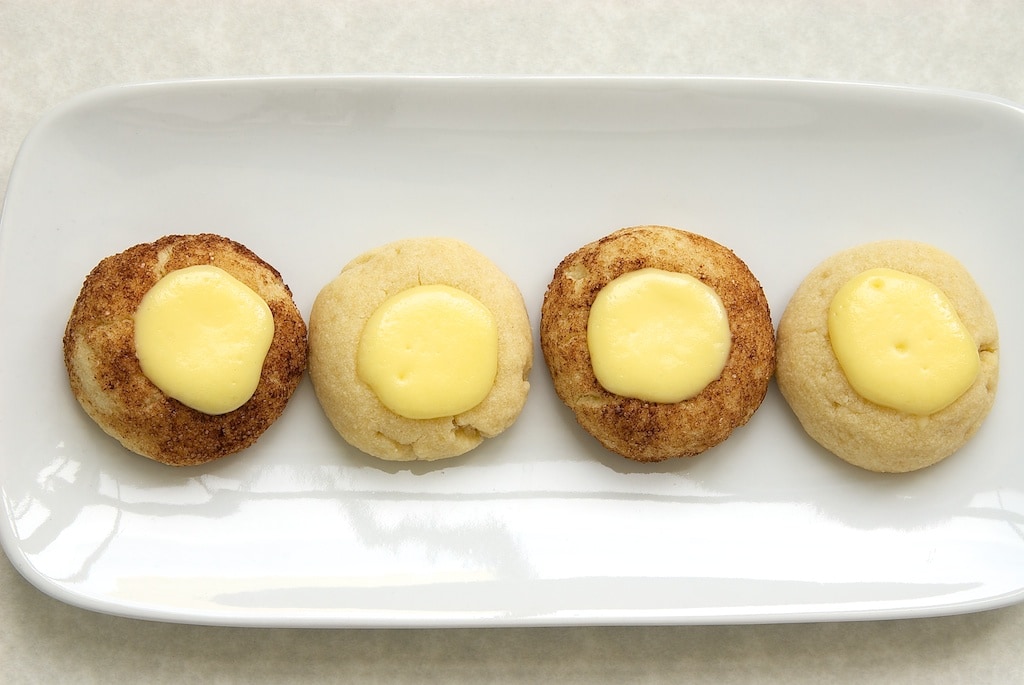 If you find yourself looking for something a little different in the cookie world, look no further than these cookies. Thumbprint cookies certainly aren't anything new, but the addition of a cheesecake filling is worth some excitement.
The cookies themselves are very simple in flavor. They are made with just a few ingredients. Their simplicity combines magically with the richness of the cheesecake filling for a wonderfully delicious dessert.

There's not a lot of obvious flavor happening in the cookie dough. I contemplated adding a bit more sugar or augmenting in some other way. Instead, I decided to roll some of them in cinnamon-sugar for a Snickerdoodle-like variation. Then, I could compare the two and decide which works better.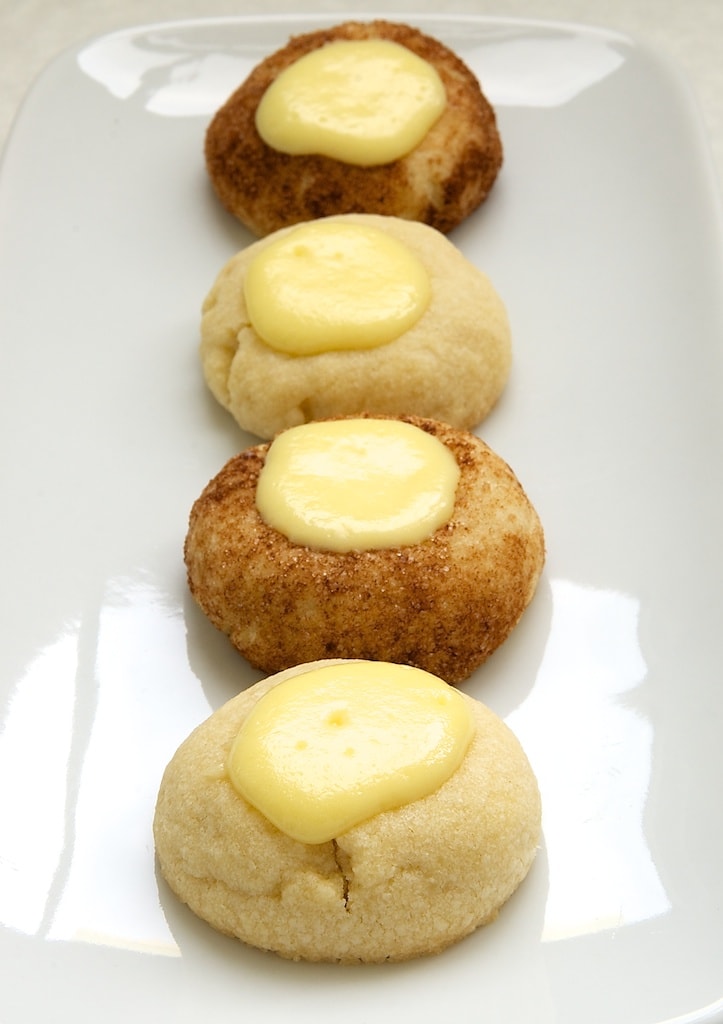 Honestly? I can't pick. I love them both! The original version is not overtly sweet, but the cookies are just lovely. To me, the simple cookie serves as almost the crust to the cheesecake. If you're a big cheesecake fan, you'll enjoy that the focus is decidedly on the cheesecake filling.
With the cinnamon-sugar version, you get more flavor and sweetness in a quick and easy way. You can use a commercially available cinnamon-sugar, but it's also very easy to make your own. The most common proportions are 1 tablespoon of cinnamon per 1/4 cup sugar. One of the perks of making your own is that you can adjust that to your taste.
These cookies are definitely a departure from standard cookie fare. And that's a very good thing. Adding cream cheese is pretty much always a good idea in my book. That beautiful, delicious filling really elevates these thumbprint cookies into something quite special.
Scroll past the recipe to find out how you can win one of my favorite cookbooks.
Baker's Bookshelf Giveaway
Recently, I had a bit of a realization that I'm not using my cookbooks as much as I should. So, I've decided to make it a point to use them. And, you are going to benefit from that, too. About once a month, I will make a recipe from one of my dozens of cookbooks and give you the chance to win a copy for yourself.
I found this recipe in one of my favorite cookbooks. Martha Stewart's Baking Handbook has resided in a prominent spot on my bookshelf for the past several years. My deep, abiding love of this book is the very best reason to offer it as my first Baker's Bookshelf giveaway! To kick this off, I'm offering THREE of you a copy of this amazing book.
Please see all the giveaway details in the giveaway box below. You must be a U.S. resident to enter. Please add bakeorbreak at gmail dot com to your address book so that any email from me won't end up in your spam folder. The winners must respond within 48 hours or another winner will be chosen.
Good luck!
Disclosure: This giveaway is not sponsored. I am providing all prizes myself.