February 20, 2017
Peanut Butter Pudding Pie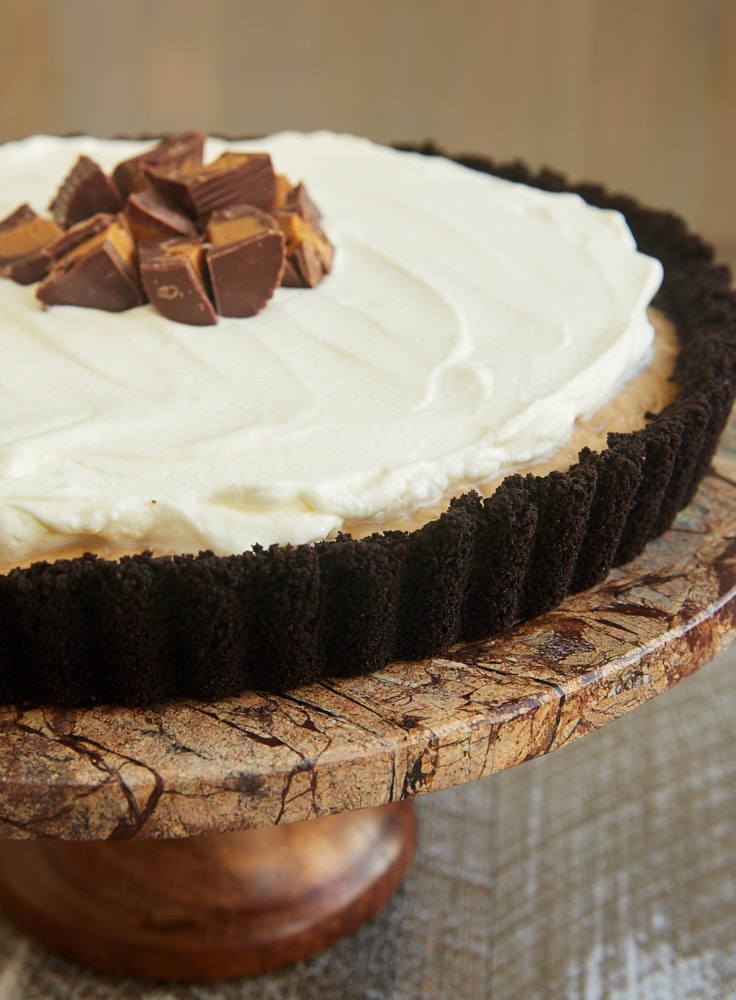 Ever since I first made Peanut Butter Pudding, I've wanted to make it into a pie. As is often the case, that idea kept getting pushed down the to-do list in favor of other things. Recently, the idea jumped back to the front of my brain, and I just had to make it as soon as possible.
Pudding pies are exactly what they say they are. Pudding in a pie! Sure, you can serve pudding in the traditional ways, but there's something even more special about turning it into a pie. This is sweet comfort food at its best!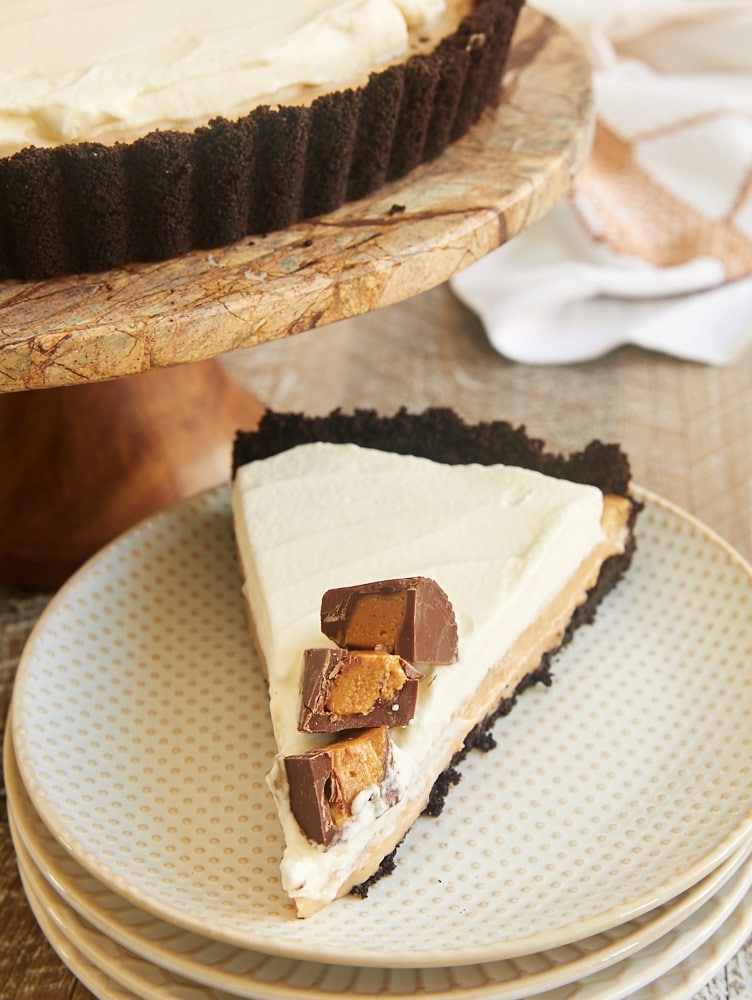 A simple cookie crust is a perfect companion to all that cool, creamy pudding. Being a big fan of the combination of chocolate and peanut butter, I couldn't resist making a chocolate cookie crust. You can, of course, use a different type of cookie to make the crust. Graham crackers (plain or chocolate), shortbread, or most any crispy cookie will work. Hey, if you want an all-out peanut butter experience, why not try a peanut butter cookie crust?
You only need a little simple sweetened whipped cream to top off this pie. I prefer the homemade version, but store-bought would simplify this pie even further.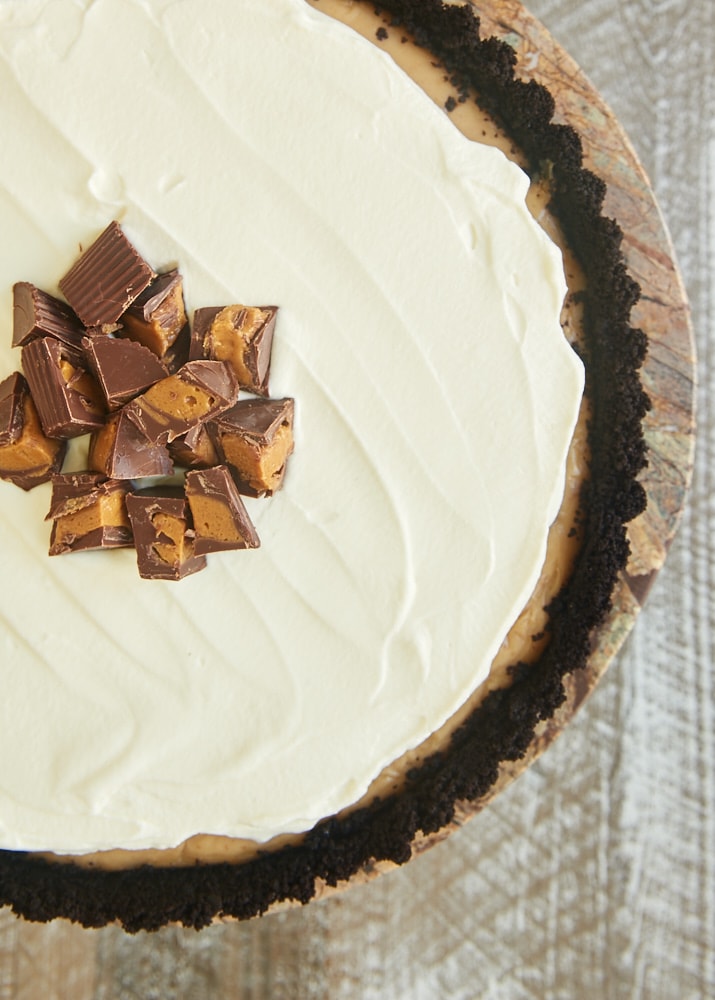 With my well-established love of chocolate and peanut butter, I just had to add a few chopped peanut butter cups on top. That's completely optional, but it's such a great fit for this pie. Chocolate chips or chopped peanuts would also be great toppings.
However you serve it, I think you'll enjoy this lovely Peanut Butter Pudding Pie. It's such a great way to take homemade pudding and take it just a few steps further. Don't be surprised if this becomes your new favorite way to enjoy pudding!
Find more pie recipes in the Recipe Index.
This post contains affiliate links. If you make a purchase through one of the links, I'll receive a
small commission at no additional cost to you.
Peanut Butter Pudding Pie
Yield: 8 to 10 servings
Prep Time: 25 minutes
Cook Time: 20 minutes
Homemade pudding, a chocolate cookie crust, and plenty of whipped cream combine to make this Peanut Butter Pudding Pie a favorite!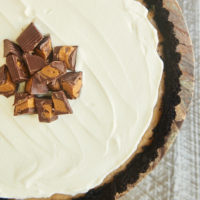 Ingredients:
For the crust:
6 ounces chocolate wafer crumbs (about 1 & 3/4 cups from about 30 cookies)
5 tablespoons unsalted butter, melted
For the filling:
For the topping:
3/4 cup heavy cream
1 & 1/2 to 2 tablespoons granulated sugar
chopped peanut butter cups, for garnish
Directions:
To make the crust:
Preheat oven to 350°F.*
Combine the cookie crumbs and melted butter until thoroughly combined.
Press the crust mixture into the bottom and up the sides of a 9-inch tart pan with a removable bottom or a 9-inch pie pan.
Bake 15 minutes. Set aside to cool.
To make the filling:
Prepare the pudding as directed. Instead of transferring it to a bowl, spread the pudding in the cooled crust.
Cover the pudding with plastic wrap, pressing the wrap directly on top of the pudding. Chill at least 2 hours.
To make the topping:
Place the cream in a large, cold mixing bowl. Using an electric mixer with a whisk attachment, beat at medium-high speed until the cream begins to thicken.
Sprinkle the desired amount of sugar over the cream. Whisk until combined.
Continue beating until you can lift the whisk out of the whipped cream and a peak that curves downward forms in the cream. This should take 4 to 5 minutes.
Spread the whipped cream on top of the chilled pudding. Garnish with chopped peanut butter cups.
Notes:
*Instead of baking the crust, you can chill it for about an hour to help it firm.